Bramberg am Wildkogel Resort & Transfer Guide
Bramberg am Wildkogel is located between the German and Italian Alpine resorts, between the Kitzbühel Alps and the Austrian National Park Hohe Tauern. Together, with the neighboring ski resort of Neukirchen am Großvenediger, Bramberg am Wildkogel form the amazing Wildkogel Arena ski area. In a snowless winter, artificial snow is made by the most modern equipment. The ski resort of Bramberg am Wildkogel has something for every skier. This wonderful skiing resort invites you to the most beautiful scenery and skiing to be found throughout Europe.
Ski Resort Location
Bramberg am Wildkogel is located in the Pinzgau, District of Zell am See (Austria, Salzburger Land). Bramberg am Wildkogel lies in the high valley of the Salzach at an altitude of 820 metres. The Wildkogel with its well-developed ski area starts right in the village itself, the stop of the ski bus linking to the Kitzbühel Alps Ski Area is just in a couple of minutes distance. It is a popular destination for families - in Wildkogel Alm, you will find a floodlit toboggan run facing the valley offering fun for the whole family!
Bramberg is a quiet, traditional and authentic village at the foot of the stunning Wildkogel Mountain. But during the winter season, the resort is not quiet at all – in the evening the villages become very busy and offer a lot of entertainment options. Restaurants, supermarkets, and grocery stores can be found a few minutes' walks away.
Closest Airports to Bramberg am Wildkogel
Here are the closest airports for transfer to Bramberg am Wildkogel:
Closest Train Stations to Bramberg am Wildkogel
There are train stations in Neukirchen and Bramberg. From there, buses take you directly to the base stations. Still, we recommend you to order airport transfer. Using transfer to Bramberg am Wildkogel you will reach the resort just in a few hours. You can order private or shared transfer for your travel.
Transfer Times
These transfer times are approximate only. Weather and traffic conditions can significantly impact transfer times:
Munich Airport - 3 hours 15 minutes
Innsbruck Airport – 2 hours 15 minutes
Salzburg Airport – 2 hours 10 minutes
How Much Will My Transfer Cost?
We carefully calculate all resort transfer services individually, to be sure that our customers receive the best offer. Whenever you choose to travel and whatever is your final destination, Alps2Alps will get you there for the lowest possible price. However, we advise booking early to access the best possible deal. Besides, keep up to date with Alps2Alps for the latest offers, deals, and discounts on Bramberg am Wildkogel resort transfer services.
Transfer costs are calculated by the following factors:
Where the journey begins (your arrival airport)
The time of year and seasonal demand
Peak times during the day and week/weekend
The size of your group and the number of children
The length and duration of the journey
All of the above will only ever result in our base-rate for ski transfers going down – we never over-inflate our prices at any time or for any reason. We also offer substantial discounts for off-peak, off-season and midweek transfers to Bramberg am Wildkogel. If looking for the best possible deals, travelling outside peak season or midweek typically results in the biggest savings. We offer midweek (Monday to Friday) prices with up to 60% discount than weekend prices.
Bear in mind, that your transfer quote will also depend on vehicle availability, transfer schedule, vehicle utilisation and other costs like road tolls and airport parking charges. In all instances, we work hard to keep our prices low and are relentlessly committed to total value for money. We guarantee you won't find a better deal on your Bramberg am Wildkogel resort transfers, whatever your needs.
To discuss any specific requirements or plans to travel as part of a larger group, please get in touch directly so we can discuss your needs.
Resort Open & Closing Dates
Seasonal opening dates at Bramberg am Wildkogel are of course dependant on snow conditions, though are currently listed as follows:
Bramberg am Wildkogel usually opens mid-December and closes mid-April.
Ski Resort Essentials
Bramberg am Wildkogel lies at an elevation of 820m, with the highest lift going as far as 2,101m. The Austrian Village of Bramberg am Wildkogel is part of the Neukirchen-Wildkogel ski area with access to 30km of downhill skiing, with 14 marked pistes, served by a total of 15 ski lifts. From Bramberg am Wildkogel you can ski to the other villages of Neukirchen. Around 47% of the slopes are ideal for beginners, 40% serve the needs of intermediates, and the remaining 13% are for expert runs. Neukirchen/Bramberg-Ski-Arena Wildkogel is a family-friendly ski-resort with one of the world's longest tobogganing runs (14 km). Cross-country skiers and walkers will enjoy the trails around Bramberg - there are 45 kilometers (28 miles) of cross country ski trails. The ski area Wildkogel is surrounded by enormous mountains and offers great conditions for families, skiers, boarders, carver and powder freaks.
Family Friendly/Kids
Both, Bramberg and the Wildkogel Arena are very popular with families, hosting multiple runs suitable for younger skiers and Europe's longest illuminated toboggan run. In Bramberg am Wildkogel kids can learn skiing in the special family skiing area. The resort has a daycare for the kids starting from 3 years old.
Weather/Snow Weekly Forecast

View detailed snow forecast for Neukirchen/Bramberg-Ski-Arena Wildkogel at:
snow-forecast.com
Maps of Bramberg am Wildkogel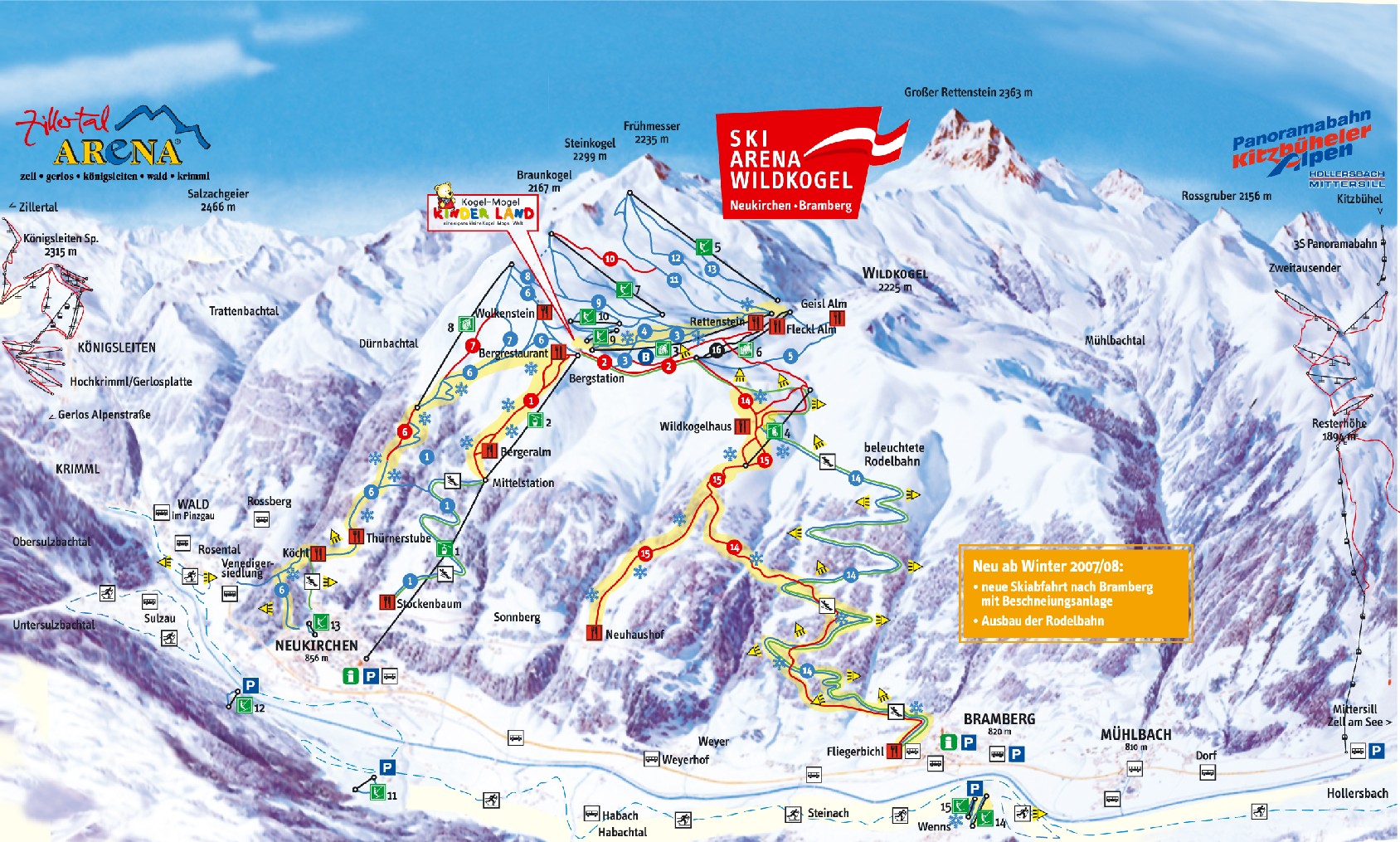 Live Webcam
Bramberg am Wildkogel live webcam stream:
Tourist Resources & Links
Bramberg am Wildkogel is a quiet Austrian resort, which has a relaxed village atmosphere and spectacular surroundings. There is a Bramberg Museum, which is worth to visit. Don't forget to enjoy local spas and massages after a busy day of skiing. You will have an unforgettable winter holiday in the amazing skiing area of Wildkogel Arena. Find out more information at the following website:
How to Choose Transfers to Bramberg am Wildkogel
Bramberg am Wildkogel ski resort transfers are about so much more than just getting you to your final destination. After all, you also want to arrive straight to the resort: in comfort, refreshed and ideally on time. Not all resort transfer services can promise this – Alps2Alps guarantees a higher-level service for every passenger.
Travel with us to Bramberg am Wildkogel and we'll provide you with the following guarantees:
Outstanding value for money throughout the season
Flexibility and convenience for all customers
24/7 customer service and English-speaking drivers
A family-friendly attitude and service with a smile
Total commitment to punctuality and reliability
Book Your Ski Transfer to Bramberg am Wildkogel
Take a moment to look for hot deals, discounts and special offers that could make your trip even more affordable. If looking to secure your seats for the best possible price, booking as early as possible is advisable.
If you can't find exactly what you're looking for, please get in touch with the Alps2Alps customer service team today. Otherwise, go ahead with your booking and we'll see you very soon!