Airport transfers to Zug – the city which has its own mountain
Switzerland is one of Europe's most popular destinations for skiing holidays. Canton of Zug is one of the 26 cantons of Switzerland. Zug is a very beautiful canton in central Switzerland with a breathtaking panorama of the Zugerberg Mountain and the Swiss Alps. There are 3 ski resorts in the canton of Zug: Ski lift Raten, Nollen ski lift with an outdoor snow bar and Zugerberg ski lift which offers the opportunity to ski in the evenings. Canton of Zug can offer you a lot of interesting outdoor activities such as – skiing, hiking or mountain climbing.
Ski Resort Location
The city of Zug is located in the Canton of Zug and is its capital. The city is home to 29,000 permanent residents and it is situated between the shore of Zug lake and its very own mountain, the Zugerberg. There are possibilities for cross-country skiing in Unterageri (length 18km), Menzingen (length 14km) and Zugerberg (length 11km classic and 15km skating) cross-country skiing runs. If you want to use the cross-country ski run, you can buy one of the passes at the Zug Tourismus Office.
The city of Zug has a delightful ancient Old Town and has a wide range of cultural activities to offer: music, theatre, art, film and performances. There are interesting museums to visit: the Museum of Prehistory, the castle houses the Museum of Cultural History of the city and Canton Zug, and Zug Art Gallery. The city of Zug offers various accommodation possibilities. Also, there are a few traditional and cosy restaurants.
Closest Airports to Zug
If you're flying to Zug, the closest airport is:
Closest Train Stations to Zug
Although Switzerland is known for its efficient rail network, we recommend you to order direct airport transfer to get to your chosen destination. If you will want to use public transport Zug city has impressive Zug train station, real art object - a light installation by the American artist James Turrell. Zug train station is within 11 minutes walking distance from Zug city centre.
Transfer Times
These transfer times are approximate only. Weather and traffic conditions can significantly impact transfer times:
Zurich Airport (ZRH) – 55 minutes
How Much Will My Transfer Cost?
We carefully calculate all resort transfer services individually, to ensure that our customers never overpay. Whenever you choose to travel and whatever your final destination, Alps 2 Alps will get you there for the lowest possible price. However, we advise booking early to access the best possible deal. In addition, keep up to date with Alps 2 Alps for the latest offers, deals and discounts on Zug resort transfer services.
Transfer costs are calculated in accordance with the following factors:
Where the journey begins (your arrival airport)
The time of year and seasonal demand
Peak times during the day and week/weekend
The size of your group and the number of children
The length and duration of the journey
All of the above will only ever result in our base-rate for ski transfers going down – we never over-inflate our prices at any time or for any reason. We also offer substantial discounts for off-peak, off-season and midweek transfers to Zug. If looking for the best possible deals, travelling outside peak season or midweek typically results in the biggest savings. We offer midweek (Monday to Friday) prices with up to 60% discount than weekend prices.
Your transfer quote will also depend on vehicle availability, transfer schedule, vehicle utilisation and other costs like road tolls and airport parking charges. In all instances, we work hard to keep our prices low and are relentlessly committed to total value for money. Which is why we guarantee you won't find a better deal on your Zug transfers, whatever your needs.
To discuss any specific requirements or plans to travel as part of a larger group, please get in touch directly so we can discuss your needs.
Resort Open & Closing Dates
Seasonal opening dates at Zug ski area are of course dependant on snow conditions, though are currently listed as follows:
Season opens – 7th December 2019
Season ends – 4th April 2020
Ski Resort Essentials
The Zug ski area lies at an elevation between 765m-1,112m with a max vertical of 281m. All 3 ski resorts in the Canton of Zug are sorted according to total slope length. The ski resort Nollen – Unterageri is the biggest ski resort in the Canton of Zug, its total slope length is 2 km with elevation is between 765-1,046m. The ski resort Raten-Oberageri is the highest and has the highest ski lift. Its elevation is 1,112 m. Total slope length is 0,8 km. Elevation of Zugerberg ski area is between 925 m - 940 m. Total slope length is 0,2 km. All ski-areas are ideal for beginners.
Family Friendly/Kids
All of 3 ski resorts in the Canton of Zug are great for beginners and families. Raten-Oberageri ski area has The Pinocchio ski lift for small kids where they can easily ski up the hill and then whiz down the hill through the hoops slalom style. Also, kids can enjoy a ride on the carousel. Nollen – Unterageri facilities include a children's lift. Zugerberg ski area has The Zugerberg mountain skiing school association (Verein Skischule Zugerberg), which provides skiing lessons for children.
Weather/Snow Weekly Forecast
Maps of Zug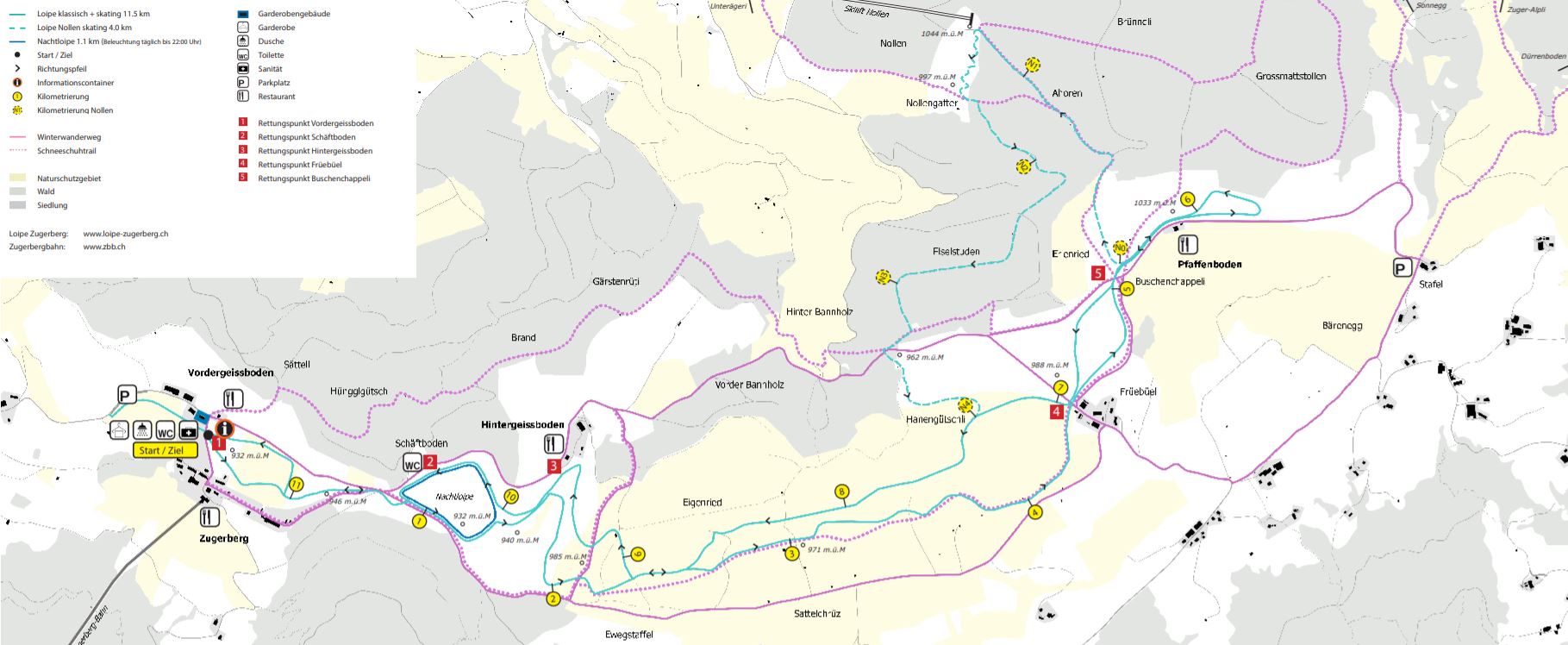 Live Webcam
Zug live webcam stream:
Nollen – Unterageri:
Raten-Oberageri:
Tourist Resources & Links
Make sure you are prepared for your trip to Zug. Discover the unique charm of this fantastic Swiss city. The Zug Mountain and Lake Zug are the city's main landmark. There are also a number of Swiss heritage sites of national significance in Zug. Find out more information at the following websites:
How to Choose Transfers to Zug
From our point of view, Zug resort transfers are about so much more than getting you to your final destination. After all, you also want to arrive comfortable, refreshed and ideally on time. Not all resort transfer services can promise this – Alps2Alps guarantees a higher-level service for every passenger.
Travel with us to Zug and we'll provide you with the following guarantees:
Outstanding value for money throughout the season
Flexibility and convenience for all customers
24/7 customer service and English-speaking drivers
A family-friendly attitude and service with a smile
Total commitment to punctuality and reliability
Book Your Ski Transfer to Zug
Be aware of all kinds of deals, discounts and special offers that could make your trip even more affordable. If looking to secure your seats for the best possible price, booking as early as possible is advisable.
If you can't find exactly what you're looking for, please get in touch with the Alps2Alps customer service team today. Otherwise, go ahead with your booking and we'll see you in the snow!