Alpe du Grand Serre ski resort & transfer guide
Alpe du Grand Serre is a perfect place for those who are tired from the fuss of the large resorts and wishing for a bit more intimacy on the slopes. Alpe du Grand Serre ski resort offers different activities for everyone – pistes for beginners and experienced skiers, ski schools for kids, snow parks and a wide variety of restaurants and bars.
Alpe du Grand Serre location
Located at an elevation of 1368 m in the French Dauphine Alps near the commune of La Morte, the Alpe du Grand Serre ski resort sits at the summit of a mountain pass. Due to it's smaller size, the village is more popular among locals and people from the neighbouring Grenoble, and it is an ideal place to enjoy the French countryside and everything it has to offer in a francophone atmosphere.
Closest airports to Alpe du Grand Serre
If you're flying to Alpe du Grand Serre, be sure to arrive into one of the closest airports:
Closest train stations
If you're travelling to Alpe du Grand Serre by train, make sure to choose the closest station - Gare de Grenoble, located 40 km away from the resort. The train services are operated by SNCF. From the train station, any transfers to your final destination can be arranged.
Transfer times
Gare de Grenoble – 1 hour
Grenoble Airport (GNB) – 1 hour 20 minutes
Chambery Airport (CMF) – 1 hour 40 minutes
Lyon St-Exupéry Airport (LYS) – 1 hour 45 minutes
How Much Will My Transfer Cost?
Regardless of your itinerary when heading out to Alpe du Grand Serre, our dynamic pricing system will keep your costs as low as possible. By taking into account the specifics each individual transfer to any destination, we are able to offer our costumers the best possible deals at all times.
The cost of your transfer to Alpe du Grand Serre may be affected by:
Size of your group (number of adults/children)
Your chosen point of arrival
Date/time of transfer
Seasonal demand
Travel time and total distance to your destination
Special offers available at the time of booking
Choosing Alps2Alps means securing comfortable and reliable transfers for you and your group to your chosen destination for the lowest possible price. All of the aforementioned criteria will only ever result in our ski transfer base-rate. We never over-inflate our prices at any time or for any reason. We also offer considerable discounts for off-peak, off-season and midweek transfers to Alpe du Grand Serre. If scouting for the best possible deals, travelling outside peak season or midweek typically results in the biggest savings. Save up to 60% by choosing a midweek (Monday to Friday) transfer!
Your transfer quote will also depend on overall vehicle availability, your transfer schedule and vehicle utilization, as well as other possible costs like road tolls and airport parking charges.
If you have any specific requirements or plan to be travelling in a larger group, please contact us directly so we can discuss this.
Resort Opening and Closing Dates
Alpe du Grand Serre season opening dates are subject to snow conditions:
Season opens – 21st December 2019
Season closes – 27th March 2020
Ski Resort Essentials
Doesn't matter if you are an experienced skier, a total beginner or planning a family trip with the youngest snow lower – in the Alpe du Grand Serre ski resort you'll definitely find the best fit for yourself and your group. 55 km long skiing distance at the Alpine park is combined with 3 ski lifts, 12 platter lifts and 1 toddler lift accessible with a ski instructor. For calmer skiing with the family, Alpe du Grand Serre offers a 20 km long Nordic park comprised of 6 different areas guaranteeing joyful skiing with amazing views. Here are some essential stats on the resort:
3 Black pistes
11Red pistes
16 Blue pistes
55 km Downhill pistes
20 km Cross-country pistes
20 ski lifts
Max vertical: 810 m
Family Friendly/Kids
Alpe du Grand Serre provides many activities for kids and families. One of the most popular is the Bout'choux kindergarten, which offers activities like sledging, igloo building, handicraft activities and much more. The kindergarten welcomes kids from 3 months to 6 years old. Starting at age the of 4, children can join the Club Piou Piou, a ski program designed uniquely for first-timers.
Weather/Snow Weekly Forecast

View detailed snow forecast for Alpe du Grand-Serre at:
snow-forecast.com
Maps of Alpe du Grand Serre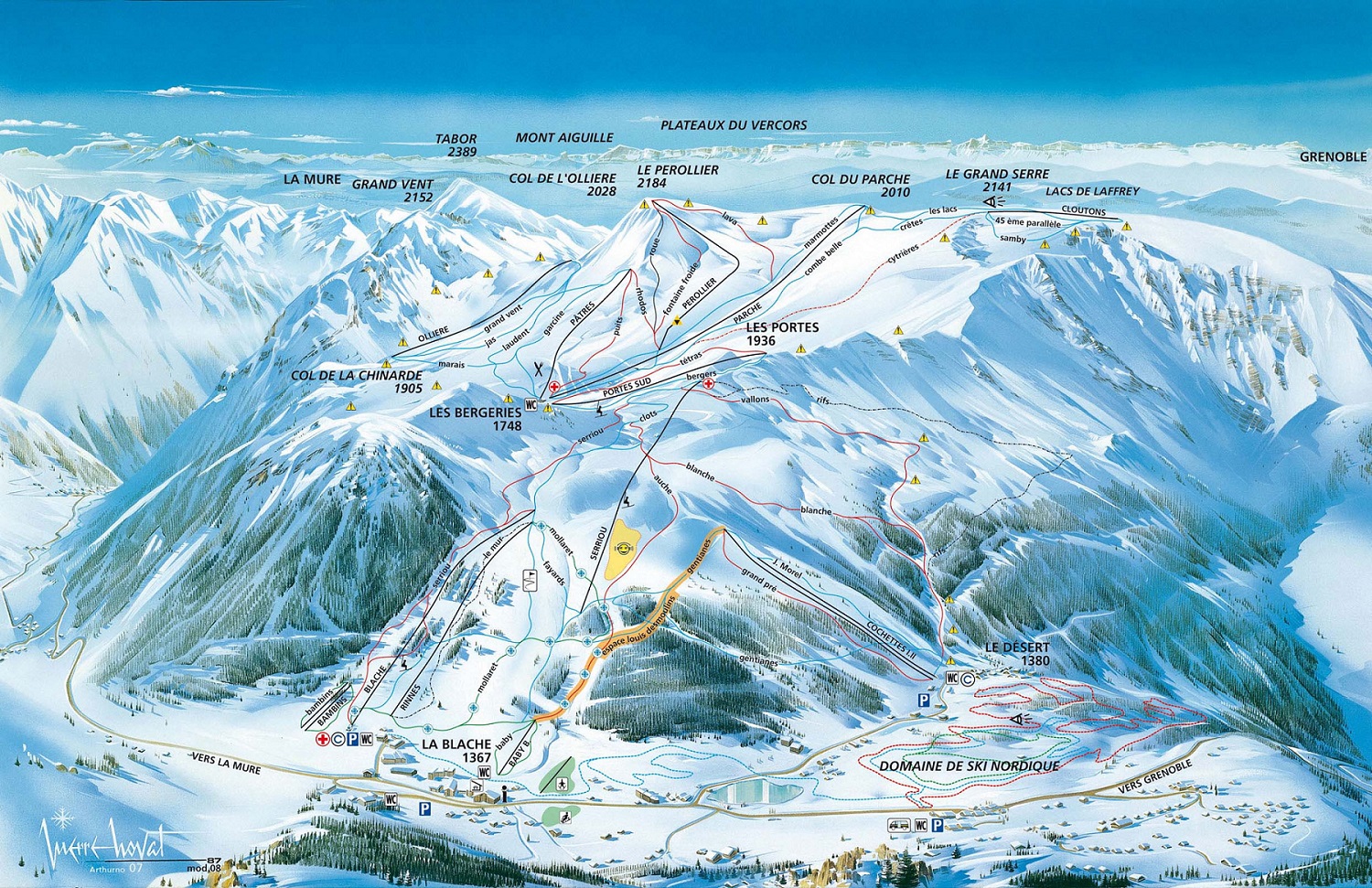 Live Webcam
Tourist resources & Links
For more information, special offers and events, check out the following:
How to Choose Transfers to Alpe du Grand Serre
When planning a ski holiday, choosing a transfer is one of the most important decisions. A great transfer is comfortable, safe, and always at the lowest price possible. Choose Alps2Alps for your transfer to Alpe du Grand Serre and enjoy:
Safe, comfortable and reliable vehicles always
Total commitment to reliability and punctuality
Customer service staff available 24/7
English-speaking drivers with solid local knowledge
Family-friendly service with a smile
The lowest possible prices for all trips at all times
Book Your Ski Transfer to Alpe du Grand Serre
In order to get the very best price, we recommend booking a transfer to Alpe du Grand Serre ahead of time. As soon as you have made a decision, simply give a call to our customer care team or fill out the online booking form.
Every trip starts with a transfer. Choose the best one – choose Alps2Alps!