Briancon Ski Resort & Travel Guide
Briancon is a commune in the Upper Alps of South-East France and is part of the Serre Chevalier Ski region.
With beautiful landscapes, amazing historical sights, great weather conditions and some of the best sports opportunities in the region, Briancon has something to offer for every kind of holiday maker.
You'll find a radiant, friendly atmosphere that's guaranteed to keep a smile on your face all year round. With a similar climate to places such as Nice and Toulon and over 300 sunny days throughout the year, the dry air can even help treat respiratory problems. Briancon is an ideal place to practice sports, relax in the fresh atmosphere, and enjoy the sunshine.
Thanks to the nearby ski area of Serre Chevalier and Montgenevre, you can enjoy a range of winter sports during the chillier months.
These include downhill skiing, cross-country skiing, snowboarding, exploring the mountains with snowshoes and, for the more daring at heart, the possibility of climbing frozen waterfalls!
It's not just thrill-seekers who are catered for however, as special conditions are always provided for families with children.
During the summer, opportunities are available for mountain bike tours, mountaineering, climbing, rafting and paragliding. Whatever time of year you look to visit, there will always be a wealth of different activities to choose from!
Ski Resort Location
Sitting comfortably at an altitude of 1326 meters above sea level, Briancon is home to over 12'000 residents and is built on along the confluence of the rivers Durance and Guissan.
Unsurprisingly, Briancon attracts many tourists every year, thanks to its picturesque scenery and unique, ancient architecture. While it's mostly known for its ski attractions, travellers can also visit various, important sites of local culture.
For example, the Church Cordelier, built in the XV century, has remained almost unchanged in its interior for over five hundred years. Tourists can see first-hand the preservation of regional icons and frescoes in a truly breath-taking setting.
Closest Airports to Briancon
If you're flying to Briancon ski resort, be sure to choose one of the nearest airports:
Closest Train Stations to Briancon
Luckily, Briancon has a direct train connection to the resort itself. If you're travelling by train, the Briancon train station is the closest available.
Transfer Times
These transfer times are approximate only. Weather conditions and traffic can significantly impact transfer times:
Briancon train station – 7 minutes
Chambery Airport (CMF) – 2 hours 40 minutes
Grenoble Airport (GNB) – 3 hours 30 minutes
Lyon St-Exupéry Airport (LYS) – 3 hours 20 minutes
Lyon Saint-Étienne–Bouthéon Airport (EBU) - 4 hours 30 minutes
Turin airport (TRN) – 2 hours
How Much Will Your Transfer Cost?
At Alps2Alps, we use progressive and flexible pricing systems that ensure costs are kept down for our customers without compromising on quality. We will take into account all of the details of your trip and adjust the costing accordingly, meaning you'll get the best price possible.
Your quote can be affected by factors such as:
Which airport you will be travelling from

What time you will be travelling (day/date of the week)

The distance from the airport of arrival to your chosen ski resort

How many people will be travelling (both adults and kids)

Special offers and deals available from us at the time of booking
All of the above factors will only ever result in our base-rate for ski transfers going down. We never overstate our prices at any time, or for any reason. Your transfer quote will also depend on vehicle availability, transfer schedules, vehicle utilisation and other costs such as road tolls or airport parking charges.
We're also happy to offer large discounts to clients during midweek or off peak transfers. It's never been a better time to book your transfers with us, as you can now get up to 60% discounts from Monday to Friday.
If you have any specific requirements or are looking to travel in a large group, please get in touch directly so we can discuss your requests.
Resort Open & Closing Dates
Current season opening dates in Briancon are as follows:
Season opens – 7th December 2019
Season closes – 19th April 2020
Ski Resort Essentials
Briancon is a medium sized and relatively compact ski resort, with plenty to offer for advanced or intermediate skiers and snowboarders. For the latter, there are 7 terrain parks and a half pipe to get to grips with.
It's also worth noting that a small proportion of the pistes at Briancon are covered by snowmaking machines.
1200m – Resort Altitude
23 pistes (50 % - beginner, 40% - intermediate, 10% - advanced)
9 ski lifts
Top lift – 2501m
Bottom lift – 1200m
Vertical Drop – 1301m
Snowmaking – 20%
7 terrain parks
The roads of Briancon are mostly straight and level, with well-lit and picturesque views. On the slopes, the total length of the trails is several hundred kilometres, with descents that range widely in difficulty. You'll find reasonable prices and plenty of good sleigh slopes throughout the resort.
Family Friendly/Kids
Located in the famous Chamonix Valley, Briancon is surrounded by forests and impressive mountain sides. It's no wonder that tourists flock to this resort for the peaceful, homely aesthetic that surrounds the ski slopes.
Looking for something a little livelier?
Venture further into the city and you'll find plenty of choice for accommodation, cafes, restaurants and nightclubs. There's a host of options for entertainment and leisure that are available throughout both the night and day. You'll never run out of things to do in Briancon!
The intensity of other ski resorts is nowhere to be seen here. You won't be in long queues for lifts, or be under time restraints. Instead, Briancon offers flat, wide ski runs and lots of choice for beginner alpinists. It should come as no surprise that this is a favourite amongst tourists with young children and elderly people.
Weather/Snow Weekly Forecast

View detailed snow forecast for Briancon at:
snow-forecast.com
Maps of Briancon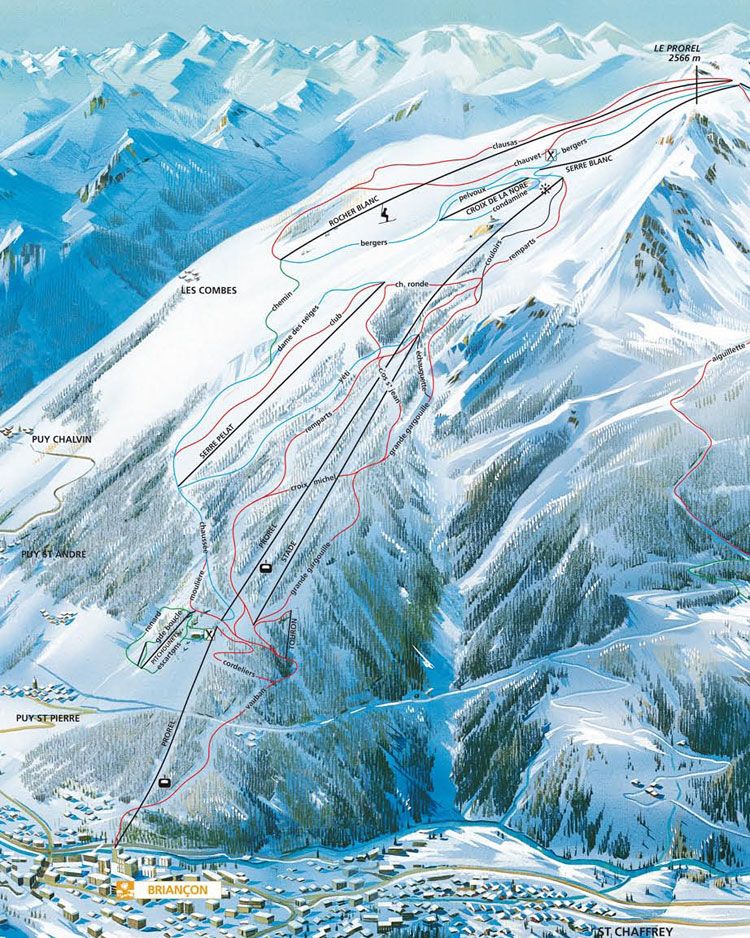 Live Webcam
Tourist Resources & Links
If you're going to Briancon, these useful links will help you to prepare thoroughly for your vacation time:
How to Choose Transfers to Briancon
Planning to spend your ski holiday in Briancon? Let it start with a little help from Alps2Alps. We're proud to offer you the safest, most affordable transfer available across the whole season. Start enjoying your vacation the moment you step into one of our vehicles, and let us take care of the stress.
Choose us and benefit from:
Modern, clean and reliable vehicles
Total commitment to punctuality
Friendly drivers with advanced English language skills
A 24/7 customer care staff on-call at your service
Guaranteed lowest prices on all our services during the whole ski season
Book Your Ski Transfer to Briancon
If you want to get the best price for your transfer, be sure to book it in advance.
Can't find the service or destination you're looking for on our webpage? Don't panic! In that case, just call our customer managers, and they will give you the information you need. If you want to ensure of an amazing start of your holiday, you can count on Alps2Alps!