Les Contamines Resort & Transfer Guide
The ski resort Les Contamines differs from the more famous neighbours Megeve and Chamonix by the fact that even in the high season you will not see a large number of tourists here. This place is ideal for those who prefer the rest in seclusion and quiet atmosphere, with good snow and long descents, as well as for recreation with the whole family.
The village of the same name, which is the centre of the resort, saved all the charm of antiquity, and at the same time Les Contamines is a modern comfortable resort with a huge and diverse ski area and developed infrastructure.
The ski runs of the resort are known by their length and magnificent snow cover. Every year in January, international freestyle competitions take place in Les Contamines, which certainly speaks of the excellent quality of its trails.
Ski Resort Location
Les Contamines Montjoie is located in the centre of Mont Blanc in Haute-Savoie, the resort is situated at the foot of Mont Blanc between such famous resorts as Megeve and Chamonix. But, unlike them, Les Contamines is a relatively small and moderately quiet alpine village.
The skiing area is not too great - only about 120 km of tracks, but it is a part of the united region of skiing called Evasion Mont-Blanc with a single ski pass.
The skiing area of the resort is divided into four zones: Village - the nearest to the village with the simplest green slopes, more suitable for beginners. The routes of the Montjoie zone are also quite simple, but the Tierces zone will please athletes with experience with their interesting alpine descents. The Roselette zone is closed on both sides by small ridges, it is rather compact.
Closest Airports to Les Contamines
If you're going to spend your holidays at Les Contamines resort, be ready to arrive into one of the nearest airports:
Closest Train Stations to Les Contamines
There are no direct train connections to the resort itself. If you're travelling by train, this is the closest station to Les Contamines, from which transfers can be arranged:
Saint-Gervais-les-Bains-Le Fayet
Trains are operated by the French national rail company SNCF.
Transfer Times
The time of transfer to the resort from these airports is approximate because the transfer time could be impacted by traffic conditions and current weather also.
Saint Gervais – Le Fayet train station –30 minutes
Chambery Airport – 2 hours
Lyon St Exupery Airport – 2 hours 50 minutes
Grenoble Airport – 2 hours 50 minutes
How Much Will My Transfer Cost?
Here, in the Alps2Alps, we do our best to guarantee our rates for all transfer services will be available at any time. Even if you go to Les Contamines in the high season, you still can be sure of the most beneficial prices for our services.
There are several factors that may impact on the final quote of your transfer. They include:
Airport of your arriving
Distance and travel time to the point of destination
Season and seasonal demand
The size of your group (both children and adults)
Deals and discounts at the moment of transfer booking
Alps2Alps never overstate prices at any time and by any reason. We consider as many factors as possible to lower our standard rates, whenever it can be done. We always recommend our customers to book the transfer in advance in order to get access to the best offers. If you are looking for the best deals, notice that travelling outside of the peak season or in the middle of the week leads to the most savings. We usually give discounts of up to 60% for the transfers in the middle of the week than on the weekends.
Final quote for you will also be dependent on the availability of the car, the transfer schedule, the use of the vehicle and other costs like tolls and parking fees at the airport.
If you have any questions, please contact us directly so that we can help you quickly according to your needs.
Resort Open & Closing Dates
Seasonal opening dates at Les Contamines are following:
Season opens: 20th December 2019
Season closes: 19th April 2020
Ski Resort Essentials
Despite the relatively low skiing heights, the snow on the surrounding slopes retains the winter quality until late spring - the closeness to Mont Blanc is affected. Most of the resort's trails are most suitable for middle skiers and snowboarders. Fans of freeride will also be satisfied: around you can find many interesting options for free descents and excellent virgin snow.
Resort altitude – 1164m
Highest point - 2500 m
Vertical drop of 1336 m
120 km of pistes
8 Green pistes
12 Blue pistes
19 Red pistes
9 Black pistes
25 Ski lifts
Family Friendly/Kids
Les Contamines is a quiet and peaceful place, mostly preferred by fans of secluded skiing holidays. In addition to mountain skiing, there are many other interesting entertainments waiting for you in Les Contamines. These include 26 kilometres of plain skiing, specially equipped areas for extreme off-piste skiing, as well as great opportunities for snowboarders - the snowboard trails here are also divided into several levels of difficulty, there are a halfpipe and a snowboard park.
As Les Contamines is more classified as a family resort, it's a perfect choice to spend your holiday with all family.
Weather/Snow Weekly Forecast

View detailed snow forecast for Les Contamines at:
snow-forecast.com
Maps of Les Contamines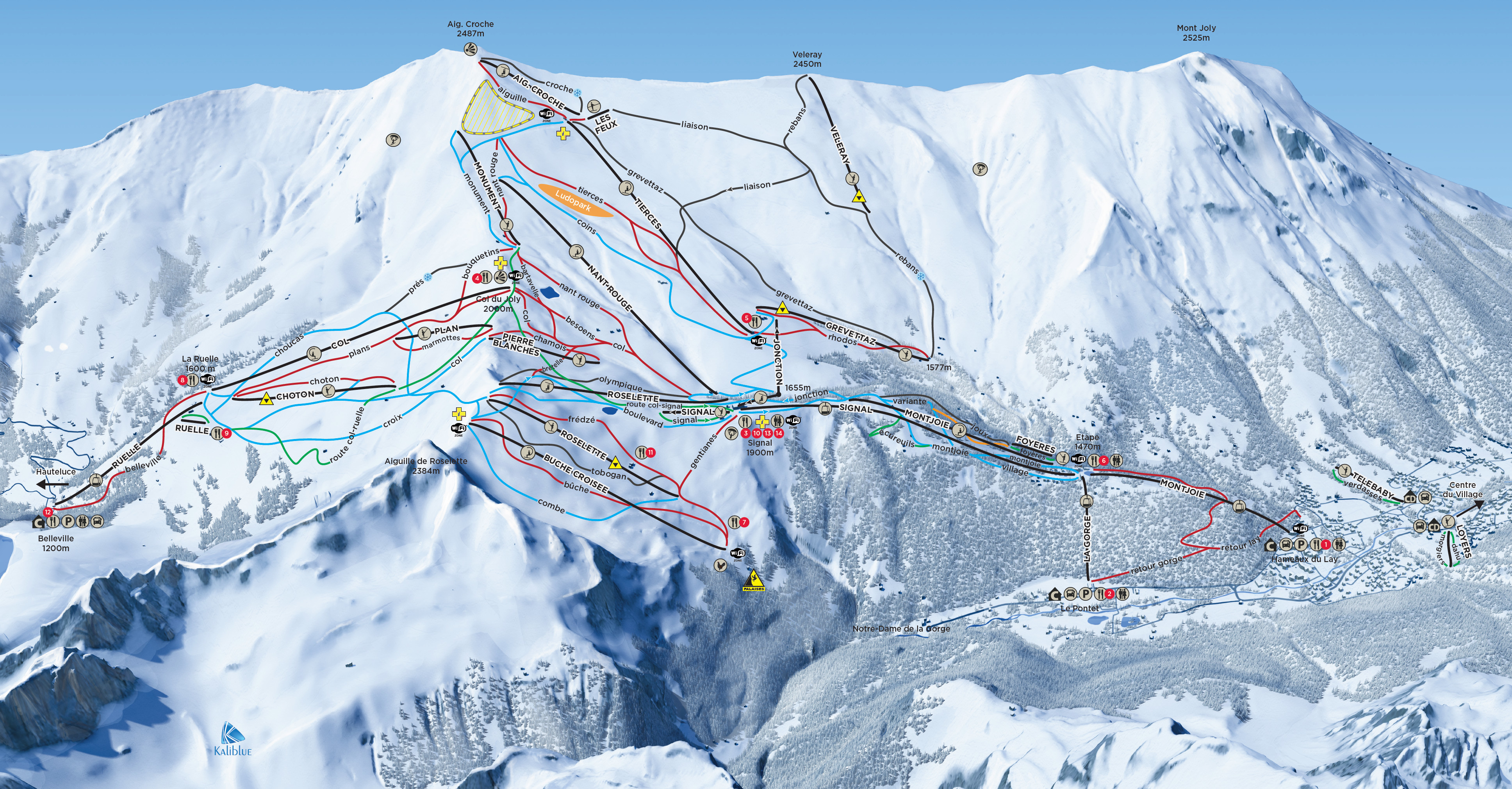 Live Webcam
Tourist Resources & Links
We advise you to get more information about skiing, check out some touristic websites about Les Contamines. For example, you can see following pages:
How to Choose Transfers to Les Contamines
In Alps2Alps we know what exactly our clients expect from the transfer company. It's not so hard to guess: arriving on time, in a comfortable and friendly atmosphere with paying the lowest cost for your transfer.
Go to Les Contamines with us, and in return, we will guarantee you:
Reliable and modern cars
Total punctuality and flexibility in all possible situations
Our Customer Support Service – works for you 24/7
English-speaking drivers with solid local knowledge
Family-friendly service with a smile
The best prices for all trips at any time
Book Your Ski Transfer to Les Contamines
It is always better to book your shuttle to the resort as early as possible in order to get the biggest economy of money. Don't doubt to call our customer service team or fill out the online request form.
The best trips to Alpine ski resorts always start with the best transfers - exactly what Alps2Alps is!