Saint-Gervais-les-Bains Resort & Transfer Guide
Saint-Gervais-les-Bains is the first mountain spa town, busy with tourists since 1806 but dating back to Roman times. The village lies near the spectacular Tête Rousse glacier. This fantastic ski resort combines the pleasures of snow activities in winter, summertime mountain activities, incredible nature and thermal spas for year-round relaxation.
Saint-Gervais-les-Bains is the gateway to the Ski Pass Mont Blanc Ski Area - the 3rd largest in France. Ski Pass Mont-Blanc ski area is made up of 5 separate resorts - Megève, Saint Gervais, Saint Nicolas, Combloux and Les Contamines.
Ski Resort Location
The ski resort Saint-Gervais-les-Bains is located in Pays du Mont Blanc (France, Auvergne-Rhône-Alpes, Savoie Mont Blanc, Haute-Savoie, Bonneville). The main ski areas in Saint-Gervais-les-Bains are the ski resorts Megève/Saint-Gervais and Les Houches/Saint-Gervais – Prarion/Bellevue (Chamonix). These ski resorts are located between 0.7 kilometres and 1.2 kilometres from the centre of the Saint-Gervais-les-Bains village.
Saint-Gervais-les-Bains offers a wide range of winter activities: skiing, winter mountaineering, ice skating, curling, skijoring, paragliding, tandem skiing, cross country skiing, snow park, snowshoeing, hiking, wellness activities, culture and heritage, and some evening activities outdoors: skiing, ski touring, snowshoeing etc. The ski resort of Saint-Gervais-les-Bains has some really good restaurants, and luxury hotels: Le Tremplin de la Croix, O'Communailles, Au Comptoir Alpin, La Folie Douce.
You can enjoy a new pool or a trip to the Mont Blanc Thermal Baths, after a day on the slopes. The spa with the naturally warm spring water, which has been flowing for the past 200 years, guarantees you the unforgettable memories about your stay in Saint-Gervais-les-Bains.
Closest Airports to Saint-Gervais-les-Bains
If you're flying to Saint-Gervais-les-Bains, be sure to arrive via one of the closest airports:
Closest Train Stations to Saint-Gervais-les-Bains
The closest train station to Saint-Gervais-les-Bains is Saint-Gervais les Bains / Le Fayet . We strongly recommend you to use airport transfers. By booking a direct transfer you will benefit from the convenience and safety during your journey to Saint-Gervais-les-Bains.
Transfer Times
These transfer times are approximate only. Weather and traffic conditions can significantly impact transfer times:
Geneva Airport (GVA) – 1 hour 20 minutes
Chambery Savoie Airport (CMF) – 1 hour 45 minutes
Lyon–Saint Exupéry Airport (LYS) – 2 hours 30 minutes
Grenoble Airport (GNB) – 2 hours, 30 minutes
How Much Will My Transfer Cost?
We carefully calculate all resort transfer services individually, to ensure that our customers don't overpay. Whenever you choose to travel and whatever your final destination, Alps2Alps will get you there for the best possible price. However, we advise booking early to access the best possible deal. In addition, keep up to date with Alps2Alps for the latest offers, deals and discounts on Saint-Gervais-les-Bains resort transfer services.
Transfer costs are calculated in accordance with the following factors:
Where the journey begins (your arrival airport)
The time of year and seasonal demand
Peak times during the day and week/weekend
The size of your group and the number of children
The length and duration of the journey
All of the above will only ever result in our base-rate for ski transfers going down – we never over-inflate our prices at any time or for any reason. We also offer substantial discounts for off-peak, off-season and midweek transfers to Saint-Gervais-les-Bains. If looking for the best possible deals, travelling outside peak season or midweek typically results in the biggest savings. We offer midweek (Monday to Friday) prices with up to 60% discount than weekend prices.
Your transfer quote will also depend on vehicle availability, transfer schedule, vehicle utilisation and other costs like road tolls and airport parking charges. In all instances, we work hard to keep our prices low and are relentlessly committed to total value for money. Which is why we guarantee you won't find a better deal on your Saint-Gervais-les-Bains ski resort transfers, whatever your needs.
To discuss any specific requirements or plans to travel as part of a larger group, please get in touch directly so we can discuss your needs.
Resort Open & Closing Dates
Seasonal opening dates at Saint-Gervais-les-Bains are of course dependant on snow conditions, though are currently listed as follows:
Saint-Gervais-les-Bains usually opens mid-December and closes mid-April.
Ski Resort Essentials
The resort of Saint-Gervais-les-Bains lies at an elevation of 850m, with a max vertical of 1500m and its highest lift going as far as 2,350m. There are a total of 65km of downhill skiing in the immediate vicinity of the resort, served by 27 ski lifts. 23 green pistes are ideal for beginners, 41 blue pistes serve the needs of intermediates, 54 red slopes are for advanced skiers and 17 pistes are far more challenging.
Of course, it's important to remember that Saint-Gervais-les-Bains is part of the Ski Pass Mont Blanc ski area, with 952km of pistes and 248 ski lifts accessible with a single pass. In addition to the skiing in St Gervais Mont-Blanc itself the appropriate ski Lift Pass will allow you to ski or snowboard in the other Ski Pass Mont Blanc ski resorts of Argentière, Chamonix, Combloux, Cordon, Le Tour, Les Contamines, Les Houches, Megève and Passy Plaine Joux.
Family Friendly/Kids
Saint-Gervais-les-Bains boasts the "Famille Plus" label of quality. There is a children's club in the Saint-Gervais-les-Bains. The ski resort has everything for the happiness of kids: there is also a ski kindergarten «Garderie Le Bettex», where your child can attend a course of training in skiing, ski competitions and also guest kindergarten «St. Nicolas de Veroce», for the kids from 2 years old.
Weather/Snow Weekly Forecast

View detailed snow forecast for Saint Gervais at:
snow-forecast.com
Maps of Saint-Gervais-les-Bains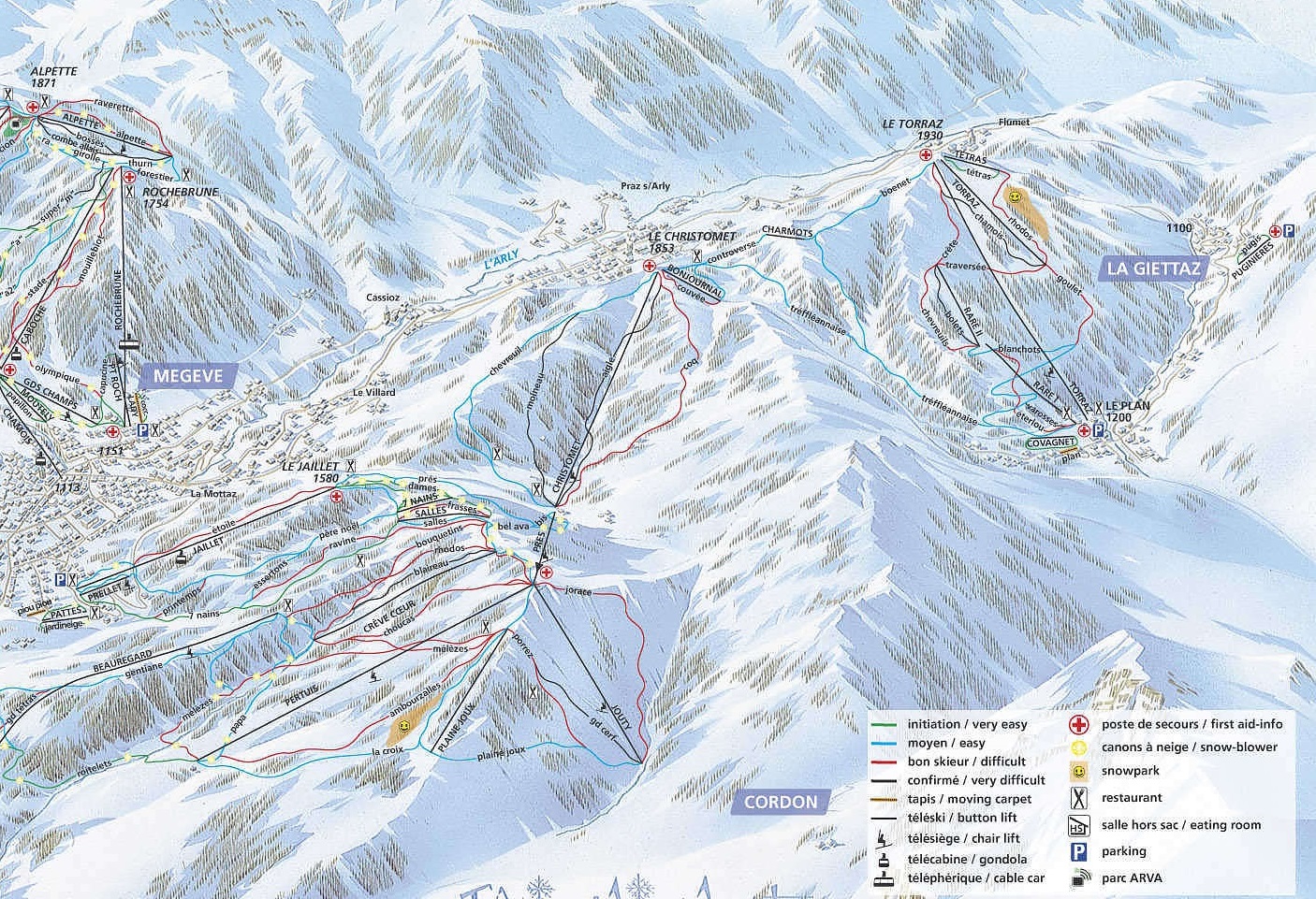 Live Webcam
Saint-Gervais-les-Bains live webcam stream:
Tourist Resources & Links
Saint-Gervais-les-Bains resort offers a great range of activities during summer and winter time. You should definitely visit the Baths of Saint-Gervais. Church Saint-Nicolas-de-Véroce: founded in the 10th century, Saint-Nicolas offers an out of the ordinary visit to skiers that pass from snow-covered slopes to the Baroque footpath. The church and the Museum of Sacred Art are both situated at the foot of the Chef Lieu chair-lift and can be visited "on skis"!
Find out more information at the following website:
How to Choose Transfers to Saint-Gervais-les-Bains
The way we see it, Saint-Gervais-les-Bains ski resort transfers are about so much more than getting you to your chosen destination. After all, you also want to arrive comfortable, refreshed and ideally on time. Not all resort transfer services can promise this – Alps2Alps guarantees a higher-level service for every passenger.
Travel with us to Saint-Gervais-les-Bains and we'll provide you with the following guarantees:
Outstanding value for money throughout the season
Flexibility and convenience for all customers
24/7 customer service and English-speaking drivers
A family-friendly attitude and service with a smile
Total commitment to punctuality and reliability
Book Your Ski Transfer to Saint-Gervais-les-Bains
Always be aware of all kinds of deals, discounts and special offers that could make your trip even more affordable. If looking to secure your seats for the best possible price, booking as early as possible is advisable.
If you can't find exactly what you're looking for, please get in touch with the Alps2Alps customer service team today. If you are ready, go ahead with your booking and we'll see you in the snow!