Folgarida Ski Resort & Transfer Guide
Folgarida is not only beautiful ski resort, but also an important economic center in Trento region. Since last century, Folgarida has developed into great tourism destination offering large amount of tourism services and facilities. It is also a great ski holiday destination for family with kids of all age. Here you'll find vital information on the Folgarida ski resort as well as help and guidance in booking your transfer.
Ski Resort Location
Folgarida is located 1270 m asl and is a perfect place for memorable ski holidays in Italian Alps. This is one of the resorts built by purpose in beautiful scenery with typical Alpine houses - a great place for ski holidays. The resort has a modern and high quality lift system that can transport thousands of visitors up to slopes and neighboring areas.
Closest Airports to Folgarida
If you're flying to Folgarida, arrive at one of the closest airports:
Closest Train Stations to Folgarida
If you're travelling by train, these are the closest stations to Folgarida:
Transfer Times & Prices
These transfer times are approximate only. Weather and traffic conditions can significantly impact transfer time:
Trento - 1 hour 30 minutes
Treviso Airport (TSF) – 3 hours 25 minutes
Innsbruck Airport (INN) – 3 hours 15 minutes
Venice Marco Polo Airport (VCE) – 3 hours 30 minutes
Orio al Serio International Airport (BGY) – 3 hours 25 minutes
Milan Linate Airport (LIN) – 3 hours 50 minutes
How Much Will My Transfer Cost?
We take a dynamic approach to our pricing structure. We will not offer you a flat rate quote for your transfer to and from Folgarida. To offer you the best price, we take several aspects in consideration; in result we can offer your the best possible deal and be cheaper than our competitors.
Developing our prices, we start with a standard rate and alter it with your travel circumstances. Here is the factors, which influence the price of your quote:
Your airport and destination
Number of persons travelling
Day of travel
Time of travel
Special discounts available
All the factors mentioned above will only ever result in our base-rate going down – we never over-inflate our prices at any time or for any reason. We also offer great discounts for off-peak, off-season and midweek transfers to Folgarida. If looking for the best possible deals, travelling outside peak season or midweek typically results in the biggest savings. We offer midweek (Monday to Friday) prices with up to 60% discount than weekend prices.
Your transfer quote will also depend on vehicle availability, transfer schedule, vehicle utilisation and other costs like road tolls and airport parking charges.
If you have any specific requirements or will be travelling as part of a larger group, please get in touch directly so we can discuss this.
Resort Open & Closing Dates
Folgarida season opening dates are subject to snow conditions:
Season opens: 30th November 2019
Season closes: 26th April 2020
Ski Resort Essentials
Folgarida sits at 1400 m with pistes/trails from 1300 m to 2179 m above sea level
Here are some essential stats for visitors to Folgarida/Marilleva ski area:
8 Black pistes (7 km)
13 Red pistes (21 km)
19 Blue pistes (25 km)
1 Snowpark
13 km Cross country pistes
25 Ski lifts
Max vertical: 879 m
Folgarida is a great destination for intermediate and beginner skiers as well as those with families.
Family Friendly/Kids
Folgarida is a perfect winter ski resort for all the family. The resort offers convenient child facilities and entertainment options. There are also several highlights for families with kids. Children 8 years old and younger will receive a ski pass for free when skiing with their adult companion. The area offers also numerous ski and show parks for family fun and activity.
Weather/Snow Weekly Forecast:

View detailed snow forecast for Folgarida-Marilleva at:
snow-forecast.com
Maps of Folgarida Pistes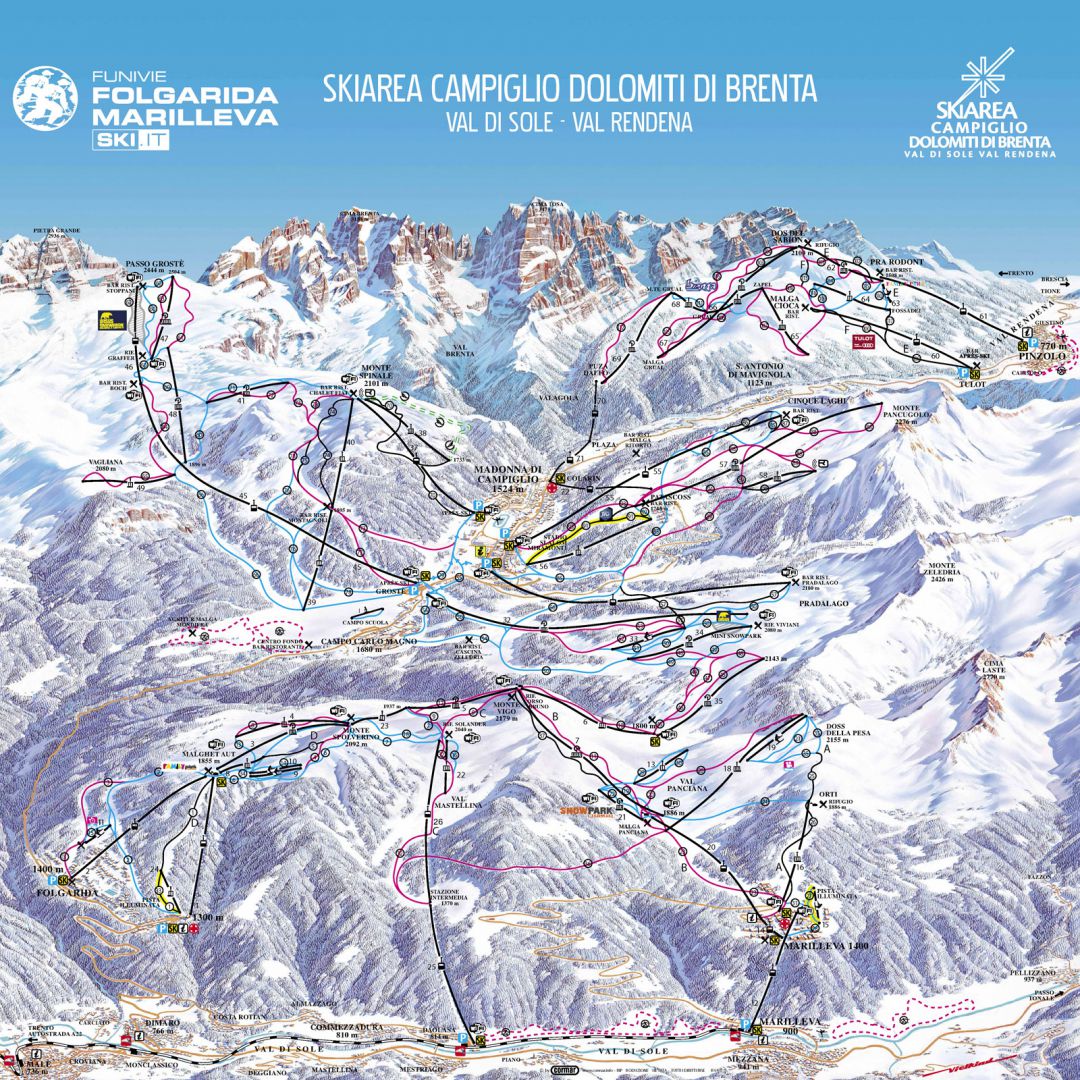 Live Webcam
Tourist Resources & Links
If you're heading to Folgarida, there useful links will help you prepare for your trip away:
How to Choose Transfer to Folgarida
We are the lowest cost airport transfer provider that covers Folgarida and other ski resorts in Italy and all Alps with private transfers. Our vehicles with our professional English-speaking drivers are based at the departure airports ensuring we are the lowest cost, most reliable and punctual transfer service for the Italian resort.
When booking your transfer, you need a provider that works for you:
Cost of service – we offer the lowest cost airport transfers
24/7 assistance – our drivers and staff are always available to help
Friendliness – we employ experienced, friendly and pro-active staff
Family oriented – we understand and offer family travel requirements (baby/child seats available free)
English-speaking – all our drivers are fluent in English
Modern fleet – we are fully equipped for winter conditions in compliance with local regulations and insurance requirements (our fleet consist of Opel Vivaro, Renault Trafic and Mercedes E Class vehicles)
Resourcefulness – we will always do our best to find a solution for any problems you may encounter
Book Your Ski Transfer to Folgarida
Book online with us and we will guarantee the fastest, lowest cost and most efficient transfers for your needs. If your service request are from airport or destination not listed, contact us directly and we will do everything in our power to help you.
We operate at the lowest cost possible without making cuts on our service, reliability and safety. Start and end your trip to Folgarida in the best possible way with Alps2Alps transfers. Book your transfer here.