La Thuile Ski Resort & Transfer Guide
If you're looking for a quiet spot away from the crowded slopes of France, La Thuile could be for you. The ski resort is laid back, affordable and utterly pleasant. An excellent starting place for beginners and popular with Brits on a budget, La Thuile oozes the charm and sentiment you'd expect from a small Italian mountain village. Here you'll find everything you need to know about La Thuile ski resort and a handy guide to local airport transfers.
Ski Resort Location
Sitting among the Valle d'Aosta, La Thuile was once a respected mining village that has now been expanded and restored. Today, sections of the area resemble that of a French purpose built resort. Don't let that fool you though, the historic village is both quaint and picturesque. The combination of old and new combine perfectly together to offer a genuine but comfortable winter getaway.
La Thuile is known locally as 'Little Siberia' and claims to have the best snow conditions in the Alps. You can easily ski over into France to La Rosiere on one ski pass. The village, along with its French neighbour, is part of the international ski resort Espace San Bernado. This offers access to the breath-taking Rutor and Miravidi glaciers.
Closest Airports to La Thuile
If you're flying to La Thuile, be sure to arrive into one of the closest airports:
Closest Train Stations to La Thuile
If you're travelling by train, these are the closest stations to La Thuile:
Transfer Times & Prices
These transfer times are approximate only. Weather and traffic conditions can significantly impact transfer time:
Pre-St-Didier – 37 minutes
Annecy Airport (NCY) – 2 hours 35 minutes
Turin Caselle Airport (TRN) – 2 hours 20 minutes
Milan Malpensa Airport (MXP) – 2 hours 55 minutes
Chambery Airport (CMF) – 2 hours 35 minutes
Milan Linate Airport (LIN) – 3 hours 15 minutes
Orio al Serio International Airport (BGY) – 3 hours 35 minutes
Grenoble Airport (GNB) – 3 hours 15 minutes
Lyon St-Exupéry Airport (LYS) – 3 hours 15 minutes
EuroAirport Basel (BSL) – 4 hours 35 minutes
How Much Will My Transfer Cost?
When pricing our transfers, we take a dynamic approach. We don't just offer a flat rate for the transfer to and from La Thuile. Instead, we take into consideration the individual circumstances of your journey. We're already cheaper than our competitors but this dynamic approach lets us offer the very best deal.
When you come to Alps 2 Alps for a quote, we start with our standard rate and then alter this to complement your circumstances. Here are the factors that will affect your La Thuile transfer quote:
Transfer journey – what airport you're coming from
Number of people travelling
Day of travel
Time of travel
Special discounts available
All of the above will only ever result in our base-rate for ski transfers going down – we never over-inflate our prices at any time or for any reason. We also offer substantial discounts for off-peak, off-season and midweek transfers to La Thuile. If looking for the best possible deals, travelling outside peak season or midweek typically results in the biggest savings. We offer midweek (Monday to Friday) prices with up to 60% discount than weekend prices.
Your transfer quote will also depend on vehicle availability, transfer schedule, vehicle utilisation and other costs like road tolls and airport parking charges.
If you have any specific requirements or will be travelling as part of a larger group, please get in touch directly so we can discuss this.
Resort Open & Closing Dates
La Thuile's season opening dates are subject to snow conditions:
Season opens – 14th December 2019
Season ends – 24th April 2020
Ski Resort Essentials
La Thuile sits at an altitude of 1,450m and has a max vertical of 1,170m. Here's some vital info about the resort itself:
14 black pistes
24 red pistes
15 blue pistes
146km downhill pistes
16km cross country pistes
17 ski lifts
1,170m max vertical
2,610m highest lift
1,450m resort altitude
1,440m lowest piste
Renowned for quiet slopes
La Thuile is a resort that can accommodate all levels of skier. It has excellent runs for intermediate skiers and is a great place for beginners too.
Family Friendly/Kids
La Thuile is a great destination for families. The quieter slopes present the perfect opportunity for children to become comfortable with skiing. The nursery slopes are exceptionally helpful for first timers too. There are plenty of facilities specially designed for children while it also offers the allure of being moments away from an international border.
Weather/Snow Weekly Forecast

View detailed snow forecast for La Thuile at:
snow-forecast.com
Maps of La Thuile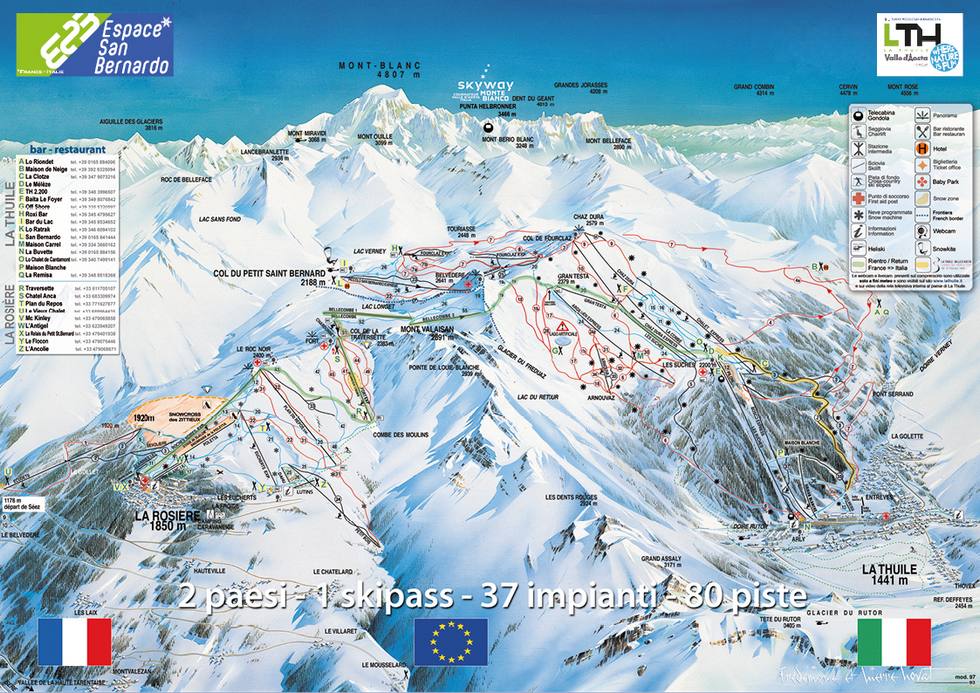 Live Webcam
La Thuile live webcam stream:
Tourist Resources & Links
If you're off to La Thuile, these useful links should help you prepare for your trip:
How to Choose Transfers to La Thuile
We offer the lowest cost airport transfers to La Thuile ski resort. We base our vehicles at the departure airports to enable us to offer the lowest priced, most reliable and most punctual transfer service.
When you book your transfer, you need a provider that works for you:
Cost of service – we're the lowest cost transfer provider for La Thuile
24/7 assistance – we're always on hand to help
Friendly service – we're experienced, friendly and pro-active
Family friendly – we understand travelling with children can be stressful, we'll do our best to make your transfer to La Thuile as peaceful as possible (child/baby seats provided free)
English speaking – our drivers are all fluent in English as well as other European languages
Modern fleet – we're fully equipped for winter conditions and comply with local regulations
Reliable service – we won't let you down!
Resourcefulness – we'll always do our best to find a resolution to any problems you have
Book Your Ski Transfer to La Thuile
Book your ski transfer to La Thuile with us online to ensure the fastest, most efficient and lowest cost service. If you require a service or destination which isn't available, get in touch and we'll do our best to help you.
We operate at the lowest cost possible without compromising on service, reliability and safety. Start and end your trip to La Thuile in the best possible way.