Madonna di Campiglio Resort & Transfer Guide
The world-famous town of Madonna di Campiglio is one of the most elegant resorts in the Alps. A very fashionable and prestigious resort meets the highest requirements - from luxury hotels to well-prepared ski runs. Here you can enjoy the most beautiful scenery and the purest Alpine air, and plunge into the atmosphere of the true winter fairy tale! This place revives our childhood fantasies about a magical land where gnomes and enchanted princesses were living.
The resort has everything for the most demanding tourist, an excellent infrastructure will satisfy needs of everyone. The resort is suitable for tourists of all ages and with different levels of skiing.
Madonna di Campiglio is a family resort, where for dads - black pistes and a delicious meal, for moms – good shopping, for kids - kinder gardens and parks, and for all the tourists - incredible beauty of nature and a lot of fun.
Ski Resort Location
The ski resort of Madonna di Campiglio is located in the north-east of Italy, in the region of Trentino, in the valley of Val Rendena. This is the territory of the national park Adamello-Brenta, one of the largest in Europe, which is included in the UNESCO heritage list.
Enjoy the wonderful natural landscapes of amazing beauty here in the territory rich in lakes, waterfalls, alpine meadows and forests. The resort of Madonna di Campiglio is completely surrounded by the Alpine Dolomites.
As the saying goes it is better to see once than to read large colorful descriptions. How to get to the resort, see it below.
Closest Airports to Madonna di Campiglio
If you're flying to Madonna di Campiglio, be sure to arrive into one of the closest airports:
Closest Train Stations to Madonna di Campiglio
The nearest train stations to Madonna di Campiglio are:
Dimaro Ferrovia – 20.5km
Trento – distance 73km
Brescia – distance 130km
Transfer Times
These transfer times are approximate only. Weather and traffic conditions can significantly impact transfer time:
Venice Marco Polo Airport (VCE) – 4 hours

Bergamo airport Orio al Serio) (BGY) – 3 hours 20 minutes

Treviso airport – 3hours 45minutes

Milan Linate Airport (LIN) – 3 hours 50 minutes

Milan Malpensa Airport (MXP) – 4 hours 25 minutes
How Much Will My Transfer Cost?
Alps2Alps offer the most beneficial transfer services to the resort of Madonna di Campiglio. It does not matter when you are going to rest - during the peak season or at the end of the season - we will provide reliable, comfortable and, no less important, the lowest-cost transfer for you, your family and friends to the Madonna di Campiglio.
Calculation of the cost of the transfer is individual for our customers, the price will depend on the following factors:
- Place of arrival - to which airport you arrive
- Distance - distance from the airport to the resort
- Arrival time (season, day of the week)
- The number of people in your group (adults and small travelers)
- Current seasonal shares (discounts and special offers of the company)
We provide large discounts for the midweek. If you want to save on transfer, know that the most beneficial offer is a trip in the middle of the week. From Monday to Friday Alps 2 Alps is ready to offer a transfer with a discount up to 60%, than on weekends.
The calculation of the cost of your transfer will also depend on such factors as the vehicle availability, transfer schedules, vehicle utilization and other costs as toll roads and parking charges at the airport.
If you plan to travel in a large group and you have any wishes, please contact us to discuss the possibility of your transfer.
Resort Open & Closing Dates
Seasonal opening dates at Madonna di Campiglio are always dependent on snow conditions, currently dates are following:
Season opens: 30th November 2019
Season closes: 26th April 2020
Ski Resort Essentials
The resort of Madonna di Campiglio is situated above 1,500m with the maximum elevation of 2,500m, skiing and snowboarding is assured throughout the season.
• 150km of connected Pistes
• 1 ski pass for the whole area
• 45 blue Pistes
• 37 Red Pistes,
• 18 Black Pistes
• 4 snowboard parks
• 60 Ski Lifts
• 95% snow making
• 850m Min ski area altitude
• 2500m Max Resort Altitude
At your service are 150km of connected slopes for skiing from Madonna di Campiglio to Pinzolo, in the largest ski area of Trentino. Madonna di Campiglio has a lot of ski runs where you can try yourself. From first-timers to seasoned pros, everyone can choose his best ski run there.
Family Friendly/Kids
Spending their holydays in the Madonna di Campiglio resort all the little travellers will not be left without care and attention. The families with kids are always welcome here. The ski schools of Madonna di Campiglio have at your disposal more than 500 professional ski instructors, that teach you and your children how to ski properly thanks to the ski lessons.
Weather/Snow Weekly Forecast

View detailed snow forecast for Madonna di Campiglio at:
snow-forecast.com
Maps of Madonna di Campiglio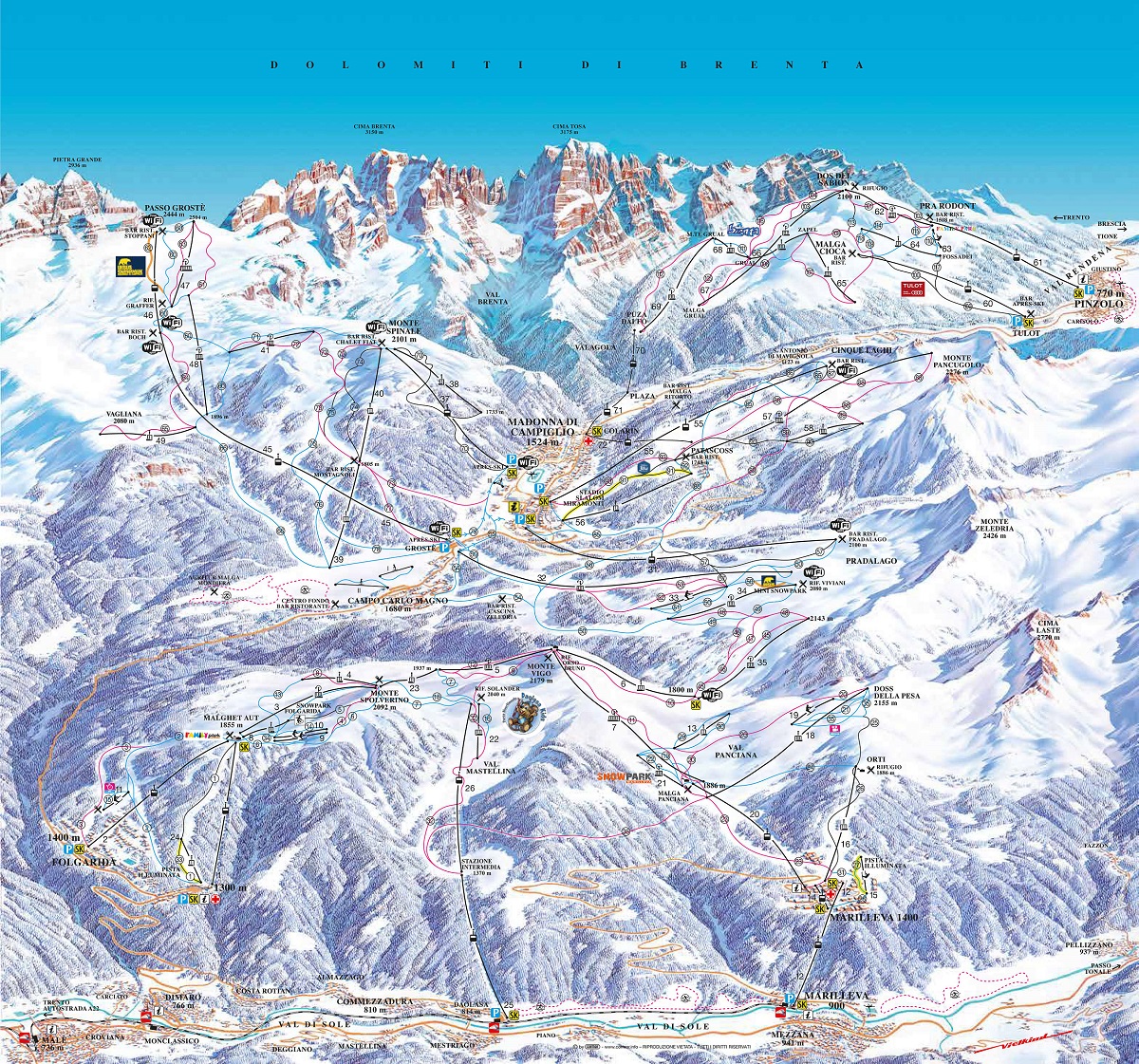 Live Webcam
Tourist Resources & Links
Huge numbers of explorations are waiting for you in your trip to Madonna de Campiglio. If you don't want to waste time during your holiday, be sure to check out the following tourism webpages previously to get more information about the opportunities provided by the resort:
Madonna di Campiglio - Official Web Site
Skiresort.info/ The largest ski resort portal in the world
BERGFEX: Ski resort Madonna di Campiglio
How to Choose Transfers to Madonna di Campiglio
Alps 2 Alps will guarantee you the most quality transfer services with maximum level of comfort and reliability with the lowest prices during the whole ski season!
We do all for you can relax and start enjoying your holiday the moment you step on our board! Choose us and you can be 100% sure of:
Safe, clean and comfortable vehicles always

Total punctuality and reliability in any cases

Best drivers with good English language skills

Our Customer care friendly and professional team on-hand 24\7 - call any time!

Guaranteed lowest cost transfers to and from Madonna di Campiglio
Book Your Ski Transfer to Madonna di Campiglio
Let your trip be nice and comfortable from the very beginning! As you know, as the high-season is coming, the prices for all the best transfer services to popular destinations are growing up fast. To be sure of your holiday we advice you to booking your transfer to Madonna di Campiglio the most early possible.
If you can't find any information you needed, the resort or some service, just contact us. Our team will do the best to help you according to your wishes and preferences.
Choose Alps2Alps to ensure your perfect holiday start!