Sauze d'Oulx Resort & Transfer Guide
Is Sauze d'Oulx the genuine birthplace of Italian skiing? Some say so, what with the resort having been doing its thing since as far back as 1899. In any case, Sauze d'Oulx serves up three of the most important things any visitor could ask for – short transfers, gorgeous slopes and breathtaking scenery on all sides. Oh and trees…lots and lots of trees! It may not have enjoyed a good run of weather over recent winters, but the good thing is you're never far from a whole world of pristine-piste action across the wider Milky Way ski area!
Ski Resort Location
Sauze d'Oulx is positioned at the far end of the Milky Way circuit, where in ideal conditions you can ski all the way to Montgenevre. Situated just a couple of hours away from a handful of airports, it's hardly surprising that Sauze d'Oulx has become a firm favourite for weekend trips and short breaks. It's also well-loved by semi-local Italians, too.
Once an infamously lively resort, things have quietened down significantly over recent years. To such an extent that Sauze d'Oulx now looks and feels more like a large village than a small town. The pedestrianised centre is still home to an endless array of bars, restaurants and entertainment venues of all kinds. The only difference these days being that the ravers of the 90s have been replaced predominantly by families. Not to mention, anyone looking to escape the yobs and louts that now head elsewhere, having once smudged the reputation of Sauze d'Oulx!
Closest Airports to Sauze d'Oulx
If you're flying to Sauze d'Oulx, be sure to arrive via one of the closest airports:
Closest Train Stations to Sauze d'Oulx
Oulx is the nearest train station to Sauze. Or if you prefer the station's full name, try Oulx-Cesana-Claviere-Sestriere on for size! From Oulx it's a 10-minute bus journey up the mountain to Sauze. Snow Carbon is a good website for anyone looking to travel to the Alps by train.
Transfer Times
These transfer times are approximate only. Weather and traffic conditions can significantly impact transfer times:
Sauze – 20 minutes

Annecy Airport (NCY) – 2 hours 35 minutes

Turin Caselle Airport (TRN) – 1 hour 35 minutes

Milan Malpensa Airport (MXP) – 2 hours 40 minutes

Chambery Airport (CMF) – 2 hours 20 minutes

Milan Linate Airport (LIN) – 2 hours 55 minutes

Orio al Serio International Airport (BGY) – 3 hours 5 minutes

Grenoble Airport (GNB) – 2 hours 45 minutes

Lyon St-Exupéry Airport (LYS) – 2 hours 50 minutes
How Much Will My Transfer Cost?
We use a dynamic pricing system to ensure that our customers always pay the lowest possible price for Sauze d'Oulx resort transfers. For an accurate quotation, we'll first need to know the specifics of your group and your travel plans. However, Alps2Alps will do everything possible to provide you with the fastest, cheapest and most reliable Sauze d'Oulx resort transfers on the market.
Transfer costs are calculated in accordance with the following factors:
Your chosen arrival airport

How many adults and children are in your group

The time of year you choose to travel

Demand for services and seasonal peaks

The duration and distance of the journey

Deals and discounts that may be available at the time
All of the above will only ever result in our base-rate for ski transfers going down – we never over-inflate our prices at any time or for any reason. We also offer substantial discounts for off-peak, off-season and midweek transfers to Sauze d'Oulx. If looking for the best possible deals, travelling outside peak season or midweek typically results in the biggest savings. We offer midweek (Monday to Friday) prices with up to 60% discount than weekend prices.
Your transfer quote will also depend on vehicle availability, transfer schedule, vehicle utilisation and other costs like road tolls and airport parking charges.
To discuss any specific requirements or plans to travel as part of a larger group, please get in touch directly so we can discuss your needs.
Resort Open & Closing Dates
Seasonal opening dates at Sauze d'Oulx are of course dependant on snow conditions, though are currently listed as follows:
Season opens – Early December 2017
Season ends – Mid April 2018
Ski Resort Essentials
Sauze d'Oulx is positioned at an altitude of 1,510 and offers access to an incredible array of slopes for all ability levels. A few additional details about the Via Lattea (Milky Way) ski area and its offerings:
41 Black Pistes

97 Red Pistes

67 Blue Pistes

7 Green Pistes

400km Downhill Pistes

69 Ski Lifts

1450m Max Vertical

2800m Highest Lift

1350m Lowest Piste
As mentioned before, the fact that Sauze d'Oulx makes up part of the Milky Way ski area means more than 400 km of pistes and 69 ski lifts within easy reach. So even when you've tried all the rest has to offer, you're never far away from a whole world of new experiences!
Family Friendly/Kids
Sauze d'Oulx has seen such a transformation over the years that the local scene really is nothing like it used to be. Once the kind of place you'd normally associate with rowdy groups and stag parties, it's now a comprehensively family-focused resort with so much on offer. Not to mention, a handful of outstanding ski schools for kids and adults of all ages.
Weather/Snow Weekly Forecast

View detailed snow forecast for Sauze d'Oulx (Via Lattea) at:
snow-forecast.com
Maps of Sauze d'Oulx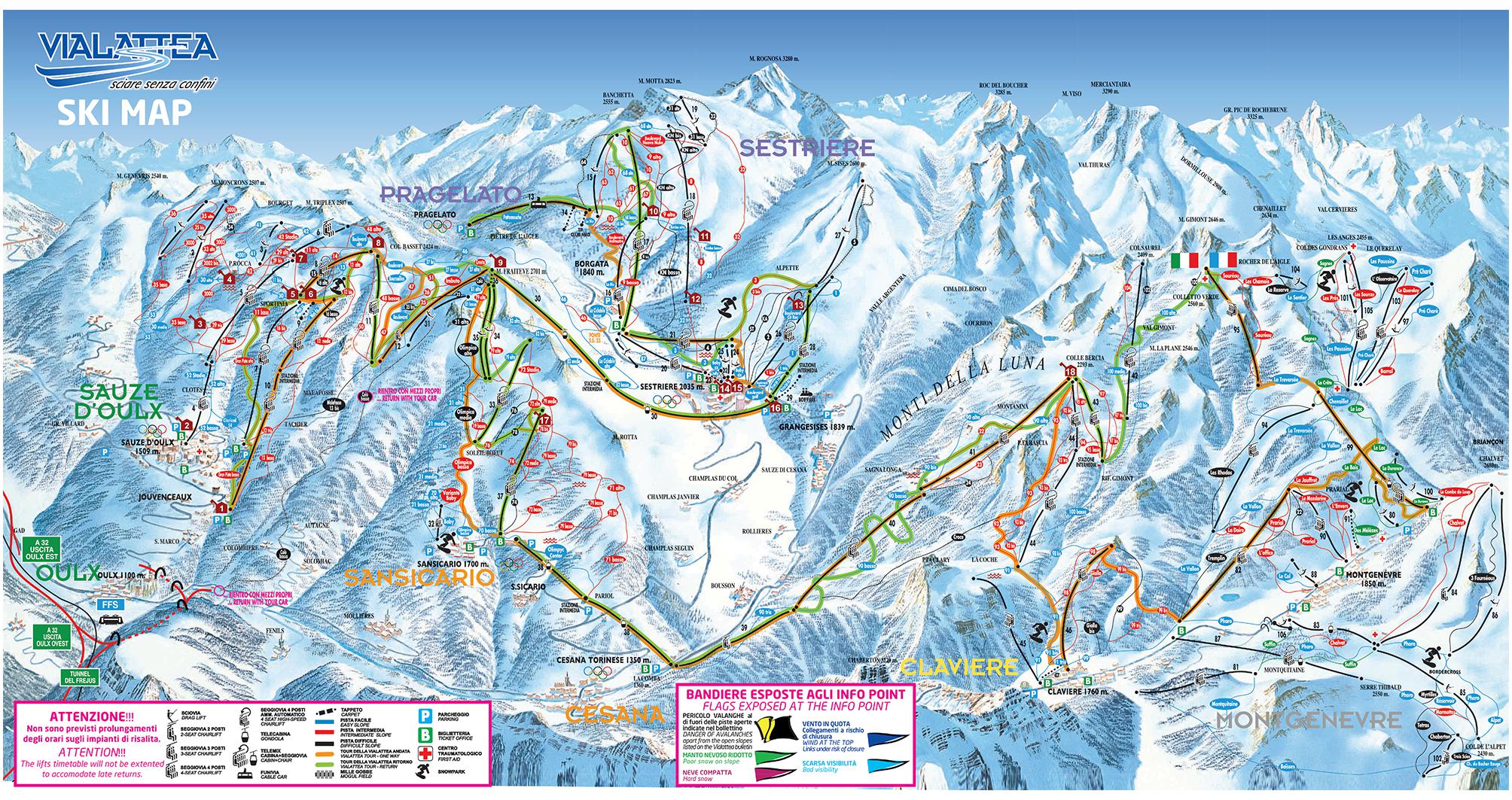 Live Webcam
Sauz d' Oulx live webcam stream:
Tourist Resources & Links
As always, we highly recommend studying a few local resources, before heading off on your trip. Both across the resort itself and the wider region, there are so many unmissable opportunities to take advantage of during your stay. You'll find the following sites good places to start:
How to Choose Transfers to Sauze d'Oulx
When looking to book resort transfers to and from Sauze d'Oulx, you need to tick a few important boxes. Low prices are one thing, but how about reliability, punctuality and comfort? Or for that matter, vehicles that can get you where you're going safely?
Here at Alps2Alps, we take pride in backing our Sauze d'Oulx resort transfer services with the following guarantees:
Outstanding value for money throughout the season

Flexibility and convenience for all customers

24/7 customer service and English-speaking drivers

A family-friendly attitude and service with a smile

Total commitment to punctuality and reliability
Book Your Ski Transfer to Sauze d'Oulx
We advise booking early to gain access to the best deal available. However, you can be assured of the same high-quality, low-cost Sauze d'Oulx resort transfers whenever you book with Alps2Alps. We're all about kicking your trip off in style – the moment you step on board!