St. Anton am Arlberg Ski Resort & Transfer Guide
The cradle of Alpine skiing and the capital of skiing in Austria – two undoubtedly titles, that have given St. Anton am Arlberg unparalleled reputation among other resorts in the Alps. St. Anton offers you to enjoy the very same slopes on which the legendary Hannes Schneider developed the skiing technique known as the stem turn, the very foundation of modern Alpine skiing. Unlimited opportunities on and off the pistes for all the family makes St. Anton am Arlberg an ideal ski holiday location.
Ski Resort Location
Located at an elevation of 1304 m, in the Tyrolean Alps, St. Anton am Arlberg is one of the villages comprising the world famous Arlberg ski resort area. Despite its rapid development and popularity, St. Anton has remained a charming, rural and truly Tyrolean village at heart.
Closest Airports to St. Anton am Arlberg
If you're flying to St. Anton, choose one of the closest airports:
Closest Train Stations to St. Anton am Arlberg
St. Anton am Arlberg is easily reachable by national and international rail services with a station in the village. Transfers are then available to take you on to your final destination at St. Anton am Arlberg.
Transfer Times
These transfer times are approximate only. Weather and traffic conditions can significantly impact transfer times:
Innsbruck Airport (INN) – 1 hour 30 minutes
Bodensee Airport Friedrichshafen (FDH) – 2 hours
Memmingen International Airport (FMM) – 2 hours 25 minutes
Zurich Airport (ZRH) – 2 hours 50 minutes
Salzburg Airpot (SZG) – 3 hours 30 minutes
Munich International Airport (MUC) – 3 hours 40 minutes
EuroAirport Basel Mulhouse Freiburg (BSL) – 3 hours 45 minutes
How Much Will Your Transfer Cost?
Regardless of your plan of travel when heading out to St. Anton am Arlberg, our dynamic pricing system will keep your travel expenses as low as possible. By considering the specifics each individual journey, we can offer our costumers the best possible deals at all times.
The cost of your transfer to St. Anton am Arlberg may be affected by:
Number of passengers in your group
Point of arrival and chosen destination
Date and time of transfer
Seasonal demand
Travel time and distance to your destination
Limited offers available at the time of booking
Choosing Alps2Alps means securing comfortable and dependable transfers for you and your group to your chosen destination for the lowest possible price. All of the aforementioned price-forming factors will only ever result in our ski transfer base-rate. We never over-inflate our quotes at any time or for any reason. We also offer sizable discounts for off-peak, off-season and midweek transfers to St. Anton am Arlberg. If seeking for the best possible deals, travelling outside high season or midweek typically results in the biggest savings. We offer midweek (Monday to Friday) prices with discounts up to 60%!
Your transfer quote will also be influenced by overall vehicle availability, your transfer schedule and vehicle utilization during the transfer, as well as other possible costs like road tolls and airport parking fees.
In case you have any special requirements or plan to be travelling as a larger group, please contact us directly so we can discuss this.
Resort Opening and Closing Dates
Season opening dates at St. Anton am Alberg are subject to snow conditions:
Season opens – 7th December 2019
Season closes – 13th April 2020
Ski Resort Essentials
St. Anton sits at an elevation of 1304 m with pistes from ranging from 1300 m to 2800 m above sea level. Even though St. Anton am Arlberg is better suited for intermediate and advanced skiers, there's definitely enough on offer for everyone. In addition to the skiing in St. Anton am Arlberg itself, the appropriate lift pass grants access to the neighbouring resorts of Lech, St. Christoph am Arlberg, Stuben and Zürs, all in the Arlberg ski area. Here are some essential stats about the resort:
34 Black pistes
129 Red pistes
77 Blue pistes
305 km Downhill pistes
40 km Cross-country pistes
88 ski lifts
Max vertical: 1507 m
Family Friendly/Kids
St. Anton am Arlberg offers a wide variety of entertainment opportunities for families with children. Professional ski instructors help to encourage the beginners as well improve the skills of the more experienced skiers. A ski kindergarten gives parents a chance to have some time for themselves on the pistes while their children have fun playing games. Hiring a private instructor is a great idea for families wanting to improve their skiing skills together.
Weather/Snow Weekly Forecast

View detailed snow forecast for St. Anton at:
snow-forecast.com
Maps of St. Anton am Arlberg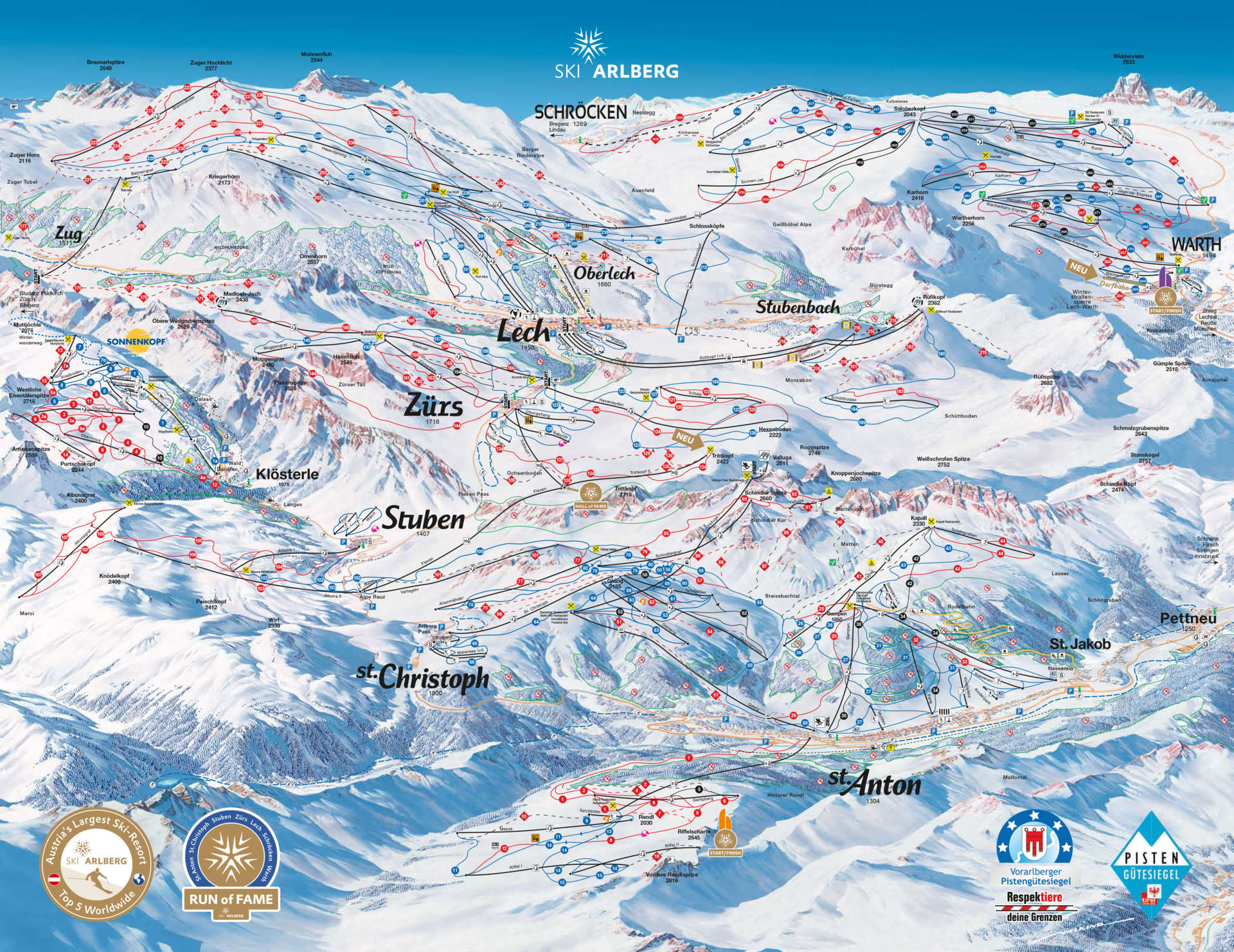 Live Webcam
Tourist Resources & Links
If you're planning a trip to St. Anton am Arlberg, these useful links will provide inspiration and help in preparing for your ski holiday:
How to Choose Transfers to St. Anton am Arlberg
Get your ski holiday off the ground with a little help from Alps2Alps. We're proud to provide the most reliable, affordable and enjoyable ski holiday transfers for our clients, all throughout the winter season. Choose Alps2Alps and profit from:
Modern, clean and spacious vehicles
Total commitment to punctuality and reliability
Courteous drivers with advanced English language skills
Customer service on-call 24/7
Family-friendly service with a smile
Guaranteed low prices on all resort transfers
Book Your Ski Transfer to St. Anton am Arlberg
If you're searching for value-priced transfers to and from St. Anton am Arlberg look no further. Moreover, booking in advance means securing the best possible deal for each and every transfer. Unable to locate the service you're looking for on our website? Get in touch with our customer service team and we will find a solution suitable all your needs.
Transportation during the holidays shouldn't be a burden. Choose Alps2Alps for your ski resort transfers and start enjoying the breathtaking Alps stress-free the moment you step on board!