Grindelwald Ski Resort & Transfer Guide
The picturesque Alpine village of Grindelwald is exactly what you might find in a photo book or as your coworker's wallpaper. As one of the dozen world famous villages chosen as the "Best of the Alps", Grindelwald combines world-class sports activities, with high-class restaurants and cultural events. If you still need convincing below you will find essential information on the resort as well as our transfer services.
Ski Resort Location
The town of Grindelwald is located in the canton of Berne, at an elevation of 1034 meters above sea level near the monumental, almost 4000-meter high Eigar, attracting countless climbers each year.
Closest Airports to Grindelwald
If you're flying to Grindelwald, choose one of the closest airports:
Closest Train Stations to Grindelwald
Grindelwald is easily accessible by train as there is a train station in town. Further transfers from the station to your final destination in Grindelwald can be arranged.
Transfer Times
The indicated transfer times are approximate only. Weather and traffic conditions can significantly influence transfer times:
EuroAirport Basel Mulhouse Freiburg (EAP) – 2 hours 40 minutes
Zurich Airport (ZRH) – 2 hours 40 minutes
Sion Airport (SIR) – 3 hours
How Much Will Your Transfer Cost?
By taking into consideration the specifics each individual journey, we are able to offer you the best possible deals at all times. Regardless of your travel plans when heading out to Grindelwald, our flexible pricing system will keep your costs bottom low.
The price of your transfer to Grindelwald may be affected by:
Number of adults and/or children passengers
Point of arrival and your selected destination
Date and time of transfer
Seasonal demand at the time of transfer
Duration of transfer and distance to your destination
Limited promotions available at the time of booking
Choosing Alps2Alps means securing convenient and dependable transfers for you and your group for the lowest possible price. All of the aforementioned price-forming criteria will only ever result in our ski transfer base-rate. We never over-escalate our quotes at any time or for any reason. Additionally, we also offer sizable discounts for off-peak, off-season and midweek transfers to all destinations. Looking for the best possible deals? Consider travelling outside high season or midweek. Save up to 60% by choosing midweek (Monday to Friday) transfers to and from St. Johann in Tirol!
Other price-forming factors may include vehicle availability, your transfer schedule and vehicle utilization during the transfer, as well as other possible expenses like road tolls and airport parking fees.
Contact us directly if you're planning on travelling in a larger group or have any other specific requirements.
Resort Opening and Closing Dates
Season opening dates at Grindelwald are subject to snow conditions:
Season opens – 7th December 2019
Season closes – 13th April 2020
Ski Resort Essentials
Grindenwald sits at an elevation of 1034 m with pistes up to 2168 m above sea level. Grindenwald is part of the Jungfrau ski region. In addition to the slopes in Grindelwald, the appropriate ski Lift Pass grants access to other Jungfrau ski resorts of Lauterbrunnen, Mürren and Wengen.
15 Black pistes
24 Red pistes
16 Blue pistes
213 km Downhill pistes
20 ski lifts
Max vertical: 1900 m
Family Friendly/Kids
Grindelwald has always been a popular destination for families with children. Professional ski instructors help beginners improve techniques so they are able to spend the ski holidays conquering slopes safely and responsibly. Off-the-piste activities include tobogganing, curling and ice skating. You can also choose a railway excursion to Jungfraujoch – the highest railway station in Europe. Not exciting enough? Take part in the James Bond Rally and see if you have what it takes to become a real special agent!
Weather/Snow Weekly Forecast

View detailed snow forecast for Grindelwald at:
snow-forecast.com
Maps of Grindelwald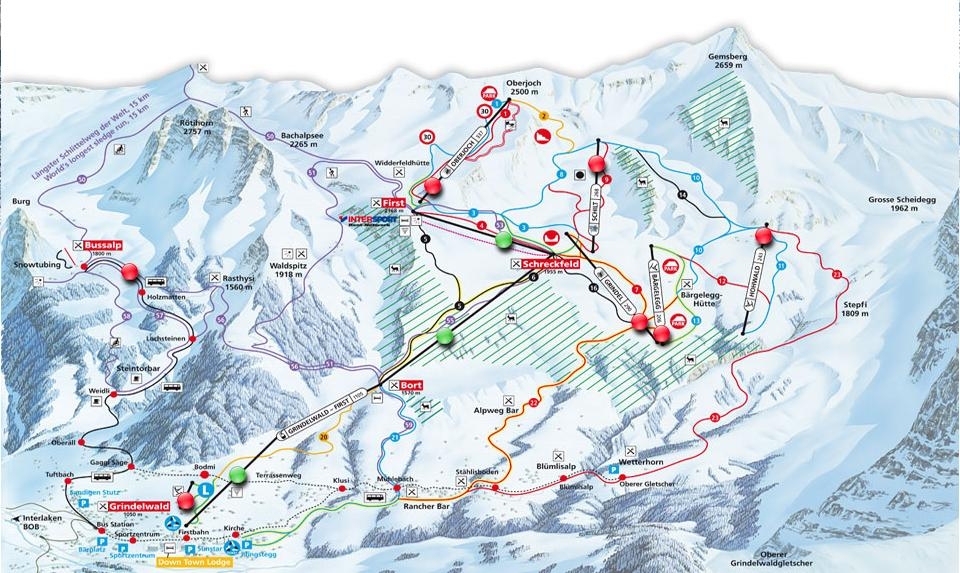 Live Webcam
Tourist Resources & Links
If you're planning a trip to Grindelwald, these useful links will provide inspiration and help in preparing for your ski trip:
How to Choose Transfers to Grindelwald
Get your much-deserved ski holiday up to speed with a little help from Alps2Alps. We're proud to provide the most reliable, affordable and enjoyable ski resort transfers for our clients, all throughout the winter season. Choose Alps2Alps and benefit from:
Guaranteed low prices on all ski resort transfers
Modern, clean and spacious vehicles
Courteous English speaking drivers
Customer service accessible around-the-clock
Family-friendly service with a smile
Full commitment to punctuality and reliability
Book Your Ski Transfer to Grindelwald
If you're searching for the best value-priced Grindelwald transfers look no further. Booking in advance means securing the best possible deal for each and every transfer. Unable to find the service you're looking for on our website? Contact our customer service team and we will find a solution suitable to all your requirements.
Just tell us where from and where to, sit back, relax and enjoy your ski holiday transfer with Alps2Alps!