Montreux Ski Resort & Airport Transfer
Montreux is famous for its beautiful lakeside location in the southwestern part of Switzerland. Several ski areas are less than an hour drive from Montreux. Most of the skiing takes place below the 2045 M Rochers-de-Naye and at Les Pléiades reached by funicular railway from the town centre. Rochers de Naye is one of the most attainable alpine peaks in Switzerland. Also, you can ski in two attractive ski areas accessible from Monteux by car or public transport. Both Chateau-d'Oex-Gstaad and Villars-Gryon-Diablerets-Leysin-Les Mosses ski areas can be reached in one hour. Montreux has something for everyone!
Ski Resort Location
Montreux is located in the heart of Western Switzerland, the Vaud region of the Swiss Alps. With the population of over 20,000, Montreux is the most visited resort on Lake Geneva because of its beautiful location. Panoramic views of the Swiss and French Alps, surrounded by vineyards and further to Lake Geneva.
Montreux has a good selection of great accommodations: hotels, spa hotels, VIP Ski Hotels for Ski Holidays, Weekends or Short Breaks. Also, Montreux offers a broad range of outdoor activities including downhill and cross-country skiing, snowshoeing, ice skating. There is a Casino Barrière de Montreux you are in the mood for a game. There are several museums in Montreux. The Montreux History Museum is located in Montreux's old quarter. The museum's setting presents a lively representation of the local region's history. The Railway Museum of Blonay-Chamby – is the oldest railway museum and is located only 15 minutes from Montreux in the town of Blonay. Olympic Museum of Lausanne – here you can experience the highlights of the Games and share the athletes' emotions and actually experience the live games in the museum.
Closest Airports to Montreux
If you're flying to Montreux, be sure to arrive via one of the closest airports:
Closest Train Stations to Montreux
There is a train station in Montreux, which is only 10 minutes walk from the old town. Switzerland is famous for its efficient rail network, but we recommend you to order direct airport transfer to get to your chosen destination. That is the most convenient and time-saving option.
Transfer Times
These transfer times are approximate only. Weather and traffic conditions can significantly impact transfer times:
Basel Airport (BSL) – 3 hours
Sion airport (SIR) – 1 hour 10 minutes
How Much Will My Transfer Cost?
We carefully calculate all resort transfer services individually, to ensure that our customers never overpay. Whenever you choose to travel and whatever your final destination, Alps 2 Alps will get you there for the lowest possible price. However, we advise booking early to access the best possible deal. In addition, keep up to date with Alps 2 Alps for the latest offers, deals and discounts on Montreux resort transfer services.
Transfer costs are calculated in accordance with the following factors:
Where the journey begins (your arrival airport)
The time of year and seasonal demand
Peak times during the day and week/weekend
The size of your group and the number of children
The length and duration of the journey
All of the above will only ever result in our base-rate for ski transfers going down – we never over-inflate our prices at any time or for any reason. We also offer substantial discounts for off-peak, off-season and midweek transfers to Montreux. If looking for the best possible deals, travelling outside peak season or midweek typically results in the biggest savings. We offer midweek (Monday to Friday) prices with up to 60% discount than weekend prices.
Your transfer quote will also depend on vehicle availability, transfer schedule, vehicle utilisation and other costs like road tolls and airport parking charges. In all instances, we work hard to keep our prices low and are relentlessly committed to total value for money. Which is why we guarantee you won't find a better deal on your Montreux resort transfers, whatever your needs.
To discuss any specific requirements or plans to travel as part of a larger group, please get in touch directly so we can discuss your needs.
Resort Open & Closing Dates
Seasonal opening dates at Montreux (Rochers-de-Naye) are of course dependant on snow conditions, though are currently listed as follows:
Season opens – 14th December 2019
Season ends – 13th April 2020
Ski Resort Essentials
The ski area of Montreux (Rochers-de-Naye) lies at an elevation of 1,000m, with a max vertical of 1000m and its highest lift going as far as 2,000m. There are a total of 12 pistes in the immediate vicinity of the resort, served by 10 ski lifts. Around 67% of the slopes serve the needs of intermediates and 33% are far more challenging.
The Lake Geneva region is famous for its cross-country skiing options in ski resorts of Le Sentier, Les Mosses, and Sainte-Croix- Les Rasses. Château-d'Oex Villars-Gryon ski area is called a Swiss skiing paradise. As well as being connected to each other, the ski resorts of Villars and Gryon also offer direct access to the slopes of Les Diablerets, linking five alpine areas into a ski area of over 100 km with 34 lifts. Book your trip to Montreux and discover plenty others resort once you are there!
Family Friendly/Kids
Montreux has a reputation as a family vacation spot. The Swiss Snow Kids Village is the perfect place their kids can have a fun time learning to ski with the friendly mascot Snowli. Montreux Riviera Swiss Snow Kids Village welcomes children from the age of 3. The Swiss Snow Kids Village and the learning piste are located at the Vallon de Villard ski lift.
Weather/Snow Weekly Forecast

View detailed snow forecast for Rochers-de-Naye - Caux at:
snow-forecast.com
https://www.timeanddate.com/weather/switzerland/montreux/ext
Maps of Montreux (Rochers-de-Naye)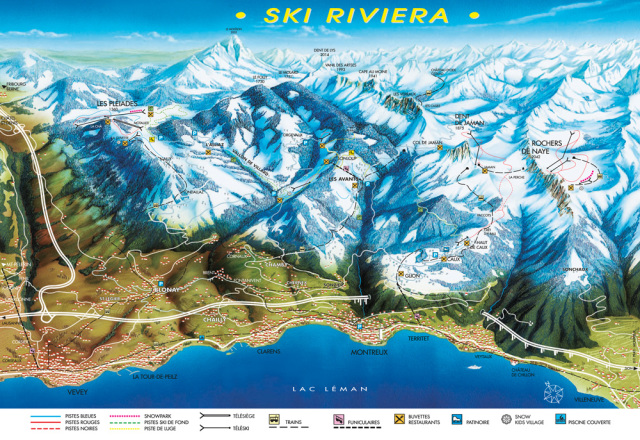 https://www.skiresort.info/ski-resort/rochers-de-naye-montreux/trail-map/
Live Webcam
Montreux (Rochers-de-Naye) live webcam stream:
https://www.onthesnow.co.uk/lake-geneva-region/rochers-de-naye-caux/webcams.html
Tourist Resources & Links
There are many incredible tourist attractions in Montreux. The Chateau de Chillon became famous by Lord Byron's poem "Prisoner of Chillon," it has become the most visited historic building in Switzerland. St-Saphorin is a picturesque wine growing village dates back to Roman times. The quaint medieval village of Gruyeres is located north of Montreux with train duration of 1 hour and 30 minutes. Don't forget to check out Gruyere's Cheese Factory to enjoy free samples. Find out more about places to visit in Montreux at the following websites:
How to Choose Transfers to Montreux
The way we see it, Montreux resort transfers are about so much more than getting you to your final destination. After all, you also want to arrive comfortable, refreshed and ideally on time. Not all resort transfer services can promise this – Alps2Alps guarantees a higher-level service for every passenger.
Choose to travel with us to Montreux and we'll provide you with the following guarantees:
Outstanding value for money throughout the season
Flexibility and convenience for all customers
24/7 customer service and English-speaking drivers
A family-friendly attitude and service with a smile
Total commitment to punctuality and reliability
Book Your Ski Transfer to Montreux
Be aware of all kinds of deals, discounts and special offers that could make your trip even more affordable. If looking to secure your seats for the best possible price, booking as early as possible is advisable.
If you can't find exactly what you're looking for, please get in touch with the Alps2Alps customer service team today. Otherwise, go ahead with your booking and we'll see you in the snow!