La Plagne 1800 Resort & Transfer Guide
The ski resort La Plagne is located in the valley of Haute Tarentaise, almost in the center of the French Alps. It can be called a resort of world importance, because the competitions of the Winter Olympics were held here in 1992. The resort was established in 1961, and since 2003, together with neighboring Les Arcs and Peisey-Vallandry, it forms the second in the world after the famous «Three Valleys» ski area Paradiski.
Ski Resort Location
On the site of the former settlement of miners in the 70s and 80s one of the favorite high-mountainous bases of the ski resort of La Plagne grows. At an altitude of 1800 meters is located the mountain village of the same name Plagne 1800, which is a cozy place to relax in the center of a large ski area. The original appearance of the Plagne 1800 is formed, above all, by a wooden chalet with a typical for the region slate roof. Buildings not higher than 5 floors and houses that perfectly fit in the surrounding landscape, give the small ski base an exceptionally harmonious look.

Quiet and cozy atmosphere and at the same time the location in the heart of the ski slopes are especially appreciated by fans of family holidays. Plagne 1800, which is often referred to as the "La Plagne Nest", is an ideal starting point for those who want to take advantage of all the benefits of the ski area of ​​La Plagne or the entire network of ski runs of the Paradiski ski area.
Closest Airports to La Plagne 1800
If you're travelling to La Plagne 1800, choose this airport as a pick-up point:
Closest Train Stations to La Plagne 1800
Aime Train Station
Gare de Burg Saint Maurice
Transfer Times
These transfer times are approximate only. Unfavourable weather conditions as well as the current situation on road may impact the time of your transfer:
Aime Train Station – 30 minutes
Gare de Burg saint Maurice – 1 hour
Geneva Airport (GVA) – 3 hours
Chambery Airport (CMF) – 2 hour 15 minutes
Grenoble Airport (GNB) – 2 hours 50 minutes
Lyon St-Exupéry Airport (LYS) – 2 hours 50 minutes
Lyon Saint-Étienne–Bouthéon Airport (EBU) - 3 hours 40 minutes
How Much Will My Transfer Cost?
We are a team of professionals which specializes in high-quality transfer services to all popular ski resorts in the Alps. Our team is always ready to offer the most comfortable and reliable transfers services and, besides that, at the most attractive prices. Including the high ski season, we will offer our clients the best prices on all our services.
The transfer quote is individual for every our client, it depends on the following factors:
Airport of your arrival
Distance from the airport to the ski resort and time in road
Day/date of your trip
How many people will be in your group (both adults and kids)
Current seasonal offers
You can be sure that the base price of your ski transfer will be minimal and most profitable. We never overstate prices for our customers. In order to save money, we advise you to make a booking for the middle of the week or after the high season. On weekdays Alps2Alps usually offers a transfer discount up to 60%.
The price of your transfer will also be dependent on such factors as availability and utilization of the car, transfer schedule and some other costs as the toll roads and airport parking fees.
If you still have some questions or any additional requirements, don't doubt to contact us so we can discuss all your requests in short time.
Resort Open & Closing Dates
Seasonal opening dates at La Plagne are following:
Season opens: 14th December 2019
Season closes: 25th April 2020
Ski Resort Essentials
There is no difficulty to get to the huge region of the ski runs of La Plagne or Paradiski, for skiers from the Plagne 1800 base. As a rule, you can get to the slopes directly at the entrance to the hotel, and after making the last descent you can get to the house. 2 modern chair lifts will easily deliver you in the direction of La Plagne or Plagne Soleil, and then to any chosen point of the ski area. For beginners and little skiers there is a special training area with its own lift on the base itself.
To return to Plagne 1800, you can choose one of three different routes. In addition, past the mountain village passes a "standard" red descent, as well as a distance of virgin snow descent going to La Roche. Both trails start at the end of the chairlift "1800".
At La Plagne for you:
120 pistes (60% - beginner, 25% - intermediate, 15% - advanced)
1 Halfpipe
2 Terrain parks
110 lifts
X-Country Skiing – 85 km
La Plagne is characterized by a ramified network of ski lifts and wide straight descents. It is ideal place for athletes with average experience, most routes are designed for them. For children there are also many suitable trails, as well as special lifts (and free) and experienced instructors.
Family Friendly/Kids
The location and comparatively small size of the mountain village of Plagne 1800 make it ideal for holidaymakers who are looking for a lively ski area, but at the same time a quiet resort where you can relax. Along with a number of ski shops and a small supermarket, guests can use the squash and chalet Santé, where relaxing massages are offered. In addition, among all other high-altitude bases of the La Plagne region, Plagne 1800 is located closest to the Olympic bobsleigh track, built on the occasion of the 1992 Winter Olympics. With the help of the chairlift "1800" skiers come from the Plagne 1800 on the blue or red slopes leading to La Roche. Arriving at the site, the brave men can try their hand at the 1500 meter track with 19 turns.
In this case, you can choose any of 4 different in speed and degree of risk options for the descent.
It is fascinating to spend an evening right in the Plagne 1800, where a lot of restaurants and bars have an après-ski. And in the bar "La Mine", vacationers can even enjoy traditional evenings of live music. In addition, fans of nightlife can travel to the noisy places on a free shuttle bus, which until late night runs to Plagne Center.
Weather/Snow Weekly Forecast
Maps of La Plagne 1800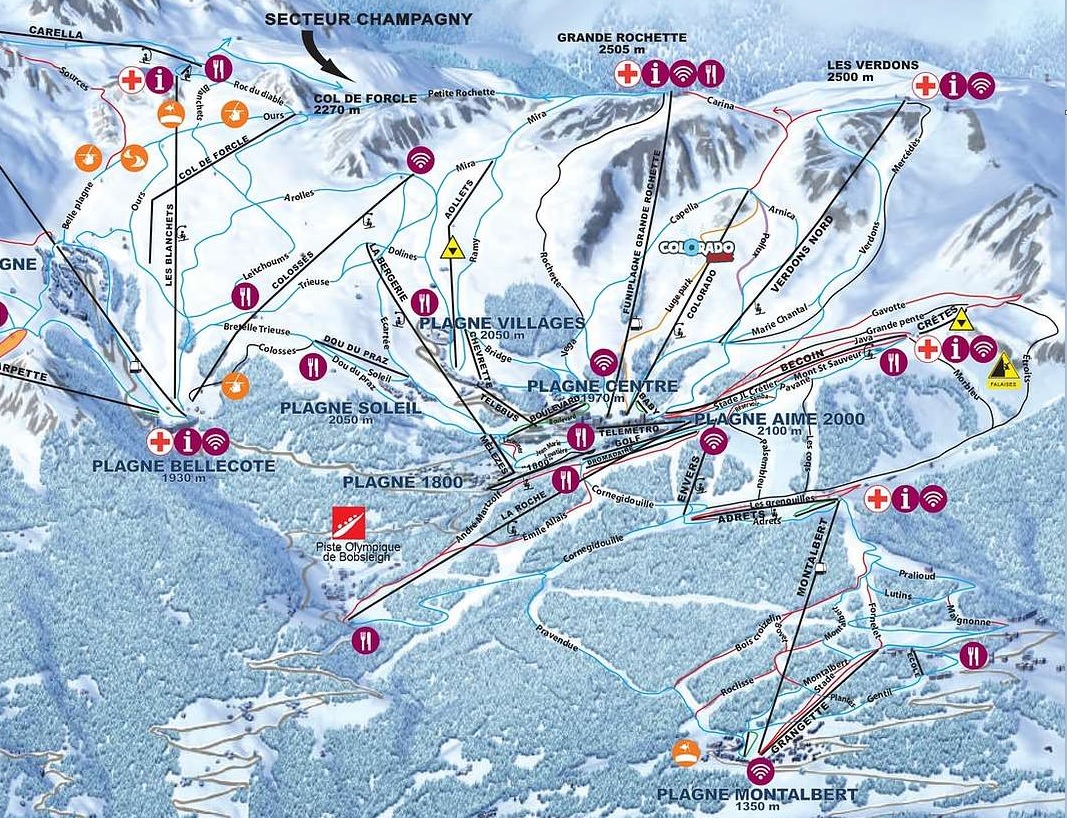 Live Webcam
Tourist Resources & Links
Look here to get more touristic information about La Plagne ski resort:
How to Choose Transfers to La Plagne 1800
Alps2Alps provides you with completely professional and high-quality transfer services to La Plagne 1800 and, besides that, at the lowest price. For us doesn't matter at what time are you planning to have your vacation, even in high season we will still guarantee you the most comfortable and reliable transfer. Be sure - you won't be disappointed.
Going to La Plagne 1800 with us, you will have these benefits:
Safe and modern vehicles always
Total commitment to reliability and punctuality
Customer support staff - 24/7 on hand
Drivers with good English Language knowledge
Family-friendly service with a smile
The most beneficial prices for all trips on all our destinations
Book your transfer to La Plagne 1800
We always advise our clients to book shuttle to La Plagne resort as early as possible for tranquil yourself. Besides, it will let you save the most.
So, if you're ready to start, call our customer support managers or fill out the on-line request form on our web page.