Les Carroz Ski Resort & Transfer Guide
French spacious and sunny family resort of Les Carroz is situated in the heart of the Rhone Alpes department. Together with the resorts of Flaine, Morillon, Samoens and Sixt, it forms the Grand Massif area. All five ski stations are connected by gondola lifts. Les Carroz d'Araches is a traditional alpine village, where the unique spirit of the French province reigns. According to the rustic tradition, the main life is concentrated around the main square. There are outdoor cafes, cozy restaurants and boutiques. Once, in the old days, Les Carroz d'Araches was a shepherd's settlement. Today, only a few, almost untouched by time, preserved. Be sure to visit one of them, it will be very unusual and interesting piece of your holiday in Les Carroz.
Ski Resort Location
Located on a plateau at al altitude of 1140 m above sea level, the resort provides access to all 265 km of the routes of the united zone of Grand Massif.
The name of the resort "Le Carroz" means "crossroads". The station was created in 1936, and on January 29, 1939 the first ski lift was opened, the longest in Europe at that time. Previously, the village consisted of several mountain farms, the inhabitants were mainly engaged in livestock breeding, and in the winter time they made hourly details for watchmakers in the Arve valley. Today, the main activity of the villagers is tourism, both summer and winter.
Closest Airports to Les Carroz
If you're going to spend your alpine ski holiday in Les Carroz, you should travel via one of these closest airports to this ski resort:
Closest Train Stations to Les Carroz
If you're travelling by train, you should get to know that the nearest train station to Les Carroz are Cluses Train station.
Transfer Times
These transfer times are approximate only. Traffic jams and weather conditions can significantly longer these times:
Cluses Train station – 20 minutes
Chambery Airport – 1 hour 50 minutes
Lyon St Exupery Airport – 3 hours
Grenoble Airport – 3 hours
How Much Will My Transfer Cost?
Travelling to Les Carroz you can count on Alps2Als. We always keep the most dynamic and flexible pricing system. Our team uses everything possible to low transfer prices for our customers. Every single aspect of your trip will not be left without our attention, and be sure – you will get the most beneficial price for your transfer at any time of the season.
Your transfer quote will be dependent on:
Number of skiers travelling with you (both adults and children)
Airport of your arrival
Date / day of the week of the trip
Season and seasonal demand
Travel time and distance from the airport to the ski resort
Discounts and our special offers available at the time of your booking
As we are one team of professionals, you can't be afraid of getting late or anything else. Don't think of details of your transfer – just let us do it! From the first step on our board you will feel the maximum comfort and reliability. And the transfer price also will be the most profitable for you, because we never overstate our prices for any reason.
Besides that, Alps2Alps always offers a huge number of different discounts for transfers in low-season period and on mid-week days.
Be aware that travelling outside the peak season or in the middle of the week will let you save the most. We usually give a discount of up to 60% for transfers on weekdays than on weekends.
Final cost of your transfer will also be dependent on the availability of the car, the transfer schedule, the use of the vehicle and some other costs (for example, road tolls and airport parking fees).
Maybe you still have some questions? We are glad to answer, don't delay it for tomorrow, just call us, and you will get all the missing information.
Resort Open & Closing Dates
Season opens – 7th December 2019
Season ends – 26th April 2020
Ski Resort Essentials
Locality Les Carroz provides you with 37 km of tracks that are directly connected to the ski slopes at Grand Massif, which runs 265 km and are suitable for skiers of all levels of training. Especially impressive is the huge selection of routes of light and medium levels of complexity, which cross beautiful forests.
The Grand Massif Ski area consists of 5 linked resorts (Flaine - Les Carroz – Morillon – Samoens – Sixt) and here for you:
Resort Altitude – 1140m (Les Carroz)
Highest point – 2500m
143 slopes (37 trails in Les Carroz)
69 ski lifts (15 ski lifts in Les Carroz)
359 snow cannons
1800m – Total Vertical variation
20% - Snowmaking
Family Friendly/Kids
The Les Carroz resort was popular among French families back in the mid-1930s. And today, for excellent conditions for children, it is marked by the label "Famille Plus Montagne". A 5-minute walk from the village is the Club des Loupiots, which offers a wide range of activities for children all day long. Please note that the club operates as a ski school. The club has its own bus, which takes children to the lessons of skiing.
Despite the abundance of entertainments for kids, adults will not feel like in the children camp. Every Monday evening the tourist office invites everyone to a glass of wine. There is also an opportunity to get acquainted with the entertainment program for the next week. Every evening on the square Aravis, where, by the way, on Tuesdays the rural market works, concerts and performances are arranged. You will find that a family resort does not mean "boring" for adults. For the visitors there are 20 restaurants, 7 bars, a night club "Club 74" and a 2-room cinema "Le Schoucas" and many more opportunities for fun.
Weather/Snow Weekly Forecast

View detailed snow forecast for Les Carroz at:
snow-forecast.com
Maps of Les Carroz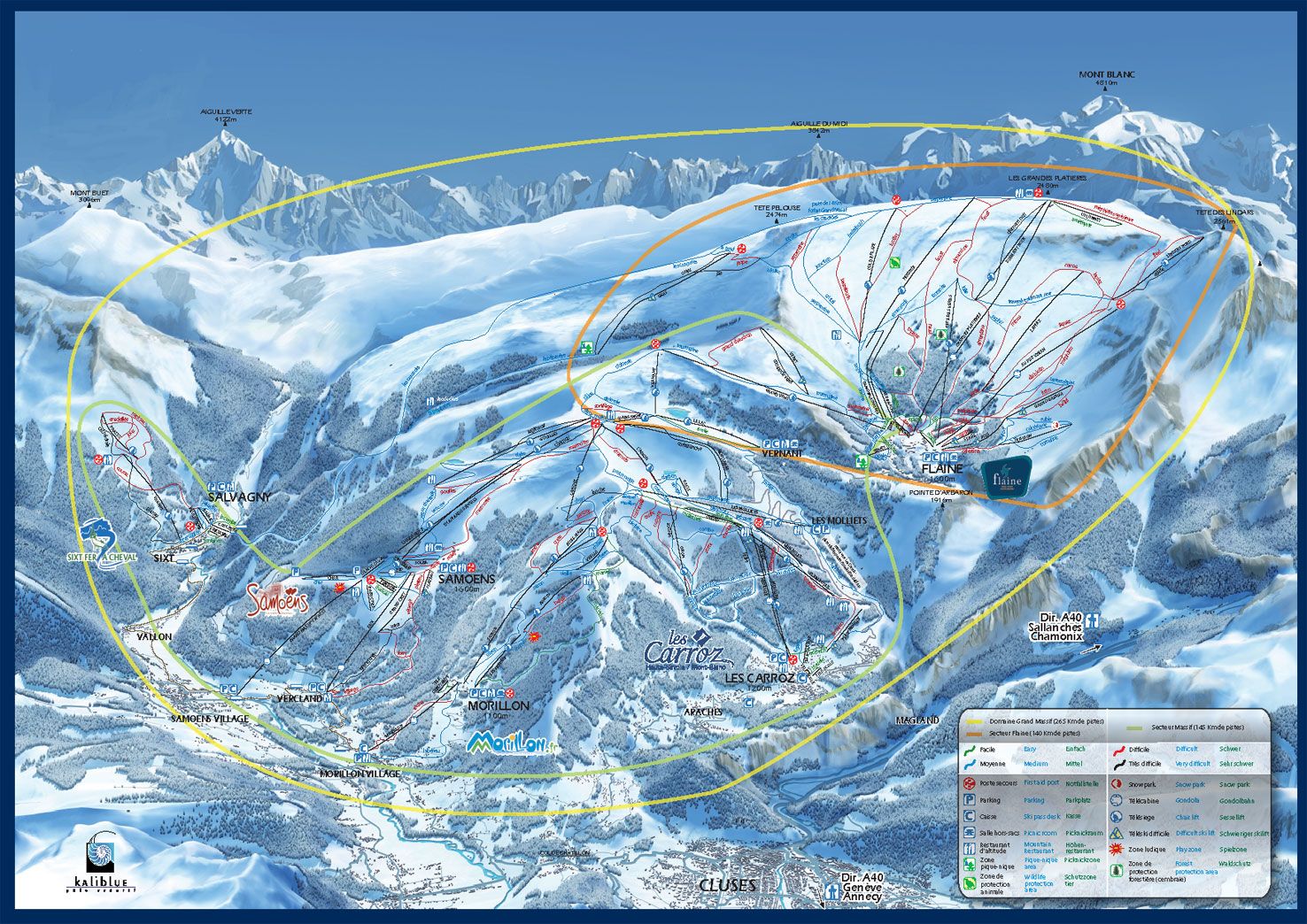 Live Webcam
Tourist Resources & Links
If you're heading over to Les Carroz soon, don't doubt visit some useful web pages before you set off:
How to Choose Transfers to Les Carroz
Here, in Alps2Alps we are glad to offer you a full package of premium quality transfer services to all popular alpine ski resorts and, that is also very important, at the lowest prices. When it comes to total punctuality and maximum reliability, you will not find a better solution than our Alps2Alps team is.
In the cooperation with us, you will guaranteed get:
Lowest transfer prices to/from Les Carroz
24-hour support - our customer service team on-hand for you
Family-friendly approach - whatever we do to help you with kids
Good drivers speaking English fluently
Comfortable and safe cars on all our destinations
Total punctuality – you can be 100% sure of being in place on time with Alps2Alps
Book Your Ski Transfer to Les Carroz
In order to get maximum benefit of the lowest possible prices and afterwards wait tranquilly for your ski holiday, you should do just one thing - make a booking as soon as possible. And don't forget to contact our customer service managers if you need any other information about alpine ski transfers.
Let today's transfer booking bring the start of your dream ski holiday!