Saint-Jean-d'Aulps Resort & Transfer Guide
Saint-Jean-d'Aulps is a small French village in the department of Haute-Savoie in the Rhône-Alpes region. Located in the heart of the Alps Valley, it is also a popular destination for both summer and winter skiing, as it is a part of the joint Porte du Soleil ski area. Being a recognized winter ski resort and a summer resort for active recreation, the village perfectly copes with the seasonal flow of tourists twice a year.
Ski Resort Location
The village of Saint-Jean-d'Aulps is situated in south-east of France.
Saint-Jean-d'Aulps leads its history from the Abbey of the Cistercian Monastery, founded at the very end of the 11th century and destroyed in 1793 during the French Revolution. The buildings were turned into ruins in 1823, and already later the village was completely restored. Residents call (in French) "Jovanétiens". There are 1200 people living in Saint-Jean-d'Aulps.
Closest Airports to Saint-Jean-d'Aulps
If you're going to visit Saint-Jean-d'Aulps ski resort, you should travelling via this nearest airport:
Closest Train Stations to Saint-Jean-d'Aulps
If you're travelling by train, you should get to know that the closest train station to Saint-Jean-d'Aulps is
Transfer Times
These transfer times are approximate only, because as it often happens, traffic jams and weather conditions can significantly longer these times:
Gare de Thonon Les Bains – 30 minutes
Geneva Airport (GVA) - 1 hours 50minutes
Chambery Airport (CMF) - 2 hours 20 minutes
Lyon Saint Exupery Airport (LYS) - 2 hours 50 minutes
Grenoble Airport (GNB) – 2 hours 50 minutes
How Much Will My Transfer Cost?
Travelling to Saint-Jean-d'Aulps with Alps2Alps, you can count on the most dynamic and flexible pricing system. Here, we always use all the possibilities to low transfer prices for our clients. Every single aspect of your future trip will not be left without an attention. So that you will guaranteed get the most beneficial price for your ski transfer to Saint-Jean-d'Aulps at any time of the year.
Your transfer quote will be calculated based on the variety of factors, including:
Number of adults and children travelling with you
Airport of your arrival
Season and seasonal demand
Date / day of the week you travel with us
Trip time and distance on road from the airport to the ski resort
All discounts available at the time of booking
Alps2Alps promises to deliver you to Saint-Jean-d'Aulps with maximum comfort and reliability and, besides, with paying a very attractive price for that trip. Remember that we never overstate prices for our customers at any time or for any reason.
In addition, we are ready to offer really huge discounts for transfers in low-season period and on mid-week days.
If you are looking for the best deals, be aware that travelling outside the peak season or in the middle of the week will let you save the most.
We offer prices from Monday to Friday with a discount of up to 60% than on weekends. Final quote of your transfer will also be dependent on the availability of the car, the transfer schedule, the use of the vehicle and some other costs (road tolls and airport parking fees).
Even in case if you are a very demanding ski traveller, and you have any specific requirements, even in that case you will be satisfied with Alps2Alps transfer services.
And as always – call us to know more about transfer services, be sure - we will discuss all details of your future trip.
Resort Open & Closing Dates
Season opens – 21st December 2019
Season ends – 13th April 2020
Ski Resort Essentials
The ski area of Saint-Jean-d'Aulps is right at the doorstep.
The resort is considered as a family ski resort with 30 slopes and 16 lifts - of which 10 are old fashioned draglifts - but it boasts a steep descent towards La Chèvrerie. From the slopes you can enjoy splendid views of Lake Geneva as well as of Mont Blanc.
Resort Altitude from 970m to 1800m
50 km of ski runs
30 slopes (7 green, 9 blue, 12 red, 2 black)
16 ski lifts
108 snow cannons
Family Friendly/Kids
Most of the ski runs in the home area of ​​skiing are equipped with artificial snow making systems, so that you can make skiing attractive even in low snow-covered periods. In the summer Saint-Jean-d'Aulps also offers many activities, namely: rock climbing, organized walks and hikes, mountain bike routes, fishing and para-gliding. For children, there are ski kindergartens and schools, as well as weekly activities. In the evening, you can visit cafes and restaurants, go shopping. Different types of ski passes will allow you to choose the skiing region very flexibly. And discounts for families, children and the elderly will make your skiing even more attractive.
Weather/Snow Weekly Forecast
Maps of Saint-Jean-d'Aulps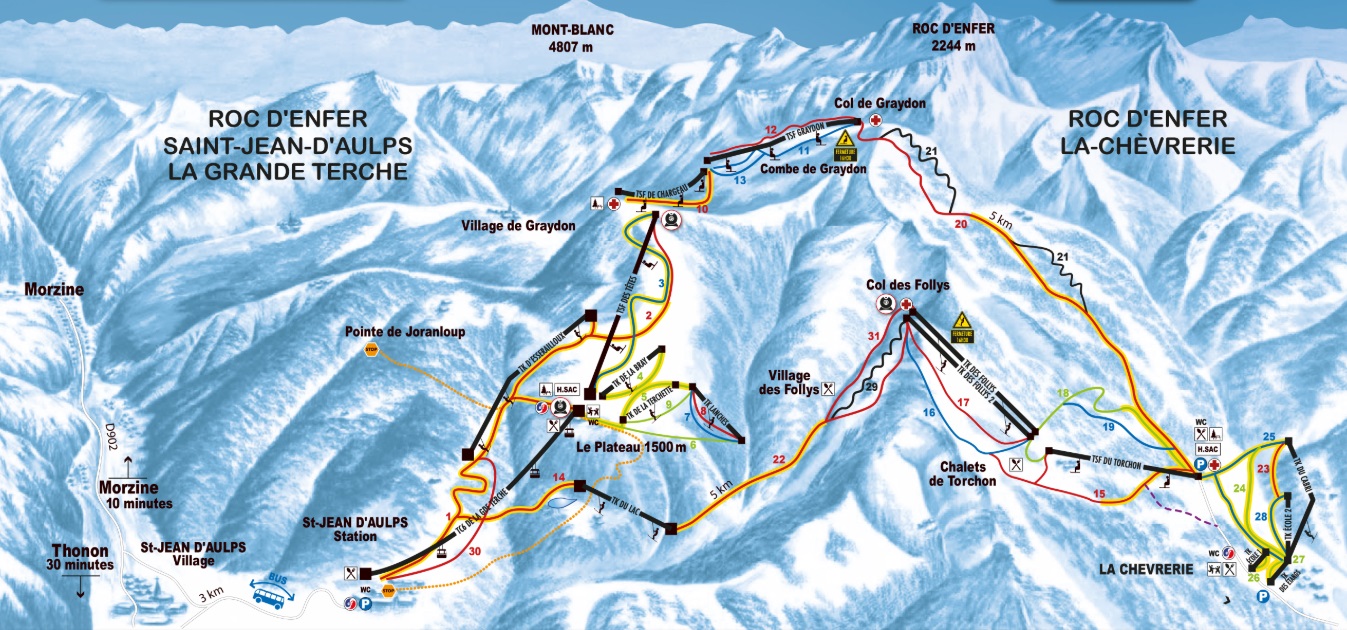 Live Webcam
Tourist Resources & Links
If you're heading over to Saint-Jean-d'Aulps this year or next, check out some of those useful links before you set off:
How to Choose Transfers to Saint-Jean-d'Aulps
Alps2Alps provides a full package of premium quality transfer services and the lowest prices for all popular Alpine transfer destinations. When it comes to the highest flexibility and reliability, you will not find a better solution than Alps2Alps.
Choosing us, you will get:
Lowest transfer prices to/from Saint-Jean-d'Aulps
24-hour customer service support for you
Family-friendly approach - whatever we do to help you with kids, just ask
Good drivers speaking English fluently
Safe, clean and comfortable vehicles
Punctuality – with us you will always be in needed place on time
Book Your Ski Transfer to Saint-Jean-d'Aulps
In order to take a benefit from the lowest possible prices and tranquilly wait for your ski holiday, you should make a booking in advance. And don't forget to contact our customer care managers if you need any additional information about ski transfer services.
Let today's transfer booking to Sant-Jean d'Aulps become the incredible start of your ski holiday!