Saint-Pierre-en-Faucigny Resort & Transfer Guide
Saint-Pierre-en-Faucigny is located in the province of Faucigny. There are a lot of great ski resorts in the Faucigny: very popular ski resort Le Grand Massif – Flaine/Les Carroz/Morillon/Samoëns/Sixt. The largest ski resorts offer up to 265 kilometers of slopes (Le Grand Massif – Flaine/Les Carroz/Morillon/Samoëns/Sixt). The highest ski resorts for skiing in the Faucigny extend up to an altitude of 2,480 meters (Le Grand Massif – Flaine/Les Carroz/Morillon/Samoëns/Sixt).
Popular ski resort of La Clusaz is located nearby – only 17km and 30 minutes' drive away. Meaning you can live in Saint-Pierre-en-Faucigny and enjoy skiing in La Clusaz.
Ski Resort Location
Saint-Pierre-en-Faucigny is located in the department of Haute-Savoie of the french region Rhône-Alpes. The town with around 7000 inhabitants is nestled in the east of France at 24 kilometres from Annecy. Lake Annecy, which is sourced from mountain streams, is one of the most popular places to visit near Saint-Pierre-en-Faucigny. The fresh and clean water of the beautiful Lake Annecy and the incredible surrounding scenery attracts many tourists all year round.
If you want to ski – there is an amazing La Clusaz ski resort, which is one of the smallest ski resorts located in the Aravis valley. This charming ski area has been a farming village much longer than a ski resort. Even now that is possible to buy cheese, eggs, and other local products directly from the farmers. The ski resort contains five peaks: Beauregard, Manigod, l'Etale, l'Aguille, and La Balme.
There are a lot of hotels available in Saint-Pierre-en-Faucigny. You can enjoy both – live in town and ski in the nearby ski resort!
Closest Airports to Saint-Pierre-en-Faucigny
If you're flying to Saint-Pierre-en-Faucigny, be sure to arrive via one of the closest airports:
Closest Train Stations to Saint-Pierre-en-Faucigny
There is a train station in Saint-Pierre-en-Faucigny. You may find it easier to organise a direct airport transfer from your chosen arrival airport. You will benefit from shorter journey time and a direct route.
Transfer Times
These transfer times are approximate only. Weather and traffic conditions can significantly impact transfer times:
Geneva Airport (GVA) – 50 minutes
Chambery Airport (CMF) – 1 hour 15 minutes
Lyon–Saint Exupéry Airport (LYS) – 2 hours 10 minutes
Grenoble airport (GNB) – 2 hours
How Much Will My Transfer Cost?
We scrupulously calculate all our transfer services cost individually, to make sure that our customers never overpay. Whenever you choose to travel and whatever your final destination, Alps2Alps will get you there for the lowest possible price. However, we suggest that you pre-book your trip on time in order to get the best possible deal. Always keep up to date with Alps2Alps for the latest offers, deals and discounts on Saint-Pierre-en-Faucigny transfer services.
Transfer costs are calculated in accordance with the following reasons:
Where the journey begins (your arrival airport)
The time of year and seasonal demand
Peak times during the day and week/weekend
The size of your group and the number of children
The length and duration of the journey
All of the above mentioned will only ever result in our base-rate for ski transfers going down – we never over-inflate our prices at any time or for any reason. We also offer substantial discounts for off-peak, off-season and midweek transfers to Saint-Pierre-en-Faucigny. If you are searching for the best possible deals, travelling outside peak season or midweek typically results in the biggest savings. We offer midweek (Monday to Friday) prices with up to 60% discount than weekend prices.
Your transfer quote will also depend on vehicle availability, transfer schedule, vehicle utilisation and other costs like road tolls and airport parking charges. From our side, we work hard to keep our prices low and are relentlessly committed to total value for money. Which is why we guarantee you the best price on your Saint-Pierre-en-Faucigny transfers, whatever your needs are.
To discuss any specific requirements or plans to travel as part of a larger group, please get in touch directly so we can discuss your needs.
Resort Open & Closing Dates
Seasonal opening dates at La Clusaz are of course dependant on snow conditions, though are currently listed as follows:
Season opens – 14th December 2019
Season ends – 13th April 2020
Ski Resort Essentials
The resort of La Clusaz lies at an elevation of 1,100m, with a max vertical of 1,500m and its highest lift going as far as 2,600m. There are a total of 125km of pisted ski runs in the vicinity of the resort. That is worth to remember that La Clusaz is part of the Annecy Mountains ski area with access to 245km of downhill skiing, with 173 marked pistes, served by a total of 150 ski lifts. In addition to the skiing in La Clusaz itself the appropriate ski Lift Pass will allow you to ski or snowboard in the other Annecy Mountains ski resorts of La Sambuy / Seythenex, Le Grand Bornand, Manigod and Saint Jean de Sixt.
World freestyle champion Candide Thovex grew up in La Clusaz. Every year in March he holds his Candide Invitational event on the La Balme peak. This incredible event attracts world-class skiers and snowboarders from all over the world.
Family Friendly/Kids
La Clusaz holds the "Famille Plus" award. The resort has a childhood centre 'Les P'tits Montagnards' with 24 places for children (non-skiers) aged from 8 months to 3 years. There is also 'Club des Champions' for children aged from 3 up to and including 6 years of age. Kids are the number one priority in La Clusaz – you will always find there suitable activities for children of all ages!
Weather/Snow Weekly Forecast

View detailed snow forecast for La Clusaz at:
snow-forecast.com
Maps of La Clusaz ski resort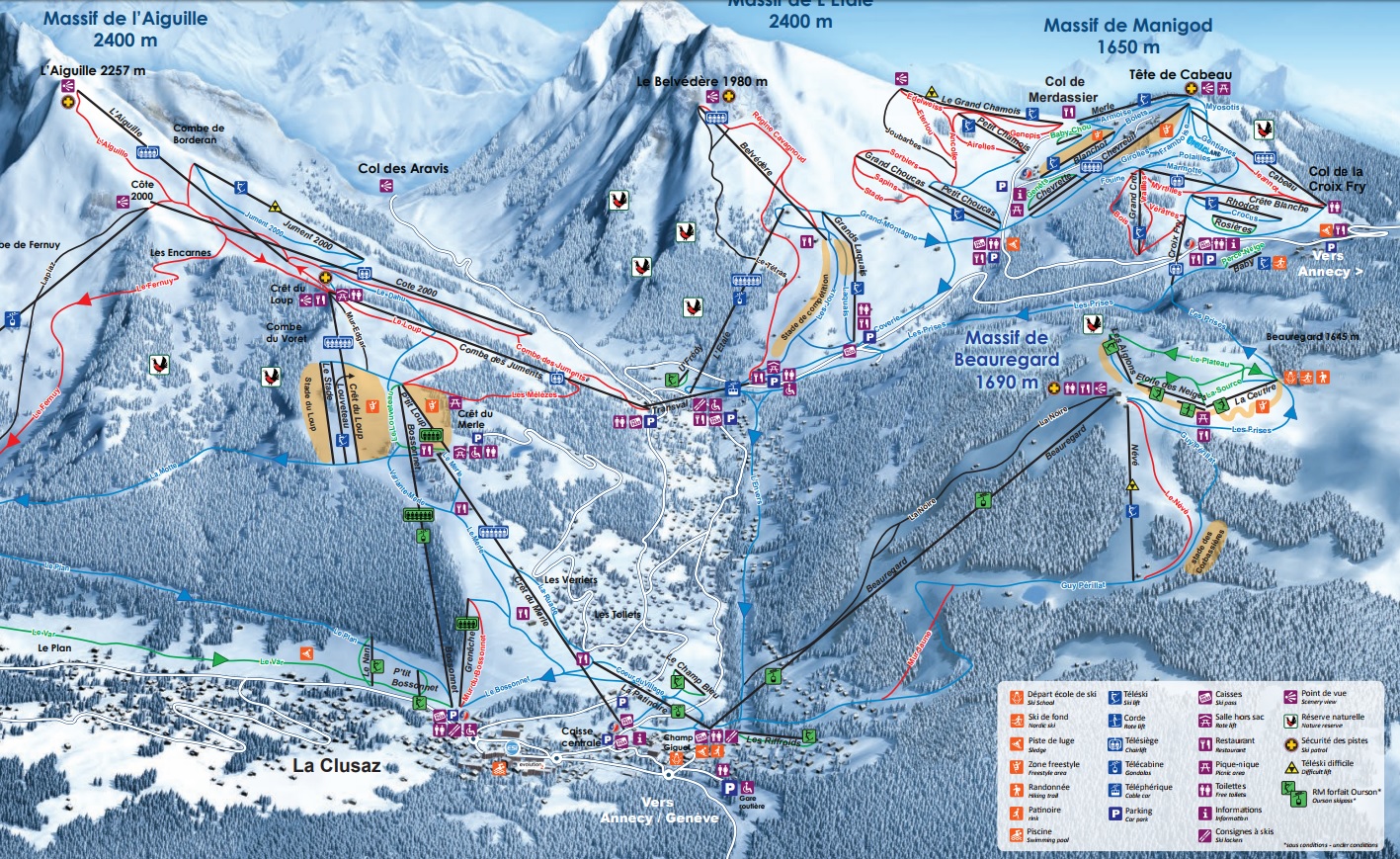 Live Webcam
La Clusaz live webcam stream:
Tourist Resources & Links
Saint-Pierre-en-Faucigny has a rich heritage and a lot of interesting places to visit around the area. Jet d'Eau Fountain, Bourg-de-Four Square, and Saint-Pierre Cathedral are just some of them. Following websites should help you to find the right options for your journey:
How to Choose Transfers to Saint-Pierre-en-Faucigny
The way we see it, Saint-Pierre-en-Faucigny transfers are much more than just getting you to your end destination. After all, you also want to arrive comfortable, refreshed and ideally on time. Not all resort transfer services can promise this – Alps2Alps guarantees a higher-level service for every passenger.
Travel with us to Saint-Pierre-en-Faucigny and we'll provide you with the following guarantees:
Outstanding value for money throughout the season
Flexibility and convenience for all customers
24/7 customer service and English-speaking drivers
A family-friendly attitude and service with a smile
Total commitment to punctuality and reliability
Book Your Ski Transfer to Saint-Pierre-en-Faucigny
We advise you to keep an eye for the hot deals, discounts and special offers that could make your trip even more affordable. If looking to secure your seats for the best possible price, booking as early as possible is advisable.
If you can't find exactly what you're looking for, please contact Alps2Alps customer service team today. Otherwise, book your airport transfer now and get ready for the adventurous skiing!