Sixt-Fer-à-Cheval Resort & Transfer Guide
Sixt-Fer-a-Cheval is a municipality in the department of Haute-Savoie in the Rhône-Alpes region in the southeast of France.
An amazing village is included in the Les Plus Beaux Villages de France ("the most beautiful villages of France"). It is an independent association created in 1982 to promote the preservation of small and picturesque French villages as a national heritage. To join the association it is necessary to meet the following criteria: the population of the village should not exceed 2,000 inhabitants, there must be at least two protected territories (picturesque or legendary places, or monuments of scientific, artistic or historical value) and, besides, the decision of the city council. Currently, the association includes 152 French villages.
Sixt-Fer-à-Cheval is a really old-time place, the resort with preserved authentic environment, unique architecture and rich cultural heritage. But it will be better to travel to that place than talk million times about it. Go to Sixt-Fer-a-Cheval, and be sure that that vacation will not leave you indifferent, opposite it will be remembered through the years.
Ski Resort Location
Sixt-Fer-a-Cheval gained its fame due to the ideal geographical location among the nature reserve, adjacent to the Cascade du Rouge waterfall, called "The Queen of the Alps".
Its architectural heritage is the monastery and church of the former Sixt Abbey, founded by Ponce de Faucigny Sixt-Fer-a-Cheval is a year-round paradise for mountain fans - adventurers, hikers and skiers. This is a part of the famous ski resort of Grand Massif and has access to 265 km of ski areas for skiers of different levels of skiing. For fans there are two snowparks, there is also a special small snowpark for children.
Closest Airports to Sixt-Fer-à-Cheval
If you're flying to Sixt-Fer-à-Cheval, be sure to arrive via one of the closest airports:
Closest Train Stations to Sixt-Fer-à-Cheval
Gare de Cluses
Magland train station
Transfer Times
These transfer times are approximate only. Weather and traffic conditions can impact transfer time:
Geneva Airport (GVA) - 1 hours 40minutes
Chambery Airport (CMF) - 2 hours 40 minutes
Lyon Saint Exupery Airport (LYS) - 2 hours 50 minutes
Grenoble Airport (GNB) – 2 hours 50 minutes
Gare de Cluses – 32 minutes
Magland train station – 40 minutes
How Much Will My Transfer Cost?
Your price will be based on various factors, especially for provide you with the lowest possible transfer cost of your future trip. In Alps2Alps we do everything to ensure our clients that our tariffs are uniquely available at any time of the season. Even at the most height of the season, we still guarantee the lowest prices for all our transfers.
There are several factors that may affect the transfer price:
Point of departure services (airport of your arrival)
Distance and road time to the ski resort
Season and seasonal demand
How many people will travel with you (both adults and small skiers)
Current special offers and discounts available for that period
Unlike other transfer companies, we consider as many factors as possible to lower our standard rates. Alps2Alps recommend you to book your transfer in advance for getting the biggest value of money. Large discounts will be waiting for you in case of booking transfers for non-peak days and weekdays. Our week-days prices (from Monday to Friday) will bring you 60% of discount than the weekend prices.
Finally, your transfer quote will be depend on the availability of the car, the transfer schedule, the use of the vehicle and other costs, such as tolls and parking taxes at the airport.
If you are planning your journey as a part of large group, or you want to learn more information about our transfer services, please reach us directly so we can discuss your needs.
Resort Open & Closing Dates
Seasonal opening dates at Sixt-Fer-à-Cheval are dependent on current weather conditions as well as on the snow forecast:
Season opens – 21st December 2019
Season ends – 15th March 2020
Ski Resort Essentials
From 800 to 1600 m, the Sixt-Fer-à-Cheval ski area is welcoming and easy to reach. All types of snow are possible, in an exceptional setting, ideal for children and beginners.
Welcome to Sixt-Fer-à-Cheval and enjoy:
Resort Altitude - 850 m
Skiing area from 800m till 1600m altitude
12 pistes (17% - beginner, 33% - intermediate, 42& - advanced, 8% - expert)
Highest lift - 2200m
6 ski lifts
62 km cross-country skiing
Family Friendly/Kids
Sixt-Fer-à-Cheval gladly offers its guests a big variety of opportunities for skiing as well as different more sport activities. Besides, this place is amazing blessed with a rich natural and historic heritage. Arriving to the village you will be struck by the beauty of the surroundings. But don't make a stop - go a little bit further, and you will see numerous beautiful waterfalls, walking trails and hiking roads. In Sixt-Fer-à-Cheval for you also work excellent ski schools with expert level instructors for both adults and kids. Activities include alpine and cross country skiing, snow shoeing, dog sledding, sledging and ice climbing or enjoy culture and discover more and more in the neighbouring area.
Weather/Snow Weekly Forecast
Maps of Sixt-Fer-à-Cheval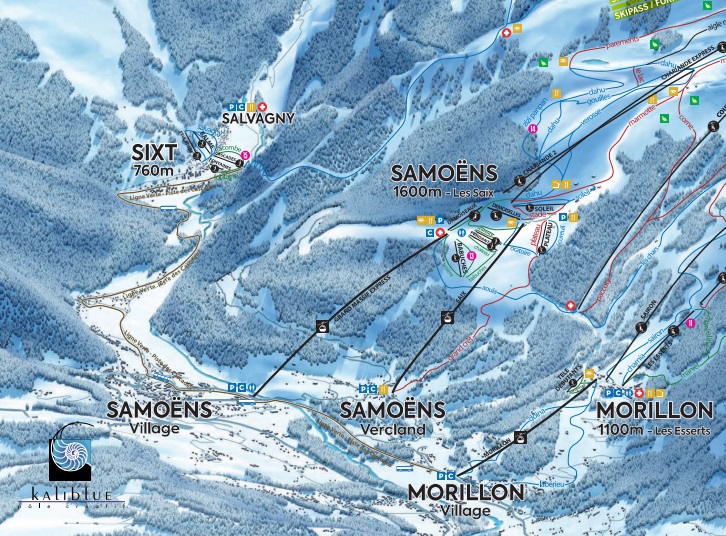 Live Webcam
Sixt-Fer-à-Cheval live webcam stream:
Tourist Resources & Links
Sixt-Fer-à-Cheval and its surroundings offer its guests a great number of winter adventures. Check out some tourism web pages to investigate all the opportunities of this resort:
How to Choose Transfers to Sixt-Fer-à-Cheval
Alps2Alps are all exactly what the customers want from the transfer company.
You want to arrive to the resort on time, with maximum comfort and all that for low price, right? Well, you have come to the needful place.
We specialize in the full package of Alpine resort transfer services for the most discerning skiers.
Go to Sixt-Fer-à-Cheval with us, and in return we promise to give you:
Safe, comfortable and clean cars always
Reliability and total punctuality in all situations
Friendly Customer Support Staff on-line 24/7
Best drivers speaking English fluently
Family service with a smile
The lowest prices for all trips on all our destinations
Book Your Ski Transfer to Sixt-Fer-à-Cheval
Alps2Alps advise you to reserve your shuttle to and back from Sixt-Fer-à-Cheval resort in advance in order to get the best price offer. If you are ready to book the transfer service, just call our customer support managers, they will assist you gladly.
The best trips always start with the outstanding transfers organized by Alps2Alps!