Vars, Hautes-Alpes Resort & Transfer Guide
Vars, Hautes-Alpes a big and beautiful ski resort with 185km of runs. Vars is a truly unique place – that is one ski resort and four villages of Sainte Marie, Saint Marcellin, Les Claux and Sainte Catherine. Back in 1958, the Vars villages had a population of no more than 250 inhabitants. The very first building constructed in Vars was the 'Les Myrtilles' apartment block. Then followed the construction of the ski lifts and Vars became a large ski resort. Vars shares the largest ski area in the Southern French Alps with neighboring Risoul.
Ski Resort Location
Vars ski resort is located in the commune in the Hautes-Alpes (part of the Alps mountain range, in the region of Provence-Alpes-Côte d'Azur), in southeastern France. Vars is the place where tradition and modernity coexist - the main Vars station is made up of a mixture of concrete blocks and traditional chalet designs.
Saint-Marcellin is the first and is the oldest village in Vars. It has four fountains, Borel, Pra Coustan, Chanalette and Garelle, which are fed from the sources of the Rivet and the Adoux. The village of Sainte Marie is located in the centre of the hamlets and is the gateway to the ski area. The hamlet of Sainte-Catherine consists of the houses, mostly traditional old farms. There are many good restaurants in all four villages and the lively, especially at weekends.
Vars has the reputation of the fastest ski resort in the world. This stunning ski resort with its Chabrières piste and its 98% gradient at the summit is very popular among the fastest skiers on the planet!
Closest Airports to Vars, Hautes-Alpes
Getting to Vars, Hautes-Alpes is not a problem as one of the following airports can be used as a pick-up point:
Turin Cuneo Airport (CUF) – Turin, Italy
Closest Train Stations to Vars, Hautes-Alpes
The closest train station to Vars, Hautes-Alpes is Montdauphin Guillestre station (18 km from Vars). We recommend you to book airport transfers. The following airports link this beautiful resort and all of them provide airport transfers to Vars.
Transfer Times
These transfer times are approximate only. Weather and traffic conditions can significantly impact transfer times:
Turin-Caselle Airport (TRN) – 3 hours
Turin Cuneo Airport (TRN) – 3 hours 30 minutes
How Much Will My Transfer Cost?
We carefully calculate all resort transfer services cost individually, to make sure that our customers never overpay. Whenever you choose to travel and whatever your final destination, Alps2Alps will get you there for the lowest possible price. However, we advise booking early to access the best possible deal. In addition, keep up to date with Alps2Alps for the latest offers, deals and discounts on Vars, Hautes-Alpes ski resort transfer services.
Transfer costs are calculated in accordance with the following factors:
Where the journey begins (your arrival airport)
The time of year and seasonal demand
Peak times during the day and week/weekend
The size of your group and the number of children
The length and duration of the journey
All those factors will only ever result in our base-rate for ski transfers going down – we never over-inflate our prices at any time or for any reason. We also offer substantial discounts for off-peak, off-season and midweek transfers to Vars, Hautes-Alpes. If looking for the best possible deals, travelling outside peak season or midweek typically results in the biggest savings. We offer midweek (Monday to Friday) prices with up to 60% discount than weekend prices.
Your transfer quote will also depend on vehicle availability, transfer schedule, vehicle utilisation and other costs like road tolls and airport parking charges. In all instances, we work hard to keep our prices low and are relentlessly committed to total value for money. Which is why we guarantee you won't find a better deal on your Vars, Hautes-Alpes ski resort transfers, whatever your needs.
To discuss any specific requirements or plans to travel as part of a larger group, please get in touch directly so we can discuss your needs.
Resort Open & Closing Dates
Seasonal opening dates at Vars, Hautes-Alpes are of course dependant on snow conditions, though are currently listed as follows:
Season opens – 7th December 2019
Season ends – 19th April 2020
Ski Resort Essentials
The resort of Vars, Hautes-Alpes lies at an elevation of 1,850m, with a max vertical of 1,100m and its highest lift going as far as 2,750m. There are a total of 108 pistes in the immediate vicinity of the resort, served by 59 ski lifts. In addition to the skiing in Vars itself (64 pisted ski runs), the appropriate ski Lift Pass will allow you to ski or snowboard in the other La Forêt Blanche ski resort of Risoul. There is a freestyle park Varspark with 6 freestyle areas, arranged on different levels.
Family Friendly/Kids
Vars, Hautes-Alpes is a family friendly ski resort. The resort areas offer a wide range of amazing children's activities: skiing, games; cultural, artistic, sporty or hands-on activities.
Weather/Snow Weekly Forecast

View detailed snow forecast for Vars at:
snow-forecast.com
Maps of Vars, Hautes-Alpes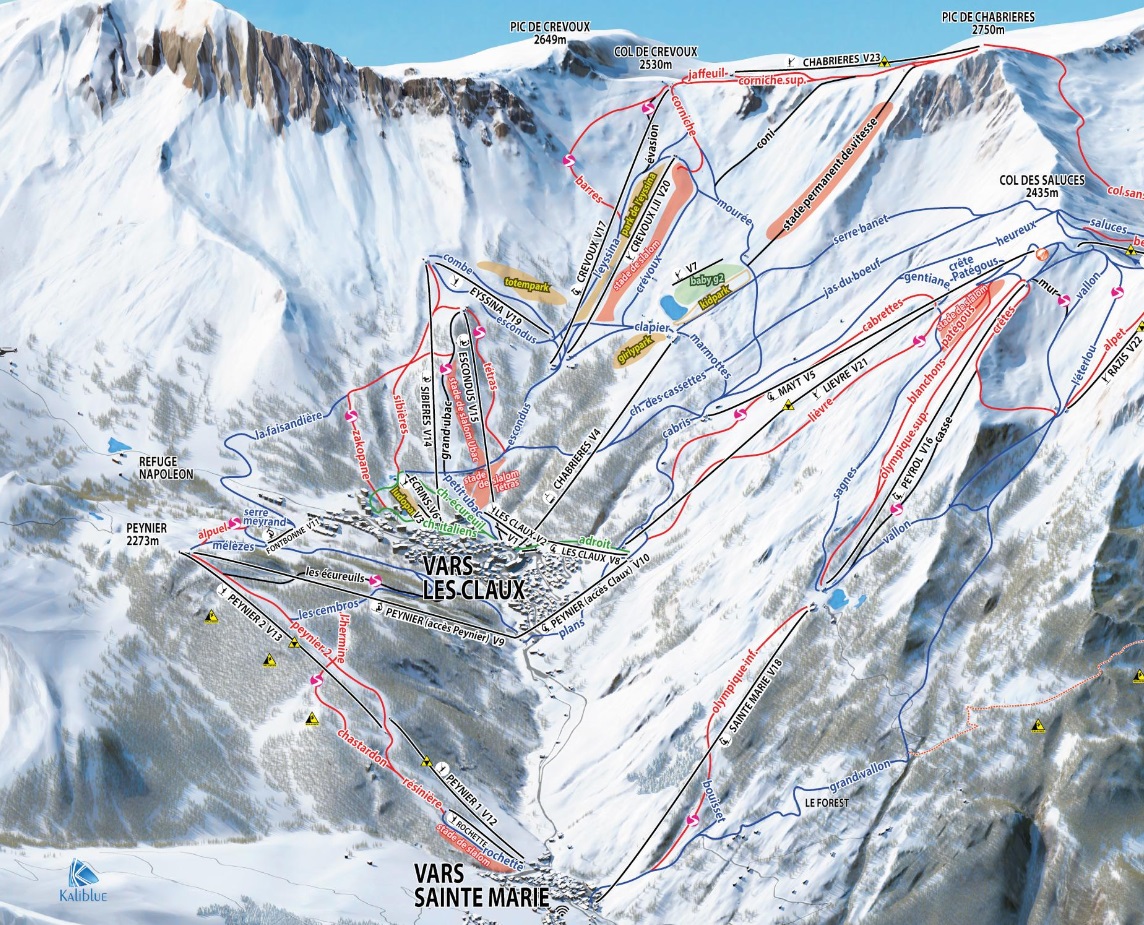 Live Webcam
Vars, Hautes-Alpes live webcam stream:
Tourist Resources & Links
Vars, Hautes-Alpes is full of history, culture and nature. Take the advantage and explore all four Vars villages on foot: the most popular tourist activity is this loop through the traditional villages in Vars. That reveals a diverse landscape, through its heritage, alleyways, ancient farms, sundials, and even its hay cranes. 5.6 km, or 2 hours 30 minutes of walking, to find the treasures of Sainte Marie, Saint Marcellin and Sainte Catherine. Find out more at the following website:
How to Choose Transfers to Vars, Hautes-Alpes
We think that Vars, Hautes-Alpes ski resort transfers are about so much more than getting you to your chosen destination. After all, you also want to arrive comfortable, refreshed and ideally on time. Not all resort transfer services can promise this – Alps2Alps guarantees a higher-level service for every passenger.
Travel with us to Vars, Hautes-Alpes and we'll provide you with the following guarantees:
Outstanding value for money throughout the season
Flexibility and convenience for all customers
24/7 customer service and English-speaking drivers
A family-friendly attitude and service with a smile
Total commitment to punctuality and reliability
Book Your Ski Transfer to Vars, Hautes-Alpes
Don't forget to take a look at all kinds of deals, discounts and special offers that could make your trip to Vars, Hautes-Alpes even more affordable. If looking to secure your seats for the best possible price, booking as early as possible is advisable.
If you can't find exactly what you're looking for, please get in touch with the Alps2Alps customer service team today. All you have to do now is to make your choice and book your airport transfer to your fantastic ski destination!