Cavalese Ski Resort & Transfer Guide
Cavalese lies on the sunny side of Alps and is a great ski resort for ski and snowboard lovers. In the center of the resort is plenty entertainment options as well as ice stadium for skating all year round and swimming pool with indoor and outdoor hydromassage options. Take a cablecar and from the top see the magnificent panorama views or enjoy breathtaking slopes.
Ski Resort Location
Cavalese ski resort is located in northern Italy and is the main centre in Val di Fiemme. The town is renovated, all the facilities are new and friendly for tourists as well as families with kids of all age.
Cavalese is one of the rare resorts, which has a long history. The place dates back to Bronze Age and in 12th century developed into small manufacturing town. Later Cavalese became a vacation resort for aristocrats of the region and it developed into great tourism and vacation resort into nowadays.
Closest Airports to Cavalese
If you're flying to Cavalese, arrive at one of the closest airports:
Closest Train Stations to Cavalese
There are no direct train connections to the resort itself. If you're travelling by train, these are the closest stations to Cavalese, from which bus transfers can be arranged:
Transfer Times
These transfer times are approximate only. Weather and traffic conditions can significantly impact transfer time:
Ora - 45 minutes
Treviso Airport (TSF) – 3 hours 5 minutes
Innsbruck Airport (INN) – 2 hours 35 minutes
Salzburg Airport (SZG) – 4 hours 20 minutes
Venice Marco Polo Airport (VCE) – 3 hours 15 minutes
Orio al Serio International Airport (BGY) – 3 hours 10 minutes
Milan Linate Airport (LIN) – 3 hours 30 minutes
Milan Malpensa Airport (MXP) - 4 hours 5 minutes
How Much Will My Transfer Cost?
When it comes to pricing, we avoid flat pricing structures for customers looking to book Cavalese transfers. We are working with dynamic approach, taking into account the specifics of your transfer, in order to offer the best possible price every time.
Travelling with Alps2Alps we are considering various factors of your transfer, which includes:
Transfer journey – your chosen arrival airport
Number of people travelling (and their ages)
Day and time of travel
Special discounts available at the time
All of the above will only ever result in our base-rate for ski transfers going down – we never over-inflate our prices at any time or for any reason. We also offer substantial discounts for off-peak, off-season and midweek transfers to Val di Fassa. If looking for the best possible deals, travelling outside peak season or midweek typically results in the biggest savings. We offer midweek (Monday to Friday) prices with up to 60% discount than weekend prices.
Your transfer quote will also depend on vehicle availability, transfer schedule, vehicle utilisation and other costs like road tolls and airport parking charges.
If you have any specific requirements or will be travelling as part of a larger group, please get in touch directly so we can discuss this.
Resort Open & Closing Dates
Cavalese season opening dates are subject to snow conditions:
Season opens: 30th November 2019
Season closes: 13th April 2020
Ski Resort Essentials
Cavalese sits at an altitude of 1000 m and has a max vertical of 1600 m. Here's some more vital info about the resort itself:
2 Black pistes
5 Red pistes
6 Blue pistes
1 Green piste
70 km Downhill pistes
150 km Cross country pistes
10 Ski lifts
Lowest Piste: 1000 m
Highest Lift: 2600 m
Cavalese is famous for providing an equally incredible experience for all skill levels across the board. From first-timers to seasoned pros, there's plenty on offer for everyone. Combine your ski experience with other resorts in Val di Fiemme ski area to get full enjoyment.
Family Friendly/Kids
Val di Fiemme valley is dedicated to provide great services for families with kids. The resort offers several activities for children. They can spend their free time in Cermislandia - spectacular fun park, where children can entertain themselves in various different ways with or without parents. The resort itself is family friendly and a great location for family ski holidays.
Weather/Snow Weekly Forecast:

View detailed snow forecast for Alpe Cermis-Cavalese at:
snow-forecast.com
Maps of Cavalese Pistes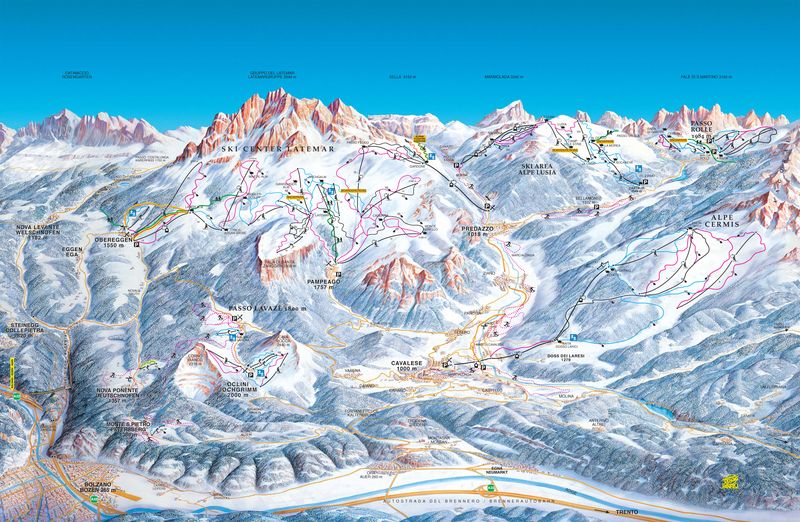 Live Webcam
www.meteocavalese.it/cavalese.jpg
Tourist Resources & Links
If you're heading to Cavalese, these useful links will help you prepare for your trip away:
How to Choose Transfer to Cavalese
Alps2Alps offers high quality transfer services and we are committed to provide you our services for the lowest possible prices. You can trust us when it comes to reliability, punctuality and flexibility we are devoted to provide you the best services possible.
We guarantee:
Lowest cost transfers to and from Cavalese
Constant support 24/7 help
Friendly and professional team
Family-friendly services for kids of all ages
Safe and modern vehicles for your trip
We are always on time
Book Your Ski Transfer to Cavalese
Have a peaceful mind and start of your journey booking your transfer in advance with Alps2Alps. Remember - if you have any questions or you can't find what you are looking for, get in touch with Alps2Alps and we will do our best to help you.
If you want to get your trip to Cavalese off to the best possible start, you know who to call!