Klösterle am Arlberg Ski Resort & Transfer Guide
Located just 4km away from the world famous St. Anton, Klösterle am Arlberg is a perfect ski holiday destination for those wanting to experience world-class skiing without breaking the bank. With family-run guest houses and personally managed hotels, the area is a shining example of Austrian hospitality – the perfect location for your next winter adventure! Here you'll find essential information on the Klösterle am Arlberg ski resort as well as help and guidance in booking your transfer.
Ski Resort Location
At an elevation of 1075 meters above sea level, Klösterle am Arlberg is nestled in a spruce-covered valley directly at the foot of the world-famous Arlberg. As part of the Sonnenkopf ski area, Klösterle am Arlberg gives access to high-class skiing facilities for every skill level.
Closest Airports to Klösterle am Arlberg
Choose one of the closest airports if you're planning to fly to Klösterle am Arlberg:
Closest Train Stations to Klösterle am Arlberg
Klösterle am Arlberg is easily reachable by train. The nearest train station to the resort is Langen am Arlberg, about 10 km from the resort, from which transfers can be arranged.
Transfer Times
The transfer times indicated are approximate only. Weather and traffic conditions can significantly impact transfer times:
Bodensee Airport Friedrichshafen (FDH) – 1 hour 40 minutes
Innsbruck Airport (INN) – 1 hour 35 minutes
Zurich Airport (ZRH) – 2 hours 30 minutes
Munich International Airport (MUC) – 3 hours 50 minutes
How Much Will Your Transfer Cost?
In order to ensure you pay the lowest possible price for your journey, the price of your transfer will be based on a variety of factors. Alps2Alps pricing policy is designed to keep our fares uniquely affordable at all times. Even if you plan to visit Klösterle am Arlberg during high season, we still guarantee the lowest prices on all our services.
Just a few of the factors that can determine the price of your Klösterle am Arlberg transfer include:
The departure point (airport) of the service
Total distance and travel time to your desired destination
Time of year and seasonal demand
The size of your group and the age of the travellers
Unique deals and that may be available at the time
The above-mentioned criteria will only ever result in our base-rate for ski transfers going down – we never over-inflate our prices at any time or for any reason. Unlike others, we take into consideration as many factors as possible to minimize our rates whenever possible. We always recommend booking well in advance, in order to access the very best deals and discounts. We also offer substantial discounts for off-peak, off-season and midweek transfers to Klösterle am Arlberg. If looking for the biggest savings, travelling midweek or outside peak season typically results in the best possible deals. We offer midweek (Monday to Friday) prices with up to 60% discount in comparison to weekend prices.
Your transfer quota will also depend on vehicle availability, transfer schedule, vehicle utilisation and other costs like road tolls and airport parking charges.
If you have any specific requirements or plan to travel as part of a larger group, please contact us directly so we can discuss your needs.
Resort Opening and Closing Dates
Klösterle am Arlberg season opening dates are subject to snow conditions:
Season opens – 6th December 2019
Season closes – 19th April 2020
Ski Resort Essentials
Klösterle Sonnenkopf is a medium-sized, family-friendly ski resort with 9 ski lifts that offer skiers an incredible 1300 of vertical descent and a total number of 30 pistes ready to challenge skiers at every skill level. The resort is also part of the single Ski Arlberg pass, also valid for St. Anton other neighbouring villages easily reachable by a free bus link for your convenience. Here are some essential stats from visitors to Klösterle Sonnenkopf:
1 Black piste
11 Red pistes
5 Blue pistes
34 km Downhill pistes
9 ski lifts
Max vertical: 1300 m
The 8 km long Vermalen run with a 1300m altitude difference, the longest in the resort, is a challenge in itself. Sonnenkopf is also a favourite destination for free-riders.
Family Friendly/Kids
Sonnenkopf ski area is family friendly and suitable for beginners and intermediates who enjoy skiing a smaller an uncrowded ski area with quiet open slopes. The resort's Snowman Land offers safe and exciting activities for the smallest winter holiday goers. The ski school in Klostertal runs useful courses, including freestyle and snowboarding classes. You can book a private ski instructor if the whole family is learning or improving their skills together.
Weather/Snow Weekly Forecast

View detailed snow forecast for Klösterle/Sonnenkopf at:
snow-forecast.com
Maps of Klösterle am Arlberg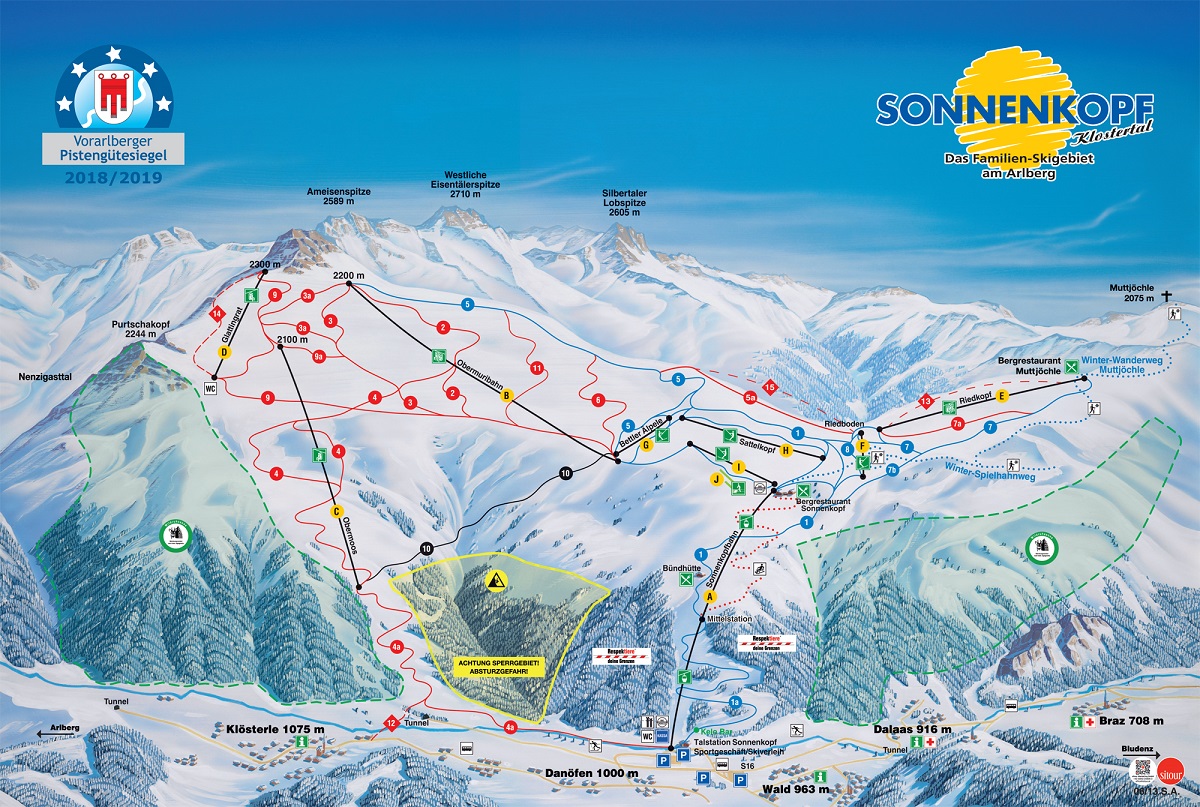 Live Webcam
Tourist Resources & Links
If you're planning a trip to Passo del Tonale, these useful links will help you prepare:
How to Choose Transfers to Klösterle am Arlberg
Here at Alps2Alps, we acknowledge your expectations when choosing a resort transfer company. You don't just want us to take you there; you want to arrive on time, in comfort and for the lowest possible price. This is why we specialise in resort transfer services for the discerning traveller.
Head out to Klösterle am Arlberg resort with us and benefit from:
Safe, clean and comfortable vehicles
English speaking drivers with solid local knowledge
A 24/7 customer care team on-call at all times
Family-friendly service with a smile
Lowest possible prices on all resort transfers
Full commitment to punctuality and reliability
Book Your Ski Transfer to Klösterle am Arlberg
If you're looking for an unbeatable deal on your resort transfers to and from Klösterle am Arlberg, be sure to book well in advance. Don't hesitate and get in touch with the Alps2Alps customer service team if you're unable to find the service or destination you're looking for on our website.
Whatever your plans and needs, book your ski transfer with us and start your trip with ease!