Mürren Ski Resort & Transfer Guide
Mürren is referred as the ultimate winter dream - tiny village resort charms its visitors with tranquillity and beauty. Breathtaking scenery at three most famous peaks of Jungfrau region combined with freshly groomed pistes makes it the place to be.
If long, tranquil, queue-free downhill runs at the birthplace of Alpine skiing at a village where nothing is more than a few minutes walk sounds appealing, be sure to choose Alps2Alps for best transfer service to Mürren for the best ski holidays for you and your whole family.
Ski Resort Location
Mürren is a car-free village that is located in the west of the Jungfrau region, usually, it has the best snow in the area.
Every snow sport fan dreams about coming here - first ever Alpine ski race was held here in 1922 by British Ski Club as well as first Alpine Ski World Championships back in 1931.
Also every January since 1928 the spectacular Inferno race is held, where close to 2000 amateur skiers compete from the top of the Schilthorn right down to Lauterbrunnen (a 2175m vertical drop). Due to resorts history, the resort is especially popular amongst Brits.
Closest Airports to Mürren
If you're flying to Mürren be sure to arrive via one of the closest airports to the resort:
Closest Train Stations to Mürren
Mürren can be reached by train - take the train to Lauterbrunnen. Then take the cable car and mountain railway to Mürren.
Swiss railways - https://www.sbb.ch/en/home.html
Transfer Times
These transfer times to Mürren are approximate only - traffic and weather conditions can impact transfer times:
Sion Airport (SIR) – 3 hours 10 minutes
Euroairport Basel Mulhouse Freiburg (BSL/MLH/EAP) – 2 hours 30 minutes
Zurich Airport (ZRH) – 2 hours 30 minutes
How Much Will Your Transfer Cost
Mürren ski resort is quite popular, therefore don't hesitate to book your transfer - for best price and service, be sure to check Alps2Alps offer and bear in mind that the final transfer price will be influenced by:
Your chosen airport
Distance to your chosen ski resort
Day and time of transfer
Number of people in your group
Special offers that we can offer
Booking in midweek (Monday-Friday) means that the prices will be up to 60% lower than usual weekend prices! Also, book your transfer to Mürren during the off-season and off-peak means that your savings will be even bigger. Vehicle availability, vehicle utilization, schedule of transfers and other costs like road tolls and parking fees are taken into consideration when calculating the final transfer price to Mürren.
If you are planning to travel as a larger group or there are any other specific needs, please get in touch with us directly.
Resort Open & Closing Dates
Seasonal opening dates at Mürren are subject to snow conditions, though are currently listed as follows:
Season opens - 30th November 2019
Season closes - 26th April 2020
Ski Resort Essentials
Mürren sits at 1650m with pistes from 1650 to 2970m above sea level. Here are some essential stats of the ski resort:
6 black pistes
11 red pistes
8 blue pistes
2 green pistes
Ski lifts: 12
Downhill pistes: 53km
Cross-country pistes: 2km
Mürren ski resort is a part of Jungfrau Region ski area, therefore with the right ski Lift Pass, you will have access to a total of 378km of downhill and a chance to explore Lauterbrunnen, Grindelwald and Wengen ski resorts.
The local Skyline SnowPark is perfectly built for freeskiers and snowboarders.
Family Friendly/Kids
Nightlife in the resort is quite limited, therefore families can enjoy a calm vacation with spectacular views. There are special offers for ski passes for families. The local ski school takes children from five years, there is a baby slope with a rope tow and there is a children's club at the sports center.
If you want to explore amazing panoramic views at a bit slower pace, then be sure to go on the excursion to Schilthorn.
Weather/ Snow Weekly Forecast

View detailed snow forecast for Mürren at:
snow-forecast.com
Maps of Mürren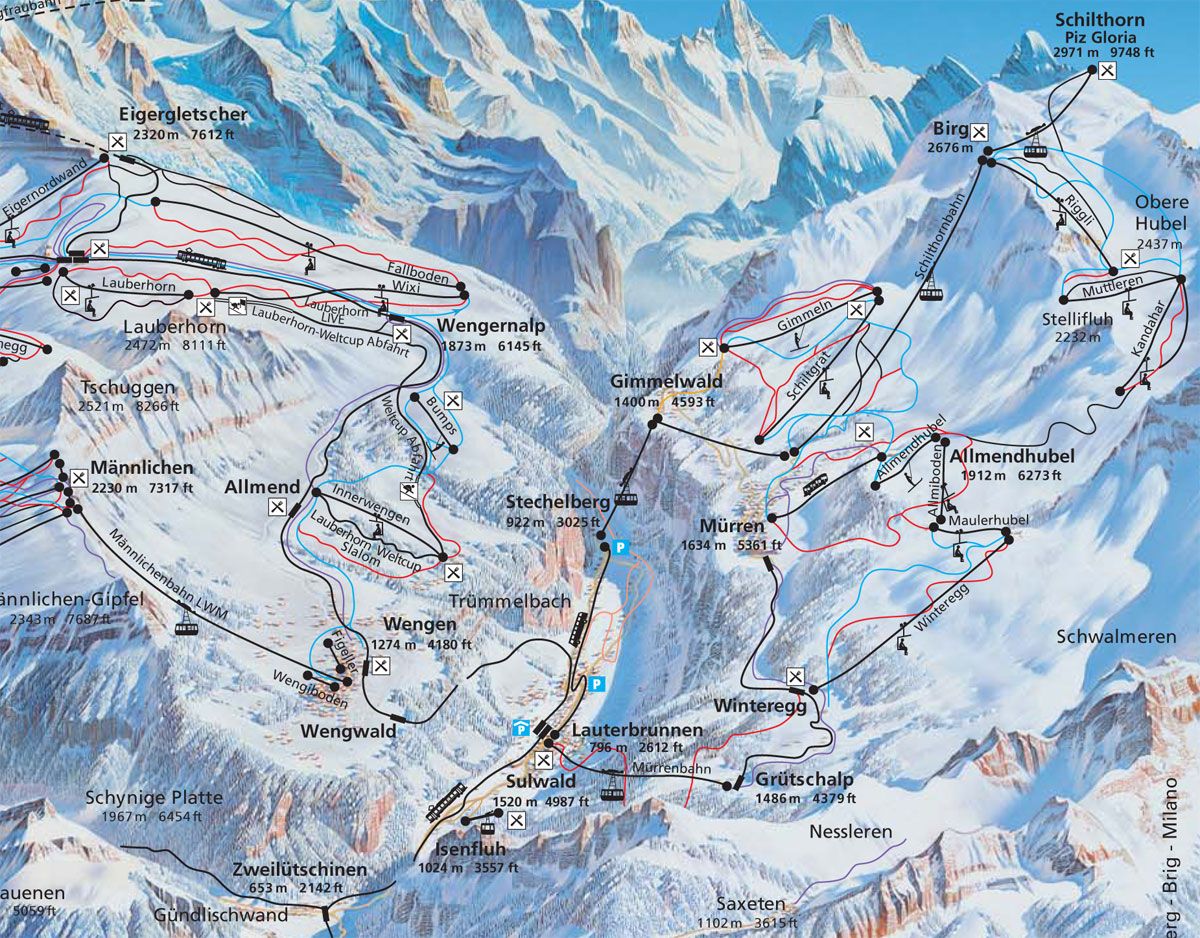 Live Webcam
Tourist Resources & Links
We have gathered few links that might be handy when traveling to the Mürren resort, therefore you will get the most out of your ski holidays:
How to Choose Transfers to Mürren
Choosing the right transfer to Mürren can be significant to start your ski holidays on a high note - when choosing Alps2Alps as your transfer provider, you will benefit from:
English-speaking, friendly drivers
24/7 customer service
The lowest transfer price on market
Full commitment to reliability and punctuality
Modern and comfortable fleet
Book Your Ski Transfer to Mürren
It is always a good idea to book your transfer to Mürren in advance to get the best possible price. If you have any questions or concerns, contact us at Alps2Alps - we will be more than happy to provide you the best service possible!