Neuchatel Ski Resort & Airport Transfer
Neuchatel is a medium Swiss city with rich cultural and architectural past. Neuchatel is surrounded by the Jura mountains, locally known as Montagnes Neuchateloises. Most of the buildings in Neuchatel are built with pale-yellow limestone, legendary writer Alexandre Dumas described Neuchatel as a city carved out of butter. Neuchatel is situated at the heart of Swiss watch-making industry, the city is close to the famous towns of La Chaux-de-Fonds and Le Locle, both UNESCO World Heritage. The forested area of Neuchatel is cut by deep ravines and valleys. Closest ski resort to Neuchatel is Bugnenets-Savagnieres Ski area.
Ski Resort Location
Neuchatel is located in the western part of Switzerland, 20 km from the French border. The city of Neuchatel is the capital of the canton of Neuchatel. Neuchatel has its own Lake Neuchatel, which is the largest lake located entirely in Switzerland. The city is a home to 33,000 permanent residents.
Neuchatel has a large variety of hotels and apartments for you to stay. Neuchatel offers a wide range of many different shops, bars, cafes, nightclubs, pubs and theatres. The old town has the old market square - Place des Halles, also you can see the castle and collegiate church dating from the 12th century. All kind of sports activities is presented around Neuchatel, such as cross-country skiing, mountain climbing, snowshoeing and downhill skiing.The world-best teams of synchronized skating meet in Neuchatel for the Neuchatel-Trophy, which takes place in Neuchatel in February. Neuchatel is a popular meeting point for tourists all over the world!
Closest Airports to Neuchatel
If you're flying to Neuchatel, be sure to arrive via one of the closest airports:
Closest Train Stations to Neuchatel
There is a train station in Neuchatel, which is only 17 minutes walk and 1,1km away from the city centre. Although Switzerland is famous for its efficient rail network, we recommend you to order direct airport transfer to get to your chosen destination. That is the most convenient and time-saving option.
Transfer Times
These transfer times are approximate only. Weather and traffic conditions can significantly impact transfer times:
Basel Airport (BSL) – 2 hours 10 minutes
Zurich Airport (ZRH) - 2 hours 30 minutes
How Much Will My Transfer Cost?
We always carefully calculate all resort transfer services individually, to ensure that our customers always get the best offer. Whenever you choose to travel and whatever your final destination, Alps 2 Alps will get you there for the lowest possible price. However, we advise booking early to access the best possible deal. In addition, keep up to date with Alps 2 Alps for the latest offers, deals and discounts on Neuchatel resort transfer services.
Transfer costs are calculated in accordance with the following factors:
Where the journey begins (your arrival airport)
The time of year and seasonal demand
Peak times during the day and week/weekend
The size of your group and the number of children
The length and duration of the journey
All of the above will only ever result in our base-rate for ski transfers going down – we never over-inflate our prices at any time or for any reason. We also offer substantial discounts for off-peak, off-season and midweek transfers to Neuchatel. If looking for the best possible deals, travelling outside peak season or midweek typically results in the biggest savings. We offer midweek (Monday to Friday) prices with up to 60% discount than weekend prices.
Your transfer quote will also depend on vehicle availability, transfer schedule, vehicle utilisation and other costs like road tolls and airport parking charges. In all instances, we work hard to keep our prices low and are relentlessly committed to total value for money. Which is why we guarantee you won't find a better deal on your Neuchatel resort transfers, whatever your needs.
To discuss any specific requirements or plans to travel as part of a larger group, please get in touch directly so we can discuss your needs.
Resort Open & Closing Dates
Seasonal opening dates at Neuchatel closest ski resort Bugnenets-Savagnieres are of course dependant on snow conditions, though are currently listed as follows:
Season opens – 21st December 2019
Season ends – 13th April 2020
Ski Resort Essentials
The resort of Bugnenets-Savagnieres in Neuchatel area lies at an elevation of 1,160m, with a max vertical of 369m and its highest lift going as far as 1,091m. There are a total of 9 pistes in the immediate vicinity of the resort, served by 7 ski lifts. Around 27% of the slopes are ideal for beginners, 40% serve the needs of intermediates and the remaining 33% is far more challenging. Resorts red and black runs are leading through the Jura forests, downhill skiing is a favourite activity for the locals. Bugnenets – Savagnieres is perfect for both ski and snowboarders at any level.
There is also a Snow Park in Bugnenets – Savagnieres.Tourist facilities in Neuchatel include the toboggan run (which is open all year) and countless circular hikes.
Family Friendly/Kids
Neuchatel area is an ideal place for family holidays – it fits all budgets and wishes! Bugnenets – Savagnieres ski resort can offer you special rates and a special children's area in the snow for the little ones with the resort mascot Snowli.
Weather/Snow Weekly Forecast

View detailed snow forecast for Savagnières - Bugnenets at:
snow-forecast.com
http://www.snow-forecast.com/resorts/Savagnieres-Bugnenets/6day/mid
Maps of Neuchatel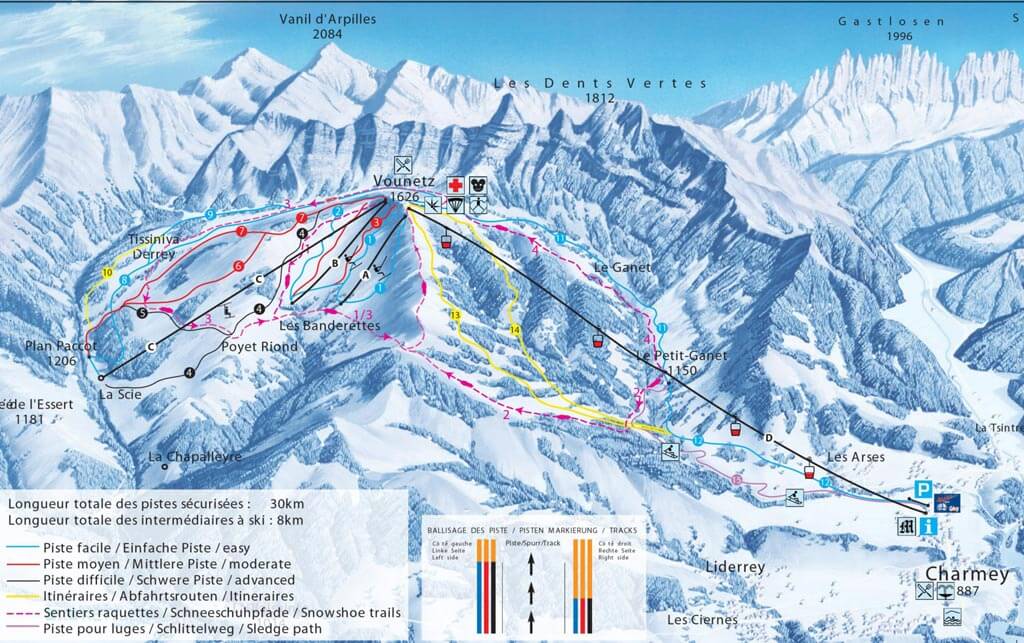 Live Webcam
Neuchatel (Bugnenets–Savagnieres ski resort) live webcam stream:
Les Pontins: Bugnenets − Savagnières
https://www.onthesnow.co.uk/neuchatel/bugnenets-savagnieres/webcams.html
Tourist Resources & Links
There are several must-see places during your holidays in Neuchatel. If you want to take a panoramic view of the town, visit the Castle of Neuchatel. Take the advantage of the location of lake Neuchatel – the biggest lake located completely in Switzerland. The lakes Neuchatel, Murten and Biel build the 3-lakes-region. There is an opportunity to go on a three-lake-cruise. Find out more at the following websites:
How to Choose Transfers to Neuchatel
From our point of view, Neuchatel resort transfers are about so much more than getting you to your final destination. After all, you also want to arrive comfortable, refreshed and ideally on time. Not all resort transfer services can promise this – Alps2Alps guarantees a higher-level service for every passenger.
Travel with us to Neuchatel and we'll provide you with the following guarantees:
Outstanding value for money throughout the season
Flexibility and convenience for all customers
24/7 customer service and English-speaking drivers
A family-friendly attitude and service with a smile
Total commitment to punctuality and reliability
Book Your Ski Transfer to Neuchatel
Be aware of all kinds of deals, discounts and special offers that could make your trip even more affordable. If looking to secure your seats for the best possible price, booking as early as possible is advisable.
If you can't find exactly what you're looking for, please get in touch with the Alps2Alps customer service team today. Otherwise, go ahead with your booking and we'll see you in the snow!