Les Coches Resort & Transfer Guide
Les Coches is a small picturesque village located in the famous ski resort of La Plagne in France. La Plagne is a part of the «Paradiski ski» area, which is the second largest (after the Three Valleys) skiing area in the world.
Le Coches is a small charming village in a truly Savoyard style with traditional architecture. Les Coches will charm you by its grandiose natural landscape, cosy surroundings and access to breathtaking ski trails. At your service: bar, restaurant, ice rink, disco, hiking. You can always go to explore the mountain beauty and visit neighbouring resorts.
Ski Resort Location
Les Coches is located at an altitude of 1450m. The resort is connected by ski lifts with the La Plagne ski area, which is a part of the United zone of Paradiski. Unlike the neighbouring station Montchavin, which is only three kilometres and 200 meters below, the history of the place of Les Coches began only a few years ago. While Montchavin was turning from a mountain village to a modern ski station, Les Coches emerged from the forest at an altitude of 1,450m. Despite, this small station differs traditional and typical for the terrain architecture and creates the same atmosphere, as well as older stations.
This atmosphere is supported by chalets and apartments, finished with wood, and around which are narrow paths with no cars allowed. On the other hand, in spite of this cosy and nostalgic mood, Les Coches has all the amenities of a modern ski station. And don't forget about the unique landscape, which is decorated with the mountain Mont-Blanc!
Closest Airports to Les Coches
If you're flying to Les Coches, be sure to arrive into one of the closest airports:
Closest Train Stations to Les Coches
There are no direct train connections to the resort itself. If you're travelling by train, these are the closest stations to Les Coches, from which transfers can be arranged:
Gare de Landry
Aime Train station
Gare de Bourg Saint Maurice
Transfer Times
These transfer times are approximate only. Weather and traffic on road can impact transfer time:
Gare de Landry Train station – 15 minutes
Aime Train station – 20 minutes
Gare de Bourg Saint Maurice – 22 minutes
Chambery Airport – 1 hour 30 minutes
Grenoble Airport – 2 hours 10 minutes
Lyon St Exupery Airport – 3 hours 10 minutes
How Much Will My Transfer Cost?
Alps2Alps offer the most comfortable and reliable transfers services at the most attractive prices. Do you want to arrive at your ski resort on time, in comfort and friendly atmosphere? Then Alps2Alps is exactly what you need. Our clients are always provided with the best prices on our services even if they travel at the peak of ski season.
The price of the transfer is always individual for our clients, it depends on such factors as:
Airport of your arrival
Distance and time from the airport to the resort
The date and day of your trip
How many people will be in your group (adults and kids)
Deals and discounts available at the moment of transfer booking
You can be completely sure that the base rate of your ski transfer will be minimal and most profitable. We never overstate prices for our customers. In order to save money, we advise you to book a transfer for working days or after the high season. On weekdays Alps2Alps make a transfer discount up to 60%.
The price of your transfer also will be dependent on availability and utilization of the vehicle, transfer schedule and some other costs as the toll roads and parking charges in the airport.
If you are going to spend your holiday in a large group, and you have any additional requirements, please contact our customer service managers, so we can discuss all your needs.
Resort Open & Closing Dates
Seasonal opening dates are following currently:
Season opens: 14th December 2019
Season closes: 25th April 2020
Ski Resort Essentials
The great advantage of Les Coches station lies in its location right on the border with Les Arcs, which together with La Plagne forms a huge region of Paradiski. One short trip by ski lift can take skiers from Les Coches station to the station with dual funiculars "Vanoise Express", which connects La Plagne and Les Arcs. The trails of these two regions have a length of 425 km, as well as 2 glaciers, several zones for snowboarding and several descents.
The main specifications of the resort are:
Resort Altitude – 1450m
125 Pistes (40% - beginner, 50% - intermediate, 10% - advanced)
Snowmaking: 7%
1 Halfpipe 1
1 Terrain Park
85 km X-Country
Family Friendly/Kids
Due to its location in the centre of the Paradiski area, this small resort called Les Coches provides trails of all degrees of difficulty. 25 km ski track of the Montchavin / Les Coches region with a snowpark and three slopes fits families and beginners. Ski run for long distances is possible over Les Coches on two 16-kilometre tracks. Ideally, two training tracks and three free ski lifts in the Les Coches region are suitable for experienced skiers.
In addition to skiing three different degrees of complexity, long distance runs, the region of Les Coches can provide you with other winter entertainment. Hiking (with and without skis) will give you the opportunity to discover the beautiful places of Les Coches. Extraordinary ski pleasure guarantees you the course "Telemark", which is offered by the local ski school. The Montchavin / Les Coches region is proud of this "proprietary" course and is its centre.
Sledge (classic sledge or "Airboard") can be fun for adults and young.
Two ski schools work in Les Coches: ESF and Evolution. Ecole du ski Francais (ESF) is a French national ski school offering individual and group classes for skiers of all ages and levels of preparation.
Weather/Snow Weekly Forecast

View detailed snow forecast for Les Coches at:
snow-forecast.com
Maps of Les Coches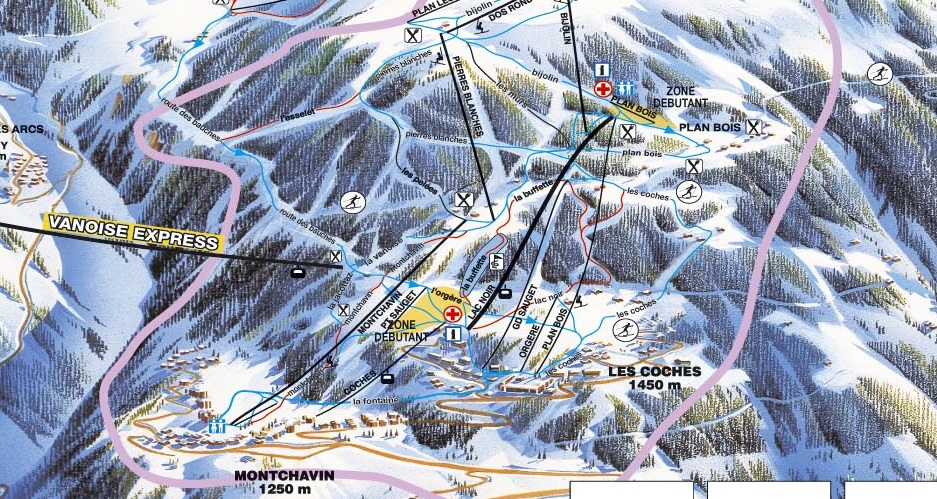 Live Webcam
Tourist Resources & Links
During your stance at Les Coches resort you may need some more information, we advise to check out these links to learn more about all the opportunities provided there:
How to Choose Transfers to Les Coches
Alps2Alps guarantee you completely professional and high-quality transfer services to and from Les Coches, and, besides that, at the most beneficial price. Even the most discerning ski travellers won't be disappointed. Choosing us, be sure of:
Safe, reliable and comfortable vehicles
Total punctuality
Customer service support – our team at work 24/7 for you
Drivers with good English Language skills
Family-friendly service with a smile
The most beneficial prices for transfers on all our destinations
Book your transfer to Les Coches
We always recommend our clients to book all transfer services ahead of time, in order to get the most economy of money. The best way to begin your trip to Les Coches is to book the best transfer to this nice cosy resort here, in Alps2Alps: