Oz en Oisans Resort & Transfer Guide
In French Alps, at an altitude of 1350m, you can discover a picturesque "satellite village" of the Alpine D'Huez, this is Oz en Oisans.
The question arises: why is it worth to spend your ski holiday here? The answer is simple. Because Oz en Oisans is exactly what skiers need during the holidays, namely cosy wooden huts, a convenient location in the absence of cars. Ideal conditions, first of all, for families who without much worry want to leave their kids to walk and also find the best place for beginners.
Of the 41 ski runs that belong to the ski area of Oz-en-Oisans, more than a half are light descents, smooth enough to make the first bends.
Ski Resort Location
Ski resort Oz-en-Oisans is located at an altitude of 1350m above sea level, in the heart of the largest ski area of Alpe d'Huez, the sun-opening Grandes Rousses massif. The area of Alpe D'Huez with its impressive Pic Blanc, bordering the largest national park of France - Ecrins, aroused interest among fans of mountain tourism in the 19th century.
Today, Alpe D'Huez is among the best ski resorts in terms of service and quality of the ski slopes. And thanks to its proximity to Grenoble, it is also one of the most visited Alpine resorts.
The tourist centre Oz-en-Oisans, unlike the neighbouring ski stations, began to be built up relatively recently (1989). However, thoughtful modern buildings don't spoil the warm and homely atmosphere of the alpine village. The buildings of modern hotels and residences are made in the traditional Alpine chalet style using wood and mountain slate. There are no roads where - the main parking is located on the edge of the town, and the streets are completely at the disposal of skiers.
The morning starts here with a nice and so familiar picture for the Alpine resort - a group of people at the doors of their hotels fasten their skis or snowboards and walk along the unpopulated streets towards the ski lifts.
The area of skiing can be divided into five main sectors: Oz, Vaujany, Alpe D'Huez, Auris and Villard-Reculas. Each of them is interesting in its own way.
Closest Airports to Oz-en-Oisans
Travelling to Oz-en-Oisans, be sure to use these closest airports:
Closest Train Stations to Oz-en-Oisans
Transfer Times
These transfer times are approximate only. You should take into account that weather and traffic jams can impact the time of your transfer:
Gare De Grenoble Université Gières – 1 hour 15 minutes
Chambery Airport (CMF) – 2 hours 15 minutes
Grenoble Airport (GNB) – 2 hours
Lyon St-Exupéry Airport (LYS) – 2 hours 20 minutes
Lyon Saint-Étienne–Bouthéon Airport (EBU) – 3 hours 15 minutes
How Much Will My Transfer Cost?
Alps2Alps makes the most comfortable and reliable transfers for you even at the peak times of the ski season. It does not matter how many people will be in your company, will you be travelling by a large or in a small group, with friends or family – anyway we promise you the best price for your transfer. Travel expenses will always calculate individually for our clients according to some factors:
Your airport on arrival
Duration of your trip
Seasonal demand
Peak times during the week (weekdays/or weekends)
The size of your group (adults and small passengers)
All of the above information will make our base rate for transfer services decreased because Apls2Alps never overstate prices for our customers.
Besides, you also are provided with very good discounts for mid-week and off-peak transfers to Oz-en-Oisans.
Just keep in mind that travelling outside the peak season or in the middle of the week will let you save the most (up to 60% on transfers).
The final cost of your transfer will also be affected by the following factors: availability of the car, transfer schedule and some other expenses, such as road tolls and parking fees at the airport.
Please contact us directly if you have any specific requirements for your future trip, and we promise to discuss all your requests.
Resort Open & Closing Dates
Seasonal opening dates at Oz-en-Oisans are:
Season opens – 30th November 2019
Season ends – 26th April 2020
Ski Resort Essentials
From Oz-en-Oisans, two ski areas are accessible: Oz/Vaujany and Alpe D'Huez grand Domaine Ski. Two fully linked and integrated areas with opportunities to learn, discover or re-discover the joys of skiing for skiers and snowboarders of all ages and levels.
Oz/Vaujany ski area offers you:
75km of ski runs (41 pistes)
12 Green pistes
14 Blue pistes
12 Red pistes
3 Black pistes
22 ski lifts
Resort Ski area from 1125m to 2800m
Alpe D'Huez includes:
250km of ski runs (135 pistes)
42 Green pistes
37 Blue pistes
39 Red pistes
17 Black pistes
80 ski lifts
Maximum Altitude – 3300m (Pic Blanc)
This is one of the best resorts for beginners and children, and care of the trails here is above all praise. Wide, sunny and fenced off from the main trails the educational slopes pass mainly in the area of the village of Alpe D'Huez. More prepared skiers have the sense to start with the slopes Signal (2176m), where the red and black tracks are concentrated.
At the weekend, the resort is filled to 100%, and on the main slopes is quite crowded.
All trails here are open for wind and sun, there is practically no forest, but with snow cover problems, numerous snow cannons help to cope.
Family Friendly/Kids
There is no doubt that a true discovery for athletes inside the Oz-en-Oisans area is night skiing, which is held every season and invites both beginners and professionals to make a ski trip under the starry sky and moonlight. The magnificent nature and picturesque mountain landscape of the Rhône-Alpes region can also be enjoyed without skis during a snowshoe walk.
For a good apres-ski time Oz-en-Oisans resort offers 8 restaurants in the city and 4 on the slopes. For accommodation guests resort has several hotels and residences. These are inexpensive and perfectly fits for family-friendly rest.
The lack of entertainment in the village pays off proximity to the central resort of the region - Alpe D'Huez.
Weather/Snow Weekly Forecast

View detailed snow forecast for Oz en Oisans at:
snow-forecast.com
Maps of Oz-en-Oisans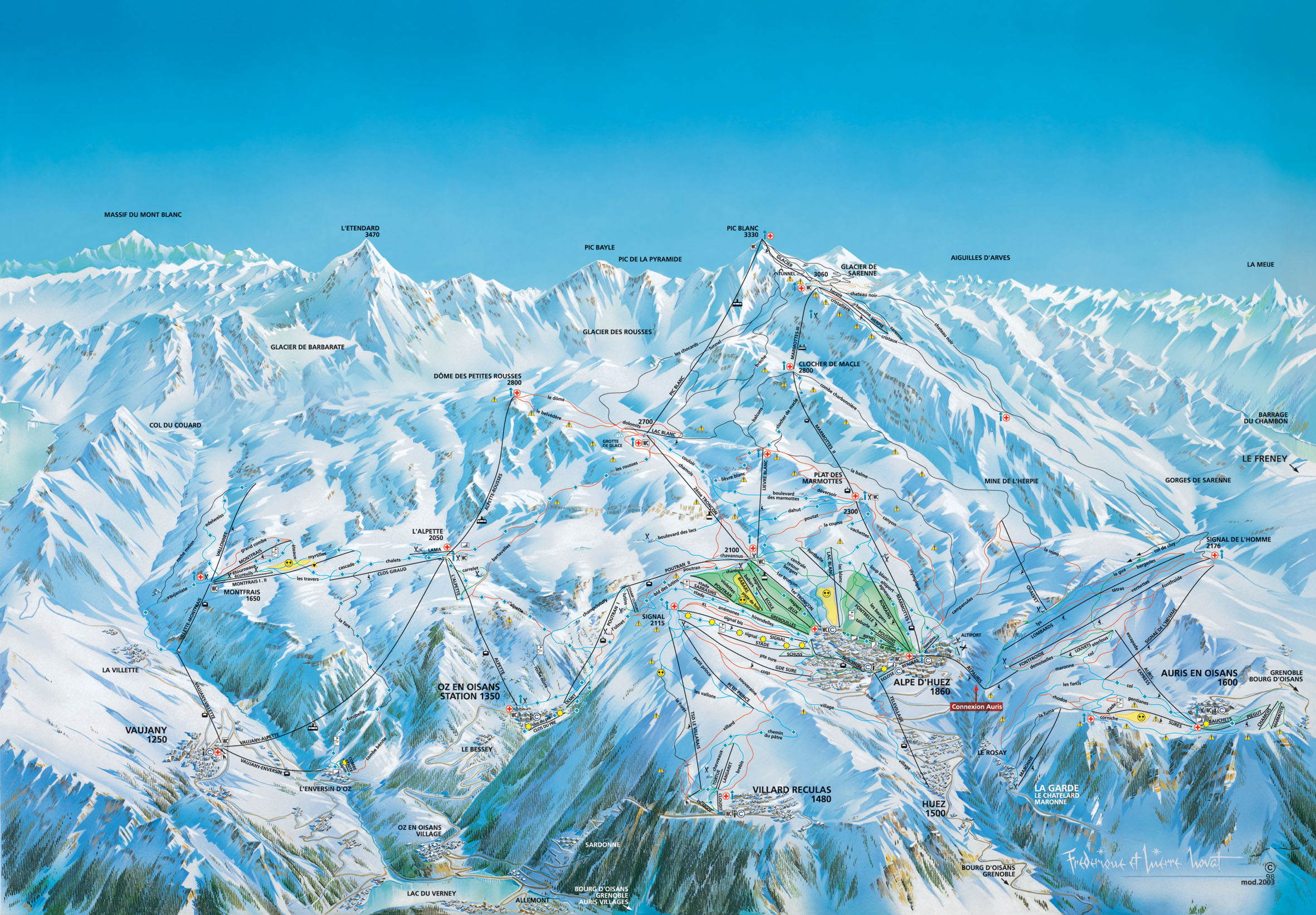 Live Webcam
Tourist Resources & Links
Going to spend your holiday at Oz-en-Oisans, you need to get more information about this ski resort. The following links are helpful for you:
How to Choose Transfers to Oz-en-Oisans
If you plan to spend your vacation in Oz-en-Oisans, the best way is to start your trip here, in Alps2Apls. You are welcome!
We are a team of professionals that specialize in a premium quality resort transfers at the lowest prices. Choosing us, you will be provided with maximum level of comfort, safety, as well as the most attractive transfer cost.
Travel with us to Oz-en-Oisans, and we will guarantee you:
Full commitment to punctuality in all situations

Lowest transfer prices throughout the season

Special offers and maximum discounts

24-hour customer service for your peace of mind

Friendly English-speaking drivers and comfortable modern vehicles
Book Your Ski Transfer to Oz-en-Oisans
As always, the best offers for popular transfer destinations during peak season are growing very fast, so - hurry up! We always advise our customers to book the transfer in advance in order to avoid disappointment. Go on a very memorable holiday to Oz-en-Oisans with Alps2Alps - order your private transfer right now!
If you can't find any information you need, please contact our customer service team.We will be happy to help you, just give us a call.