Saint Colomban des Villards Resort & Transfer Guide
On the northern edge of the ski area Les Sybelles, one of the biggest ski resorts in France, in Vallée des Villards there are two authentic ski villages: Saint Colomban and Saint Alban. Since the late 50's, when the first ski lifts were built in Saint Colomban des Villards, there are happy skiers who appreciate the tranquil atmosphere of the Villards valley.
Saint Colomban des Villards is a traditional picturesque Savoyard village, which invites you to share the delights of its untouched nature. Come and enjoy a great selection of sports and leisure activities.
The village of Saint Colomban des Villards consists of a string of farms, whose centuries-old houses seem to be huddled on a slope for warmth. Having invested in the prestigious tourist infrastructure in recent years, the township simultaneously managed to preserve their old-world charm for all comers.
Ski Resort Location
The village of Saint Colomban des Villards is a small village located in the south-east of France, in the department of Savoie of the French region Rhône-Alpes.
Since the formation of the large ski area Les Sybelles by combining six ski areas, which includes the Valley Villards, the popularity of Saint Colomban has undoubtedly become higher. The cozy station is an ideal place for tourists who appreciate the tranquility and detachment in the beautiful Alpine valley and at the same time do not want to abandon the riviera of the ski runs with a total length of 310 km.
Also, this small settlement, the roots of which return us during the Roman Empire, preserved a special charm, which, in the main, was preserved in traditional regional houses made of stone and wood. At the same time, guests of Saint Colomban des Villards ski resort are provided with a modern tourist infrastructure that meets all their needs.
Closest Airports to Saint Colomban des Villards
If you're going to spend your vacation in Saint Colomban des Villards, be sure to arrive into the airport, which is:
Closest Train Stations to Saint Colomban des Villards
Gare Saint Avre House
Gare de Saint Jean de Maurienne
Transfer Times
These transfer times are approximate, because weather and traffic on road can significantly impact transfer time:
Gare Saint Avre House - 26 minutes
Gare de Saint Jean de Maurienne – 35 minutes
Geneva Airport (GVA) - 2 hours 25minutes
Lyon Saint Exupery Airport (LYS) - 2 hours 20 minutes
Grenoble Airport (GNB) – 2 hours 20 minutes
Turin Airport (TRN) – 2 hours 35 minutes
How Much Will My Transfer Cost?
Alps2Alps always at your service, we provide our clients with the premium quality transfer services. Besides, we guarantee the lowest transfer prices through all the season. Be sure, your transfer offer will be the most beneficial one.
Transfer cost depends on some factors, including:
Airport of your arrival
Distance and duration of your trip
Day and date you will be traveling
How many people will be in your group (adults and kids also)
Current discounts at the moment of booking
The basic rate for your ski transfer will be as minimal as possible. We never overstate prices for our customers. Alps2Alps always recommends our clients to book shuttle for working day or after the high season. Why? Simply because from Monday to Friday we usually make shares up to 60%, so it will let you save the most.
Notice that he final cost of your transfer will be also dependent on such factors as availability of the vehicle, transfer schedule and other costs, like toll roads and airport parking charges.
If you are going to travel as a part of a larger group or you have another requests, please contact us, and we will discuss all details of your future ski trip.
Resort Open & Closing Dates
Seasonal opening and closing dates in Saint Colomban des Villards are following:
Season opens: 21st December 2019
Season closes: 28th March 2020
Ski Resort Essentials
Saint Colomban together with the resorts of La Toussuier, Le Corbier, Les Bautier, Saint-Jean and Saint Sorlin d'Arves makes up the combined skiing area of Les Sybelles with 310 km of ski runs.
A total of nine lifts belong to the area of ​​Saint Colomban des Villards, of which one chairlift and three rope tows are located directly at the station and are ideal for beginners. Due to the wide variety of light and medium trails, the Sybelles ski area is appreciated primarily by families and beginners. The professionals of the skiing will be satisfied going freeride on the untouched snow. For snowboarders here are prepared two snow parks.
Resort Altitude – 1100m
18 ski runs (11% - beginner, 56% - intermediate, 22% - advanced, 11% - expert)
9 ski lifts
Over 1200m of vertical height
2 terrain parks
Family Friendly/Kids
In Saint Colomban des Villards there are all conditions for hikers. No less than 60 different tours of all difficulty levels in the untouched nature of the Villards valley, guests are invited, among them hikes in the Merlet-Seitental.
Anyone who wants a special holiday can try themselves on an evening hike on snowshoes, a sleigh ride, harnessed by dogs, or a weekly skiing with torches, which is held every Thursday. Saint Colomban des Villards has also a natural ice rink throughout the season.
For small skiers right in the village there is a ski kindergarten in which future ski pro at the age of 4 can spend two hours a day in ski lessons. The group for the very young is 10 km away, in Saint Etienne de Cuines. Obligatory for skiers is the tasting of culinary delights - an excursion to traditional Savoy cuisine is offered by numerous restaurants in Saint Colomban and Saint Alban.
Weather/Snow Weekly Forecast
Maps of Saint Colomban des Villards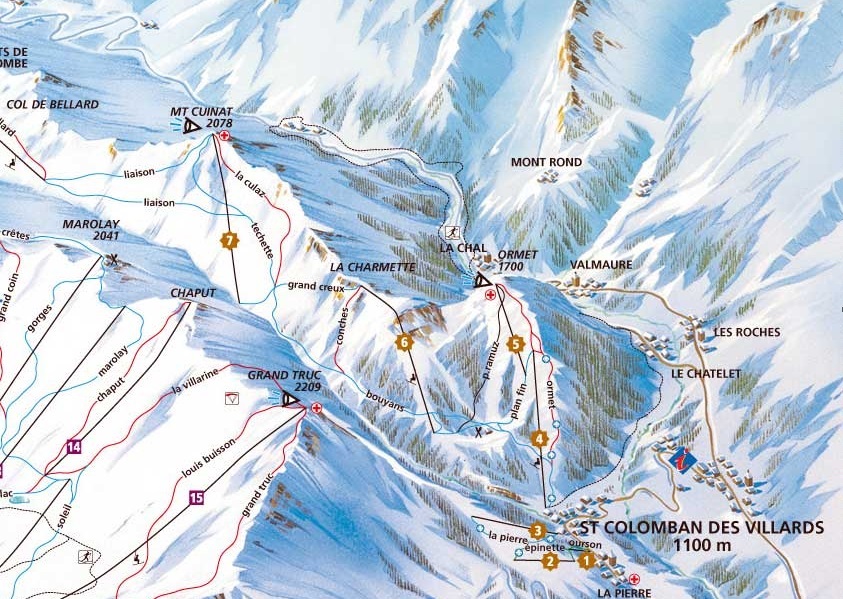 Live Webcam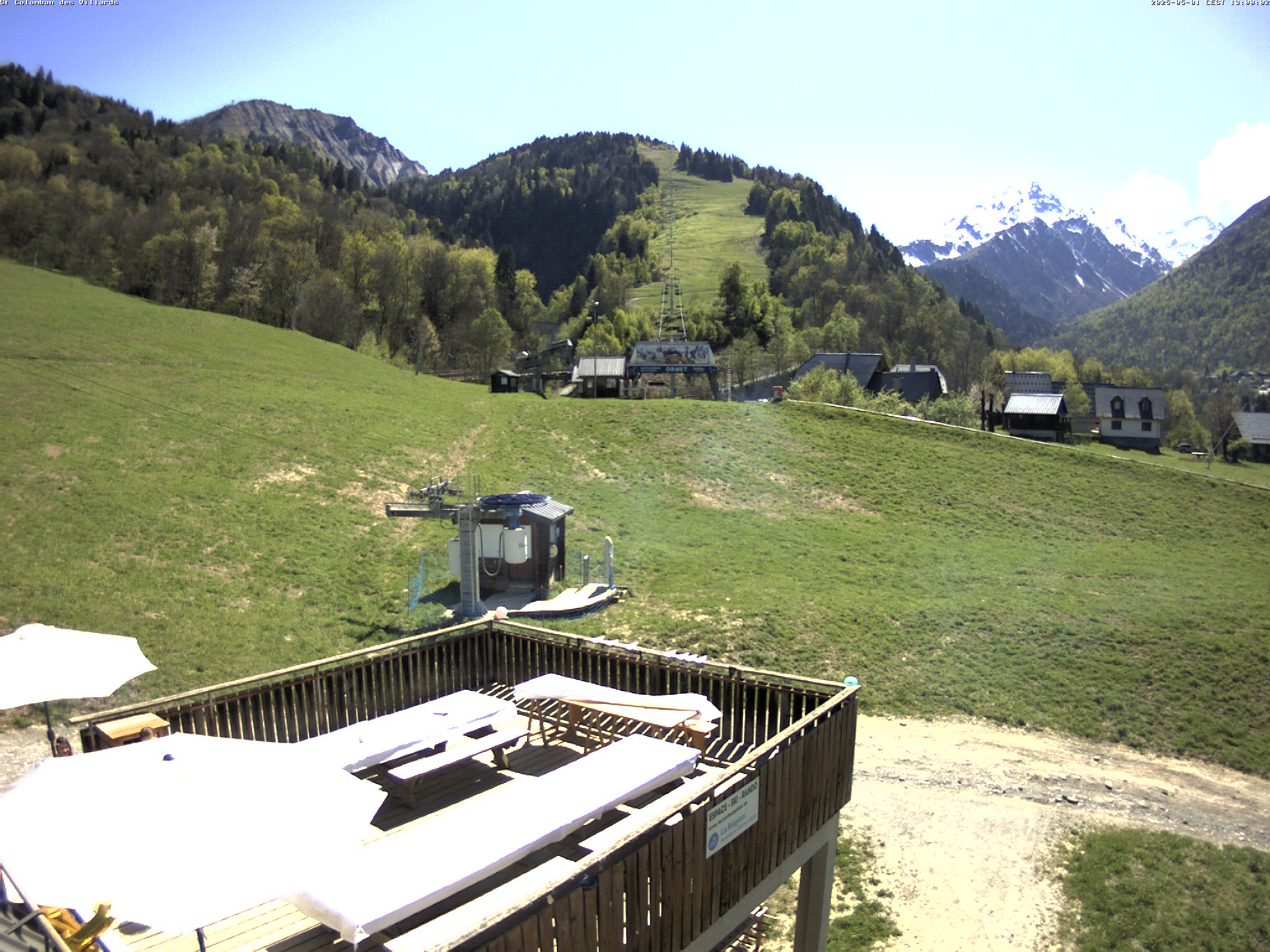 Tourist Resources & Links
Before your trip you should check out some touristic links to get the information you may need during your ski holiday there:
How to Choose Transfers to Saint Colomban des Villards
With Alps2Alps transfers you can be completely sure of total reliability of all services. We always ready to offer our clients the most comfortable and lower-price transfer to and from Saint Colomban des Villards.
Book a shuttle for your future trip from us, and in return we will give:
Modern, clean and safe vehicles
Total punctuality and flexibility
Good and friendly English-speaking drivers
Customer support service 24\7 – at your service
The best price for your transfer at any time of the season
Book your transfer to Saint Colomban des Villards
Notice, that on the eve of ski season's start, prices for transfer services to the most popular ski resorts are growing up very fast. We advise you to make a transfer booking to Saint Colomban des Villards in advance for getting access to the best deals.
Don't delay it for «afterwards» - book your transfer right now!
In case if you can't find information you need on our website, simply give a call to our customer service team and they will give you all missing information.
Provide yourself with wonderful start of alpine ski holidays with Alps2Alps!