Tignes - Lavachet Resort & Transfer Guide
Le Lavachet is one of Tignes' smaller villages, located just outside of Tignes Le Lac. Le Lavachet fits perfectly for skiers and snowboarders to enjoy all of the amazing runs the area has to offer. With picturesque views, a laid-back atmosphere and some great attractions to keep visitors occupied off the slopes, it could make for the perfect ski holiday.
Do you want to enjoy peace and at the same time enjoy skiing? The area of ​​the village of Lavachet will enchant you! In close proximity to the mechanical lifts ("ski from the porch"), just a few minutes away by a free shuttle bus from Tignes-les-Lac and Tignes-Val-Claret: take advantage of all the resort's amenities and the tranquil atmosphere of this village.
When evening comes you can choose from a select few restaurants and bars in town where you can enjoy the local apres-ski or have a traditional Savoyard meal. The bus service runs throughout the night so if you fancy going somewhere different for the evening you can easily head to the other areas of the Tignes resort.
Ski Resort Location
Le Lavachet is a great place to stay either in the winter or the summer, with its excellent location and quieter feel you can enjoy everything the mountains have to offer.
Tignes Le Lavachet is a hamlet located just outside of Tignes Le Lac. Also next to the beautiful Tignes lake this hamlet is slightly tranquil than Le Lac and with an array of apartment blocks, hotels and a few small chalets there is still plenty of accommodation to be found.
Le Lavachet is the lowest of the three main villages of Tignes, but within walking distance of Le Lac (10 mins).
Closest Airports to Tignes-Lavachet
If you're going for vacation to Tignes-Lavachet, travel via this airport:
Closest Train Stations to Tignes-Lavachet
Gare de Bourg Saint Maurice
Transfer Times
These transfer times are approximate only. Traffic jams on road as well as weather\snow forecast can longer your way to the ski resort:
Gare de Bourg Saint Maurice – 45 minutes
Geneva Airport (GVA) - 3 hours 20minutes
Chambery Airport (CMF) - 2 hours 25 minutes
Lyon Saint Exupery Airport (LYS) - 3 hours 20 minutes
Grenoble Airport (GNB) – 3 hours 20 minutes
How Much Will My Transfer Cost?
Alps2Alps is a team of professionals, and we specialize in high-quality transfer services to all popular ski resorts in the Alps. We are always glad to provide our customers with the most comfortable and reliable transfer services and, besides that, at the most attractive prices.
The transfer quote is individual for every our client, it will be calculated for you based on the following factors:
Airport of your arrival
Distance from the airport to the ski resort and time in road
Day/date of your trip
How many people will be travelling with you (adults and kids)
Current seasonal offers
Don't doubt that the base price of your ski transfer will be as minimal as possible and the most profitable one. All that because we usually use flexible way for calculation our quotes and never overstate prices for our customers. In order to save money, we advise you to make a booking for the middle of the week or after the high season. On weekdays Alps2Alps share with a transfer discount up to 60%.
The price of your transfer will also be dependent on such factors as availability and utilization of the car, transfer schedule and some other costs as the toll roads and airport parking fees.
If you still have some questions or any additional requirements, please contact us so we can discuss all your requests in short time.
Resort Open & Closing Dates
Seasonal opening dates at Tignes-Lavachet always depend on snow conditions, though are currently formed as following:
Season opens – 30th November 2019
Season ends – 3rd May 2020
Ski Resort Essentials
Tignes Le Lavachet is situated in the Espace Killy ski area with quick and easy access to Val D'Isere, giving skiers and snowboarders a wide range of runs to help them develop their abilities and become even more accomplished skiers.
Resort Altitude – 2100 m
154 pistes across the ski region
83 – beginners
46 – intermediate
25 – advanced
Total ski lifts: 78
Highest lift – 3450m
Longest run – 10 km
2 snow parks
Family Friendly/Kids
The free bus service allows you to travel to the resorts of Tignes Le Lac and Val Claret where there is a good range of bars, restaurants and clubs to choose from.
There is a cinema for three halls, there are five night clubs, a large sports center, a library and a casino in Tignes. In Lake Tignes you can try ice diving.
Children will find here numerous entertainments created specifically for them: sleds, skates, igloo (ice huts). Variety of winter sports entertainment in Tignes will not leave you boring: skating on ice rink, snowshoeing, snowmobiling or dog sledding, ski jumping, winter biking, paragliding, heli-skiing, rock climbing and ice climbing, quad biking and baggie, go-kart on ice, driving lessons on ice and relaxation in the aquatorium "Le Lagon".
Impressive list of quite a lot things to choose from, right?
Weather/Snow Weekly Forecast

View detailed snow forecast for Tignes at:
snow-forecast.com
snow-forecast.com/resorts/Tignes/6day/mid
Maps of Tignes-Lavachet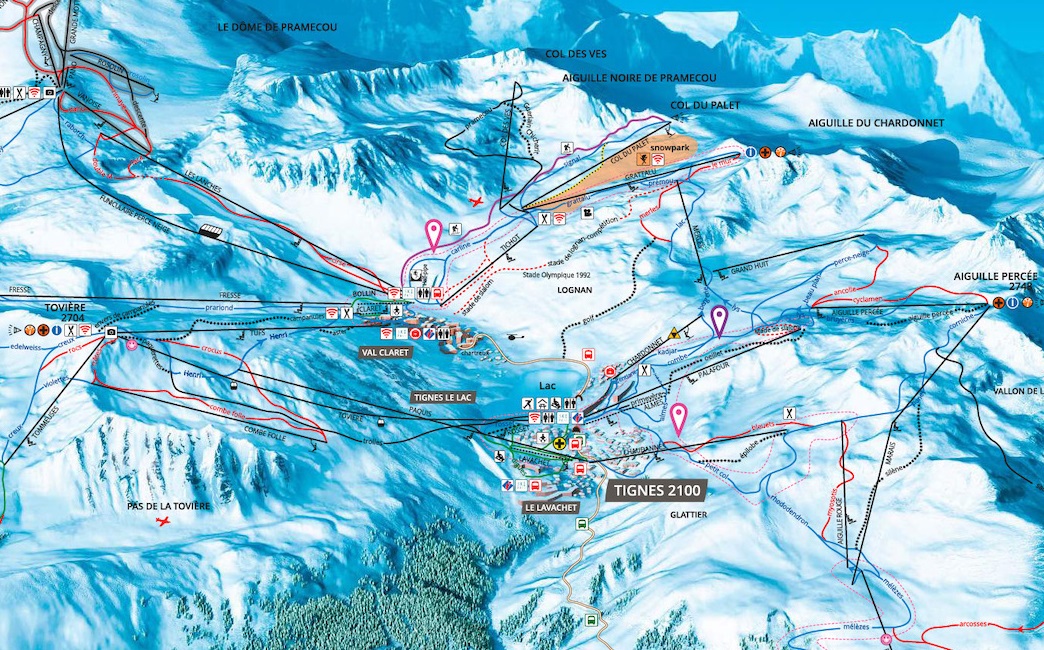 Live Webcam
Tourist Resources & Links
All surrounding villages of Tignes are packed with attractions and opportunities for adventure. So, don't miss out on any of the action during your trip, follow this links to learn more about all the opportunities provided by this ski resort:
How to Choose Transfers to Tignes-Lavachet
Alps2Alps provides Alpine skiers with completely professional and high-quality full-package transfer services to\from Tignes-Lavachet at the lowest price. For us doesn't matter at what time are you planning to have your vacation – you can always count on 100% comfortable and reliable transfer from us. Be sure - you won't be disappointed.
Going to Alps with us, enjoy benefits from:
Safe and modern vehicles always
General commitment to reliability and punctuality
Customer care team- 24/7 on hand
Very good drivers with good English Language knowledge and solid local knowledge
The most beneficial prices for all trips at any time
Book Your Ski Transfer to Tignes-Lavachet
We always advise our clients to book shuttle to Tignes-Lavachet ski resort as early as possible for tranquil yourself. Besides, it will let you save the most.
Booking your future trip with Alps2Alps is very easy – simply give a phone call to our customer support managers or fill out the on-line request form on our web page.