Villard de Lans Ski Resort & Transfer Guide
Villard de Lans is the perfect place for ski holidays for all your family - this French Alps resort is large and pleasant with an active nightlife, therefore everyone will have a joyful vacation. We at Alps2Alps will be more than happy to be your transfer provider to this marvelous ski resort.
Ski Resort Location
Villard de Lans is one of France's most established ski resorts with long history. The ski resort is located in the French Alps, in the heart of the Vercors Regional Nature Park. It was created in 1906, nowadays it offers not only world-class skiing experience, but also breathtaking views all around.
There are excellent slopes suitable for beginners as well as slopes for experienced skiers, snowboarders can enjoy the snowboard park too - plenty of options for all tastes.
Closest Airports to Villard de Lans
If you're flying to Villard de Lans be sure to arrive via one of the closest airports:
Closest Train Stations to Villard de Lans
There are no direct trains to Villard de Lans. The closest train station to the resort is Grenoble. Daily bus connections from train station to Villard de Lans are provided.
Transfer Times
These transfer times are approximate only - weather and traffic conditions can significantly impact transfer times:
Grenoble - 50 minutes
Lyon-Saint Exupéry (LYS) – 1 hour 40 minutes
Chambery Airport (CMF) – 1 hour 50 minutes
Grenoble Airport (GNB) – 1 hour 10 minutes
How Much Will Your Transfer Cost?
When choosing your transfer partner to Villard de Lans, be sure that Alps2Alps will offer the best price possible - our main target is to provide the best transfer service with the lowest price possible.
When traveling with Alps2Alps the cost of transfer can be affected by:
Number of people traveling
Your chosen arrival airport
Day and time of your travel
Distance to your chosen ski resort
Special offers available at the time you book
The mentioned factors will only result in our base rate going down and never up. If you are traveling to Villard de Lans in the off-season and off-peak time, you can count on great discounts and remember that if you choose your transfer in midweek (Monday-Friday), the prices can be even up to 60% lower than weekend prices. Apart from factors mentioned before, your transfer price will be also influenced by vehicle availability, transfer schedule, vehicle utilization and other costs like road tolls and airport parking charges.
To discuss any specific requirements or plans to travel as part of a larger group, please get in touch directly so we can discuss this.
Resort Open & Closing Dates
Seasonal opening dates at Villard de Lans are subject to snow conditions, though are currently listed as follows:
Season opens - 20th December 2019
Season closes - 13th April 2020
Ski Resort Essentials
Villard de Lans sits at 1050m with pistes from 1160m to 2170m above sea level. Here are some essential stats of ski resort:
8 black pistes
9 red pistes
9 blue pistes
8 green pistes
Ski lifts: 28
Downhill pistes: 125km
Cross country pistes: 161km
The variety of slopes at Villard de Lans makes it a place to be for all the skiing skill levels, also snowboarders will have a chance to enjoy the snowboard fun park.
Family Friendly/Kids
Villard de Lans is a rich, traditional village which sits in stark contrast to the modern skiing complex. Villard de Lans is made for families in mind. The ski resort is very suitable for families with kids as they can find there everything they need - special programs for youth and kids, play facilities and special low package deals.
Weather/ Snow Weekly Forecast

View detailed snow forecast for Villard-de-Lans at:
snow-forecast.com
Maps of Villard de Lans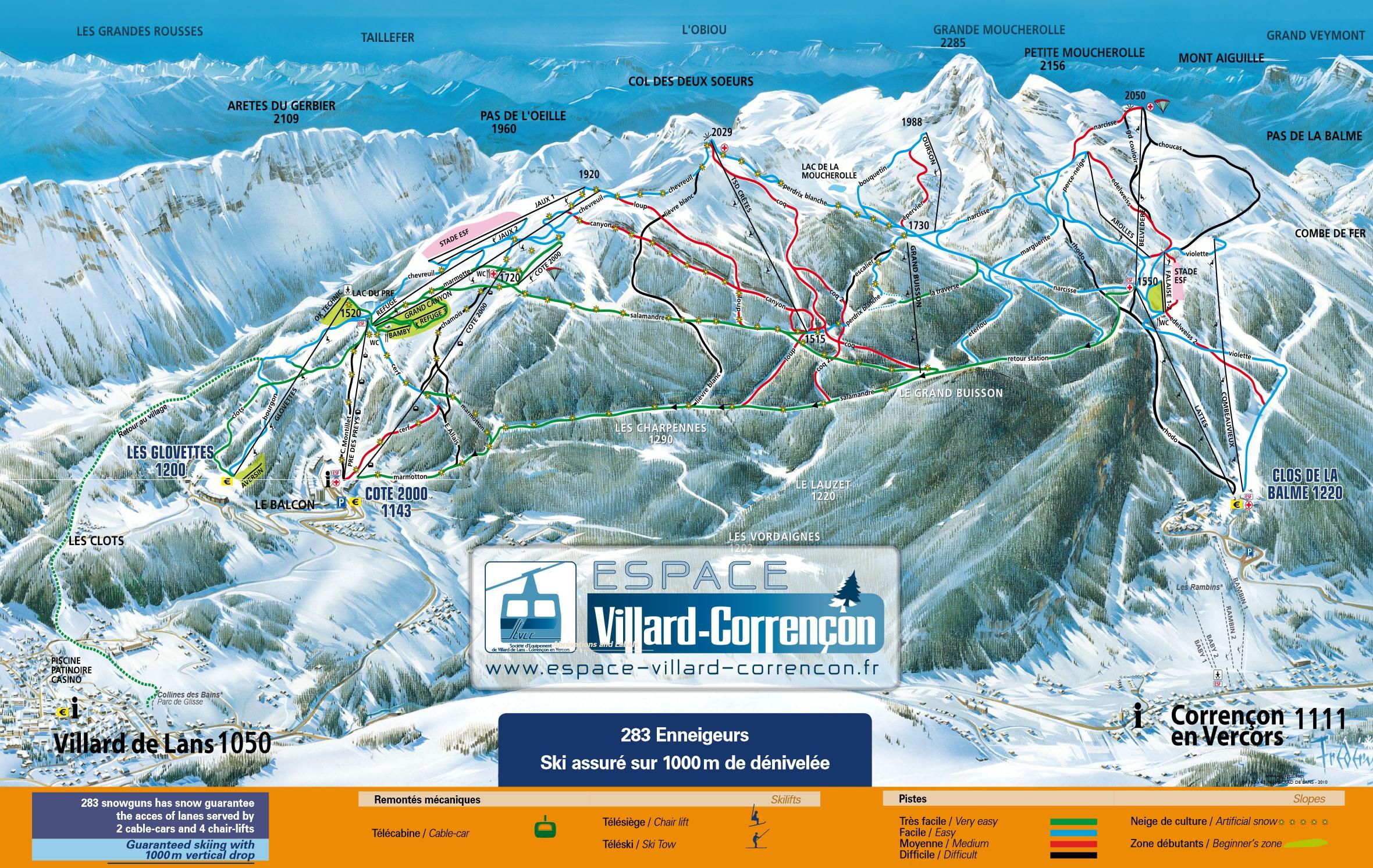 Live Webcam
Tourist Resources & Links
If you're heading to Villard de Lans, these useful links will help you prepare for your trip away:
How to Choose Transfers to Villard de Lans
Sometimes poor resort transfers can strongly influence the start of your ski holiday - that is why we are committed to high standard quality with low prices for our transfer services. If you book your transfer with Alps2Alps for your trip to Villard de Lans, you will benefit from:
The lowest price possible
Full commitment to punctuality and reliability
Friendly drivers with advanced English skills
A 24/7 customer care team on-call at all times
Family-friendly service with a smile
Modern and comfortable vehicles
Book Your Ski Transfer to Villard de Lans
If you are in search of best possible transfer deal to Villard de Lans, look no further and choose Alps2Alps as your service provider. If you are planning to travel to Villard de Lans during peak season, book your transfer early as they tend to fill up fast. Whatever it takes to get you there on time and in comfort, you can count on Alps2Alps!