Canazei di Fassa Dolomiti Ski Resort & Transfer Guide
Precisely why Canazei di Fassa Dolomiti isn't better-known and more popular among discerning skiers is a mystery. This is the kind of place that exists purely for those who are out for the most enjoyable, uncomplicated and exquisite skiing Europe has to offer. Well-groomed pistes, an unpretentious atmosphere and a distinct lack of the kinds of crowds that never fail to put a crimp on your day. Combined with stunning scenery and a gorgeous local dining scene, we ask once again – why hasn't Canazei di Fassa Dolomiti (yet) become a mainstay for those in the know?
Ski Resort Location
Situated right at the heart of the mighty Dolomites, Val di Fassa is a region rich in beauty, culture and unrivalled ski opportunities. After all, you've got the world's single biggest ski area – the incredible Dolomiti Super-Ski – right there on your doorstep. The history of the region far predates its winter sports heritage. So much so that the Ladin language is still spoken here, along with the more common Italian and German languages.
Located at the far end of the Val di Fassa, Canazei is the kind of place that takes a little effort to take in fully. Nevertheless, it also boasts what's possibly the most beautifully scenic expanse of intermediate slopes in this part of the world. And once again, the Dolomiti restaurant scene has more than made its mark on Canazei di Fassa Dolomiti – a mecca for anyone interested in tasting the best the region has to offer.
Closest Airports to Canazei di Fassa Dolomiti
If you're flying to Canazei di Fassa Dolomiti, be sure to arrive into one of the closest airports:
Closest Train Stations to Canazei di Fassa Dolomiti
There are no direct train connections to the resort itself. If you're travelling by train, the nearest railway stations are at Bressanone (Brixen in German) around 58km away or slightly further at Bolzano (Bozen). Transfers can then be arranged to take you on to the resort.
Transfer Times
These transfer times are approximate only. Weather and traffic conditions can significantly impact transfer time:
Bolzen – 1 hour 40 minutes

Treviso Airport (TSF) – 3 hours 15 minutes

Innsbruck Airport (INN) – 3 hours 5 minutes

Salzburg Airport (SZG) – 4 hours 45 minutes

Venice Marco Polo Airport (VCE) – 3 hours 15 minutes

Orio al Serio International Airport (BGY) – 3 hours 55 minutes

Milan Linate Airport (LIN) – 4 hours 25 minutes

Milan Malpensa Airport (MXP) – 4 hours 55 minutes
How Much Will My Transfer Cost?
Alps 2 Alps works hard to remain as fair and flexible as possible when it comes to pricing. If planning a trip to Canazei di Fassa Dolomiti, we'll take into account the various specifics of your journey to offer you an unbeatable deal. The price you can expect to pay will be influenced by a number of factors, including:
Your chosen airport of arrival

The size of your group

The time and date of your journey

Journey lengths and times

Seasonal demand

Special deals and discounts on offer at the time
All of the above will only ever result in our base-rate for ski transfers going down – we never over-inflate our prices at any time or for any reason. Unlike others, we consider as many factors as possible to lower our standard rates whenever possible. We always recommend booking in advance, in order to access the very best deals and discounts. We also offer substantial discounts for off-peak, off-season and midweek transfers to Canazei di Fassa. If looking for the best possible deals, travelling outside peak season or midweek typically results in the biggest savings. We offer midweek (Monday to Friday) prices with up to 60% discount than weekend prices.
Your transfer quote will also depend on vehicle availability, transfer schedule, vehicle utilisation and other costs like road tolls and airport parking charges.
If you have any specific requirements or will be travelling as part of a larger group, please get in touch directly so we can discuss this.
Resort Open & Closing Dates
Seasonal opening dates at Canazei di Fassa Dolomiti are of course dependant on snow conditions, though are currently listed as follows:
Season opens – 05th December 2019
Season ends – 14th April 2020
Ski Resort Essentials
Canazei di Fassa Dolomiti sits at an altitude of 1,460m and has a max vertical of 1,036m. Here's some more vital info about the Val di Fassa Ski Area itself:
Though Canazei di Fassa Dolomiti may lack an abundance of green runs, there are still some excellent nursery slopes and gentle runs for beginners and children alike. Of course, the fact that the Dolomiti Super-Ski area is right at your doorstep means more than 660 incredible slopes to check out across the area.
Family Friendly/Kids
Canazei di Fassa Dolomiti is one of the best ski areas in Europe for intermediates. By contrast, beginners and experts play second-fiddle somewhat. However, there are some great ski schools in the area and plenty of gentle slopes for introducing kids to winter sports. The resort itself is also one of the most accommodating, friendly and entertaining for families with kids of all ages.
Weather/Snow Weekly Forecast

View detailed snow forecast for Canazei at:
snow-forecast.com
Maps of Canazei di Fassa Dolomiti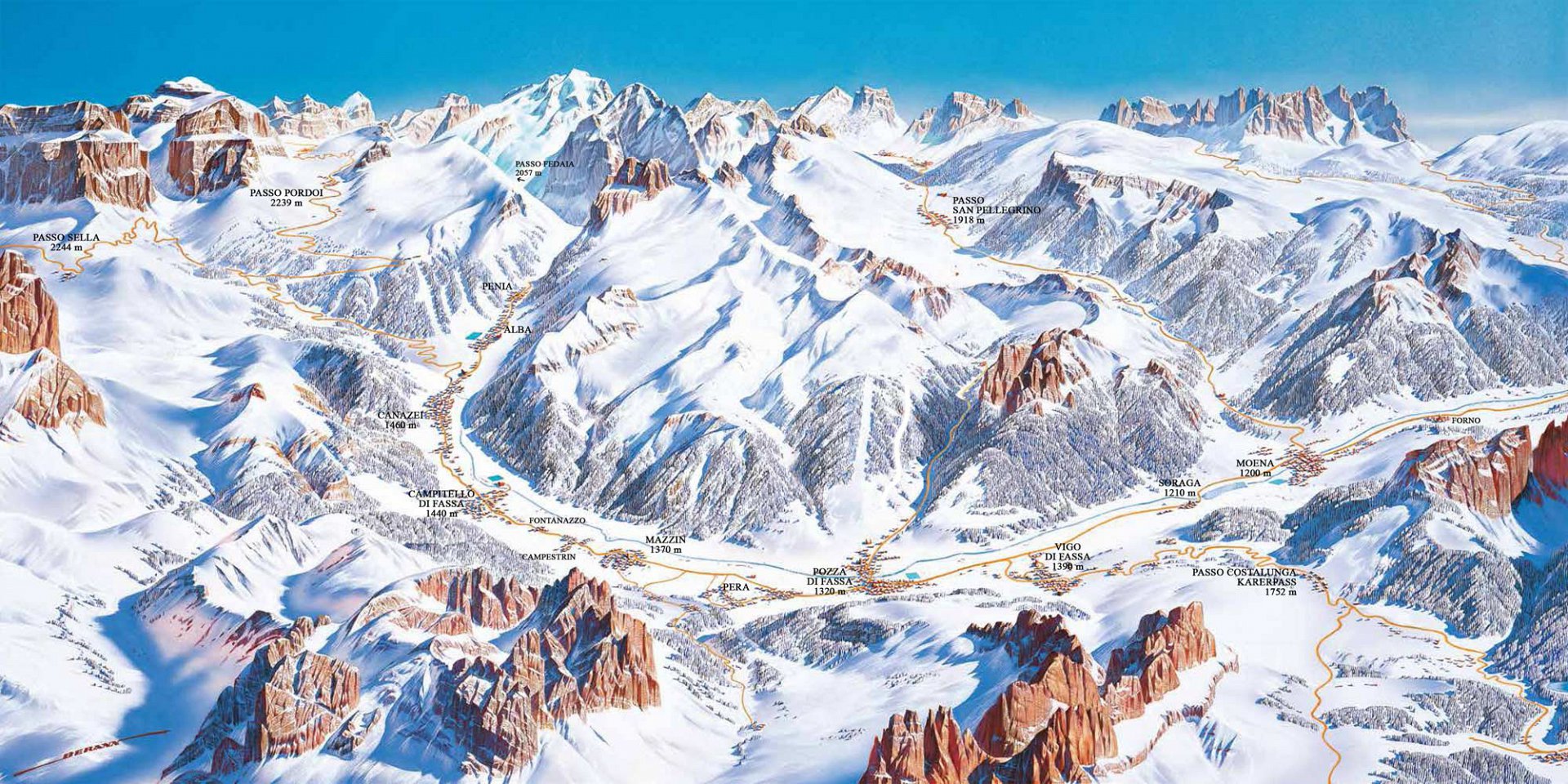 Live Webcam
Canazei di Fassa Dolomiti live webcam stream:
Tourist Resources & Links
Though Canazei di Fassa Dolomiti may be small in size, it has more than its fair share to offer visitors. As does the wider ski area surrounding the resort, which is the single biggest of its kind in the world. So before you go, be sure to do a little reading and don't let any of the local highlights slip you by:
How to Choose Transfers to Canazei di Fassa Dolomiti
Booking quality resort transfers is about more than just getting to your destination. The way we see it, it's about ensuring the perfect start to your holiday and peace of mind throughout. That's why Alps 2 Alps is proud to offer the total service package of quality, reliability and value for money.
Travel to Canazei di Fassa Dolomiti with us and you'll benefit from the following as standard:
Affordable prices to all major resorts throughout the season

Modern, comfortable vehicles for safe and enjoyable journeys

Friendly English-speaking staff and drivers for your convenience

Total commitment to punctuality and reliability

Customer service representatives available 24/7

Outstanding flexibility and a family-friendly approach
Book Your Ski Transfer to Canazei di Fassa Dolomiti
We advice booking as early as possible to take advantage of maximum availability and the lowest possible prices. If you can't find the resort or service you require on our website, simply get in touch with the Alps 2 Alps team and we'll do our best to help.
Great trips to Canazei di Fassa Dolomiti start with the best transfers – let the experts at Alps 2 Alps show you the way!