Alpe d'Huez Ski Resort - A Destination & Transfer Guide
Alpe d'Huez ski resort is one of the highest European mountain resorts and the largest in France. It's the ski station of the first international category and it's also one 20 resorts in the world where lifts serve a vertical drop of over 2000 meters.
Alpe d'Huez weather is also a huge bonus for the resort. Because of its unique south facing position on the upper plateau, the sun shines on average 300 days per year, without setting until 5 pm - even in the winter. It's no surprise the ski resort's second name is l'Ile du Soleil ("Island of the Sun").
If you venture up the ski slopes of the surrounding mountains in good weather, you will be able to gaze at the views of approximately a quarter (!) of the entire South of France, almost from the Italian border to the Central Massif.
Alpe d'Huez resort is located 60 km from Grenoble. It opened in 1935 and it is one of the oldest resort regions of France, known for its beautiful winter skiing with diverse trails, and as a recreation centre in the summer, with clean air and characteristic climbing conditions.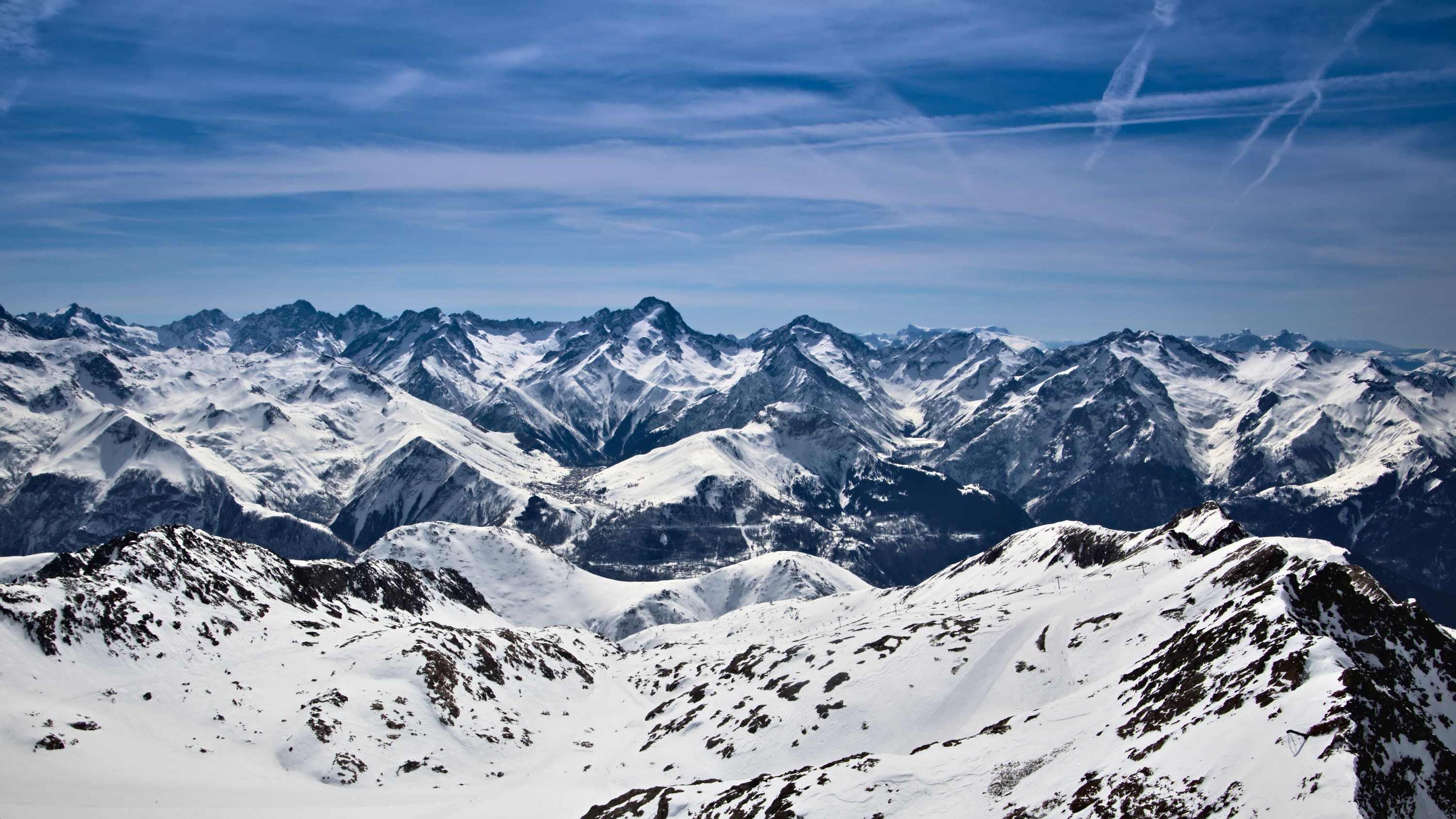 Nearest Airports to Alpe d'Huez, France
If you're holidaying at Alpe d'Huez, there are many airports within a few hours drive of the resort.
The nearest airports to Alpe d'Huez are:
Closest Train Stations to Alpe D'Huez
There are no direct train connections to the resort itself. If you're travelling by train, these are the closest stations to Alpe d'Huez, from which transfers can be arranged:
Jarrie-Vizille train station
Lancey train station
Transfer Times
The times of transfers from the train stations and airports to Alpe d'Huez ski resort are all approximate. Ski transfer times could be impacted by traffic and weather conditions:
Jarrie-Vizille train station – 55 minutes
Lancey train station – 1 hour 20 minutes
Grenoble Airport – 1 hour 30 minutes
Chambery Airport – 2 hours
Lyon St Exupery Airport – 2 hours
Geneva Airport - 3 hours
Lyon Saint-Etienne-Boutheon Airport – 3 hours
Turin Caselle Airport – 3 hours 30 minutes
How Much Will My Transfer Cost?
Here at Alps2Alps, we offer the best rates for airport transfers to Alpe d'Huez ski resort, as well as providing a comfortable and enjoyable ride!
Regardless of what time of season you choose to ski, we guarantee the lowest prices for our transfer services.
There are several factors that may lead to a change in the cost of your airport transfer. They include:
Point of departure (Airport of arrival)
Distance and travel time to destination
Time of season and seasonal demand
The size of your group and the age of all travellers
Deals and discounts that may be available at that time
We never inflate the prices for our customers. We consider as many factors as possible to lower our rates, but we do recommend booking your ski resort airport transfers in advance if you want access to the best discounts.
For the cheapest prices, we recommend travelling off-peak or midweek where possible, as these times lead to the greatest savings - sometimes up to 60% cheaper than weekends or peak season!
Your quote will also depend on coach availability, the transfer schedule, the use of the vehicle and other costs, such as road tolls and airport parking fees.
If you have any requirements, please contact us to discuss your needs.
Ski Season and Resort Opening & Closing
Seasonal opening times for ski Alpe d'Huez resort are as follows:
Season Start: 30th November 2019
Season End: 26th April 2020
Alpe d'Huez Snow Report & Weather Forecast
If you have an upcoming trip to the resort, you'll want to keep an eye on the latest weather and snow forecasts for Alpe d'Huez ski area - keep up to date with our real-time tool:
Check out Alpe d'Huez weather forecast:


View detailed snow forecast for Alpe d'Huez at:
snow-forecast.com
Ski Resort Essentials
Alpe d'Huez is one of the country's most famous winter resorts and one of few ski resorts in the world with a height difference of more than 2000 metres (from 3323 meters at the top of Lac Blanc to 1100 metres in L'Anversen-d'Oz).
Alpe d'Huez weather conditions and facilities are perfect for the most complication "black" ski runs, and it is easy to clearly distinguish the complex slopes from the simpler ones. It is also an excellent ski resort for all ages and abilities, from experienced skiers to youth or families with young children.
250 km of pistes
116 pistes (55% - beginner, 30% - intermediate, 15% - advanced)
'La Sarenne', the longest black run in Europe
2200m – Vertical Drop
Boardercross
54km X-country
85 Ski lifts
Highest point – Pic Blanc (3330m)
Child and Family-Friendly Resort
Alpe D'Huez provides lots of opportunity for family fun and recreation.
If it is the first time skiing for your child, or if you want to enhance their skills on the slopes, Alpe d'Huez ski schools are open to all:
Ski Nursery - from 6 months to 2 years
Les Marmottes Ski School - 2 years to 4 years
Ski School - from 4 years
In between mastering skiing techniques or at the end of a day on the slopes, the resort has lots of fun and exciting aprés ski activities for children and the whole family:
Ice Sculpture Grotto (located at an altitude of 2700 meters at the lift to Pic Blanc)
Two swimmings pools (indoor and outdoor)
Two cinemas
Olympic open-air ice rink (runs from 10.00 to 23.00)
Snowmobile tracks
50 km of plain ski trails
30 km of hiking trails
Alpe d'Huez Ski Pass & Lift Pass Costs
The figures below are the cost of an Alpe d'Huez ski pass, based on a day ticket during the main season:
Adult Ski Pass - €54.50

Youth Ski Pass - €49

Child Ski Pass - €44.50
Après Ski
Alpe d'Huez ski resort is known for its buzzing Après Ski atmosphere, and it definitely has more of a party vibe than most French ski resorts.
The old town has many bars for you to choose from in the evenings, including Smithy's Tavern, O Bar, The Underground Bar and L'Igloo.
However, Alpe d'Huez après ski highlight for most holidaymakers is the slopeside après in the form of La Folie Douce. The party starts from 2:30 pm at the top of Marmottes 1 chairlift, and you can dance the day and night away with live music and table-top dancing - right up until the lift closes.
If all the dancing is making you peckish, you don't need to leave the party as there are two slopeside Alpe d'Huez restaurants. A cheap-eats canteen, La Petite Cuisine, or if you prefer slightly fancier table service, you can visit La Fruitière.

Resort Accommodation
Alpe d'Huez accommodation options cater to all budgets.
Most visitors to the resort stay in the self-catering apartments, but if you want to book a group chalet or a luxury hotel, there are accommodation options for that, too.
Whether you want to be in the thick of the resort or you would prefer to relax in a more secluded setting, the possibilities are all yours.
Alpe d'Huez ski resort village is made up of eight small districts. Cognet is of equal distance from the nightlife and the DMC access gondola at Rond Point des Pistes, whereas The Vieil Alpe (aka, the Old Town) is in prime position for nightlife but slightly less convenient for mountain access.
Other popular districts for skiers include Passeaux, Eclose and Bergers.
Alpe d'Huez Piste Map
Familiarise yourself with the mountains and plan your routes in advance with our Alpe d'Huez trail maps;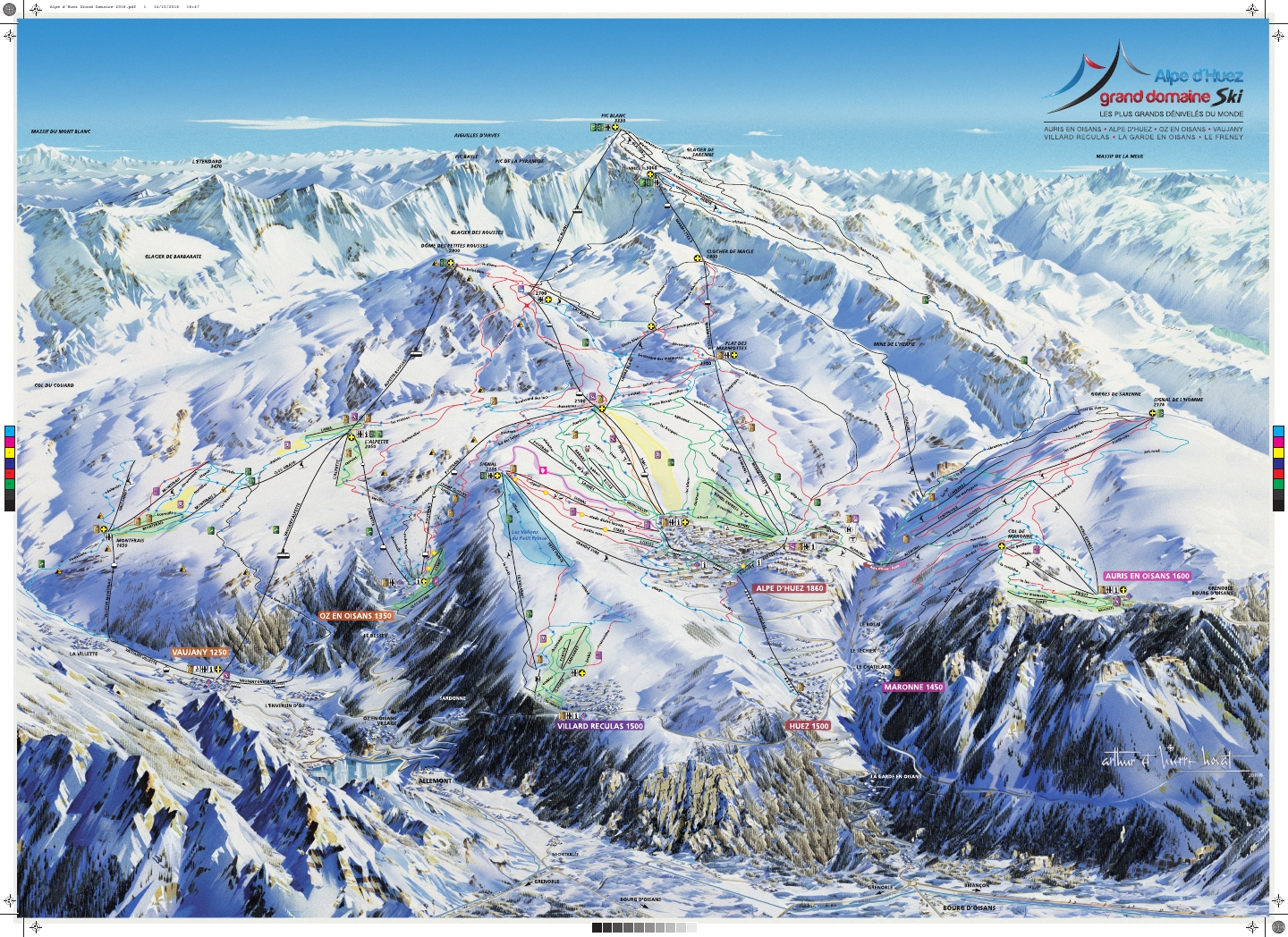 Live Webcam
Keep your eye on the action or use our live mountain webcam as a real-time Alpe d'Huez snow report;
Tourist Resources & Links
If you are a newbie to skiing, we advise you to gather as much information about the sport and ski resorts as possible. However, even if you are already an experienced skier, these information pages can also be helpful for you:
How to Choose Transfers to Alpe D'Huez
Choose Alps2Alps to start your holiday and be at the resort on time, arrive comfortably and pay the most cost-effective price for your transfer.
Whether you are booking public or private airport transfers, if you travel to Alpe D'Huez ski resort with Alps2Alps, we promise you:
Professionalism and flexibility in all situations
Safe, comfortable and reliable cars always
Our Customer Support Service 24/7 on hand
English-speaking drivers with good local knowledge
Family-friendly service with a smile
The lowest prices for all trips at any time
Book Your Ski Transfer to Alpe D'Huez
It is always better to book a transfer to Alpe D'Huez as early as possible to get the best price and to guarantee availability in peak season. Just call us or fill out the online request form. In Alps2Alps you are always welcome!