Lanslevillard Resort & Transfer Guide
Lanslevillard in France is a small cozy village in the picturesque Morien Valley in the Savoy Alps. It is part of a large ski resort called Val Cenis Vanoise with a total ski area of ​​125 km, which includes three villages:, Lanslevillard, Lansleburg and Terminion - and the Vanoise National Park, close to the Italian border. Lanslevillard has a very convenient location - descending directly to the village ski lifts bring guests to the main number of ski resorts, and if desired, they can get to neighbouring Bessan with their own ski area. Lanslevillard is sure to please those who travel to France with a dream of quiet rest and at the same time hopes to improve their skiing skills: ski schools are open at the resort, and trails with excellent snow cover are never crowded.
Ski Resort Location
In 1967 the medieval villages of Lanslebourg and Lanslevillard were linked to create Val Cenis. Both villages are full of history, with Baroque art and architecture and some lovely old chapels. Today the resort has added three more villages: Bramans, Sollières-Sardières, and Termignon (the latter is connected to the ski area by high-speed chair-lift).
Most of the accommodation in the resort is in self-catering apartments, but there are also a few simple family-run hotels.
Closest Airports to Lanslevillard
If you're going to spend your ski holidays in Lanslevillard, be sure to arrive into:
Closest Train Stations to Lanslevillard
Transfer Times
These transfer times are approximate, as always unfavourable weather conditions and situation on road can impact a lot the time of your transfer to Lanslevillard.
Gare de Modane – 40 minutes
Chambery Savoie Airport (CMF) – 2 hours 05 minutes
Geneva Airport (GVA) – 2 hours 50 minutes
Grenoble Airport (GNB) – 3 hours
Lyon–Saint Exupéry Airport (LYS) – 3 hours
How Much Will My Transfer Cost?
Alps2Alps offers the most beneficial transfer services to Lanslevillard. For us doesn't matter when are you going to have your vacation (high or low season). We will always provide the most comfortable transfers for our clients entire all ski season, and at the most attractive and fairly prices. Calculation of transfer cost is individual for our customers, and will depend on some factors:
Into which airport you will arrive
Distance from the airport to your chosen ski resort
Season, day of the week you are going to the ski resort
Number of people in your group (both adults and small travelers)
Current seasonal shares
Notice, that we provide large discounts for midweek transfers and transfers outside the peak season. Transfers from Monday to Friday (on week days) will help you save the most. On these days our company offers a transfer with up to 60% discount.
The calculation of your transfer cost will also depend on such factors as vehicle availability, transfer schedules, vehicle utilization, toll roads and parking charges at the airport.
If you plan to travel in a large group and you have some more wishes, please contact us to discuss all details of your future transfer.
Resort Open & Closing Dates
Seasonal opening dates in Lanslevillard currently scheduled are:
Season opens: 14th December 2019
Season closes: 17th April 2020
Note: The opening times may vary based on external conditions, day of the week, school holidays and public holidays.
Ski Resort Essentials
Lanslevillard offers its guests 55 pistes, which are mainly designed for athletes of primary and secondary level of training. There are 9 trails, including the longest in Europe and, perhaps, the most popular route not only in Lanslevillard , but also in the whole of France - Escargo ("snail") with a length of 9 km. In addition to that trail there are 18 tracks of light, "blue" level, and for experienced athletes - 23 "red" pistes and 5 "black", the highest level of complexity.
Despite the fact that they are located at an altitude of 1300 to 2800 m, and the resort is open from December to April, Lanslevillard is equipped with 200 snow cannons to improve the quality of snow.
The most interesting descents, including the famous "Escargot", are between Lanslevillard and neighbouring Lansleburg. For example, near the top of L'uillon de la Tomba (2800 m) there is a dizzying "red" track "Le Solert", and not far from it - "black" "Le Lac". You can get to them from the village on gondola ski lifts, descending directly to the hotel doors. In total the ski area of ​​Val Cenis Vanoise serves 27 ski lifts. Here for you:
Resort Trails Altitude 1300-2800m
55 pistes
23 Red pistes
45 Blue pistes
9 Green pistes
27 Ski Lifts
X-Country skiing – 27 km
Family Friendly/Kids
In Lanslevillard, you can do not only skiing, but also many other sports, such as cross-country skiing (27 km of trails), snowboarding, toboggan (1 route 900 m long, several trails in other resorts of the Morien Valley), climbing and paragliding. The region is very popular among fans of freeriding, which often choose to ride the slopes near Lanslevillard.
The resort will provide you a lot of opportunities for cultural rest. There are many chapels - monuments of antiquity are scattered along the valley, and gourmets will probably be interested in visiting the cheese factory where the Beaufort cheese is brewed. Also every year in the valley there are the largest dog sledding competitions - the "Big Odyssey", which collect a huge number of participants. But if tourists are interested in shopping or other entertainment, you can always organize a trip to Turin.
Weather/Snow Weekly Forecast
Maps of Lanslevillard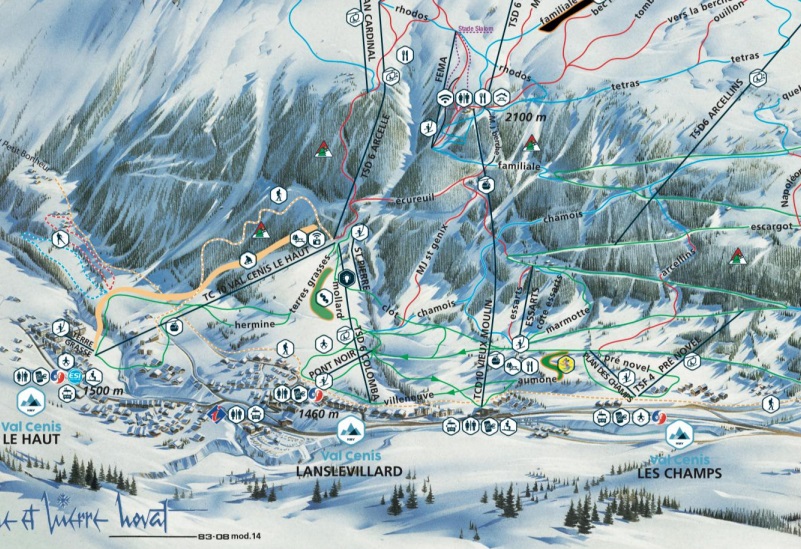 Live Webcam
Tourist Resources & Links
Alps2Alps advise you to check out the following tourism webpages to get more information about the opportunities provided by the resort:
How to Choose Transfers to Lanslevillard
Don't doubt that Alps2Alps will guarantee you the most quality transfer services with maximum level of comfort and reliability during the whole ski season, as we are the team of professionals.
We do all for you can relax and start enjoying your holiday the moment you step on our board! Choose us and you can be 100% sure of:
Safe, clean and comfortable vehicles always
Total punctuality and flexibility in any cases
Best drivers with good English language skills
Our Customer Care Service staff on-hand 24\7 - call any time!
Guaranteed lowest prices to and from your chosen ski resort
Book Your Ski Transfer to Lanslevillard
As you already know, while the high-season is coming, the prices for all the best transfer services to popular destinations are growing up quickly. What's why we advise you to book your transfer in advance.
If you can't find any information, the resort or service, just contact us. Our team will do everything to help you according to your wishes and preferences.
Choose Alps2Alps to get sure of your perfect holiday start!