Meribel Ski Resort & Transfer Guide
Meribel belongs to one of the best ski areas in the world - the resort is located in the heart of the «Three Valleys». Choosing it a place of your rest, you get the opportunity to ride along the Courchevel, La Tagne, Brill-LeBen, Les Menuires and Val Thorens, united by a single ski pass.
This resort in the heart of the Three Valleys for many years remains a hit of sales among ski tourists from all the world. Convenient location in the center of a huge ski area, excellent opportunities for skiing, ski safari and freeride, a modern system of cable cars - Meribel has almost everything to consider it almost the ideal ski resort.
Ski Resort Location
In the commune of Le Allu, the department of Savoie France Meribel is located near the town of Moutiers. Established in 1939, it is the resort with a height difference in the range 1450-1800m with small villages Meribel-Mottaret, Merribel and Le Allu.
Meribel is the most refined architectural style resort of the French Alps. It consists of a central part, Belvedere and Mottaret, connected by elevators and roads. A lot of routes with the wide difference of complexity among the picturesque landscapes of the French Alps attract to Meribel as lovers of skiing along the well-groomed pistes and lovers of virgin land.
The development of the ski resort Meribel began after the first lift appeared in 1938. The central position in the Three Valleys provides Meribel's special popularity. From here it is convenient to get to such ski resorts as Courchevel and Val Thorens.
Closest Airports to Meribel
If you're going to Meribel, be sure to arrive into one of the nearest airports:
Closest Train Stations to Meribel
If you're travelling by train, you should get to know that the closest train station to Meribel is
Transfer Times
These transfer times are approximate only. Unfavorable weather conditions and traffic jams can significantly impact these times:
Moutiers train station – 40 minutes
Chambery Airport – 1 hour 20 minutes
Lyon St Exupery Airport – 2 hours 40 minutes
Grenoble Airport – 2 hours
Lyon Saint-Etienne-Boutheon Airport – 3 hours 20 minutes
How Much Will My Transfer Cost?
When you are traveling to Meribel, you can always count on the most dynamic and flexible pricing system. Alps2Alps do everything possible to low the transfer costs for our customers. Every detail of your trip will not be left without our attention and we will offer you the most possible beneficial price for you and your travel group, at any time of the year for the way to your best vacation at Meribel resort.
Transfer to Meribel can depend on:
Number of adults and children ski-travellers in your group
Airport of your arrival
Seasonal demand and date / day of the week of the trip
Travel time and distance from the airport to the resort
Available special offers and discounts at the time of booking
Alps2Alps will guaranteed deliver you to Meribel with maximum comfort and reliably and at the lowest possible price. We never overstate our prices at any time or for any reason.
Besides, we are ready to offer you very significant discounts for the transfer in off-season period and on mid-week days.
If you are looking for the best transfer services at the best price, be aware that traveling outside the peak season or in the middle of the week will let you save on the services as much as possible.
We offer prices from Monday to Friday with a discount of up to 60% than on weekends. The final price of your resort shuttle will also depend on the availability of the car, the transfer schedule, the use of the vehicle and some other costs, such as tolls and parking fees at the airport.
If you have specific requirements or you want to clarify information, for example, you will travel in a large group, please contact us directly so that we can discuss all the details of your future transfer.
Resort Open & Closing Dates
Season opens – 23rd November 2019
Season ends – 3rd May 2020
Ski Resort Essentials
Three Valleys is the largest ski area in the world and a Mecca for skiers.
Situated at the heart of Three Valleys, Meribel is perfectly located to maximum enjoy this extraordinary ski area. For you:
600km of pistes accessible on skis
328 downhill skiing pistes
35 Black pistes
107 Red pistes
131 Blue pistes
55 Green pistes
166 Ski lifts
35.000 hectares of nature
62.000 meters of vertical drop
Family Friendly/Kids
Meribel has a huge number of shops, cinemas, nightclubs, restaurants, bars and cafes.
Here is one of the biggest ski schools - Ecole de Ski France - Meribel ESF - 400 instructors with the knowledge of foreign languages. There are kindergartens for children aged 4-5, group and individual classes for children and adults. Finally, a large sports complex with a lot of entertainment Apres-ski.
No wonder that many tourists who have visited Meribel reward this place with the most enthusiastic epithets: "the palm tree of the championship" rightfully belongs to this magical resort.
Weather/Snow Weekly Forecast

View detailed snow forecast for Méribel at:
snow-forecast.com
Maps of Meribel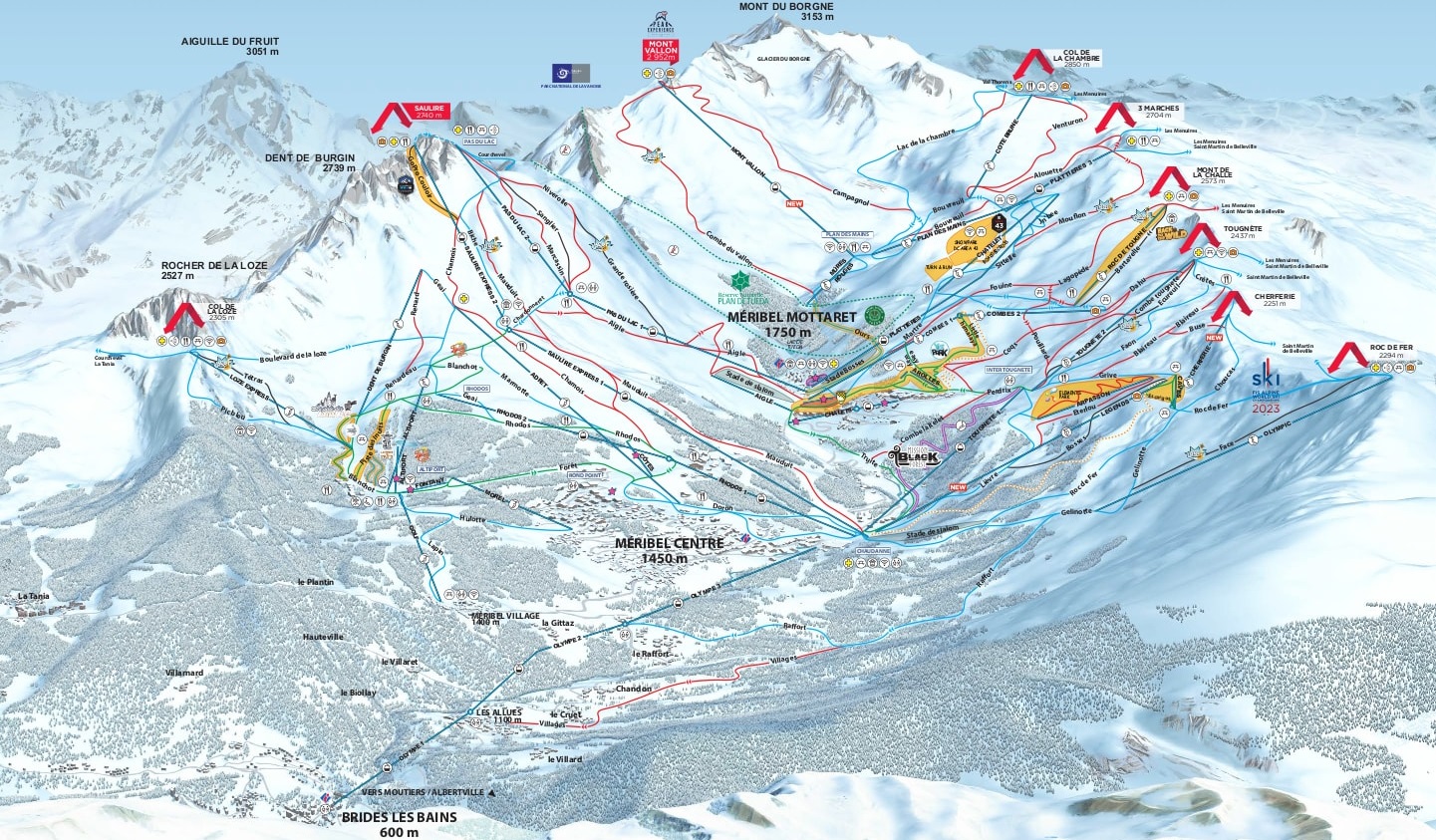 Live Webcam
Tourist Resources & Links
If you're heading over to Meribel this year or next, don't doubt to visit some of those useful following links before you set off:
How to Choose Transfers to Meribel
Alps2Alps is committed to providing a full package of high-quality transfer services and the lowest prices. When it comes to reliability, punctuality and flexibility, you will not find a better solution than Alps2Alps.
Choosing us, you can be sure of:
Low prices – we offer best transfers to/from Meribel
24-hour support - our team works around the clock to help you solve all issues
We are a team of professionals in our field
A family approach - whatever we do to help you with the children, just ask
Friendly drivers who speak fluent English
Modern vehicles - safe, clean and comfortable
Punctuality - we will always do everything possible to ensure that you are in place on time
Book Your Ski Transfer to Meribel
Book your transfer in advance in order to take a benefit of the lowest possible prices and tranquilly wait for your holiday. As always, do not forget to contact our team if you can't find the resort or service that you need, on our website.
Book your transfer and let it be the best start of your dream vacation!