Montgenevre Ski Resort & Transfer Guide
Montgenevre, located in the Cote D'Alpes in France, is a part of the skiing region of «Via Lattea», which includes 7 other Italian resorts: Claviere, Sansicario, Sestriere, Sous-Sauze D'Oulx, Oulx, Cesana, Pragelato. Montgenevre was founded in 1907. In 2007 the resort had celebrated its centenary, and is considered one of the first ski resorts in France.
Located at an altitude of 1850 meters Montgenevre is designed primarily for family rest. Skiing there is comfortable enough for middle-level skiers and beginners, but the proximity to the Italian border and the resorts of Sestriere and Sauze D'Oulx attracts also the professional skiers to this resort.
Ski Resort Location
The Montgenevre ski resort is a French piece of the huge joint «Via Lattea Zone» (Milky Way). The village of Montgenevre is situated on the eponymous pass at an altitude of 1854 m. This is one of the highest passes of the Alps, opened in the winter. This place used to play an important strategic role - as in times of knights, wars and princesses, and on our "holiday" days. Through the Pass of Montgenevre passes the border between France and Italy - this is the gateway from Italy to the French Southern Alps.
The lifts are located on two sides of the valley - east and west. Montgenevre was the only French resort that, along with the Italian Sestriere, Sauza D'Oulx and San Sicario, hosted the Alpine events of the Olympic and Paralympic Games of Turin 2006.
The resort offers two ski passes to choose from - the Montgenevre - Claviere home zone or the entire Via Lattea area.
Closest Airports to Montgenevre
If you're going to spend your holiday in Montgenevre, be sure to arrive at this closest airports:
Closest Train Stations to Montgenevre
The nearest train station to Montgenevre is
Transfer Times
These transfer times are approximate only.
Notice, that both unfavourable weather conditions and traffic jams can significantly impact these times:
Briancon train station – 20 minutes
Turin Caselle Airport – 2 hours
Chambery airport – 2 hours 25 minutes
Lyon St-Exupery Airport – 3 hours 10 minutes
Grenoble airport – 3 hours 10 minutes
How Much Will My Transfer Cost?
Planning your vacation in Montgenevre and thinking on transfer expenses, you can always count on the most dynamic and flexible pricing system here, in Alps2Alps. We are a team of professionals in our field of transfer services and we do everything possible to low the transfer costs for our customers. That's why we will take into account all details of your future trip. And don't doubt – you will be provided with the most beneficial transfer price, at any time of the season.
Transfer to Montgenevre can be dependent on:
Number of adults and kids in your group
Airport of your arrival
Season and seasonal demand
Time on road and distance from the airport to the resort
Deals and discounts at the moment of booking
We promise to deliver you to Montgenevre on the highest level of reliability and at the lowest possible price. All our clients already know that we never overstate our prices at any time or for any reason.
Besides, Alps2Alps always offers you very significant discounts for the transfer on mid-week days and at the low season.
If you are looking for the best transfer prices, be aware that travelling outside the peak season or in the middle of the week will let you save on the services as much as possible. Our transfers from Monday to Friday usually are with a discount of up to 60% than on weekends.
Notice also, that your final transfer quote will be dependent on such things as availability of the car, the transfer schedule, the use of the vehicle, tolls and parking fees at the airport.
If you have some more requests, or you want to clarify any information, for example, you will be travelling in a large group, please contact us directly so that we can discuss your future trip.
Resort Open & Closing Dates
Season opens – 30th November 2019
Season ends – 26th April 2020
Ski Resort Essentials
Ski holidays in Montgenevre perhaps is the best choice for skiing among all the resorts in the Southern Alps. A large number of open wide routes, both simple and gentle, and really steep and direct - for experienced skiers. The skiing area is not that extensive, but it will surely satisfy for those who like to ski on steep slopes. For the most demanding skiers who did not have enough variety here, we advise to move further, across the border of France and Italy - the Montgenevre resort is connected by lifts with other Italian resorts.
Resort Altitude – 1850m
100 km of Downhill pistes
18 Black pistes
38 Red pistes
25 Blue pistes
7 Green pistes
X-Country pistes – 28 km
38 Ski lifts
2700m – Highest lift
850m – Max Vertical
9% - Snowmaking
Family Friendly/Kids
There are offered varied accommodation options in Montgenevre, everywhere there is direct access to the ski lifts. The resort does not belong to the category of fashionable, everything is relatively simple but comfortable. This is an excellent choice for families with children. And thanks to a large number of sunny days, you and your kids will be charged with sunlight and energy for the rest of the winter.
Weather/Snow Weekly Forecast

View detailed snow forecast for Montgenèvre (Via Lattea) at:
snow-forecast.com
Maps of Montgenevre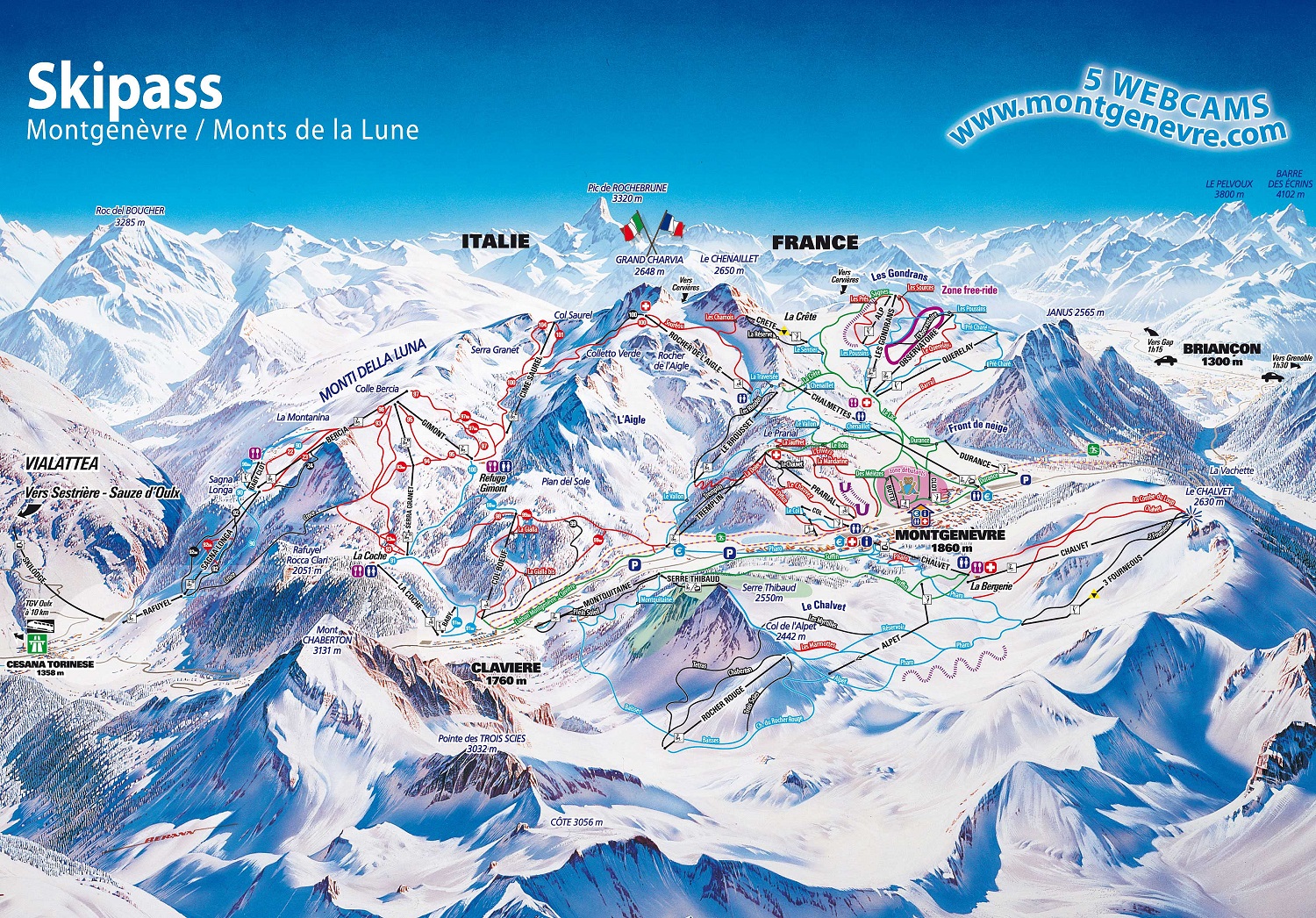 Live Webcam
Tourist Resources & Links
Going to Montgenevre check out some of those useful links before you set off:
How to Choose Transfers to Montgenevre
If you want to be ensured of an ideal start of your alpine ski holiday, let Alps2Alps make a little help for you. As we are committed to providing high-quality transfer services and the lowest prices. When it comes to maximum reliability and punctuality, you will not find a better solution than Alps2Alps.
Choosing us, you will get:
Lowest prices – we offer the most attractive prices for transfers to/from Montgenevre
24-hour support - our customer care team works around the clock
100% family approach - whatever we do to help you with the children, just ask
Best and friendly drivers who speak fluent English
Modern vehicles – safe and clean
Book Your Ski Transfer to Montgenevre
In order to take a benefit of the most beneficial transfer cost, we advise our clients always make the booking in advance. Don't forget to contact our customer service team, if you need some more information about alpine transfer services.
Just make a call to our managers, book a transfer to Montgenevre and wait tranquilly for your unforgettable ski holiday. Let your holiday start the best way to Alps2Alps!