Cortina d'Ampezzo Ski Resort & Transfer Guide
Cortina d'Ampezzo invites you to take to the same slopes that built some of the sport's most iconic champions. The Winter Olympics may have been held here all the way back in 1956, but the echoes of these great times can still be seen, felt and experienced across the region. Routinely referred to as the 'Queen of the Dolomites', you can't help but have massive expectations of a place like Cortina d'Ampezzo. Luckily, it doesn't know how to disappoint in any way whatsoever!
Ski Resort Location
Cortina d'Ampezzo demonstrates quite clearly how a resort can be both fashionable and unpretentious at the same time. All too often, stylish resorts have an air of snobbism about them, which doesn't add much to their appeal. In Cortina d'Ampezzo, visitors are greeted with a warm welcome, invited into the highly social local culture and provided with a world of amenities to explore.
The resort can be found just two hours to the north of Italy in the Veneto region. Positioned in the Ampezzo Valley with hugely dramatic mountains to either side, it's hardly surprising how Cortina d'Ampezzo has become a year-round resort for those craving relaxation and adventure in equal measures. It's sometimes said that the attitude of Cortina d'Ampezzo is one of 'everything else first, skiing second. Which essentially adds up to a resort that puts huge emphasis on every aspect of enjoyment and living every day to its fullest, without ever taking things so seriously they become a chore!
Closest Airports to Cortina d'Ampezzo
If you're flying to Cortina d'Ampezzo, be sure to arrive via one of the closest airports:
Closest Train Stations to Cortina d'Ampezzo
There are no direct train connections to the resort - the nearest train station is Calalzo di Cadore, about 35 km away from Cortina d'Ampezzo. Regular shared and private transfer services are available from the station.
Transfer Times
These transfer times are approximate only. Weather and traffic conditions can significantly impact transfer times:
Calalzo di Cadore – 1 hour

Treviso Airport (TSF) – 2 hours 15 minutes

Venice Marco Polo Airport (VCE) – 2 hours 15 minutes

Salzburg Wolfgang A Mozart Airport (SZG) – 3 hours 5 minutes

Innsbruck Airport (INN) – 2 hours 55 minutes

Orio Al Serio (Bergamo) Airport (BGY) – 4 hours 10 minutes

Milan Linate Airport (LIN) – 4 hours 35 minutes

Milan Malpensa Airport (MXP) – 5 hours
How Much Will My Transfer Cost?
Alps2Alps uses a dynamic and flexible pricing system, in order to keep costs for our customers as low as possible. By taking into account the specifics of your trip, we can offer you the best possible deal for your group, whatever time of year you travel to Cortina d'Ampezzo.
The cost of your transfer to Cortina d'Ampezzo may be affected by:
The number of adults and children in your group

Via which airport you arrive

Seasonal demand and the date/time of travel

Travel time and distance to your final destination

Availability of special offers and deals at the time you book
Whatever your needs, Alps2Alps promises to get you to Cortina d'Ampezzo comfortably and reliably for the lowest possible price. All of the above will only ever result in our base-rate for ski transfers going down – we never over-inflate our prices at any time or for any reason. We also offer substantial discounts for off-peak, off-season and midweek transfers to Cortina d'Ampezzo. If looking for the best possible deals, travelling outside peak season or midweek typically results in the biggest savings. We offer midweek (Monday to Friday) prices with up to 60% discount than weekend prices.
Your transfer quote will also depend on vehicle availability, transfer schedule, vehicle utilisation and other costs like road tolls and airport parking charges.
If you have any specific requirements or will be travelling as part of a larger group, please get in touch directly so we can discuss this.
Resort Open & Closing Dates
Seasonal opening dates at Cortina d'Ampezzo are of course dependant on snow conditions, though are currently listed as follows:
Season opens – 30th November 2019
Season ends – 3d May 2020
Ski Resort Essentials
Cortina d'Ampezzo is positioned at an altitude of around 1,220m and is home to some of the most superb and in-demand ski slopes in Italy. Below you'll find a brief summary of just a few important resort essentials:
Of course, as part of the huge Dolomiti Superski Ski Area, the resort provides visitors with easy access to almost 1,000km of downhill runs, 570+ ski lifts and an extraordinary array of off-piste opportunities.
Family Friendly/Kids
In a nutshell, Cortina d'Ampezzo is simply fantastic for families with kids of all ages. The Cortina Ski School was the first Italian ski school to be founded, all the way back in 1933. So you really couldn't be in safer hands and nor could your kids. As for the resort, ski hotspots really don't come any safer, more welcoming and completely enjoyable for families than Cortina d'Ampezzo.
Weather/Snow Weekly Forecast

View detailed snow forecast for Cortina at:
snow-forecast.com
Maps of Cortina d'Ampezzo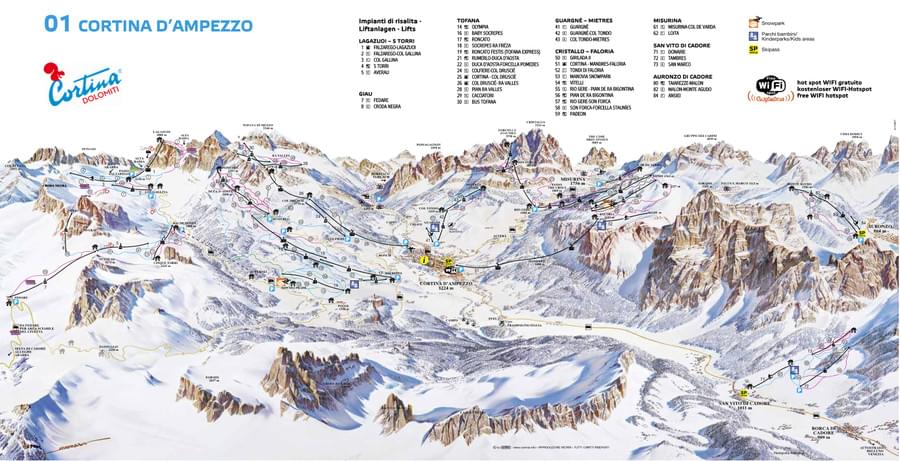 Live Webcam
Cortina d'Ampezzo live webcam stream:
Tourist Resources & Links
Take the time to explore Cortina d'Ampezzo and its surroundings online before you set off, to ensure you don't miss out on any highlights. Head over to the following tourism resources for more information:
How to Choose Transfers to Cortina d'Ampezzo
Do yourself a favour and get your trip off to a flying start with a little help from Alps2Alps. We're proud to offer the most reliable, affordable and enjoyable Cortina d'Ampezzo resort transfers, all throughout the season. Take a load off and start enjoying your holiday the moment you step on board.
Choose us for your Cortina d'Ampezzo resort transfers and benefit from:
Modern, clean and comfortable vehicles

Total commitment to punctuality and reliability

Friendly drivers with advanced English language skills

A 24/7 customer care team on-call at all times

Family-friendly service with a smile

Guaranteed low prices on all resort transfers
Book Your Ski Transfer to Cortina d'Ampezzo
If you're out to get the best possible deal on your resort transfers to and from Cortina d'Ampezzo, be sure to book in advance. Or if you can't find the service or destination you're looking for on our website, get in touch with the Alps2Alps customer service team today.
Whatever it takes to get you there on time and in comfort, you can count on us to satisfy!