Dobbiaco (Toblach) Ski Resort & Transfer Guide
Dobbiaco is a perfect destination for your ski holidays in Italian Alps. Here you can be fascinated by the wild beauty Val di Landro offers. In addition Dobbiaco ski resort offers wide range of activities, for example, the famous cultural highlight - Gustav Mahler Music Weeks. Dobbiaco as well is the venue for several cross-skiing competitions.
Ski Resort Location
Dobbiaco ski resort is located in Northern Italy right beside the border of Austria. The resort is located between two beautiful nature parks in very romantic Höhlensteintal valley. The ski resort does not have long line of history, but it is becoming more popular today. Dobbiaco is perfect for romantic getaway as well as peaceful ski holidays with all your family.
Closest Airports to Dobbiaco
If you're flying to Dobbiaco, arrive at one of the closest airports:
Closest Train Stations to Dobbiaco
There are no direct train connections to the resort itself. If you're travelling by train, these are the closest stations to Dobbiaco, from which bus transfers can be arranged:
Fortezza
Dobbiaco (local train line)
Transfers can then be arranged to take you on to the resort.
Transfer Times
These transfer times are approximate only. Weather and traffic conditions can significantly impact transfer time:
Fortezza - 1 hour 30 minutes
Treviso Airport (TSF) – 2 hours 55 minutes
Innsbruck Airport (INN) – 2 hours 20 minutes
Salzburg Airport (SZG) – 3 hours 50 minutes
Venice Marco Polo Airport (VCE) – 2 hours 55 minutes
Orio al Serio International Airport (BGY) – 4 hours 10 minutes
Milan Linate Airport (LIN) – 4 hours 30 minutes
How Much Will My Transfer Cost?
Alps2Alps works hard to remain truthful and flexible when it comes to pricing. If planning a trip to Dobbiaco, we will take into account the several aspects of your journey to offer you the best price possible. The price you can expect to pay will be influenced by a number of factors, including:
Airport you arrive
The number of people travelling
The time and date of your transfer
The length of your journey
Seasonal demand
Special deals and discounts on offer at the time
Factors mentioned above will result in our base-rate for ski transfers going down – we never over-price our services at any time or for any reason. We love to offer our clients substantial discounts for off-peak, off-season and midweek transfers to Dobbiaco. If looking for the biggest savings, travelling outside peak season or midweek will result in the biggest discounts. We offer midweek (Monday to Friday) prices with up to 60% discount from the weekend prices.
Your transfer quote will also depend on vehicle availability, transfer schedule, vehicle utilisation and other costs like road tolls and airport parking charges.
If you have any specific requirements or will be travelling as part of a larger group, please get in touch directly so we can discuss this.
Resort Open & Closing Dates
Dobbiaco season opening dates are subject to snow conditions:
Season opens: 14th December 2019
Season closes: 22nd March 2020
Ski Resort Essentials
Dobbiaco sits at an altitude of 1046 m and has a max vertical of 1154 m. Here's some more vital info about the Three Peaks Dolomiti ski area:
5 Black pistes (12 km)
14 Red pistes (43 km)
18 Blue pistes (38 km)
37 Pistes
200 km Cross country pistes
27 Ski lifts
Lowest Piste: 1046 m
Highest Lift: 2200 m
Dobbiaco is famed for providing an equally incredible experience for all skill levels across the board. From first-timers to seasoned pros, there's plenty on offer for everyone.
Family Friendly/Kids
Dobbiaco is one of the most friendly and entertaining resorts for families with kids of all ages. There are professional ski schools in the area and plenty of tender slopes for introducing kids to winter sports.
Weather/Snow Weekly Forecast:

View detailed snow forecast for Dobbiaco/Toblach at:
snow-forecast.com
Maps of Dobbiaco Pistes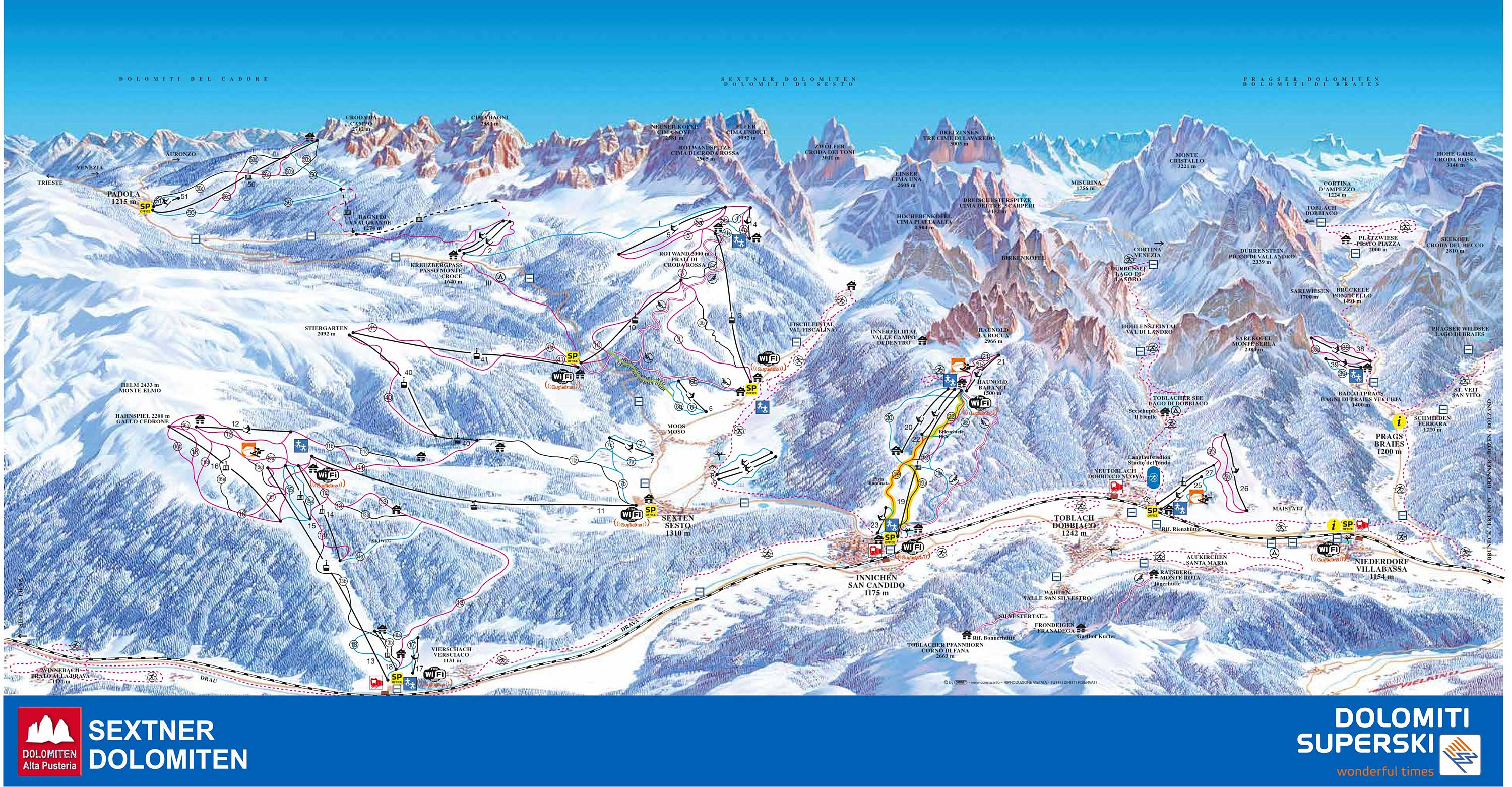 Live Webcam
Tourist Resources & Links
Though Dobbiaco may be small in size, it has more than its fair share to offer visitors. So before you go, be sure to do a little reading and don't let any of the local highlights slip you by:
How to Choose Transfer to Dobbiaco
If you are booking a transfer to your resort destination, there are some aspects you may need to know. It is all about high quality services, which will ensure the great and peaceful start of your ski holidays. Transfer company Alps2Alps will offer you complete service package of quality, reliability and value for money.
Travel to Dobbiaco with us and you'll benefit from the following as standard:
Affordable prices to all main resorts all the season
Modern and comfortable vehicles for enjoyable and safe travel
Friendly and professional English-speaking staff and drivers
Commitment to punctuality and reliability
Customer service representatives available 24/7
Family-friendly approach and flexibility
Book Your Ski Transfer to Dobbiaco
We advise you to book your transfer as early as possible to take full advantage of maximum availability and the lowest possible prices. If you you are looking for the resort or service you require and can't find it on our website, get in touch with Alps2Alps team and we'll do our everything to help you.
Great trips to Dobbiaco start with the best transfers – let the experts at Alps2Alps show you the way!