Marilleva Ski Resort & Transfer Guide
Marilleva similar as her twin sister Folgarida is a purpose-built ski resort offering great and convenient services for memorable ski holidays. The resort can host 10 000 people and has modern tourism facilities to enjoy your stay here the fullest. Here you'll find vital information on the Marilleva ski resort as well as help and guidance in booking your transfer.
Ski Resort Location
Marilleva ski area is a part of the great Folgarida/Marilleva ski area. It is located on the sunny side of Alps and is a great ski destination for all your family. Marilleva previously linked to forestry and pasture, last century was developed into ski resort. Similar to Folgarida, Marilleva offers modern ski lift with high capacity and other facilities for comfortable stay here.
Closest Airports to Marilleva
If you're flying to Marilleva, arrive at one of the closest airports:
Closest Train Stations to Marilleva
If you're travelling by train, these are the closest stations to Marilleva:
Transfer Times & Prices
These transfer times are approximate only. Weather and traffic conditions can significantly impact transfer time:
Trento - 1 hour 35 minutes
Treviso Airport (TSF) – 3 hours 30 minutes
Innsbruck Airport (INN) – 3 hours 20 minutes
Venice Marco Polo Airport (VCE) – 3 hours 40 minutes
Orio al Serio International Airport (BGY) – 3 hours 15 minutes
Milan Linate Airport (LIN) – 3 hours 45 minutes
How Much Will My Transfer Cost?
We take a dynamic approach developing our prices for transfers. This means we won't just offer you a flat rate quote to and from Marilleva, we'll take several condition into consideration before offering you a price. Despite being cheaper than our competitors – we still offer you the best possible deal!
Developing our prices, we start with a standard rate and then alter this to complement your conditions. Here's what will affect the price of your quote:
Transfer journey (airport & destination)
Number of people travelling
Day of travel
Time of travel
Special discounts available
All of the above will result only in base rate for your transfer going down. We never raise our prices for any reason at any time. We also offer great discounts for off-season and off-peak. If looking for a great deals, travelling in midweek and outside of peak season will result in big savings. Our midweek (Monday to Friday) prices with up to 60% discount that weekend prices. Your transfer price will also depend on transfer schedule, vehicle availability and utilisation and other costs, for example, road tolls and parking charges.
If you have any specific requirements or will be travelling as part of a larger group, please get in touch directly so we can discuss this.
Resort Open & Closing Dates
Marilleva season opening dates are subject to snow conditions:
Season opens: 30th November 2019
Season closes: 26th April 2020
Ski Resort Essentials
Marilleva sits at 900 m with pistes/trails from 1400 m to 2179 m above sea level.
Marilleva is a part of Folgarida/Marilleva ski area. Here are some essential stats for visitors to Folgarida/Marilleva ski area:
8 Black pistes
13 Red pistes
19 Blue pistes
1 Snowpark
64 Pistes
50 km Downhill pistes
25 Ski lifts
Max vertical: 1279 m
Marilleva is a great destination for intermediate and beginner skiers as well as those with families.
Family Friendly/Kids
Marilleva is a perfect winter ski trip for all the family. Here are many highlights for families with kids. Not only children of age up to 8 years get a free ski pass - same as their accompanying adult. There are also several great activities for children of all age. Marilleva offers several snow parks for children learning to ski in professional ski schools, fun outdoor activities for all the family and lot more.
Weather/Snow Weekly Forecast:

View detailed snow forecast for Folgarida-Marilleva at:
snow-forecast.com
Maps of Marilleva Pistes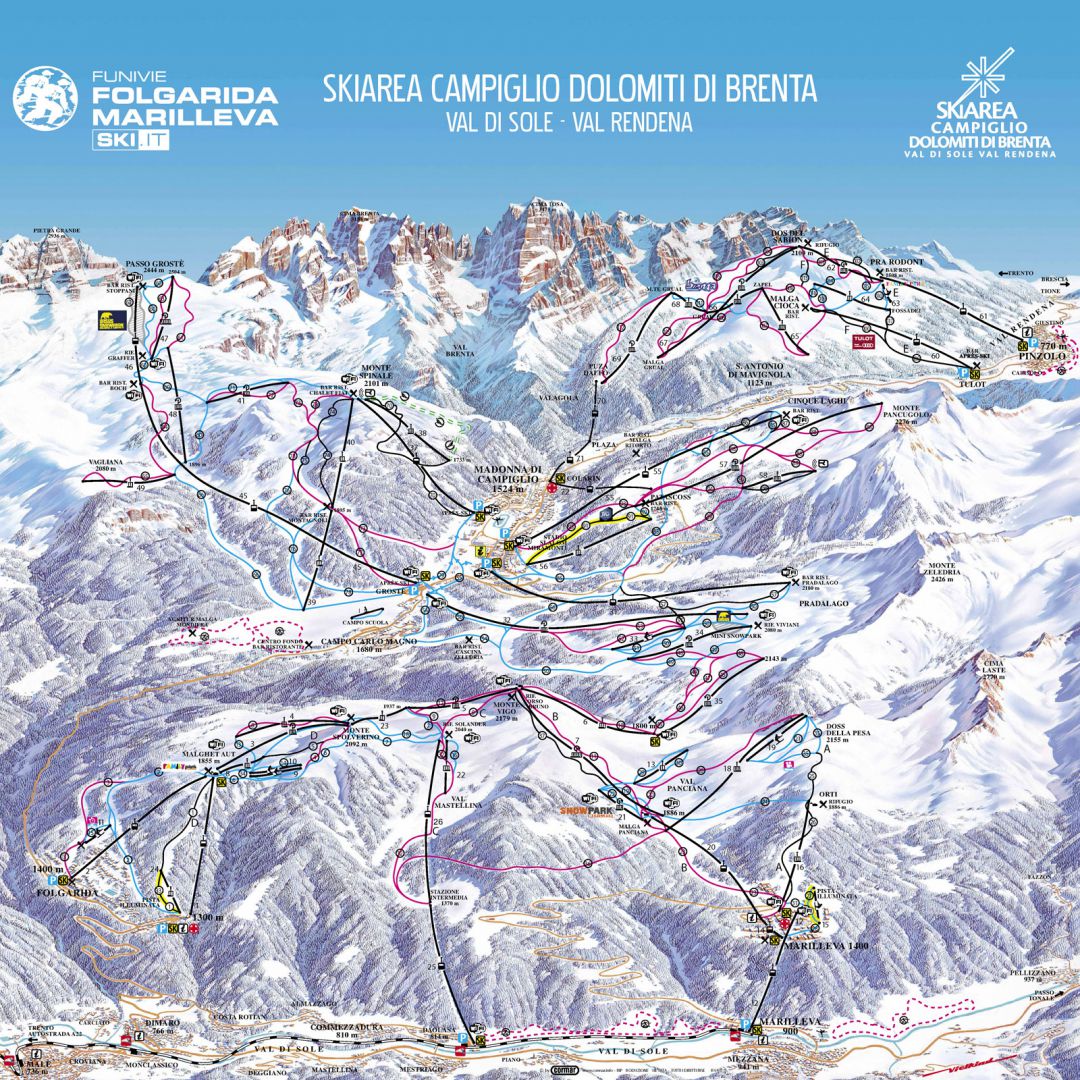 Live Webcam
Tourist Resources & Links
If you're heading to Marilleva, there useful links will help you prepare for your trip away:
How to Choose Transfer to Marilleva
If you are looking for lowest cost airport transfer provider in Alps, you have come to the right place. We offer the cheapest airport transfer in Alps for all your needs. You may wonder, how is it possible? Our vehicles are based at our departure airports that is way we can provide the lowest cost, reliable and most punctual transfer services in Alps.
When booking your transfer, you need a provider that works for you:
We offer the lowest cost door-to-door airport transfers
Our drivers and staff are permanently available to help
We employ experienced, friendly and pro-active staff
We understand family travel requirements (baby/child seats available free)
All our drivers are fluent in English as well as other European languages
We are equipped for winter conditions in compliance with local regulation and insurance requirements (our fleet includes Opel Vivaro, Renault Trafic and Mercedes E Class vehicles)
We won't let you down
We will always do our best to find a resolution for any problems you may encounter
Book Your Ski Transfer to Marilleva
Book your transfer online with us to guarantee the fastest, most efficient and lowest cost journey to your destination. If you require a transfer service to/from destination or airport which is not listed, get in touch with us directly and we will do our best to help you.
We operate at the lowest cost possible without compromising on service, reliability and safety. Start and end your trip to Marilleva in the best possible way. Book your transfer here.