Valchiavenna Resort & Transfer Guide
Ski, snowboard and winter enthusiasts will enjoy Valchiavenna ski area fully. It has great offer for winter sports and activities, but those, who came here not to ski will not be disappointed at all. The resort has worked hard to enrich the culture and offer also a wide range of activities and fun places to relax after the long day on the skis. Visit also museum of the region to learn about it's history and learn something new.
Ski Resort Location
Skiarea Valchiavenna has a great location. It is close to Milan (just 138 km) and right next Lake Como (northern side) and just few minutes from Swiss border. Thanks to resort location and favorable climate conditions, it can offer long ski season, starting from November (sometimes early December) until late spring. To offer best services for tourists and resort guests, Valchiavenna in recent years has entirely renovated all ski lift system, upgraded snowmaking systems, made moder slopes to meet the standards for international competitions, as well as opened new bars and restaurants to enlighten the local culture and all the services.
Closest Airports to Valchiavenna
If you're flying to Valchiavenna, be sure to arrive via one of the closest airports:
Closest Train Stations to Valchiavenna (Madesimo)
Madesimo is one of the easiest resorts in the region to access by train. Nearest train stop – Chiavenna.
Transfer Times
These transfer times are approximate only. Weather and traffic conditions can significantly impact transfer times:
Chiavenna - 45 minutes
Treviso Airport (TSF) – 4 hours 55 minutes
Venice Marco Polo Airport (VCE) – 4 hours 50 minutes
Innsbruck Airport (INN) – 4 hours 20 minutes
Orio Al Serio (Bergamo) Airport (BGY) – 2 hours 40 minutes
Milan Linate Airport (LIN) – 2 hours 35 minutes
Milan Malpensa Airport (MXP) - 2 hours 55 minutes
How Much Will My Transfer Cost?
Whatever your travel plans when heading to skiarea Valchiavenna, Alps2Alps will offer you the best possible deal on your resort transfers. We calculate the costs of each trip in accordance with the exact requirements of our customers, along with other key factors of importance. This way, we can provide you with the best possible quote for your Valchiavenna transfers in both directions, throughout the entire ski season.
Transfer cost are calculated in accordance with the following factors:
Your arrival airport
Traveller ages
The size of your group
The dates of your transfer
The time you would like to travel
Journey distance and duration
Deals and special offers available at the time
All of the above will only ever result in our base-rate for ski transfers going down – we never over-inflate our prices at any time or for any reason. We also offer substantial discounts for off-peak, off-season and midweek transfers to Kronplatz. If looking for the best possible deals, travelling outside peak season or midweek typically results in the biggest savings. We offer midweek (Monday to Friday) prices with up to 60% discount than weekend prices.
Your transfer quote will also depend on vehicle availability, transfer schedule, vehicle utilisation and other costs like road tolls and airport parking charges.
To discuss any specific requirements or plans to travel as part of a larger group, please get in touch directly so we can discuss your needs.
Resort Open & Closing Dates
Seasonal opening dates at Valchiavenna (Madesimo) are of course dependant on snow conditions, though are currently listed as follows:
Season opens – 23rd November 2019
Season ends – 19th April 2020
Ski Resort Essentials
Madessimo is positioned at an altitude of 1550 m and offers access to an incredible array of slopes for all ability levels. A few additional details about the resort and its offerings:
2 Black Pistes (11 km)
14 Red Pistes (24 km)
14 Blue Pistes (15 km)
48 km Downhill Pistes
20 km Cross Country Pistes
13 Ski Lifts
1540 m Max Vertical
2878 m Highest Lift
1340 m Lowest Piste
As you can see before, Valchiavenna has a great offer for skiers of all skill levels. Beginners will find here well groomed slopes as well as advanced skiers can challenge themselves with various more difficult slopes and pistes.
Family Friendly/Kids
Valchiavenna is a fantastic choice for ski family trip. Skiarea offer Madepark and Babypark. In Madepark everyone fill find their place and enjoyment. There are two areas - one for all ski levels, where also beginners will suitable slopes to train their skills. The other area is devoted for more advanced skiers with challenging structures and slopes. Babypark is a fun filled park for young winter lovers. There children can learn skiing or do other fun winter activities using bobs, snow tubes and sledges.
Weather/Snow Weekly Forecast

View detailed snow forecast for Madesimo at:
snow-forecast.com
Maps of Valchiavenna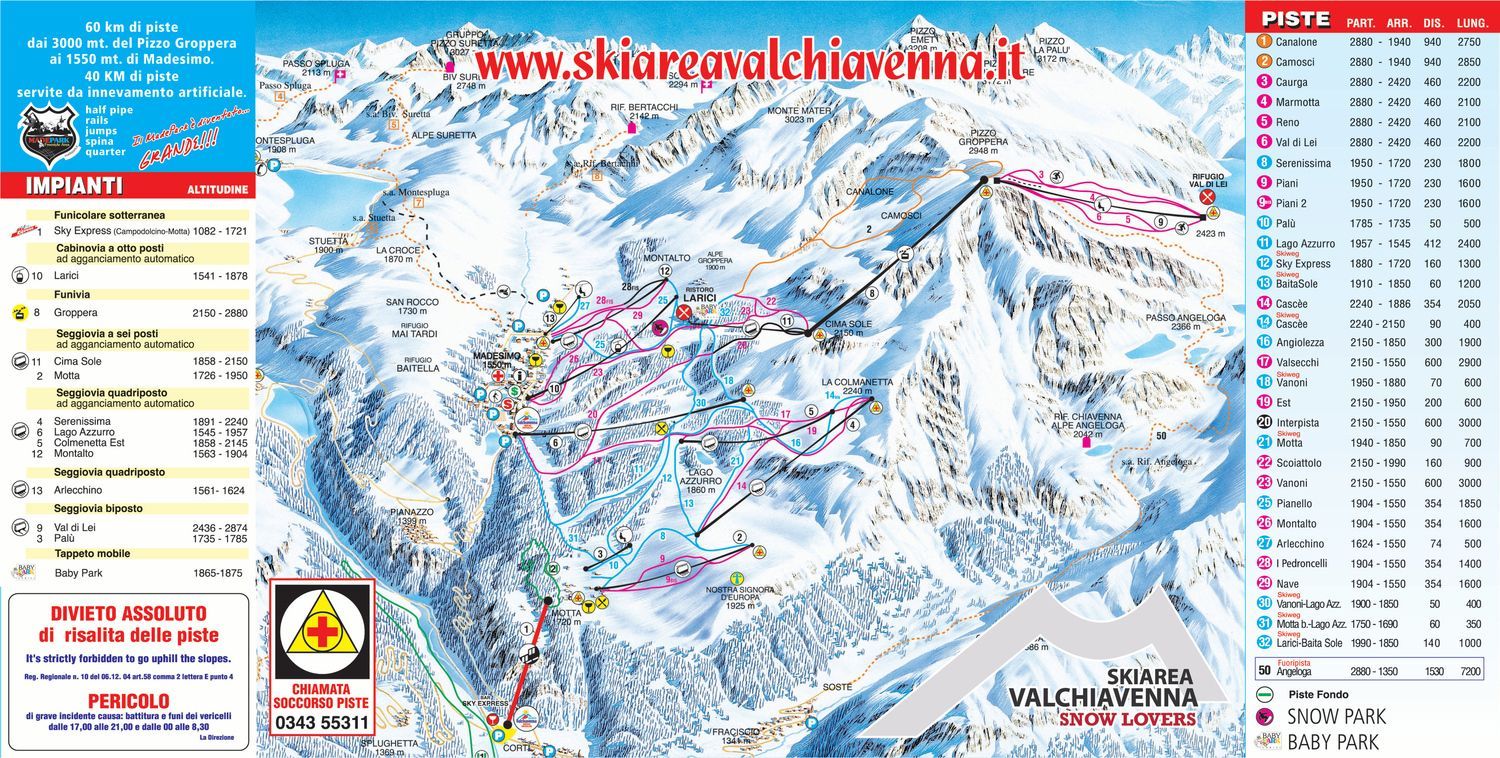 Live Webcam
Tourist Resources & Links
To feel comfortable and not to worry about small things, get to know Valchiavenna before you go there. Here are some links, that will help you get vital information of the ski area and give you first impressions of your great ski holiday:
How to Choose Transfers to Valchiavenna
There are several ways to get to Valchiavenna, but we can guarantee that none other are more pleasant that transfers with Alps2Alps. We will transport you to your desired ski resort in comfort, on time and with the lowest prices possible. Whether you choose to travel to or from Valchiavenna or other ski resort, Alps2Alps offers the following:
Lowest price on all services to and from Valchiavenna
Big commitment to punctuality
Professional English-speaking drivers with good local knowledge
Customer service reachable 24/7
A modern, clean and comfortable fleet of vehicles
Family-friendly service with a smile
Book Your Ski Transfer to Valchiavenna
We advise you to book your transfer to Valchiavenna as early as possible not to miss the best offers, as all the best deals are always snapped up in advance. Can't find what you have been looking for or have any additional questions? Get in touch with us and we will do our best to help you!