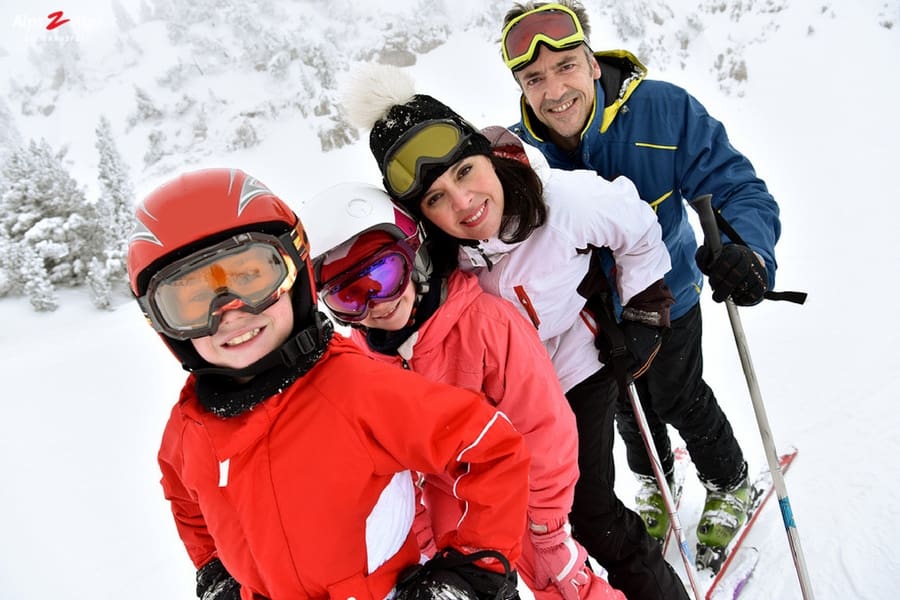 BOOKING A CHEAP FAMILY SKI HOLIDAY: HOW TO KEEP COSTS DOWN
BOOKING A CHEAP FAMILY SKI HOLIDAY: HOW TO KEEP COSTS DOWN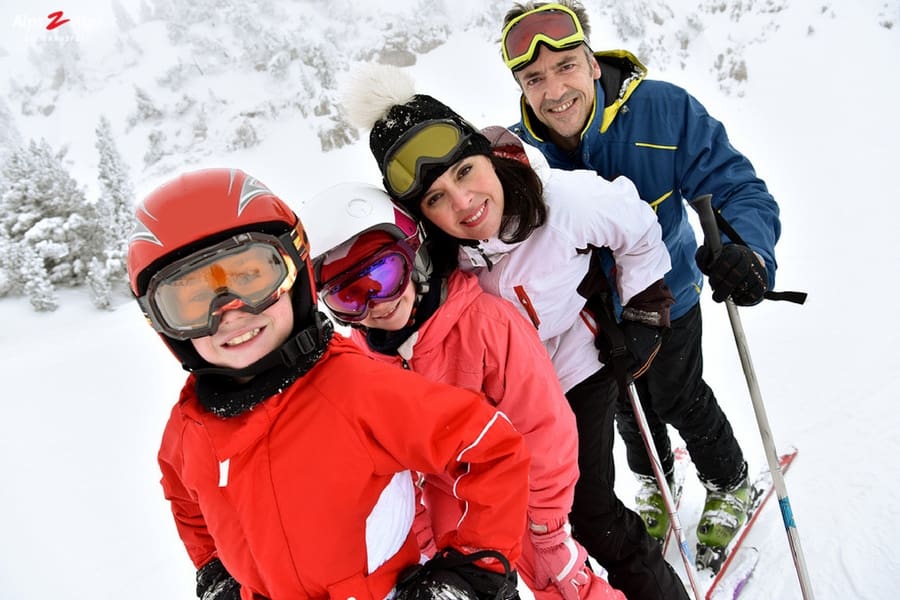 Uninterrupted quality time, perfect slopes and restorative family meals – what's not to love about a family ski holiday?
Before you start trying to answer that question with travel expenses, hefty lift pass prices and the après ski drinks bill, have a read of this.
It's easier than you might think to have a cheap family ski holiday without compromising on fun. Here's our advice on how to keep costs down when booking a family ski holiday.
How Much Does a Family Ski Holiday Cost?
The average cost of a family ski holiday is anything from £2000 up to £15,000 and even more! It all depends on where you stay, what you do and how many luxurious extras you want to add to your trip.
Best Value Family Ski Holidays
There are ways to keep costs down when planning a ski holiday for your family. From late family ski deals to pre-booking activities – read our tips to ensure your holiday doesn't break the bank.
Cheap Family Ski Resorts
First things first, choosing the right family-friendly ski resort is key when planning a budget ski trip.
Luckily, Europe is home to loads of great value ski resorts with fantastic skiing areas.
For cheap Alps ski holidays in France, try out:
Which are all great cheap ski resorts for families. You may want to avoid resorts that are known for offering more luxurious restaurants and accommodation such as Val Thorens or Alpe d'Huez.
If you're looking to visit somewhere in the Italian Alps, the peaceful resort of Courmayeur is a safe bet. Or, if Austria and Switzerland are more your scene, we recommend Alpbach and Grindelwald.
When planning a family ski trip, it's worth keeping an eye out for 'famille-plus' resorts in which you're guaranteed to find great facilities, kids clubs and activities for all ages.
The Holiday Dates
The next big thing to consider is when to travel. Your choice of ski holiday dates could make all the difference to your bank balance!
Unfortunately, avoiding school holidays isn't really an option for a family ski holiday. However, a ski trip during Easter is likely to be cheaper than one during the peak-season February half term.
Another way to save is to travel midweek which can be up to 50% cheaper than going on a weekend!
Best Family Accommodation
From chalet hotels to luxury ski chalets, your choice of accommodation can make a big dent in your holiday budget.
For families we recommend going one of two ways;
Catered Accommodation in a Ski Hotel
A ski hotel offers anything from bed and breakfast to full board. The benefits of staying in a ski hotel are that there is a team of staff to help you with anything you may need, and you don't have to worry about cooking! There are great budget hotels offering family rooms throughout the Alps run by friendly locals and expats to help keep costs down.
Self-catered Accommodation in a Ski Apartment
A self-catered ski apartment or shared catered chalet is a great way to save. Cooking your own family meals together can be a lovely experience and means you have some privacy to come home to after a day on the slopes.
Book Early (or Last Minute!)
The early bird catches the worm, which is just as true for ski holidays. Booking early means you can get your pick of the best accommodation and save money on travel and flights.
That being said, some skiers thrive on finding last-minute ski holiday deals which can really shave some money off the bill. The only problem with last-minute is that it can be tricky when travelling with young children.
Save Money on Flights
With most people travelling to the Alps by plane, this is an area you can make serious savings.
Booking early is key here. If you can get away with travelling late or very early morning this can also bring costs down – although a 4 am flight with youngsters might not be your idea of a holiday!
Remember to clear your cookies when buying flights online and look around at nearby airports if you can't find affordable flights at your first choice.
And remember – flight-inclusive holidays may sound great but they aren't always the cheapest option.
All-Inclusive Family Ski Holidays or Do It Yourself?
You may hear people raving about package ski deals, but here's a secret for you… we think doing it yourself is often the cheaper option!
Not only can it cut costs, but it also gives you more flexibility to tailor your holiday to your family's needs and interests.
Be Currency Smart
Always exchange money before you leave to avoid the hefty exchange rates at the airport.
Save on Ski Equipment
When it comes to ski equipment, it's not always worth buying your own. Not only is it a substantial initial investment, it can also cost you in excess baggage fees at the airport!
An easier alternative is to use a reliable ski equipment hire service. Alps2Alps have ski rental hubs in convenient locations around the Alps, including nearby Geneva airport. Instead of waiting in a queue at your resort, pick up your skis and boards en-route! Our team of expert technicians will be on hand to find suitable ski hire equipment for the whole family.
Get Afternoon Ski Lessons
While most people head to the mountains for their ski lessons first thing, they might be missing a trick when it comes to saving money!
Although the best snow can be found early morning, because of this popularity, some ski schools offer discounts on lessons in the afternoon. Particularly helpful if you're a large family heading to the nursery slopes!
Family Ski Pass
If you're travelling with children aged under five, some ski passes mean they can ski for free!
Shop around for the best family ski passes to make big savings.
Pack Your Own Picnic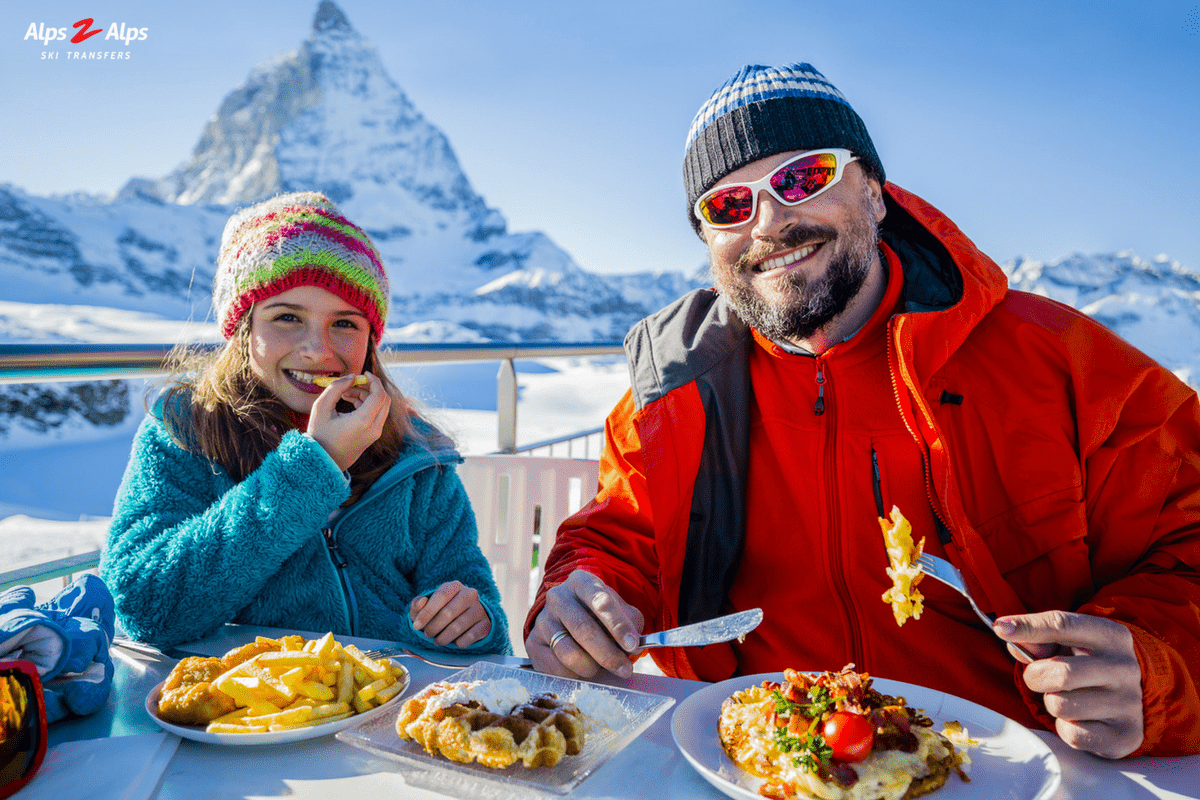 Although tempting, lunch on the mountain can be a pricey affair! Packing your own picnic lunch is a great way to cut spending and is often a healthier option than the cheese-laden offerings found in mountain restaurants!
Thankfully, many resorts have allocated indoor and outdoor picnic areas, and as the weather warms, these outdoor spots will become lovely rest points.
Save on Childcare
If you fancy a night out sans children to explore the best of the apres ski in your resort, there are ways to save money on childcare. Why not travel with another family so you can split childcare duties and costs?
Or, shop around for the best deals on nurseries and childcare packages before you travel.
Look Out for the Best Family Ski Deals and Offers
Skiers with their eye on the ball can take advantage of great special offers and ski deals online. Make this job even easier by downloading the Alps2Alps ski transfer app. This way, you can take your pick of any offers or last minute ski deals that come your way.
Say No to Parking Fees
Instead of taking an expensive taxi to your ski resort or spending a small fortune in airport or resort car parks, a ski transfer can take away this hassle and expense.
Get picked up directly from the airport and be delivered in comfort to your chosen resort by an experienced driver. You might be surprised at how much this can save you!
Safe, Cheap Family Ski Holidays 2021/2022
We're sure you're as excited as we are to get back to the slopes this ski season. To make your affordable family ski vacation as safe as possible, we've put some new procedures in place…
We check each drivers body temperature measurements several times a day
After each transfer, we disinfect all surfaces, including the luggage compartment
We offer a money-back guarantee on Covid-19 related cancellations
And a fantastic buy now, pay later deal
A private ski transfer is the safest way to get to your ski resort. Travel safe with Alps2Alps.
Book Your Cheap Family Ski Holiday with Alps2Alps
Family holidays are the perfect excuse to relax and unwind with your loved ones. Make your next family ski holiday a stress-free experience by booking a ski transfer with Alps2Alps.
From five-star ratings to knowledgeable drivers, a transfer with Alps2Alps is all about quality journeys at bargain prices. Download the app for the latest offers or head to the Alps2Alps booking page for a speedy quote!