The 4 Must-Visit Popular Swiss Ski Resorts in 2016/2017
The 4 Must-Visit Popular Swiss Ski Resorts in 2016/2017
Switzerland never ceases to surprise and excite travellers with its breathtaking, picturesque landscapes, impeccable service and top-quality in literally every single thing. While not being among the biggest countries in Europe, it definitely is one of the most beautiful ones and can be proud of dozens of highest peaks in Europe, some of the best ski resorts in the world and thousands of unforgettable, mindblowing landscapes all over the country.
If you are planning to enjoy ski season in Switzerland, here is some useful information about some of the most popular ski resorts in Switzerland! Ski season in Switzerland is around the corner – start preparing already now!
Samnaun/Ischgl – famous with modern ski area and challenging slopes
Samnaun/ Ischgl ski resort – two countries, one ski resort. This ski resort is famous and proud of its modern and stylish ski area, as well as fast and ultra-comfortable ski lifts. No wonder it was recognized to be the best ski resort in the Alps 2015/2016 according to snowplaza.de! All the adrenaline junkies and oh-so-in-love-with-snow skiers will really appreciate the option to get back on slopes as soon as possible!
Samnaun is usually the choice for advanced skiers who already know their ways around the slopes and love to challenge themselves for something better and spicier. Nonetheless, Samnaun has some good slopes for beginners and intermediates, as well as plenty of great instructors available, so everyone is more than welcome to enjoy the perfect ski holidays in Switzerland in 2016.
Activities besides of skiing:
Concerts – Samnaun can be proud of their pretty impressive line-up! Even such stars ar Robbie Williams, Pink, Sunrise Avenue and others have visited this place;

The Alpenquell Adventure swimming pool and sauna – the best relaxation after skiing;

Various SPA treatment options;

Ski-shows;

Night tobogganing;

Snow-shoe hiking and other activities are offered weekly.
Ski lift opening and closing dates: lifts are usually open by the end of November and close around the beginning of May, opening and closing dates may vary due to weather conditions.
Champery – where good old ski traditions meet modernity
Champery is one of the oldest ski and also one of the most popular holiday resorts in Switzerland. It has managed to preserve its uniqueness and traditions over the years; nevertheless, there is always a constant development and new updates introduces every season.
In Champery ski resort no soul if left behind – this authentic Alpine resort offers plenty of activities for each and everyone. Enjoying ski season in Switzerland not always means intensive all-day-long breezing down the slopes – vacationers love taking a break between the intensive skiing sessions and enjoy their free time in many other ways than one.
Here are some non-skiing activities in Champery ski resort:
Ropes-course in the treetops;

Natural thermal baths, massages, physiotherapy, beauty treatments;

Culinary adventures and festive evenings in local restaurants;

Concerts organized in the sports centre or right on the pistes;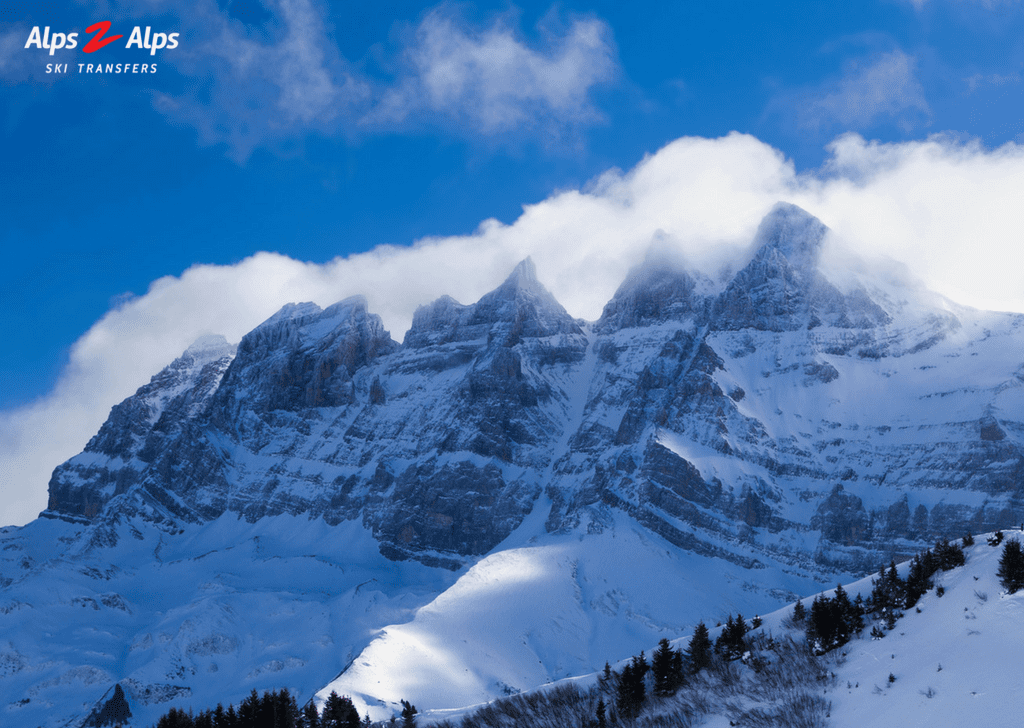 Ski lift opening and closing dates: ski lifts are open in December and close two weeks after Easter. Opening and closing dates depend on snow and weather conditions.
Be clever and catch the best offers for the winter season and discounts on lift-tickets, which usually are sold in September!
Book your transfer to Champery!
Zermatt – ski resort closer to the sky
Zermatt is the highest ski resort in Europe. The perfect blend of Swiss and Italian ski customs and traditions.. Zermatt is definitely one of the safest choices for ski holidays in Switzerland in 2016 – is it always snow proof and is open literally all year long. Pistes adjusted for all skill levels, so everyone can find their place.
Zermatt ski resort is a car-free area, Tasch is the last place you can approach by your own vehicle, further traveling up to the mountains is done by either train, either to special car transfers. Zermatt ski area is famous with its stunning snow quality, high altitudes and great quality slopes. There is never a shortage of breath-taking views and romantic spots – the iconic Matterhorn fits perfectly in picture from every single angle.
Ski lift opening times can be checked in Zermatt ski resort's website. 
In Saas-fee mountain village traditions come together with exceptionally challenging ski slopes
Saas-fee is also one of the ski resorts that has banned car traffic – this creates a special atmosphere and extra safety on the roads. Saas-fee is one of the most popular ski resorts in Switzerland for both – its atmosphere and pistes. It reminds of some beautiful, a little mysterious Christmas village – tiny, narrow streets, little wooden chalets and lovely little streetlights. Imagine all that covered in snow – the true winter wonderland.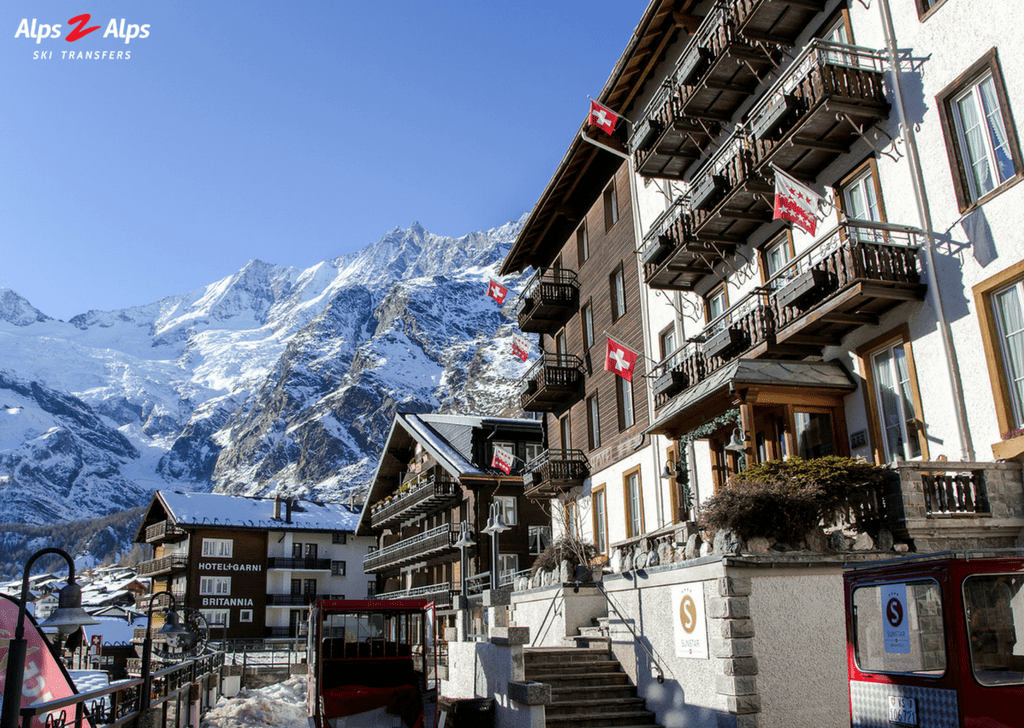 Aside of its cozy, charming wooden village's image there is also some staggering pistes for skiers that love extreme feelings. The resort sort of reminds of Zermatt, but just like a tinier and less crowded version of it.
Goodies:
High altitude runs;

Lots of pistes for early intermediates;

Snow-sure pistes;

Family-friendly;

Great options for Après-ski.
Ski lift opening times can be checked in Saas-fee ski resort's website.
The sooner you will start planning and booking your holidays, the better deals you will get! Alps2Alps warmly welcomes you and your family to enjoy ski holidays in Switzerland in 2016! To also make your experience that much better we found some cool free and great priced apps to prepare you for the season!