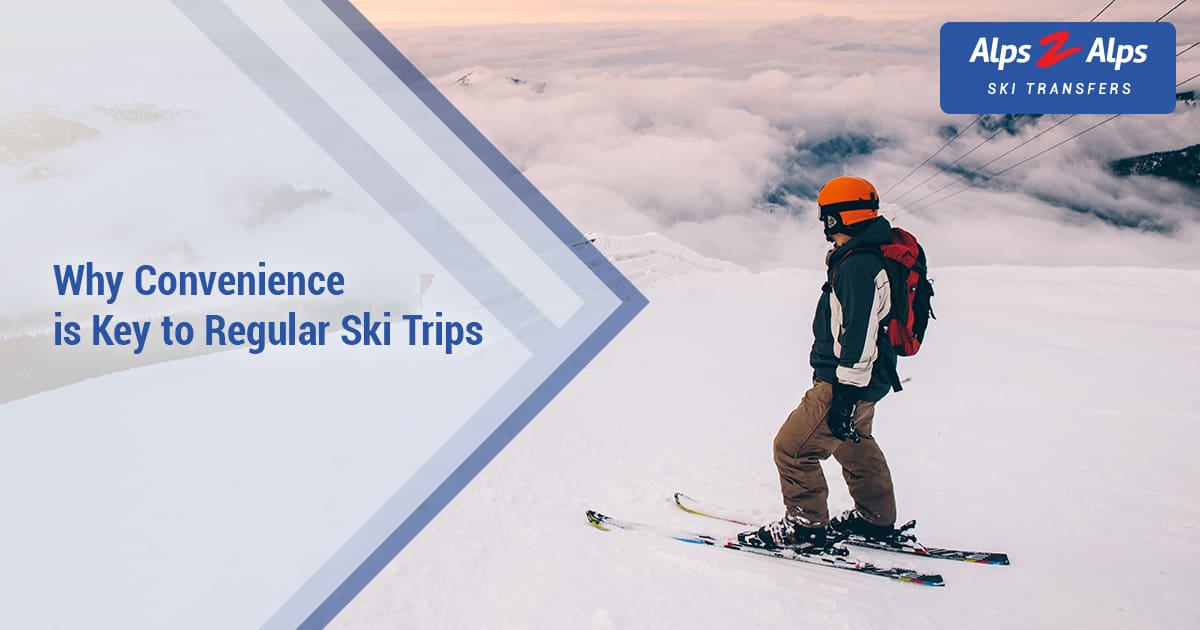 Why Convenience is Key to Regular Ski Trips
Why Convenience is Key to Regular Ski Trips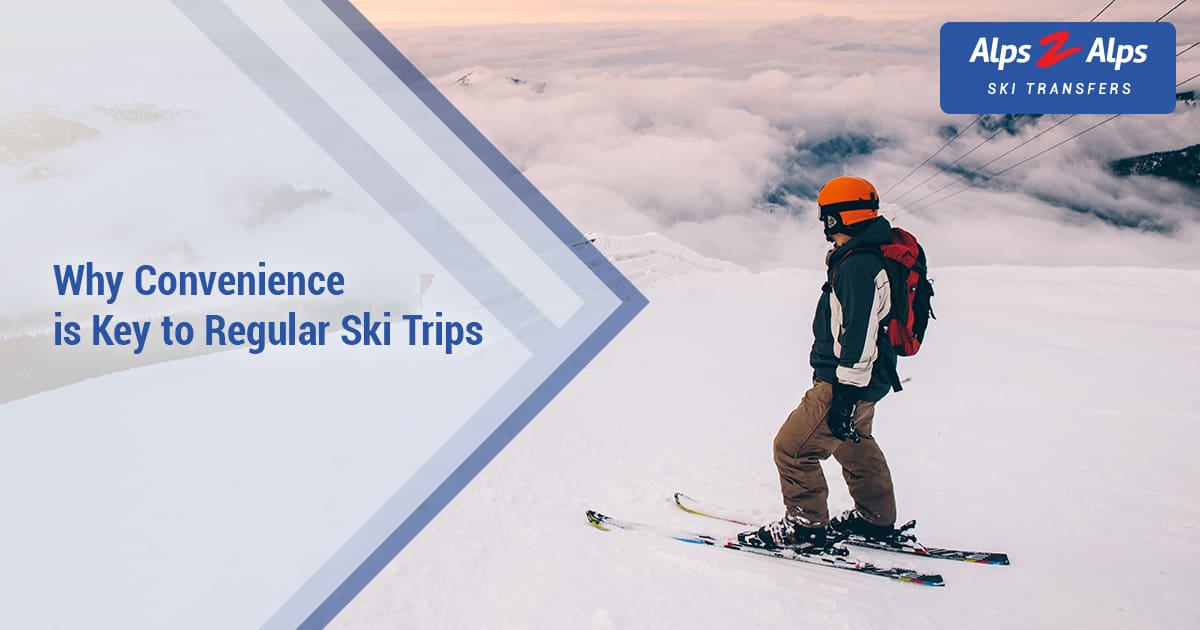 Once you've experienced that first buzz of hurtling down a mountain on a pair of skis, most people are hooked for life. Gazing wistfully out of the plane window as you leave the slopes behind, you vow to yourself to be back next season, and every one after that to get your fix.
However, life tends to have a habit of getting in the way of our grand plans. Work and family commitments often outweigh your chances of getting back out there as often as you'd like.
So, how can you find a way of taking more regular ski trips? For us, convenience is key.
We've pulled together some useful tips and tricks on how to spend more time on the slopes.
Pick the Most Convenient Ski Resort
Luckily for ski addicts around Europe, the Alps are home to some world-renowned ski resorts which are easily accessible from many major airports.
For example, the International Geneva airport is under an hour and a half from incredible skiing destinations such as Chamonix, Morzine, La Clusaz, Megeve and Le Grand-Bornand in France.
While the International Innsbruck airport is under 90 minutes driving from Alpbach, Mayrhofen and Soll in Austria.
Finding a ski resort with a short transfer time from the airport is key when it comes to taking regular skiing breaks that can fit into your busy schedule.
Maximise the Weekend
If, like most of us, you're a slave to the typical 9-5 job, weekends mean play time. To get the most out of your weekend and cram in as much time on the slopes as possible, here are a few tricks;
Leave on Friday night, or (if you can wrangle a day off work) set off Thursday night so you can hit the slopes first thing
Make sure all your 'life chores' are completed before the end of the week, so you don't have any pesky tasks playing on your mind for when you return
Pick a bank holiday weekend for a few days of skiing so you don't have to lose too many precious holiday days
Or Ski Midweek to Bypass the Queues
Another option is to travel midweek instead.
The two biggest barriers preventing most of us from skiing as much as we'd like are lack of time and money. Travelling midweek is usually cheaper and the lack of people means you don't waste time getting to the resort.
Travelling midweek means you are less likely to come into contact with queues en-route to the resort or have to wait for ski lifts when you get there.
Another benefit to heading off midweek is that it can result in some impressive savings. Ski transfers to your resort can be around 50% cheaper midweek!
Cheaper, faster ski trips mean you can fit more of them into the year!
Choose Clever Flight Times
There's no point buying a flight that gets in mid-morning and then having to make your way to the resort before strapping on your skis. By the time you get to the mountain, the snow will be far past its best and you'll be running out of daylight hours.
Instead, pick a flight that arrives in the evening so you're ready to hit the slopes at the crack of dawn the next day!
By fitting in shorter trips throughout the year, you can squeeze in more regular skiing.
Rent Your Ski Equipment
Don't waste time waiting for your ski equipment at the baggage carousel! To really get this ski holiday business down to a fine art, renting is the way to go.
If you rent your skis with Alps2Alps, we'll take you to one of our convenient rental shops on the way to your resort to get fitted by expert ski technicians. This not only saves you time at the airport, but also usually works out cheaper than flying with skis.
A ski rental service that does the hard work for you is the ultimate in skiing convenience.
Choose Accommodation with Easy Access to the Slopes
Another trick to streamlining your ski holiday experience, is to find accommodation with fast access to the slopes. A ski in/ski out hotel is a great way to make the most of your time away as you can head straight out of bed and onto the mountain.
Ski accommodation with all the mod cons to hand saves you time as you won't have to go anywhere other than your apartment and the slopes!
Plan Your Downtime
If you're planning on spending as many days of the year as you can pounding the slopes, it's important to take care of yourself so you don't overdo it.
Opting for skiing accommodation with a home spa is a great way of rewinding and soothing tired muscles at the end of a long day on the mountain.
Ignore the Weather Forecast
This could be a controversial one. While we are in no way advocating heading out if the conditions are dangerous, if you want to up your time on the slopes, you can't wait for those bluebird ski days.
Skiing in slightly adverse conditions makes you stronger and is a badge of honour for seasoned skier.
Download A Handy App
To get to the slopes as quickly and as hassle-free as possible, an app could be the regular skier's new best friend.
The new Alps2Alps ski transfer app allows you to book cheap transfers, view upcoming bookings and track your driver in real time. You can even book your rental equipment straight from your phone!
Ski holidays have just got a whole lot more convenient.
Decide on Your Priorities
Sometimes, when it comes down to it, what really gets in the way of going on more ski trips is your priorities.
While there are certain work and family commitments that are unavoidable, do you really have to attend that work dinner or your old school pal's house warming?
If skiing is in your blood, you'll do whatever you can to get your fix. We're not suggesting you skip your daughter's 1st birthday party for a day on the slopes, but changing your priorities to reflect what you love would do everyone some good.
Make an Occasion of It
If there's a social event you really can't get out of, like your best mate's birthday for example, why not treat them to a birthday on the slopes?
To get out on the snow as often as you can, find any excuse to celebrate on the mountain. Your partners got a promotion? Grab your passport! Your uncle's getting married? Time to go skiing! Finding inventive ways to combine socialising with ski is the trick to regular skiing.
Book a Transfer with Alps2Alps
One of the easiest ways to streamline your ski holiday and make the most out of regular trips is to book fast, fuss-free travel.
Alps2Alps provide a professional ski transfer service that operates across all the major ski resorts in the Alps. Get transported straight to your ski destination from the airport by our knowledgeable drivers and make great savings in the process!
To see how we could help you spend more time on the slopes, head to the Alps2Alps booking page today.