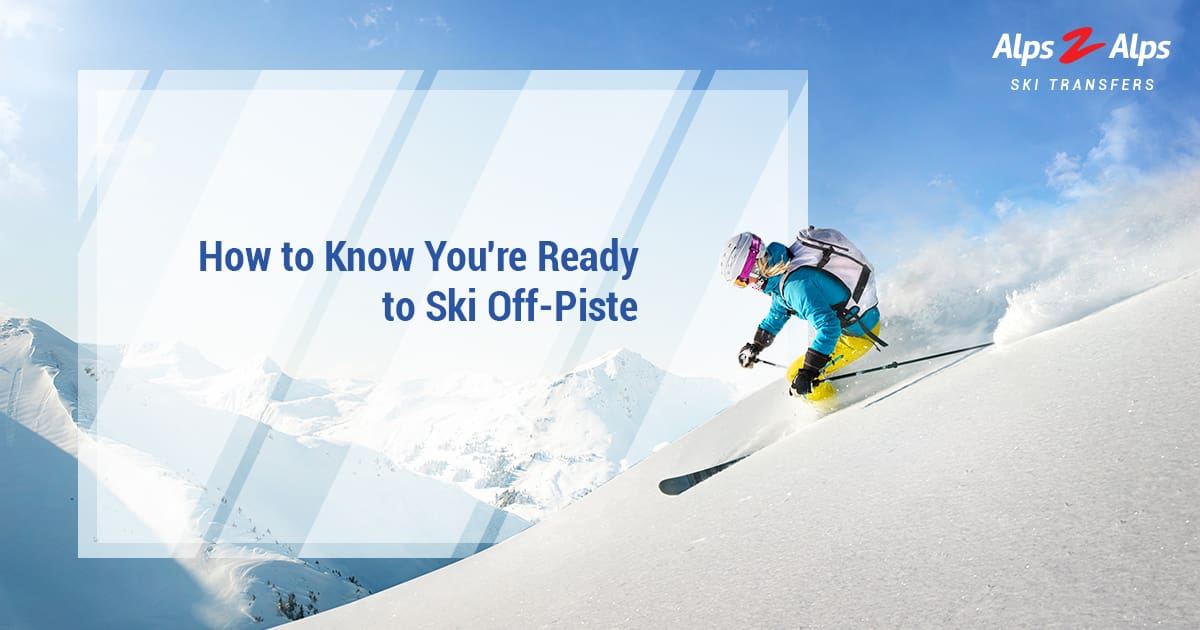 Off-Piste Skiing: How to Know You're Ready
Off-Piste Skiing: How to Know You're Ready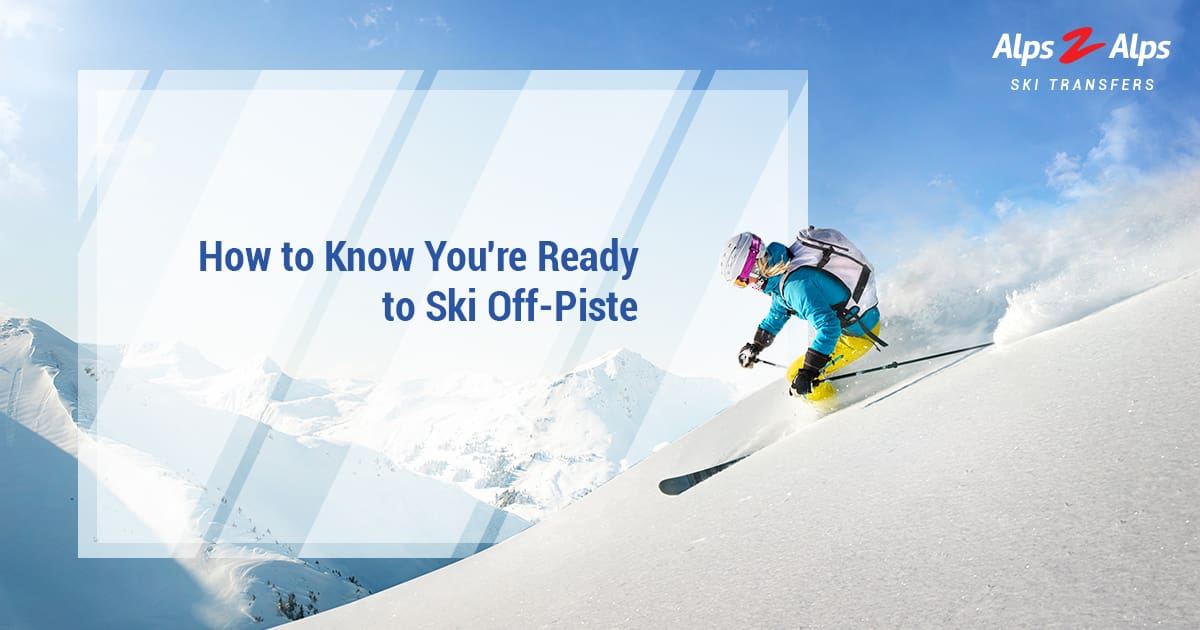 So, you've been on your fair share of ski trips and you're feeling pretty confident out on the groomed slopes. But how do you know if you're ready to go off-piste?
Veteran off piste skiers love this type of skiing for the sense of adventure it brings and the feeling of being immersed in unspoilt nature. However, off piste skiing is not without its risks. To ski off piste safely, you need to be certain you're ready.
For intermediate skiers, going off piste for the first time can be a daunting (and exciting) prospect. We've put together some of the questions to ask yourself before taking the plunge.
What Does Skiing Off Piste Mean?
First things first, what does off-piste skiing actually mean?
The French word 'piste' means groomed slope. So, going off-piste means abandoning the groomed runs for unmarked terrain or backcountry trails.
Off-piste, backcountry skiing or fresh powder skiing- whatever you want to call it- it's all about getting back to nature on ungroomed trails.
While a groomed slope is cleared of potential hazards such as rocks and ice, an ungroomed off-piste slope is free from intervention, including signs telling you where to go. The thrill of going it on your own is what draws skiers to off piste terrain. However, off-piste brings extra risks that you need to be aware of before heading out.
Is Skiing off Piste Dangerous?
Due to the very nature of off-piste skiing, it is considered more dangerous than skiing in groomed ski areas.
However, with the right experience, knowledge and care, you can avoid hazards and make the most of the mountain.
One of the hazards involved in off-piste skiing is the risk of avalanche. Ensure you're familiar with the avalanche warning signs and go with a knowledgeable mountain guide to stay out of trouble. Plan carefully, research your route and don't go out in adverse weather conditions.
Other hazards include icy patches and rocks. This is where a good basic skiing technique comes in handy to make quick turns if needs be.
The Benefits of Off-Piste Skiing
Don't let us put you off by listing the dangers. Although it's important to be aware of what could go wrong when skiing, going off-piste can be an incredible experience.
Skiers and snowboarders alike love the freedom off piste skiing brings. The untouched snow and crowd-free slopes make for an exhilarating ride. Without other skiers getting in your way, you can really test your speed.
The scenery along off-piste trails are usually the best in the Alps as they remain unblemished, allowing you to experience the mountain in all its natural glory.
What Does an Intermediate Skier Look Like?
Off piste ski holidays should only be taken on by intermediate and expert skiers who have a little bit of experience behind them.
But how do you know if you're at intermediate level?
You're probably at intermediate level if;
You feel confident skiing on most groomed slopes in parallel
You will have ventured out on to a few more challenging, steeper slopes
You can make parallel turns
You feel confident skiing on red slopes
You enjoy going fast
You have a minimum of five weeks skiing experience
If you're still not sure, it might be worth taking a refresher lesson with a qualified ski instructor who will be able to tell you what your current level is.
Are You Fit Enough?
If you're an intermediate skier, it's likely you can run for the bus without too much difficulty. However, off-piste skiing is tiring business and requires a fairly high level of fitness.
Even on piste skiing requires a certain level of fitness. Off-piste skiing puts extra demands on the body, thanks to the harder terrain. For this reason, it's best to tackle off-piste skiing when you're in good shape.
Factor in some extra exercise before your ski holiday to hone those muscles. Cycling, swimming, running and squats are all great ways to improve fitness and skiing technique.
Think You're Ready? Here's Some Tips
If you think you're up for the challenge, here's some friendly advice to make sure your first time off piste goes smoothly;
Check the Snow Conditions
Going out in bad conditions is never a good idea, especially for first timers! Make sure you check snowfall levels and the avalanche risk level for the area you plan to ski in.
Take a Friend
Whatever you do, don't set off alone. Taking a friend is not only safer, but you'll also have someone to marvel at the view with. Tell someone back at the ski resort your plans too in case you get into trouble.
Go with a Guide
A mountain guide will have the expert knowledge and experience to show you the best skiing spots on the mountain. It will also prevent you from getting lost!
Map Out the Area
Research the ski area you plan to visit before you go. Printing out an off-piste ski map will help to avoid any unwanted surprises. Getting stuck on the mountain with dwindling supplies is no fun for anyone.
Carry the Correct Off Piste Skiing Equipment
To stay safe on the mountain, we recommend you take an avalanche transceiver which will mean you can be located in the unlikely event of an avalanche. It's also a good idea to take a shovel and a backpack with food, water, and warm clothing.
Wear the Right Ski Gear
To ski safe, make sure you get fitted by an expert technician to make sure your boots, skis or boards are right for you. Skiing off-piste requires a slightly wider ski to cope with deeper snow as the extra surface area helps to balance on powder.
The Alps2Alps ski rental service offers premium ski equipment at surprisingly affordable prices. Avoid the hassle of travelling with skis and pick them up on the way to your resort. Easy!
Practice Your Turning
On ungroomed snow, turning needs to be wider and longer. Having a practice before you head out is always a good idea.
Book a Ski Course
The best way to prepare yourself for an off-piste adventure is to get some expert training. Off-piste skiing or snowboarding courses can be found throughout the Alps and will give you the confidence boost you'll need to get out there into nature.
Get Holiday Insurance
Don't get caught out without insurance coverage. If something goes wrong and you're in need of medical attention, having adequate insurance can save you money in the long run. The peace of mind this brings is worth the investment.
Get Out There and Smash It!
The last tip we have for you is to just go for it! You'd be surprised how far a little bit of confidence can take you.
Once you've got that down you can enjoy whizzing down the mountain in your own little piece of the Alps!
Now all you need to know is how to get there. Here at Alps2Alps, we're experienced in providing professional ski transfers which don't break the budget.
Whether you're sticking to groomed pistes or getting ready for your first off piste adventure, Alps2Alps are here with reliable ski transfers to all the major ski resorts in the Alps. Book your ski transfer on the website or through our new handy app!