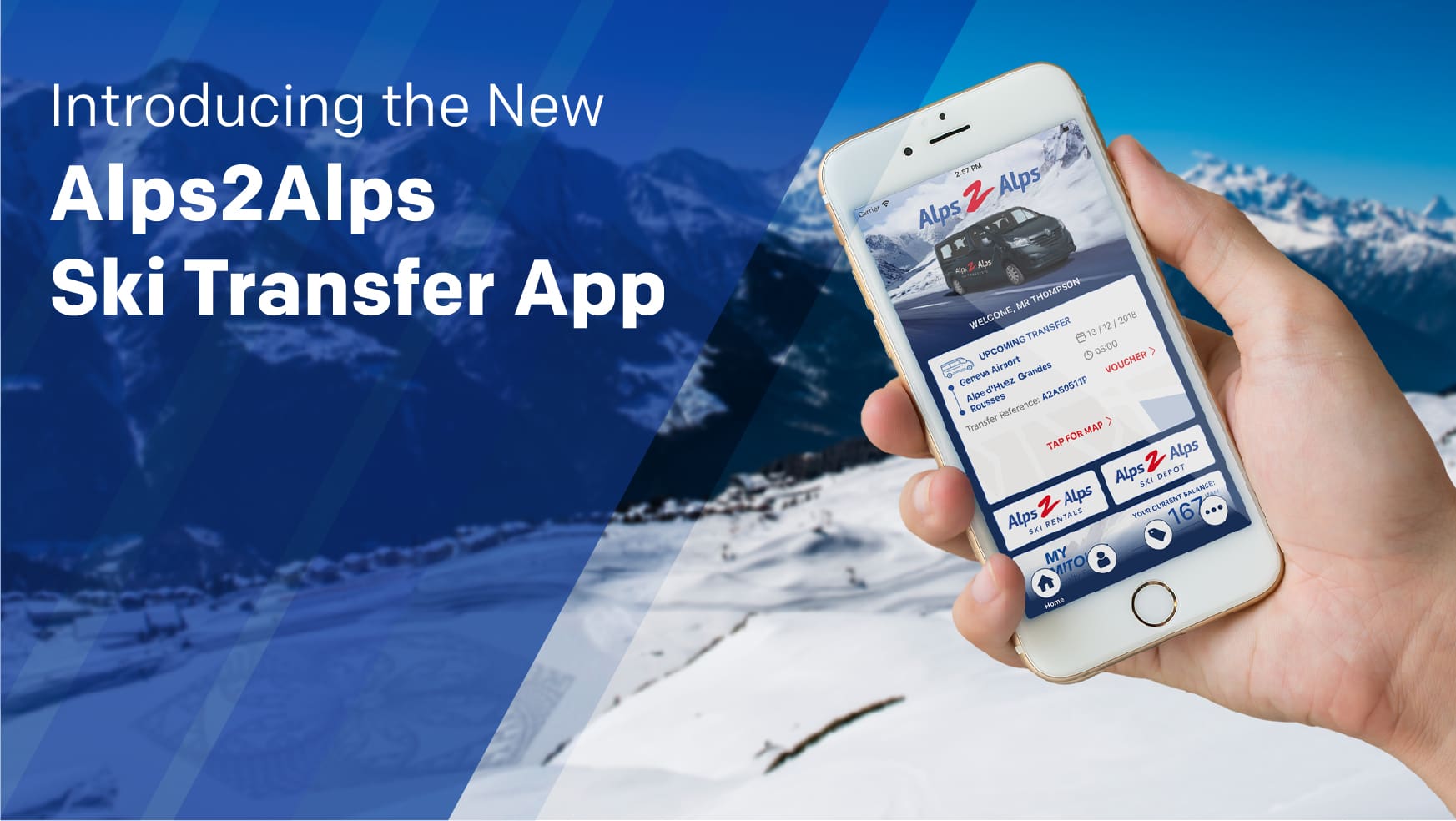 Introducing the New Alps2Alps Ski Transfer App
Introducing the New Alps2Alps Ski Transfer App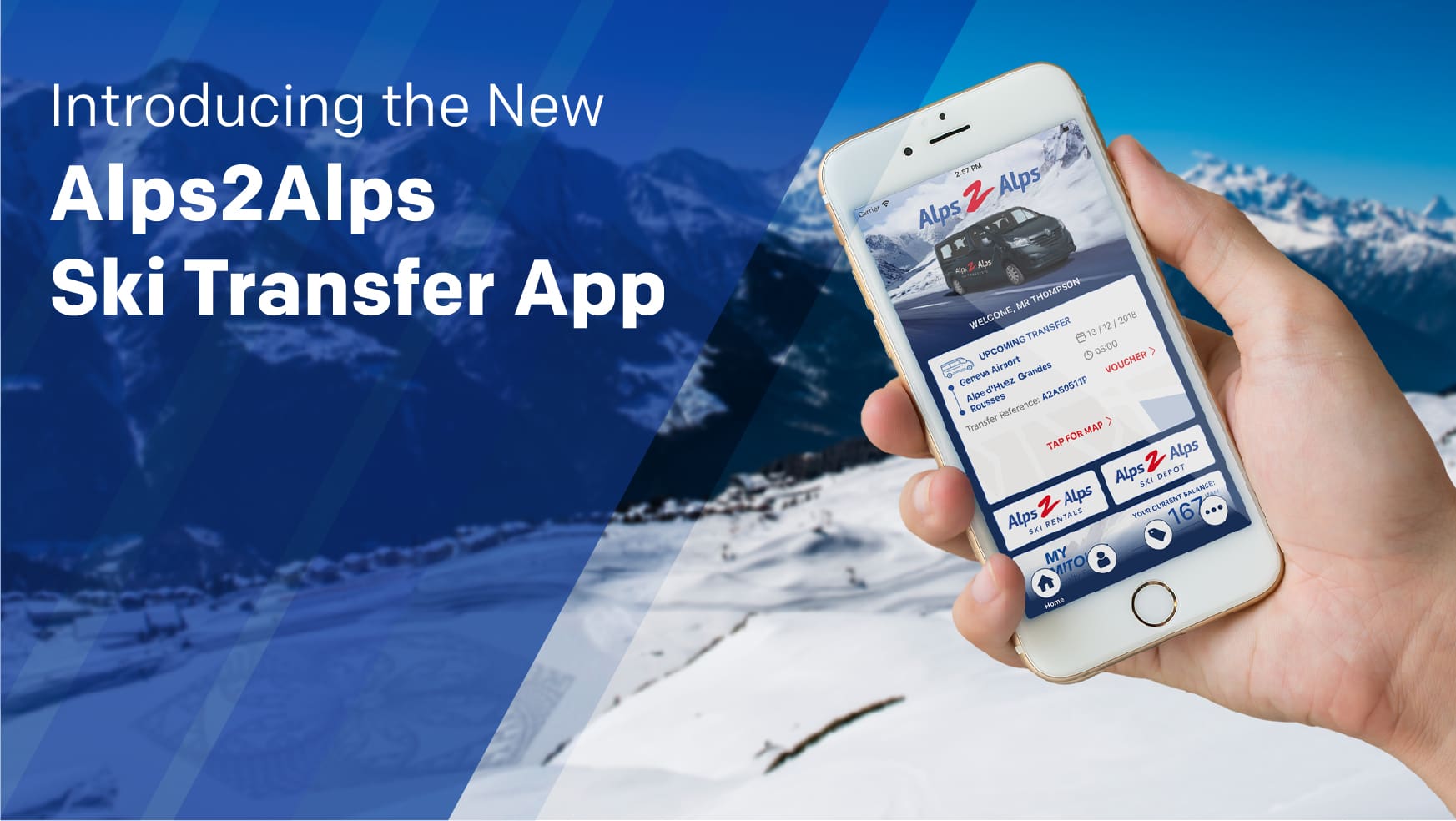 Booking your ski transfer has just got a whole lot easier! Here at Alps2Alps we've been working on a shiny new app to make your ski holiday as fuss-free as possible. We're very happy to announce that the new Alps2Alps ski transfer app is here!
Find out how downloading the app can save you time, money and a whole lot of effort.
What does it do?
The new app allows you to book cheap ski transfers, view upcoming bookings and access amazing deals all from your phone!
With the help of this handy app, your ski transfer will be more affordable and convenient than ever before.
What Features Does it Have?
Our new ski app has a wealth of functions to make your journey as easy as possible.
Here's what you can do at a glance:
Book a ski transfer from the airport or train station to your ski resort
Keep the date and time of your upcoming transfers easily accessible and all in one handy place
Track your driver's route in real time to see how many minutes remain of their journey to you
Receive a message when your driver is ready and waiting for your airport pick up
Get notified if your driver gets delayed
Contact your driver directly and check their details match for extra security
Book ski and snowboard rental equipment
Book long term ski storage (free for transfer customers!)
Access exclusive deals and special offers
View your awards with MyAmitours loyalty program
Stay in contact with our 24/7 customer service advisors
How does it work?
We've taken great care to design the app to be user friendly. (So simple even grandma can use it!)
Step 1: First, download the app from the AppStore or Google Play.
Step 2: Create an account. All you'll need is an email address and contact number. At this stage you can add any promotional codes you may have.
Step 3: Start booking! Enter in the details of your arrival airport, ski resort and dates and times to get a quote. The app will give you pointers on when's cheapest to book as well as directing you to amazing offers!
Access Fantastic Offers
We make it our mission at Alps2Alps to find you the cheapest possible transfer deals, without compromising on quality.
That's why our app is designed to point you in the direction of the best deals.
Here are some examples:
Get free kids ski equipment rental when you book a ski transfer with us
Free ski equipment rental for the first and last day of your holiday
Select the 'off peak' view to access the cheapest transfer times
The beauty of having this all at your fingertips, is you're able to access the hottest deals as soon as they become available!
The Reward Loyalty Program
Our Amitours loyalty program is a great way for seasoned skiers to save some money. Collect 10% of each transfer value in your virtual wallet to build up credit for your next trip.
This is all easily viewed on the app so you can watch your savings grow before your eyes!
Renting Ski Equipment
It's not just about transfers at Alps2Alps. We also provide a convenient and professional ski and snowboard hire service.
Book your ski equipment rental for the whole family straight from your phone!
Avoid the hassle of carrying bulky equipment through the airport and expensive baggage fees by renting instead. We have experts at hand at our conveniently located rental stores to help you find your perfect fit. By collecting your gear en-route to your resort, you'll save time to spend on the slopes!
The Alps2Alps Ski Storage Service
Another handy feature of the new app, is being able to book secure ski storage to keep your winter sports equipment safe between ski trips. Leave your skis with us and our expert technicians will keep them safe and well maintained, ready and waiting for your return.
When you arrive at the airport on your next trip to the Alps, your skis will be waiting for you. All that's left is a comfortable ride to your resort and you'll be ready for a day on the slopes!
Stay in Contact
We've all experienced the frustration of trying to get through to customer service operatives with limited opening times. With Alps2Alps this won't be a problem.
Contact us anytime by telephone or email and we'll do our very best to help you out. All our contact details are on the app.
Wherever you are; on the train, at work, or even in the bathroom, our new app gives you access to amazing transfer deals. Book the ski holiday of a lifetime without breaking the bank!
To find out more about Alps2Alps and our reliable, cost-effective airport transfer service, visit our website today.