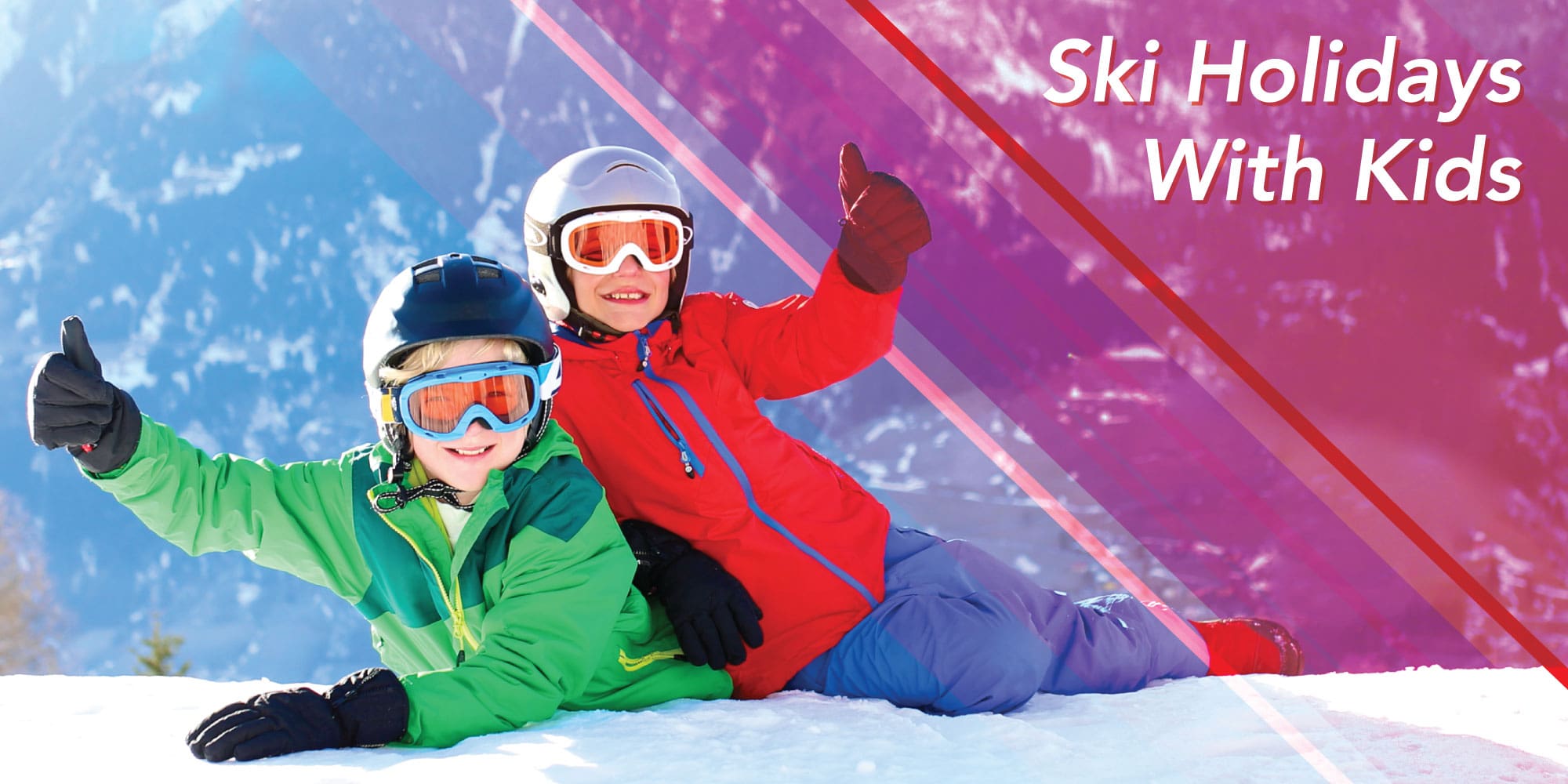 Why Ski Holidays With Kids Needn't Be Stressful
Why Ski Holidays With Kids Needn't Be Stressful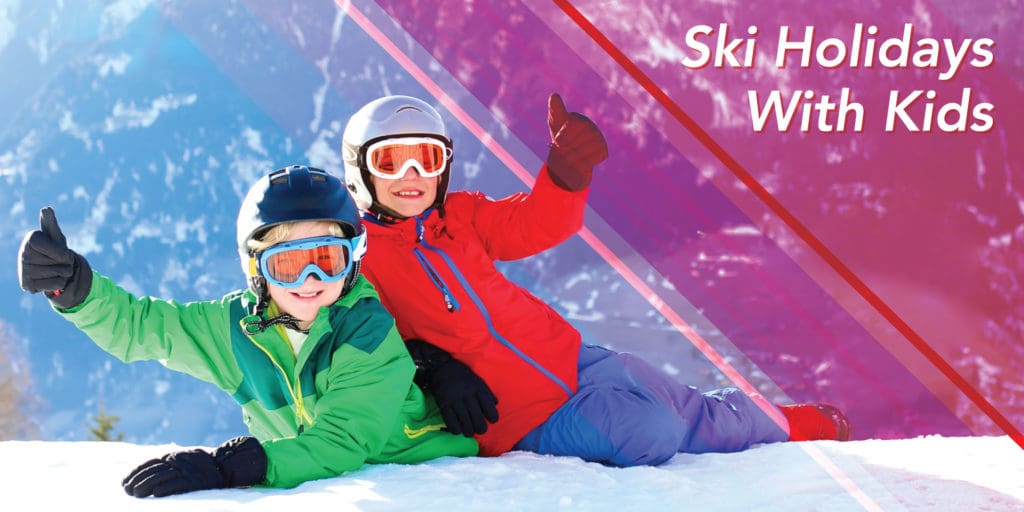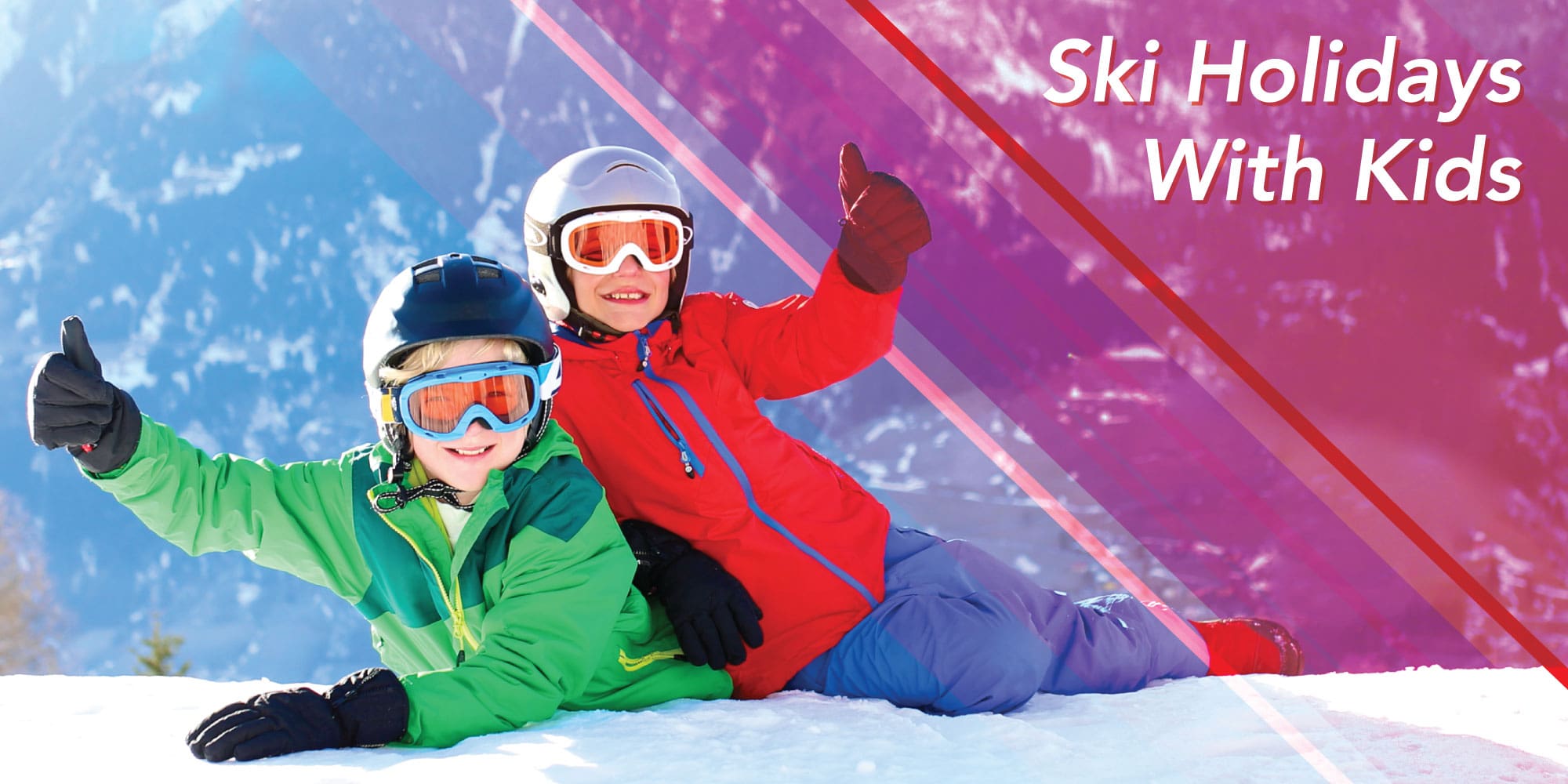 Don't panic! A ski holiday with kids doesn't have to be the nightmare you've heard about. If you prepare fully and understand the difficulties you may encounter, you can have a great time on the slopes with your children. Here's some essential advice for parents and families.
Get it Right When Booking
We've already offered some essential advice on booking a family ski holiday. This covers some considerations to make at the booking stage which will ease your family's trip further down the line. From finding family friendly resorts to childcare, it's important to make the right decisions when booking your family ski holiday.
Arrive Prepared!
Preparing for all eventualities is key to having a stress-free ski holiday with children. Here's a handy packing checklist to get you started:
Ski jackets/suits with lots of pockets
Padded trousers/ski trousers
Walking boots
Thermal tops/trousers
Hats – a thick one for walking around the resort and thin one for under helmets
Waterproof mittens/gloves – make sure the cuffs are long
Lots of warm socks – pack loads of spares for the whole family
A small rucksack – this will help to take a few essentials on the slopes
Lots of extra layers
Goggles
Off-slope clothes – wrap up warm when exploring the resort
Sunscreen
Lip balm
Hand warmers
Ibuprofen gel
First aid kits
Enough snacks to give everyone an energy boost
Kitchen essentials – tea, coffee, sugar, etc.
Lunch boxes
Bibs, baby food, dummies, etc.
Nappies, cream, wipes, bags, etc.
Toys and books
Casual clothes for warm après-ski spots
Trainers
Slippers
Extension cables & UK power adapters
Pair Up With Other Families
A great way to ease the pressure from your ski holiday with kids is by pairing up with other like-minded families. This means your kids can play together while the adults socialise and relax. If children are entertained, they're not being a nightmare for you.
Do you have friends with families? Why not arrange your ski holiday together? Sharing a chalet together will seriously cut the costs and help with the strain of childcare.
Practice Before You Go
It's not easy for a child to take to the slopes immediately. Doing some prior training at an indoor ski school will maximise your enjoyment while on holiday. Giving them the basics will be a great way to prepare for the holiday. This will dramatically reduce the risk of them getting nervous, scared and angry when on the slopes. No one wants their child to throw a tantrum halfway up a mountain.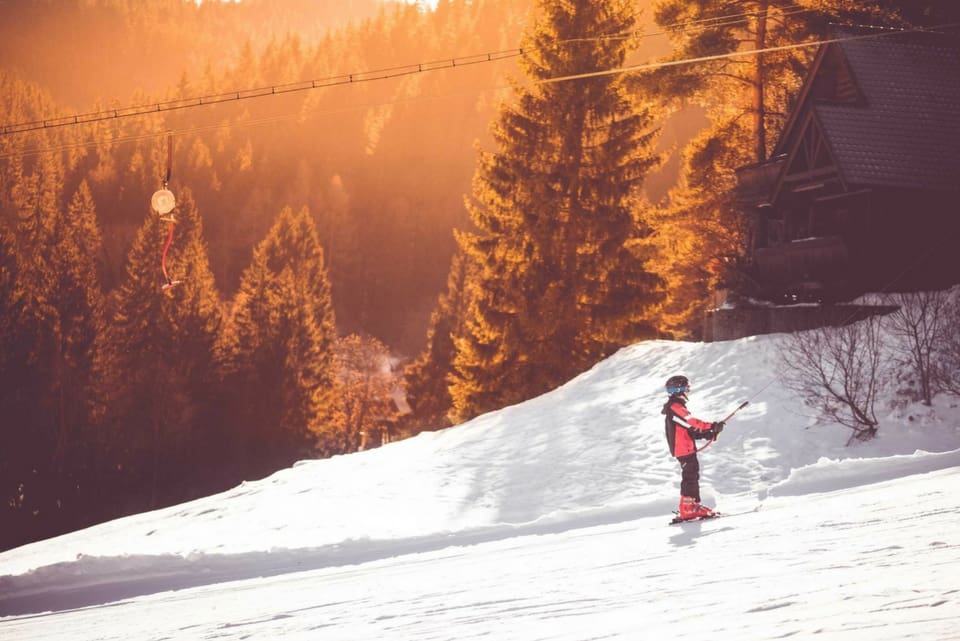 Have Some 'Adult Time'
It's lovely to see your children enjoying their ski holiday. Having said this, it's important to have some time away. Whether they're looked after by the resort childcare, learning at the ski school or simply old enough to enjoy the local attractions together – it's important to get some time to yourself. This will ease some of the in-built anxiety and tension from travelling with kids. It's important you enjoy your holiday too!
Mix Things Up
Spending hours cold and wet on the slopes while coming to grips with skiing for the first time is a bit much for anyone. Try mixing things up a bit. Most resorts will have a range of fun and exciting activities for kids. Give them a break from the slopes – keep them on their toes!
Prepare Them for Falls
They are going to fall over. Prepare them for this – tears and tantrums over bruised knees are not what you travelled to the Alps for. Talk to your kids and explain they'll probably take a tumble a few times. They're falling in snow – it's funny. If you can get them laughing when they hit the ground, half the battle is already won.
Go at Their Pace
Don't rush your children. If they're enjoying the slopes but making slow progress, it's important to let them take their time. Getting impatient will be detrimental to their progress.
Show Them They Don't Have to be Afraid
Standing at the top of a mountain about to head down for the first time can be a seriously nerve-wracking experience – even for adults! Lead by example and show your children they don't have to be afraid. Your confidence will be noticed.
If your kids say they're scared, don't tell them there's nothing to be afraid of. Ask them what's scaring them. Then help them overcome their fears. Proving there's nothing to be afraid of is far more effective than just saying the words.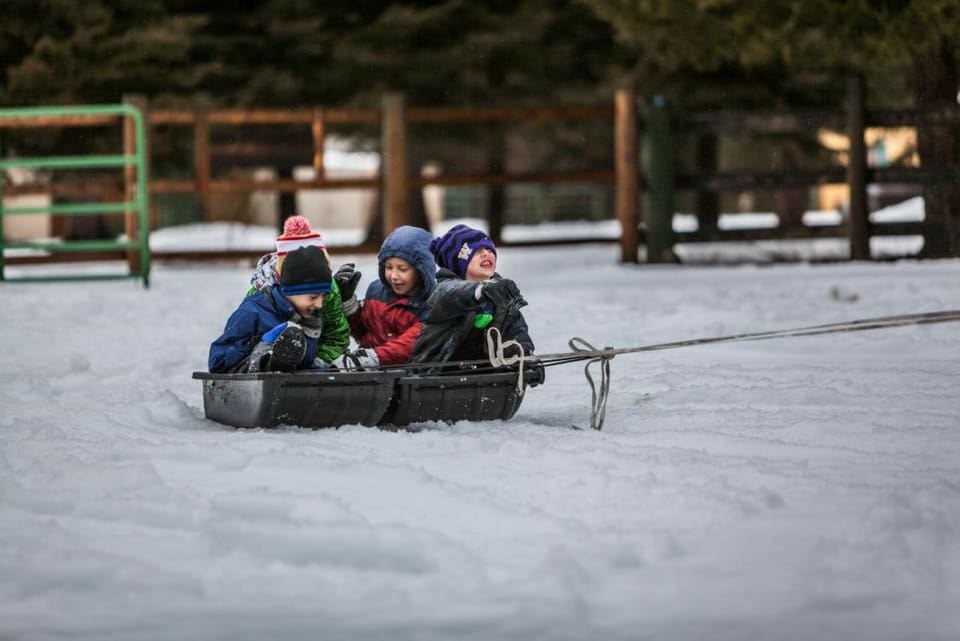 Don't Teach Them Yourself
It's like teaching someone to drive – it's always better to use a professional. They'll have the patience, authority and energy levels to get your child confident in their skis. It'll also give you some well-deserved rest time too!
Expect Added Expenses
Ski holidays can be really expensive. If you want the most stress-free time you possibly can, it's worth budgeting for extras like childcare and off-slope activities. Your trip doesn't have to cost the earth but it's worth having a little extra just in case. If you're looking to ski on a budget, some resorts are better than others.
Ditch the Buggy
It sounds simple but it has a huge impact. Your buggy is going to get caught in snow. Ditch it in favour of a baby carry pack. It'll save you a lot of hassle.
Pack a Bag for the Slopes
Don't go out on the slopes unprepared. Carry a small bag with everything from chocolates to plasters and even a first aid kit. This will save you from long detours away from the pistes.
Rent Skis Before You Arrive
Once you arrive at the resort after a long journey, the last thing you want is to wait around in queues at ski hire stores. These are often crowded and frustrating places to be. Booking skis in advance will save you a lot of time – and money too!
At Alps 2 Alps, if you book your transfer and ski hire with us (on transfers from Geneva airport), we'll take you on a short detour to our rental store before you get to the slopes. We'll fit your skis, offer some expert advice and get you on your way as swiftly as we can. After all, we know you want to be on the slopes as soon as you can!
We also offer free ski rental for kids with a full paying adult!

Get a Transfer You Can Trust
When booking a transfer, you need to be able to trust the service you're using. No one likes waiting around. Here at Alps 2 Alps, we have families ourselves and understand the pressures of travelling with children. We will do everything in our ability to ensure your transfer runs smoothly and comfortably for everyone.
Don't just take our word for it. We have a TripAdvisor Certificate of Excellence, a 5 star customer rating on Google and an abundance of positive reviews.
Find out more about our service and book your transfer!