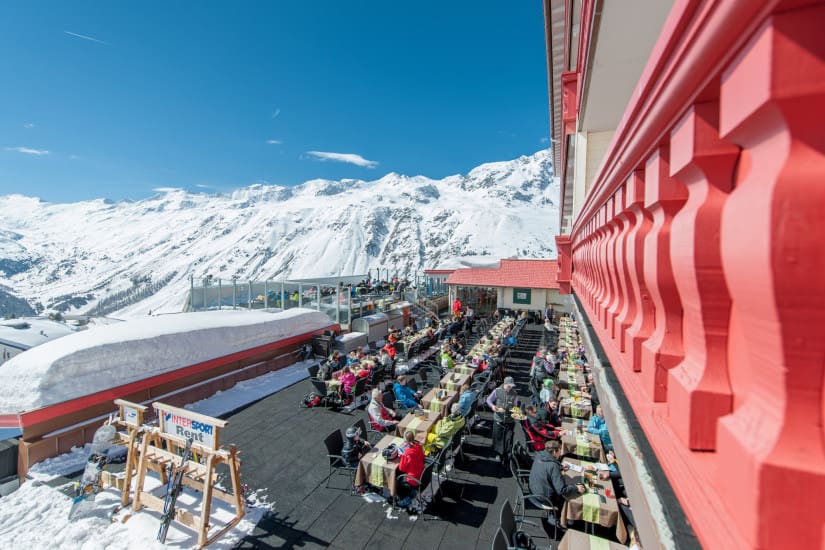 Terraces To Enjoy Sunbathing On The Slopes
Terraces To Enjoy Sunbathing On The Slopes
What can be more exciting and relaxing than lying on a lounge chair high in the mountains covered with a lambskin blanket admiring stunning Alpine peaks, sipping a hot drink and enjoying the sun? You can sit and take your time as long as you wish, but as soon as you are in the mood for skiing, you can just strap on your skis and here you are hitting the slopes! In this article, we have listed a number of ski accommodations with sun terraces, where you can chill and enjoy fascinating landscapes.
The Hotel Riml (Obergurgl ski resort, Austria)
The Hotel Riml's sun terrace is nestled at an altitude of 2200m in the middle of the Alps, surrounded by massive 3000m-tall mountains. There is nothing else to compare with gorgeous views on the snow-covered well-maintained marvelous slopes and pistes! Luckily for you, the Riml sun terrace is located directly in the Obergurgl ski resort. The well-groomed ski trails are just a few steps away from the sun terrace. So, whenever you want to take a break, get some glühwein served in a nice mug or food, just stop by the sun terrace and make yourself comfortable on one of lounge chairs, a truly perfect setting to toast a wonderful and sunny day!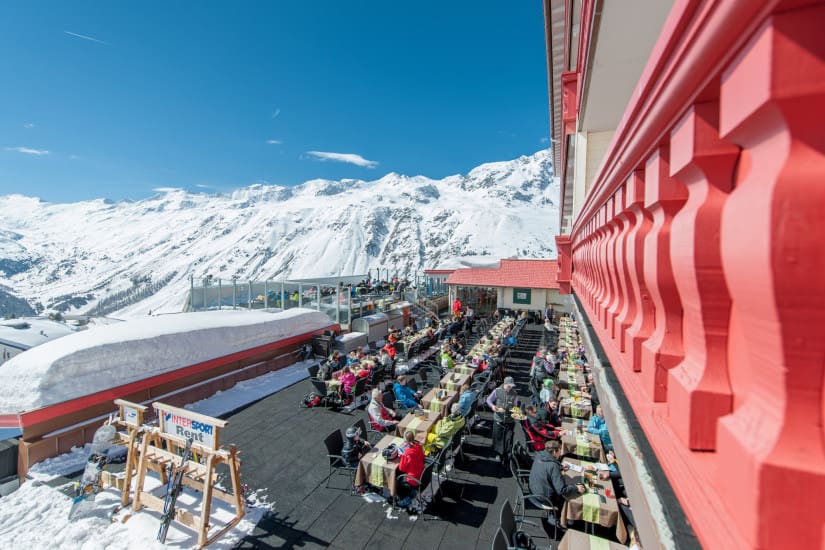 The Hotel Sonnenburg (Lech am Arlberg ski resort, Austria)
A truly fine place for those, who enjoys admiring the fabulous majesty of  the Alpine  mountains. The sun terrace in the Arlberg ski resort is the perfect place to enjoy lunch, an afternoon coffee with some deli dessert or a good book in the sunshine. Sitting in a cosy sun chair, you can observe the spectacular beauty of natural landscapes and breathe invigorating fresh alpine air. You can combine your relaxation with skiing – you can ski directly to the sun terrace and umbrella bar. Relaxing on the sun terrace you can watch the sunset in a relaxed atmosphere, have a conversation with your friends or other guests from all over the world or have a glass of champagne in the evening.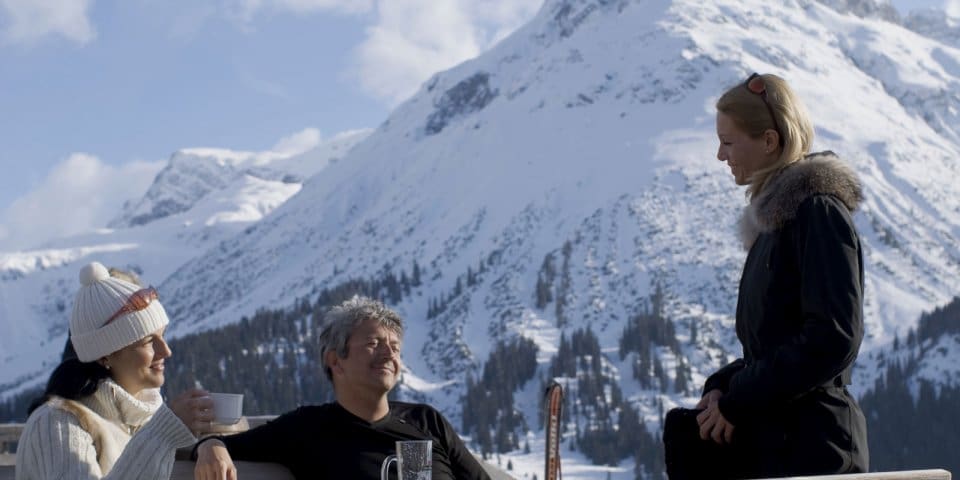 The Hotel Obermair (Kitzbuhel, Austria)
This hotel is situated directly next to a ski lift in the picturesque village of Fieberbrunn in the Kitzbühel Alps. This is a family-friendly ski hotel providing all modern facilities, spa area, as well indoor and outdoor activities, including a sun terrace offering stunning views of the surrounding mountains.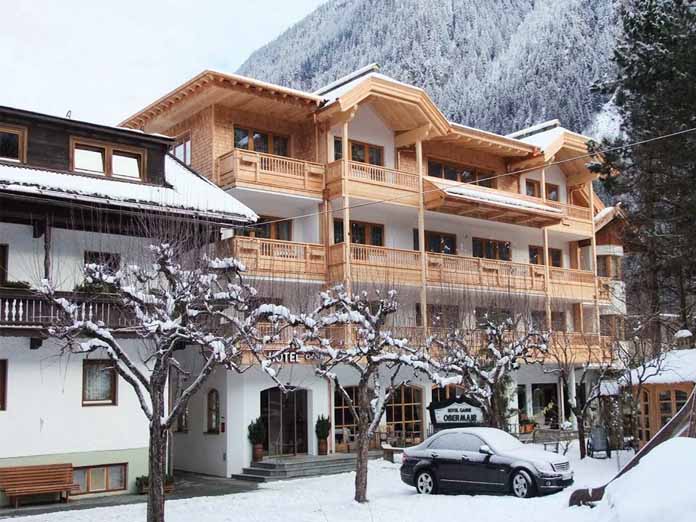 The Hotel Sonnhof (Obertauern, Austria)
The Sonnhof, a hotel in
Obertauern, is situated directly on the piste and provides its visitors with everything they may need on their ski holiday in the Alps. Thanks to its location on the sunny side of Obertauern, unique Alpine scenery and breathtaking landscapes can be observed from the sheltered sun terrace and several hotel's panoramic windows. Treat yourself to some perfect relaxation making yourself comfortable on one of the inviting lounge chairs, having a glass of wine, cup of tea or other refreshing drink. The fabulous Sonnhof hotel makes it easy to take breaks for refreshments during your day of skiing.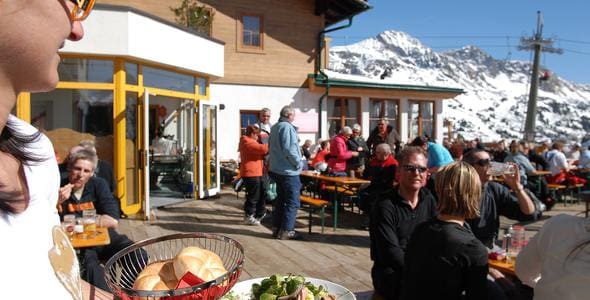 The Sonnblick Ski Hut (Soelden, Tyrol, Austria)
Located in the Oetztal Alps, the Sonnblick ski hut is a popular place for skiers and snowboarders who need to take a break while hitting the slopes in Soelden ski resort. Sitting on the large sun terrace, you can enjoy fresh Tyrolean traditional food and drinks. If you are skiing with your kids and stopped by to have a little rest and relaxation, be sure that your little ones will be well supervised and entertained at Sonnblick's secured play area and petting zoo, while you are taking your time at the sun terrace.