Les Arcs Resort & Transfer Guide
Les Arcs in France is a ski resort located in the Savoy region, in the Tarentaise Valley. This is a kind of "gateway" to the famous ski area «Paradiski». Les Arcs has trails for skiing for every taste and level of preparation. Modern architecture, well-equipped slopes, some of which are open at night, a lot of entertainment at relatively democratic prices make the resort popular place of all categories of tourists, including families with children and the youth.
Ski Resort Location
Les Arcs resort is located in the heart of the Tarentaise Valley, one of the parts of the French Alps. Along with La Plagne and Peisey-Vallandry, they are part of the Paradiski area (more than 400 kilometres of trails).
Les Arcs developed progressively and today consists of five skiing areas - Burg Saint Maurice, Arc 1600, Arc 1800, Arc 1950 and Arc 2000. The altitude ranges from 810 to 3225 meters, although the full ski area starts at an altitude of 1200m, and the main routes are situated above 2000m that guarantees good snow cover. Les Arcs is attractive not only for the variety of trails but also for the shortest distances from hotels to ski lifts.
Closest Airports to Les Arcs
Going to Les Arcs, you should arrive into one of the following airports:
Out of these, Geneva to Les Arcs is usually the most popular option, largely due to convenience.
Closest Train Stations to Les Arcs
There are no direct train connections to the resort itself. If you're travelling by train, this is the closest station to Les Arcs, from which transfers can be arranged:
Bourg St Maurice Train Station
Transfer Times
These transfer times are approximate only. Notice that unfavourable weather and traffic conditions can impact the time of your transfer:
Bourg St Maurice Train Station – 40 minutes
Chambery Airport (CMF) – 2 hours 15 minutes
Grenoble Airport (GNB) – 2 hours 50 minutes
Lyon St-Exupéry Airport (LYS) – 2 hours 55 minutes
Lyon Saint-Étienne–Bouthéon Airport (EBU) – 3 hours 50 minutes
How Much Will My Transfer Cost?
The price of your transfer will be based on several factors. Here at Alps2Alps, we do everything to keep our basic rate uniquely beneficial through the whole season. Even if you will be travelling at the height of the season, we still guarantee the lowest prices for ski transfers.
Notice, that these following factors can affect transfer prices:
The departure point (airport of your arrival)
Distance and trip time to ski resort
Time of year (season) and seasonal demand
The size of your group and the age of all the travellers
Discounts and deals that may be available at that time
All that will only result in our base-rate for ski transfers going down – Alps2Alps never make our prices growing. We always recommend our customers to book our services in advance, in order to get the best discounts. We usually offer significant shares for off-peak and midweek transfers to Les Arcs. (Monday to Friday prices up to 60% discount than at weekends).
The final cost of your transfer will also depend on vehicle availability, shuttle schedule, vehicle utilisation, road tolls and airport parking charges.
If you have any specific requests or planning to spend your holiday in a big company, please contact us so we can discuss the possibility of your transfer.
Resort Open & Closing Dates
Seasonal opening dates at Les Arcs are dependent on weather conditions, currently scheduled are:
Season opens – 14th December 2019
Season ends – 25th April 2020
Ski Resort Essentials
Going to Les Arcs, you, sure, have to discover all ski area «Paradiski», which is the second biggest linked ski area in the world. It's an ideal place both for the beginners and for profs: wide trails, natural ungroomed pistes, play areas, snowparks – real snow-riders paradise! Here for you:
70% of ski are above 2000m
452 km pistes in Paradiski
1600m - Resort Altitude (Les Arcs)
200 km pistes in Les Arcs
1% - Green
56% - Blue
33% - Red
18% - Black
77 ski lifts
Family Friendly/Kids
Les Arcs is a perfect place for ski travellers as well as the big companies of friends and family tourists. The resort provides a huge number of entertainments for every taste: cinemas, bars, restaurants, night discos, bowling (8 tracks), two open skating rinks (in Arc 1800 and Arc-2000). An indoor pool and sauna are located in Bourg St Maurice, a town at an altitude of 1000 m.
Les Arcs 1950, undoubtedly belongs to one of the best resorts for families with children, the station has a «Famille +» statute. For children, the "Cariboo's Club" mini club operates: there are groups for the youngest, from 9 months to 3 years old, and for those who only make their first steps on skis. It will not be boring for teenagers either: there are special programs for skiing and snowboarding schools in the region for those who like freestyle or want to improve their skills.
Weather/Snow Weekly Forecast

View detailed snow forecast for Les Arcs at:
snow-forecast.com
Maps of Les Arcs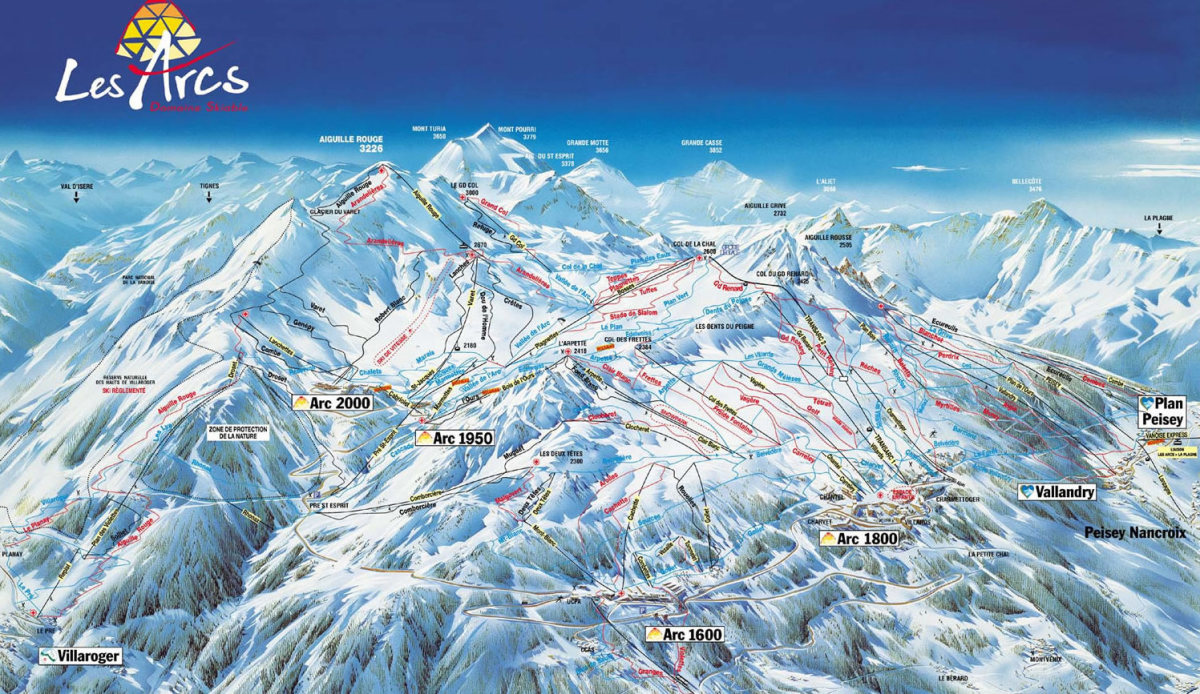 Live Webcam
Tourist Resources & Links
Some following links will be helpful for you to prepare for your alpine holidays in Les Arcs:
How to Choose Transfers to Les Arcs
Travel to the most popular alpine resorts with Alps2Alps transfer services. We do everything to offer best high-quality transfers for our clients in the atmosphere of comfort, hospitality and reliability and, besides, at very attractive prices. Choosing Alps2Alps as your transfer company, you can start enjoying your holiday with the first step on our board. We will guarantee you:
Flexibility and punctuality in all cases
The most beneficial transfer price
Family-friendly customer support service- 24/7 on hand
Good English speaking drivers
Discounts and special offers during all the season
Safe and clean vehicles
Book Your Ski Transfer to Les Arcs
As the ski season will be coming, the prices will be growing rapidly. Book your transfer right now to get access to the best prices.
If you want to ask some more questions or you can't find the information you need on our web page, don't doubt to call our customer service specialists and be sure, they will consult you: Alps2Alps customer service contacts.