Things To Do In The Alps In Summer
Things To Do In The Alps In Summer
The Alps are not only one of the popular winter holiday destinations for skiers, freestylers and winter sports lovers, but also provide a wide variety of summer outdoor activities for hikers and mountaineers. Coming to the Alps in summer you will make your holiday a unique experience and create wonderful memories that will last forever. The dramatic Alpine scenery and breathtaking landscapes, fresh air, crystal clear lakes and the bright-blue sky will help you get the most from your vacation. So, what is there to do?
Hiking
The most popular summer pursuit throughout the Alps is hiking, which can last from one to several days. With the growing number of health-conscious people, this type of outdoor activity has become very popular.  When hiking you can meet senior citizens and families with kids. There are plenty of footpaths, so everyone can find the one within his powers.
There are many things to see and many things to enjoy while hiking. Alpine scenery is endlessly gorgeous – greenwoods giving place to pinewoods, alpine blooming meadows and peaks with their never melting robes of snow. Visiting waterfalls in the Alps is another great experience. This is a planet's natural beauty, absolutely spectacular and sublime. Usually, a waterfall is a finishing point of hiking. So, don't miss your chance to see the stunning Alpine waters in all its glory. Among other interesting things that can be seen in the Alps are grazing cows and goats wearing special bells, so-called Alpine symbols that you can also bring home as a souvenir.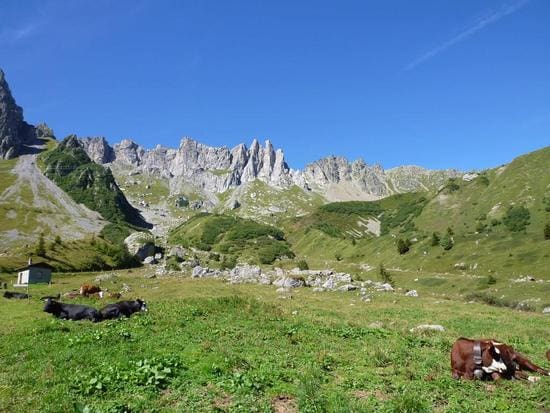 Mountain Biking
Another popular way of travelling in the Alps is mountain biking. There are a vast amount of trails to choose from. More experienced mountain bikers choose more complicated routes, but amateurs can practise less complicated itineraries. Biking is a great way to keep your family's health on track. Another option for biking is trotti biking. A trotti bike ride is the greatest of fun for the whole family.

Rafting
Rafting is one of the safest and popular water activities for the whole family. It doesn't require any special physical or technical training, so anyone can try it. You can also try paddle rafting, kayaking or be using float-boat to move across the water. If you like high adrenaline – canyoning is your unforgettable experience! While following the water trail you will be discovering the unspoilt nature, picturesque landscapes and unique hidden, unusual, breathtaking universe.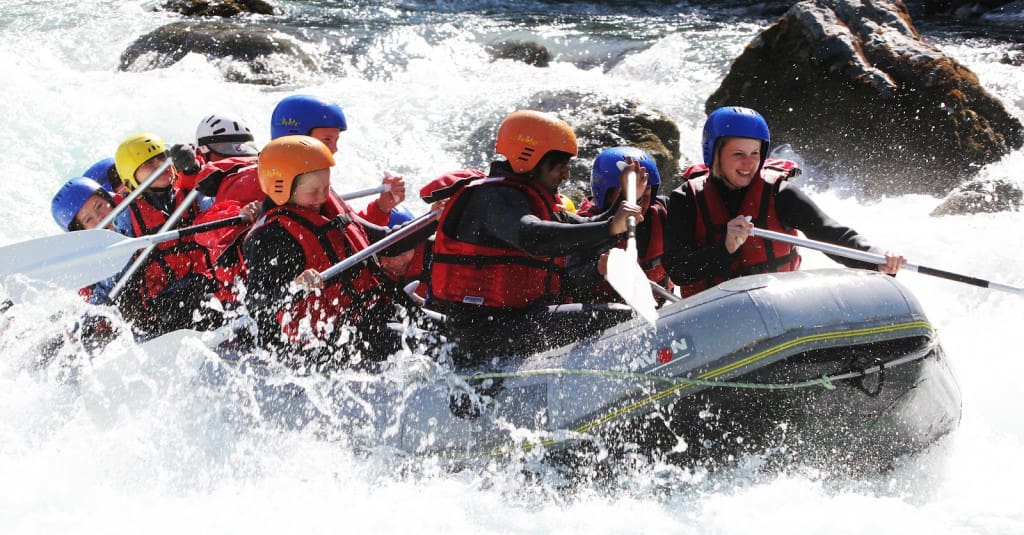 Paragliding, Hang Gliding, Bungee Jumping
Participating in extreme air sports, you will have a great opportunity to observe the Alpine mountains and valleys from a bird's eye view to get airborne in every sense of the world. Bungee jumping is a perfect activity for friends, suitable for lovers of extreme and high adrenaline.
These are the most common outdoor activities you can practise in the Alps, but if you're still looking forward to the winter, opening dates for the ski season are out!
Photo sources: tracks-and-trails.com – fiked.com