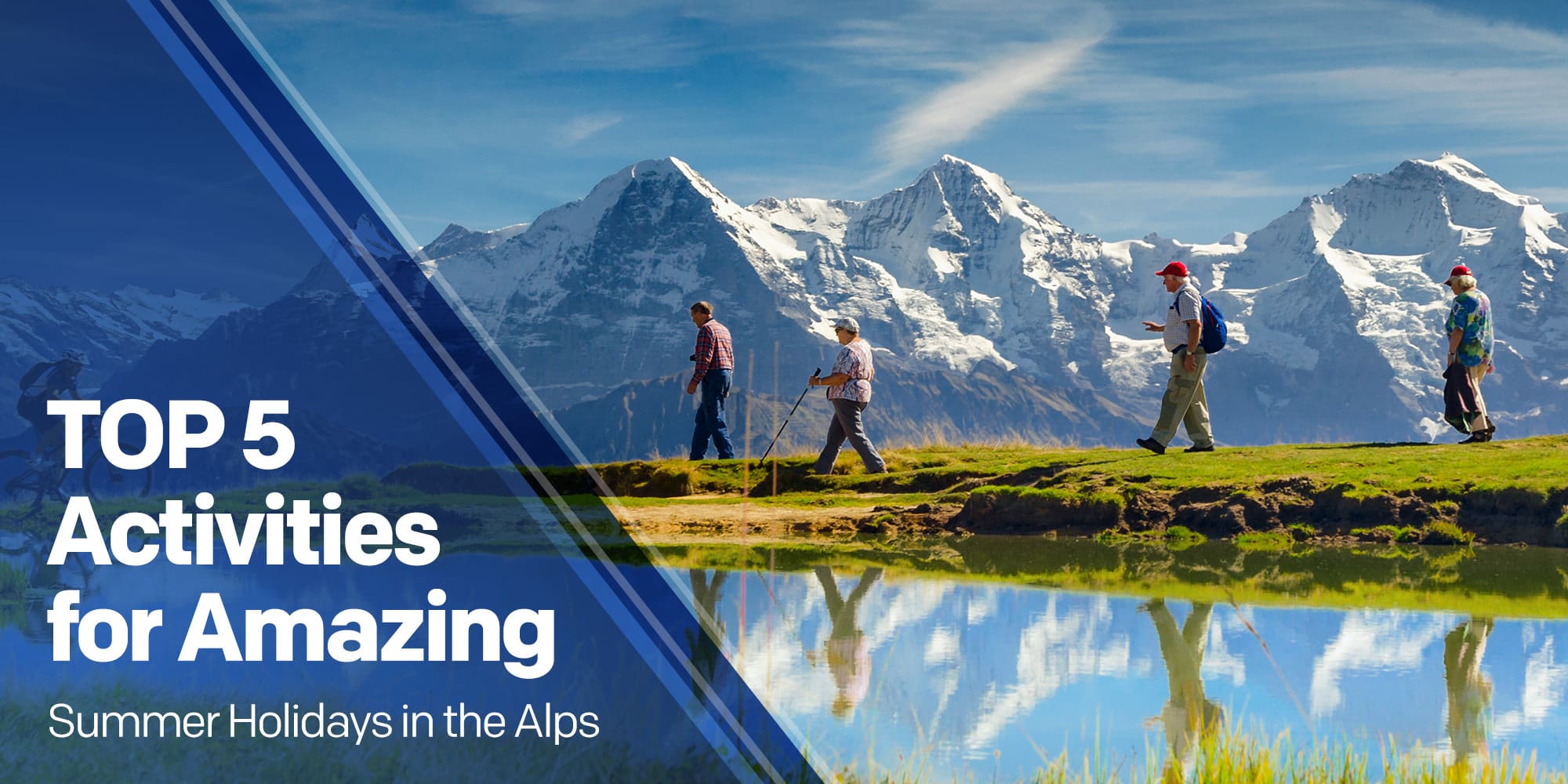 TOP 5 Activities for Amazing Summer Holidays in the Alps
TOP 5 Activities for Amazing Summer Holidays in the Alps
Summer holiday in the Alps? Yes, please! Although skiing and snowboarding are the first to pop in mind when you think about the mountains; however Alps holidays, summer edition, offer so much more than that. When the snow is gone, covering only the highest summits, and the summer weather kicks in, you can enjoy lots of fun activities – from scenic hiking to exciting via ferratas and even adrenaline-pumping ziplining!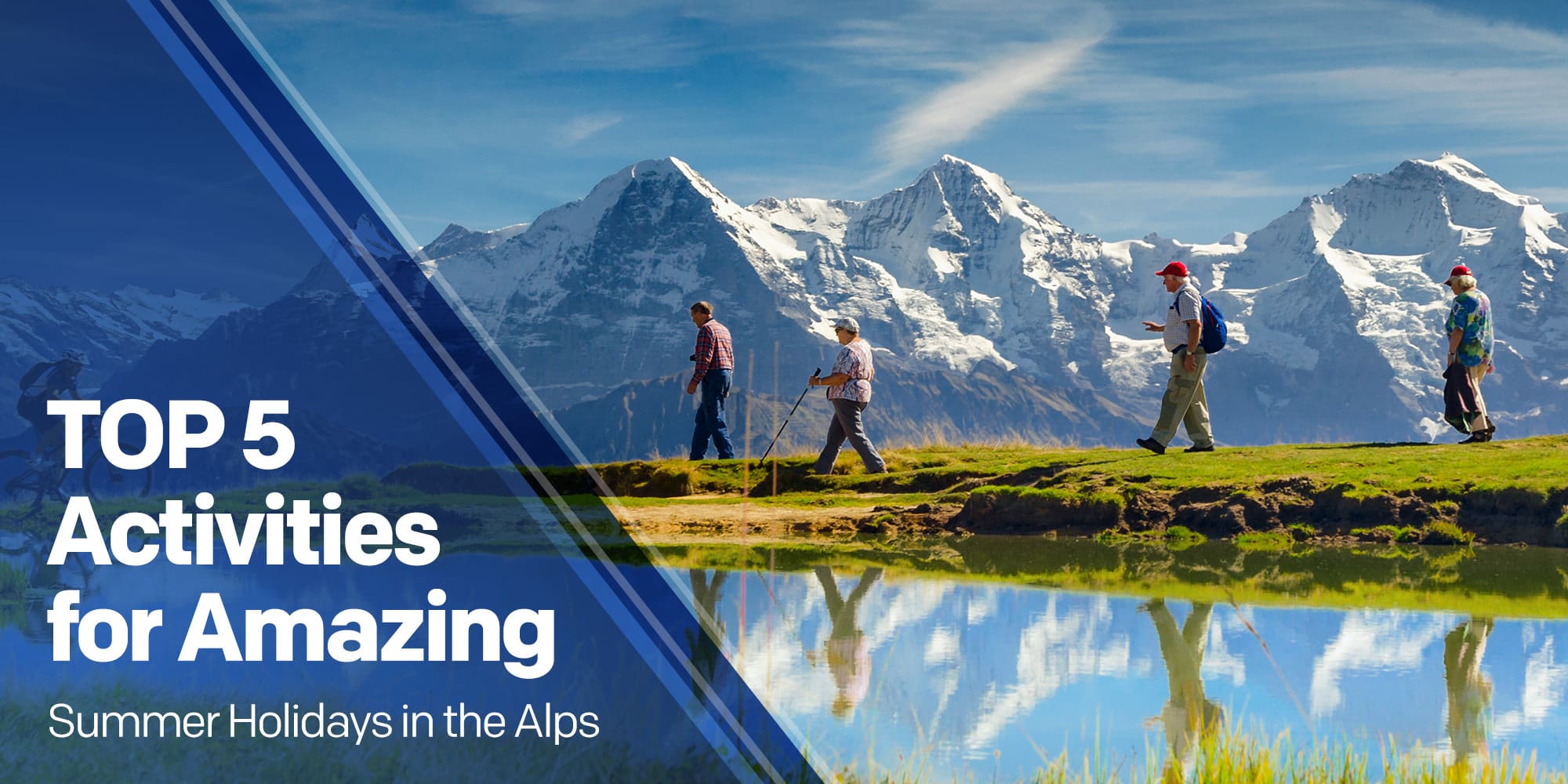 3 more reasons to choose Alps summer holidays
But the weather and lack of snow are not the only advantages you can benefit from! If you are planning family summer holidays in the Alps, you will also enjoy:
The off-season peace and quiet of resorts;
Amazing flight deals;
Less road traffic and therefore super quick airport transfers to the Alps.
Now, back to all the fun that Alps summer holidays offer! Here are our TOP 5 activities for excellent summer holidays in the Alps.
#1 Hiking and picturesque views to calm the mind and soul
When the snow melts, the mountains reveal a refined network of trails suited for all level hikers – from easy walk & picnic routes for your family summer holidays in the Alps to extreme snowy mountaineering for the more experienced. And of course, then there are the picturesque views that, together with the high-altitude air, might make your head dizzy!
Here are some of most favourite hiking routes that will perfectly fit your Alps summer holidays: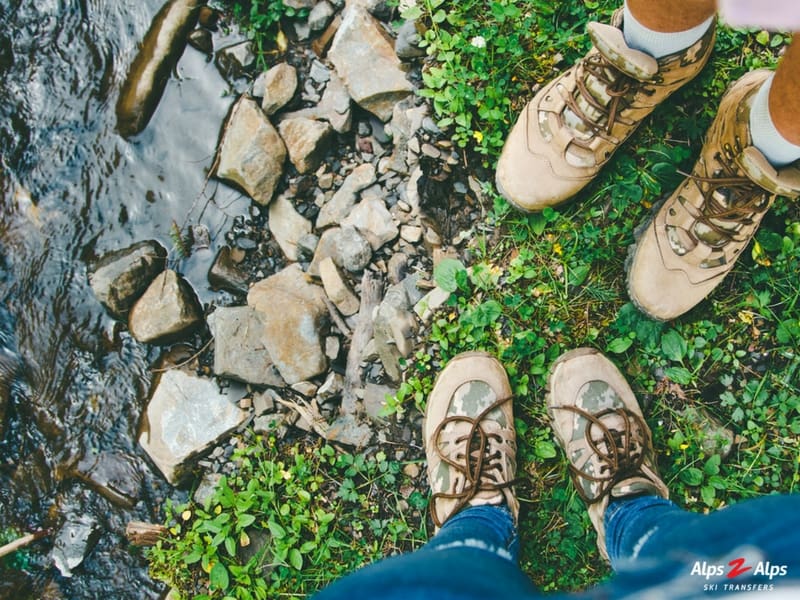 #2 Mountain Biking to discover more
Another excellent way to discover the snow-free Alpine paths is by a mountain bike. It lets you get around quicker and therefore see more, and you can add a pinch of adrenaline to your summer holidays in the Alps, too – bike up to high-altitude peaks and then go off-road all the way down. Most resorts are bike-friendly during the Alps summer holidays offering all-level biking routes and mountain bike rentals.
The variety of Alpine biking tracks is vast; we really loved these ones:
Alpe d'Huez, France. Home of the famous Megavalanche race offers something both for a family holiday and more extreme riders.
Verbier, Switzerland. Enjoy sunny rides and amazing scenery on one of the many Valais' singletracks.
Châtel, Portes du Soleil, France. Châtel Bike Park will provide some challenges and lots of fun!
#3 Via ferrata for the adventurous
For more adventurous souls – try an exciting via ferrata walk that will definitely make your Alps summer holidays more exciting and adventurous.
Via ferrata tours usually include:
Rock climbing;
Suspension bridges;
Sounds a bit dangerous, but don't worry – safety always first and everyone is provided with helmets, harnesses and fixed ropes.
You should definitely give these exciting via ferratas a go this summer:
#4 Ziplining for adrenaline-seekers
Imagine flying through the air at the speed of up to 65km per hour! Yes, that is the thrill of ziplining – one of the best ways to have the most exciting Alps summer holidays! Of course, no worries about safety with ziplining either – your mounts will be well fastened, so just take a leap and feel the speed! Are you ready?
Here's a list of ziplines we liked. And off you go!
#5 SPA and thermal bathing to clear your mind
Ah, but let's not forget about proper relaxation. Nothing says "relaxation" more than SPA summer holidays in the Alps, right? There is a SPA or wellness centre in almost any Alpine resort, so there's a wide variety to choose from. But why not combine your Alps summer holidays with healing thermal baths?
Here are some of the best thermal bath SPAs in the Alps:
It's really true what people say – the Alps are an amazing destination to unwind also during the summer. Take some time off, hop on a plane and have the best summer holidays in the Alps! Share this article and see if your friends would join you!