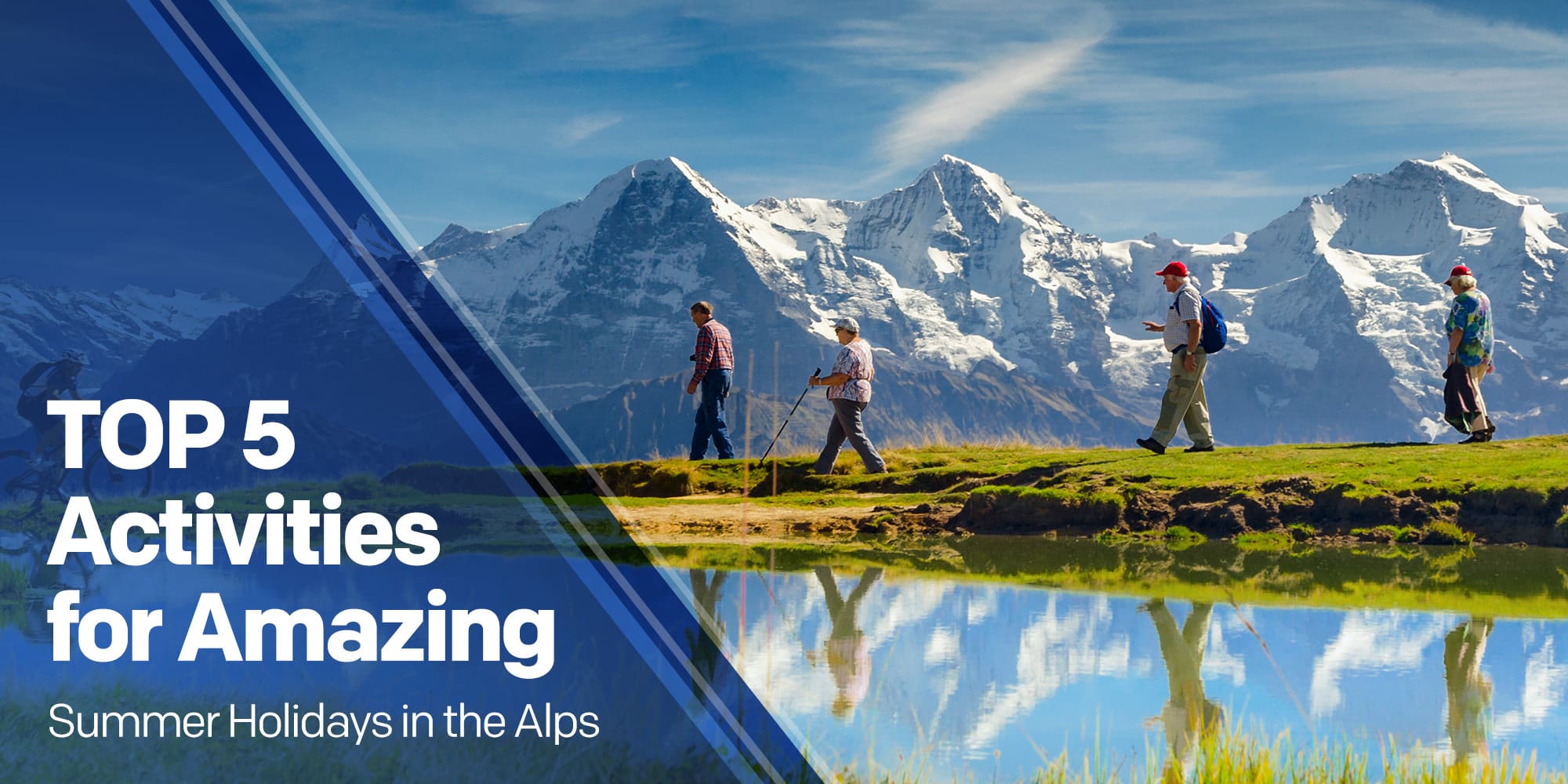 Summer Activities in the Alps: Things to do on holiday
Summer Activities in the Alps: Things to do on holiday
Summer holiday in the Alps? Yes, please! Although skiing and snowboarding are first to come to mind, with dramatic scenery, breathtaking landscapes, fresh air, crystal clear mountain lakes and bright-blue sky – summer in the Alps offers an unforgettable holiday experience.
When the snow covers only the highest summits, and the warm weather kicks in, you can enjoy lots of fun summer activities in the Alps – from scenic hiking to adrenaline-pumping adventure parks!
So, what is there to do?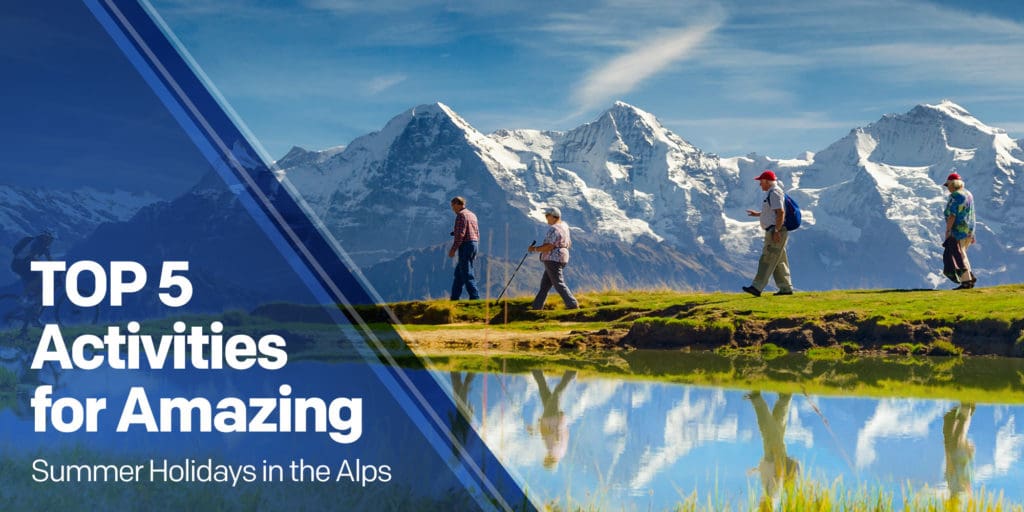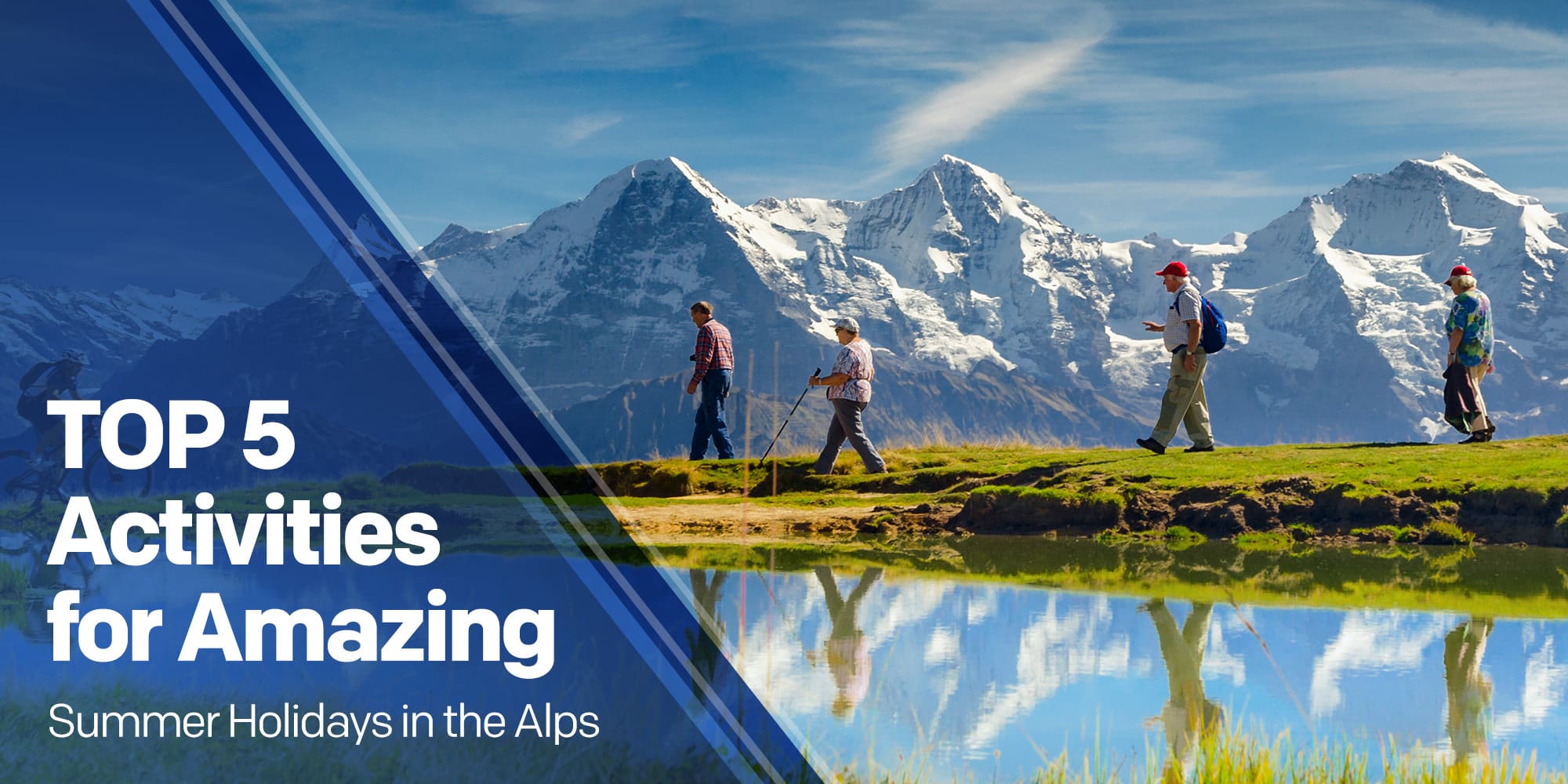 What's Summer in the Alps like?
At this time of year, the snow melts to reveal carpets of fresh green grass. Lush meadows and flowers create a picturesque, dreamlike environment, perfect for relaxing and enjoying nature. The Alps don't just offer skiing and snowboarding. From walking holidays to bike hire – there are plenty of summer activities to get stuck into.
How warm are the Alps in summer?
Depending on where you are, the Alps can reach temperatures of 35 degrees Celsius! However, higher mountain towns will be a little cooler with a refreshing breeze.
The Alps welcome lots of sunshine over the summer months with the occasional thunderstorm.
Why do people go to the Alps in summer?
As well as warm weather, beautiful scenery and adventure activities heading to the Alps over the summer months are popular because:
The off-season offers peace and quiet, allowing you to experience ski resorts without the crowds

You can find amazingly affordable deals on flights

There's less traffic on the roads which means super

quick airport transfers to the Alps

!
French Alps in summer
The French Alps in summer are ideal for families looking for some fun adventure activities.
Italian Alps in summer
Stunning mountain ranges, beautiful lakes and ancient towns – summer in the Italian Alps is perfect for those looking for laid-back sophistication.
Swiss Alps in summer
Thrilling treks and stunning national parks make the Swiss Alps in summer ideal if you're looking for an adventure.
Austrian Alps in summer
Fascinating architecture and breathtaking waterfalls make the Austrian Alps come to life in summer.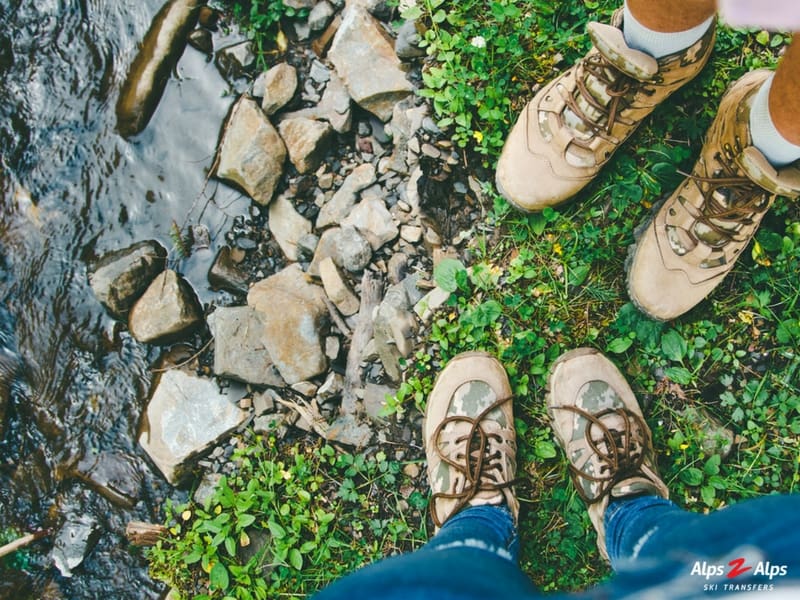 Things to do in the Alps in summer
There are so many activities to choose from over the summer. Here are our top picks for all types of holiday-makers…
Family holidays in the Alps summer
Heading off on a family summer holiday to the Alps? There is plenty to delight children and adults alike…
Mountain biking
Mountain biking is hugely popular in the Alps with a vast amount of trails to choose from to suit all ages and abilities.
Discover the snow-free Alpine paths by mountain bike, reach high-altitude peaks then go off-road all the way down! Most resorts are bike-friendly during the summer holidays, offering all-level mountain biking routes and bike rentals.
Here are some of our favourite routes:
Alpe d'Huez is home to the world-famous Megavalanche race
Enjoy sunny long-distance rides in Verbier and take in the amazing scenery on one of the many Valais' single tracks
Visit Chatel Bike Park for family-friendly fun!
Lake swimming
The Alps are home to some absolutely beautiful lakes. Bathe in the tranquil waters or splash about with the kids!
We love:
Lake Garda
Lake Como
Lake Geneva
Lake Vilsalpsee
Kayaking
Another fun way to enjoy the lake is kayaking with the whole family! This leisurely activity is a great way to get out and experience nature. Kayak hire is available from most lakes across the Alps.
Sailing
Or why not try your hand at sailing? Test your skills out on the water – a great bonding experience for adventurous families!
Paddleboarding
Love the water? Paddleboarding is a great option for families as it's not too challenging when the lakes are calm. It's also great for those core muscles!
Fly fishing
Relax together with a spot of fly fishing. Take a picnic so the whole family can enjoy the day in the beautiful alpine setting.
Cable car
Did you know that lots of ski resorts remain open during the summer? Take a ride in a cable car to see fantastic views of your surroundings.
High ropes
Looking for adventure? The Alps has several high ropes parks for some adrenaline-fuelled family fun. Jump from platform to platform high up in the trees – not one for those scared of heights!
Horse riding
A wonderful way to experience Alpine scenic trails. Head out with a guide to explore new paths and spot the local fauna and flora.
Sightseeing
From world heritage sites to magnificent mountains, take in everything the Alps have to offer on a sightseeing tour.
Visit:
Jungfrau UNESCO World Heritage Site offers incredible glacier views
Ride the Glacier Express train for the most scenic route in Europe!
Visit the Matterhorn – one of the highest peaks in Europe
The Alps are also home to many picture-perfect villages that make a great day trip from wherever you're staying. Wander through delightful old towns, try the local food and relax.
Camping
Cooking over an open fire, falling asleep to the stars and waking up with the sun – there's nothing better than camping in the French Alps for nature-loving families!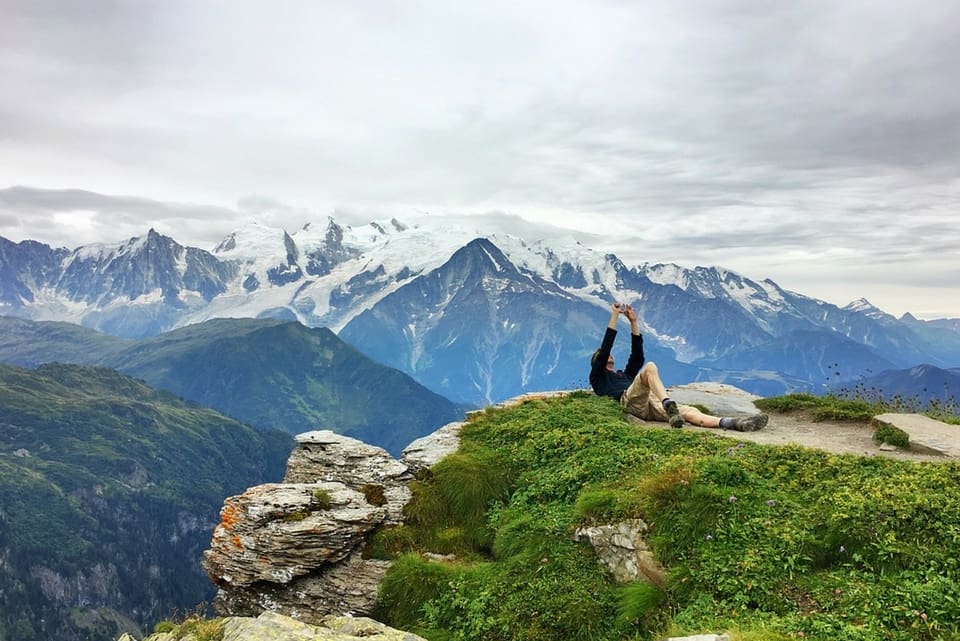 Alpine activity holidays for thrill-seekers
Looking for a thrill? These high-adrenaline summer ski alternatives are just for you…
Glacier Trekking
Climb high up into lofty peaks on a glacier trek. Unless you are super experienced, you will want to go with a trusted guide and follow all the safety instructions.
Try:
Aletsch Glacier, Switzerland
Zinal Glacier, Switzerland
Mer de Glace, France
Mountain climbing, mountaineering and rock climbing
Another fun alternative to skiing in the summer – mountain climbing or mountaineering offers a challenge for all sports and nature lovers. The best part is the view when you get to the top!
Via Ferrata
For more adventurous souls a Via Ferrata tour usually includes rock climbing and suspension bridges.
Sounds a bit dangerous? Don't worry – safety always comes first and everyone is provided with helmets, harnesses and fixed ropes.
Our top picks include:
Zillertal via Ferrata is well-suited for families
Explore a large underground cave system in Via Souterreta, France
The Dolomites Via Ferrata in Italy is one of the world's most intense and challenging via ferratas
Caving
Explore underground labyrinths, streams and lakes on a tour of one of the Alps' many caves. See impressive stalactites and towering stalagmites and get to grips with your rope technique.
Canyoning
If you like high adrenaline – canyoning is an unforgettable experience! Follow water trails to discover unspoilt nature, picturesque landscapes and hidden worlds.
Summer skiing
Did you know that you can still go skiing in the summer months? At higher altitude resorts, the ski lifts run all year round and the mornings still offer some snow – making them perfect for a spot of glacier skiing.
Ziplining
Imagine flying through the air at a speed of up to 65km per hour! Yes, that's the thrill of ziplining! Of course, there's no need to worry about safety – your mounts will be well-fastened, so just take a leap and feel the speed! Are you ready?
Here are some of our favourite ziplines:
Forest Fun Park in Zermatt features a whopping 31 ziplines!
Val Thorens in France boasts the highest zipline in the world at 3,230m!
The Grindelwald First Flyer is a zipline from First to Schreckfeld. You can reach impressive speeds, up to 84 km/h!
Paragliding and Hang Gliding
These extreme air sports are on offer across the Alps. Take in the Alpine mountains and valleys from a bird's eye view to get airborne in every sense of the word!
Bungee jumping
Bungee jumping is a perfect activity for friends and lovers of extreme, high-adrenaline activities!
White water rafting
Take rafting to the next level – white water rafting is a high-octane activity that sees you gliding down the river at speed. You will need to go with an experienced guide for safety.
Hydrospeeding
Take white water rafting, add a floating board and flippers and you get hydrospeeding! This board sport lets you explore rivers, and get up close and personal with the rapids.
Quad biking
Quad biking is suitable for all ages and allows you to cover more terrain than a standard cycle.
Relaxing summer Alps activities
Fancy a restorative summer holiday with friends or as a couple? The Alps offers everything from romantic trips to restorative breaks and luxury spa weekends.
eBiking
Take the effort out of cycling by going electric! You can find e-bikes for hire in lots of Alpine towns and cities and they provide a practical and fun way of getting from A to B.
Road cycling
Head out on a leisurely cycle through lush Alpine scenery, stopping for a long lunch at a local restaurant. Bliss!
Walking and hiking
With the rise in health-conscious holidaymakers – hiking the Alps has become a hugely popular summer pursuit. When the snow melts, the mountains reveal a network of trails suitable for all levels of hikers, from easy walks and picnic routes for families to extreme mountaineering for the experienced.
For longer trails, stop off at mountain huts along the way for a slice of alpine living.
Take in the gorgeous Alpine scenery – greenwoods giving place to pinewoods, blooming meadows and peaks with their never melting robes of snow, grazing cows and goats.
Some of our favourite hiking routes in the Alps include:
Yoga
Relax, unwind and get back to yourself. There's nothing like breathing and moving in nature to instil a sense of calm. There are now lots of yoga retreats set up across the French Alps, many combining yoga, hiking and spa treatments.
Golf
Fancy a spot of golf? You may be surprised to discover that there are some great golf courses throughout the Alps.
Try the Matterhorn Golf Club in Zermatt or the Schwarzsee Golf Club in Kitzbühel.
Shopping
From luxury designer boutiques to local craft stalls and markets, there is an eclectic range of shopping opportunities in the Alps over the summer.
Wine tasting
Wine tasting tours – now we're talking! Take in the alpine scenery while tasting the very best local wines in the region.
Visit the Savoie region to try some of the finest French wines, or head to the Swiss Alps for an educational tour of a vineyard and winery. Add some cheese and voila!
Spa
Ah, but let's not forget about proper relaxation. Nothing says "relaxation" like a spa holiday. You'll find a spa or wellness centre in almost any Alpine resort, so there's a wide variety to choose from. But why not combine your Alps summer holidays with healing thermal baths?
Here are some of the best: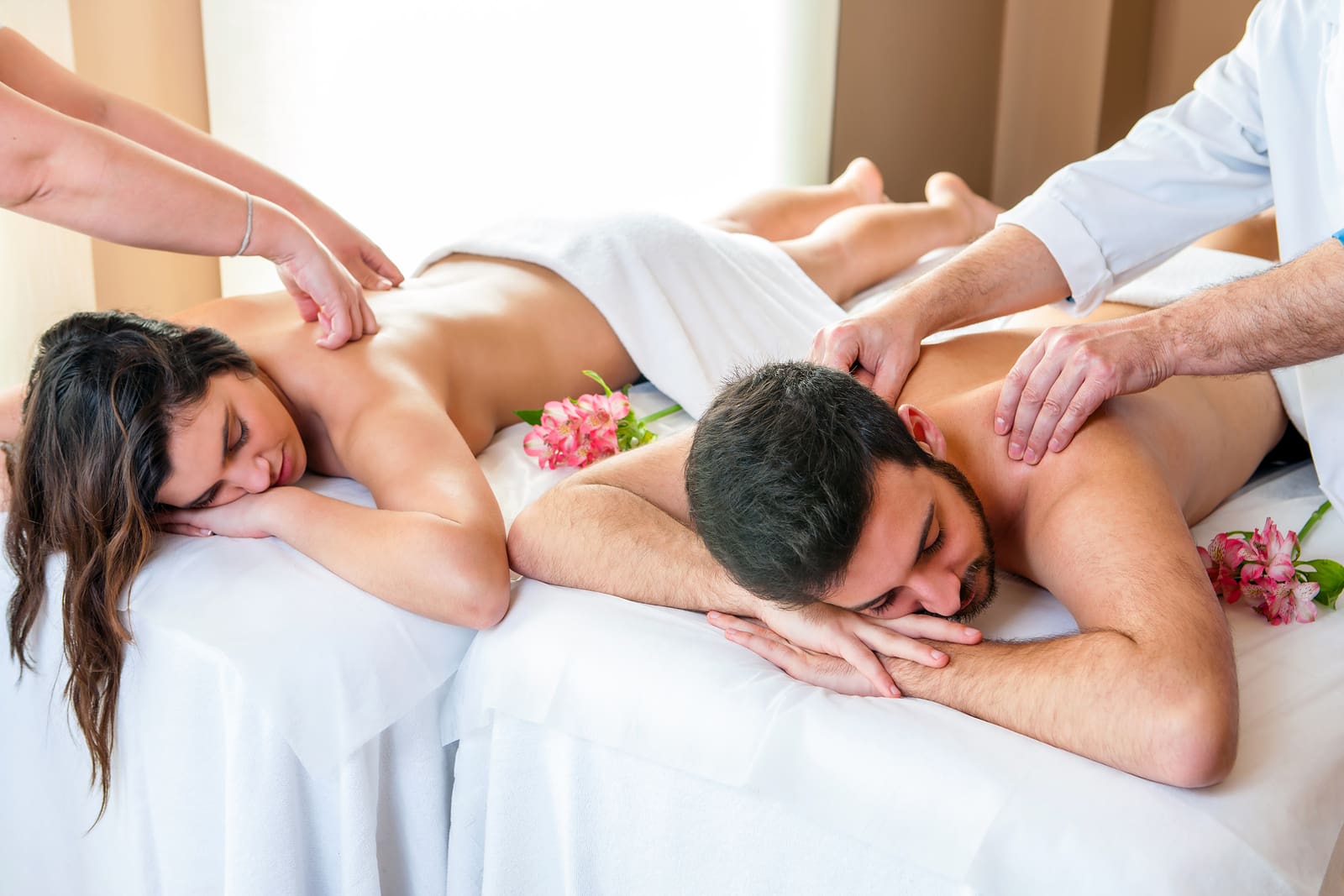 Holidays in the Alps: Summer 2023 events
Why not combine your Alpine summer holiday with a festival or event? Find out what's happening across the Alps this summer…
Summer festivals
Fête de la Musique, Val d'Isère, France, 21 June – listen to an eclectic mix of music!
Samoëns American Festival, 29 June – put on your cowboy boots and join a line dancing workshop!
Cosmo Jazz Festival, Chamonix, 22 July – listen to some free jazz concerts
Musilac Festival, Aix-les-Bains, France, 5 July – the biggest pop-rock event in the area
Mucho Bueno Festival, Les 2 Alpes, France, 12 August – not to be missed if you like to sway to Latin

Afro-Caribbean

rhythms
Sporting events
Tour de France, 1 July
Pass'Portes du Soleil MTB Ride, France, 23 June
Discover summer holidays in the Alps
It's really true what people say – the Alps are an amazing destination to unwind over the summer. For more information about the activities on offer, visit the local tourist office website for your chosen location.
Take some time off, hop on a plane and have the best summer holidays in the Alps!