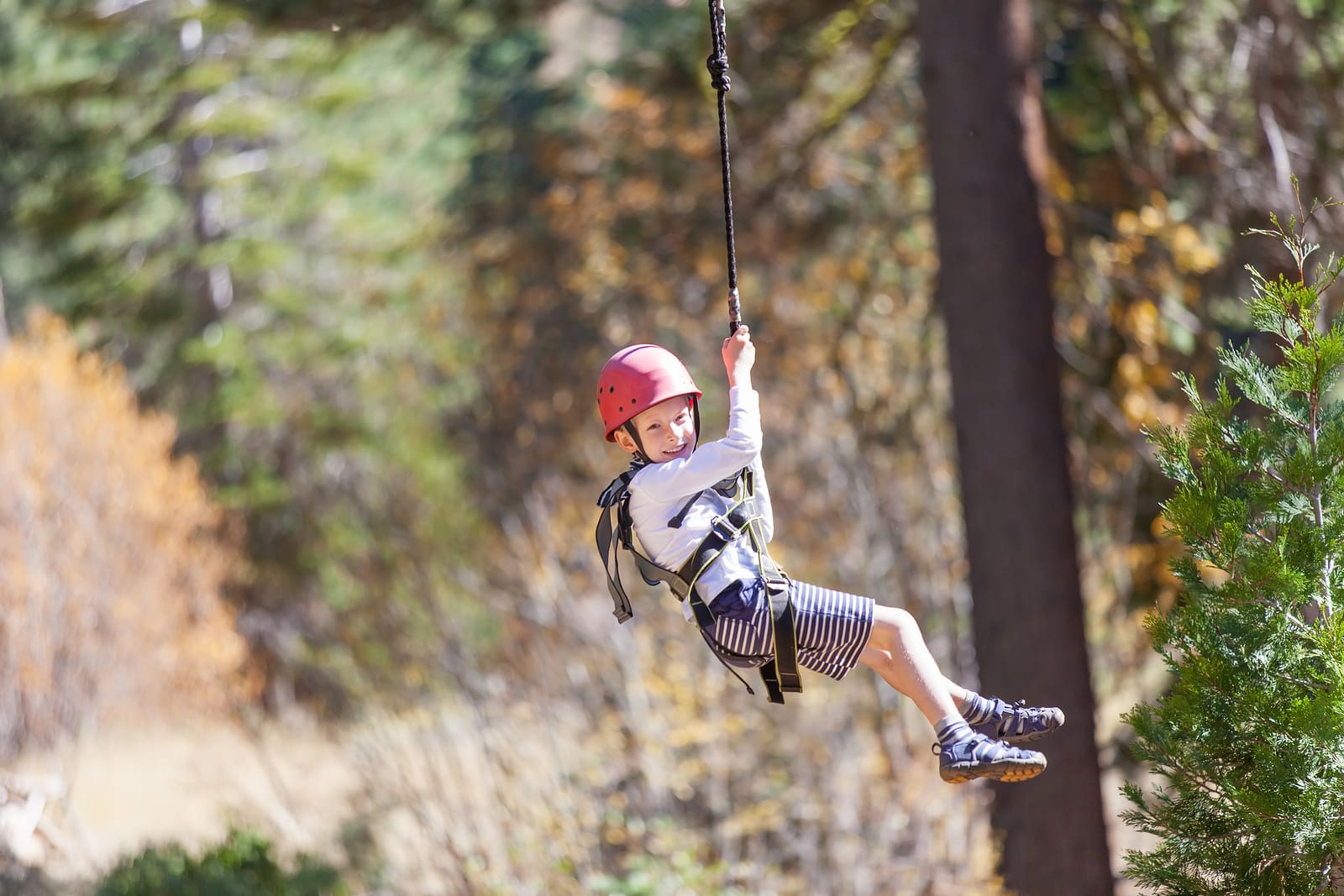 Ultimate Summer Family Adventure Holidays in the Alps
Ultimate Summer Family Adventure Holidays in the Alps
Are you ready to embark on a journey to explore the wonders of summer family adventure holidays in the magnificent Alps? Join us as we delve into the thrilling activities, breathtaking landscapes and unforgettable experiences that await you and your loved ones in this stunning alpine paradise.
We understand that summer isn't just about warm beaches and lazy days. For families seeking an exhilarating escape, the Alps offer an incredible array of adventures that will create memories to last a lifetime. Get ready to immerse yourselves in nature, conquer new challenges and bond with your loved ones like never before.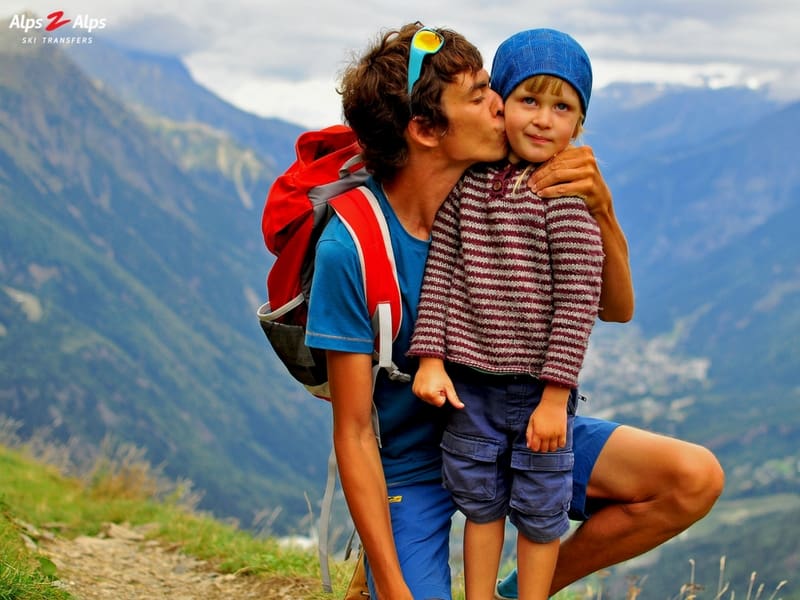 Why do the Alps make a great choice for adventure holidays for families?
The Alps aren't just about ski resorts! Their majestic peaks, lush meadows and pristine lakes offer an unparalleled playground for families seeking thrilling adventure. With a myriad of activities catering to all ages and skill levels, the Alps truly have something for everyone.
With its combination of awe-inspiring landscapes and thrilling family friendly activities, the Alps make a remarkable choice for families seeking an adventure-filled holiday.
Where is good to go on a family holiday to the Alps in summer?
When it comes to planning a family holiday to the Alps in summer, there are lots of fantastic destinations to consider.
Family adventure holidays in France
One popular choice is the picturesque region of Chamonix, nestled in the heart of the French Alps. With its stunning mountain scenery, Chamonix offers a plethora of outdoor activities for families to enjoy. From hiking to mountain biking, paragliding to rock climbing, there is no shortage of adventures to embark upon. Find more ideas for family activity holidays in the French Alps.
Family adventure holidays in Switzerland
Another excellent option is a summer holiday in the Swiss Alps. Zermatt is a charming Swiss village renowned for its majestic Matterhorn peak. Families can explore the surrounding trails, indulge in thrilling activities like via ferrata or canyoning, or simply soak in the scenic beauty of the region.
Family adventure holidays in Austria
The Austrian Alps provide the perfect backdrop for an unforgettable summer activity holiday. With their majestic peaks, lush meadows and crystal-clear lakes, the Austrian Alps offer a wide range of thrilling activities for all ages.
Start your journey in Innsbruck, the capital of Tyrol, where you can hike or take a cable car up the Nordkette Mountain Range for panoramic views and thrilling mountain biking trails. Head to Zell am See-Kaprun, a picturesque region nestled by Lake Zell, offering water sports, hiking and the opportunity to explore the mystical ice caves of the Kitzsteinhorn Glacier.
End your adventure in St. Anton am Arlberg, a renowned winter sports destination that transforms into a haven for summer activities such as hiking, rock climbing and paragliding. Find more Austrian alpine summer holiday ideas.
Family adventure holidays in Italy
Another top choice is the enchanting region of Trentino, known for its captivating landscapes and thrilling outdoor activities. Families can explore the majestic Dolomite Mountains, hike through the scenic Adamello Brenta Nature Park, or enjoy water sports on the stunning Lake Garda.
Alternatively, the Aosta Valley offers a blend of history, culture and adventure. Families can embark on exhilarating hikes, visit ancient castles and fortresses, or even try their hand at rock climbing in the magnificent Gran Paradiso National Park. Find more places to visit in the Italian Alps this summer.
Types of family adventure holiday
Once you've picked your alpine destination, it's time to think about the type of summer holiday that your thrill-seeking family will love.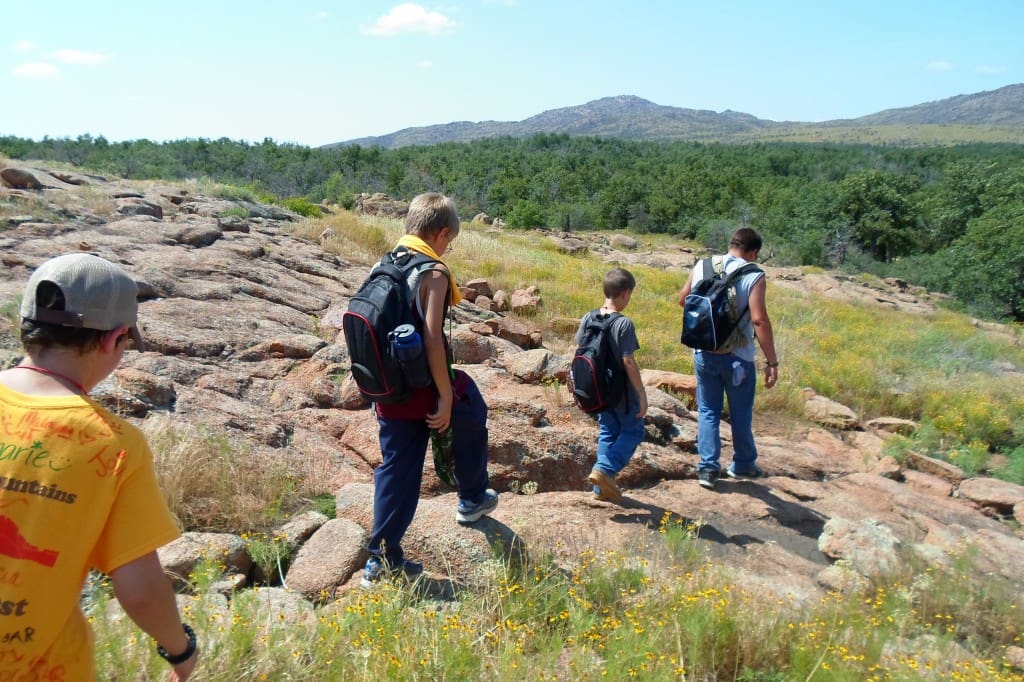 Teenage family adventure holidays
We all know teenagers aren't always the easiest to please when it comes to family time. However, the Alps offer an abundance of thrilling activities that cater to their sense of adventure and exploration.
Why not visit Chamonix, France, where teenagers can challenge themselves with rock climbing, canyoning, or even tackle the legendary Mont Blanc on a guided hike? Or head to Interlaken, Switzerland, known as the adventure capital of the Alps, where teenagers can try their hand at skydiving, bungee jumping or take on the thrilling Via Ferrata routes. The Austrian Alps also offer an array of adrenaline-pumping activities, such as white water rafting in the Ötztal Valley or tackling the bike parks in Saalbach-Hinterglemm.
Be sure to take into account their interests and physical abilities when choosing activities and destinations. Consider their sense of adventure and willingness to try new things. Involving your teenagers in the planning process and allowing them to have a say in selecting activities will enhance their excitement and engagement throughout the journey.
Young family adventure holidays
If you're going away with younger children, there are still plenty of adventure activities that are available across the Alps.
One top destination is the charming village of Alpbach in Austria, renowned for its family-friendly atmosphere and stunning alpine surroundings. Here, young children can enjoy gentle hikes through meadows, visit farm animals and take part in outdoor activities tailored to their age and abilities.
Another excellent choice is the French Alps, particularly Les Gets and Morzine, which offer a host of family-friendly activities such as treetop adventure parks, alpine slides and easy hiking trails. Families can also explore the beautiful lakeside town of Annecy, where they can enjoy water sports, bike rides along the lake and picnics in picturesque parks.
Additionally, the Swiss resort of Saas-Fee provides a wide range of activities suitable for young children, including themed hiking trails, playgrounds and an adventure park with zip lines and climbing walls.
Cheap family adventure holidays
If you're looking for an affordable family adventure, there are budget-friendly options that still offer thrilling experiences and breathtaking landscapes.
The Italian Dolomites offer cost-effective options, with affordable guesthouses and campsites available. Families can explore the Dolomiti Bellunesi National Park, go on nature walks, or enjoy cycling along scenic routes.
Another budget-friendly choice is the French Alps, where destinations like Les Deux Alpes and Les Houches provide affordable accommodation and access to hiking trails and mountain biking.
Consider visiting lesser-known destinations or smaller Alpine villages, where you can find more affordable accommodation and experience the charm of authentic alpine culture. By choosing budget-friendly destinations, taking advantage of outdoor activities that require minimal costs and opting for affordable accommodation, you can create an exciting and memorable family adventure in the Alps without breaking the bank.
Luxury family adventure holidays
For families seeking a luxurious and unforgettable adventure, there are exceptional options that combine opulence with thrilling experiences. Consider the exclusive Swiss resort of Verbier, known for its upscale accommodation and world-class outdoor activities. Families can indulge in luxurious catered chalets with stunning mountain views and enjoy a range of adventures such as mountain biking, paragliding and helicopter tours.
Another lavish destination is the French Alps, particularly the glamorous town of Megève, offering luxurious resorts, gourmet dining and access to thrilling activities like canyoning and horseback riding. Or consider the Austrian resort of Kitzbühel, known for its sophisticated ambiance and access to golfing, hiking and spa facilities.
Multi-activity holidays
For families seeking a diverse range of thrilling activities in the Alps, there are plenty of destinations to choose from that offer the perfect mix of adventure and excitement. Choose from an array of activities, such as:
Hiking and Trekking
The Alps are renowned for their extensive network of hiking trails, catering to all levels of experience and fitness. Lace up your hiking boots and explore the picturesque alpine meadows, crystal-clear lakes and snow-capped peaks. From leisurely strolls to challenging multi-day treks, there's something for everyone. Breathe in the fresh mountain air, soak in the panoramic vistas, and let the beauty of nature invigorate your senses.
Mountain Biking
Saddle up and discover the thrill of mountain biking in the Alps. With an extensive network of well-maintained trails, you can explore the region's natural wonders on two wheels. Feel the rush as you navigate the twists and turns, conquer steep descents and witness the awe-inspiring landscapes whiz by. Whether you're an experienced rider or a beginner, there are trails suitable for all skill levels.
White Water Rafting
Prepare for an adrenaline-pumping adventure as you navigate the thrilling rapids of the alpine rivers. White water rafting is an exhilarating activity that will have your heart racing and your spirits soaring. With experienced guides ensuring your safety, you can focus on the excitement and joy of conquering the wild waters together as a family.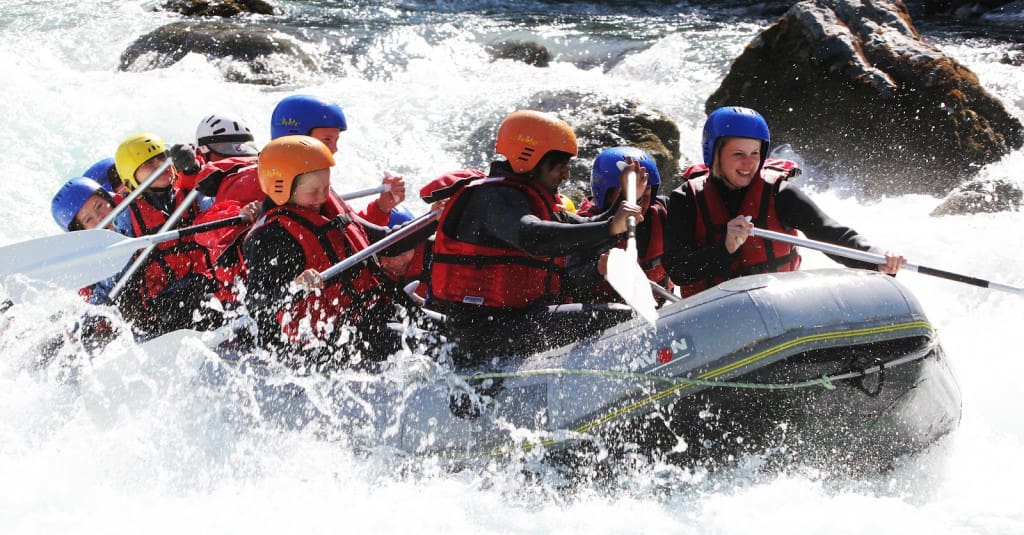 Paragliding
Experience the freedom of flight as you soar above the stunning alpine landscapes. Paragliding offers a unique perspective, allowing you to witness the beauty of the Alps from a bird's-eye view. With certified instructors, you can embark on tandem flights, making this activity suitable for all ages.
Canyoning
For the ultimate adventure, delve into the hidden canyons and cascading waterfalls of the Alps. Canyoning combines hiking, swimming, abseiling and cliff jumping, providing an adrenaline-fueled experience like no other. Traverse through narrow gorges, plunge into natural pools and challenge yourself to conquer nature's obstacles.
Via Ferrata
Take your family on a journey of courage and perseverance with via Ferrata, a mountaineering activity that blends hiking and rock climbing. Equipped with safety harnesses and accompanied by expert guides, you'll navigate vertical cliffs, cross suspended bridges and ascend awe-inspiring peaks. This activity offers an unparalleled sense of achievement and an opportunity to bond as you conquer the challenges together.
Wildlife Watching
Immerse yourselves in the diverse alpine ecosystem and discover the region's captivating wildlife. From majestic ibex to playful marmots, the Alps are home to a rich array of fauna. Join guided nature walks, learn about the local flora and fauna and witness the magic of encountering these incredible creatures in their natural habitat. It's a chance for your family to connect with nature and develop a deep appreciation for the world around us.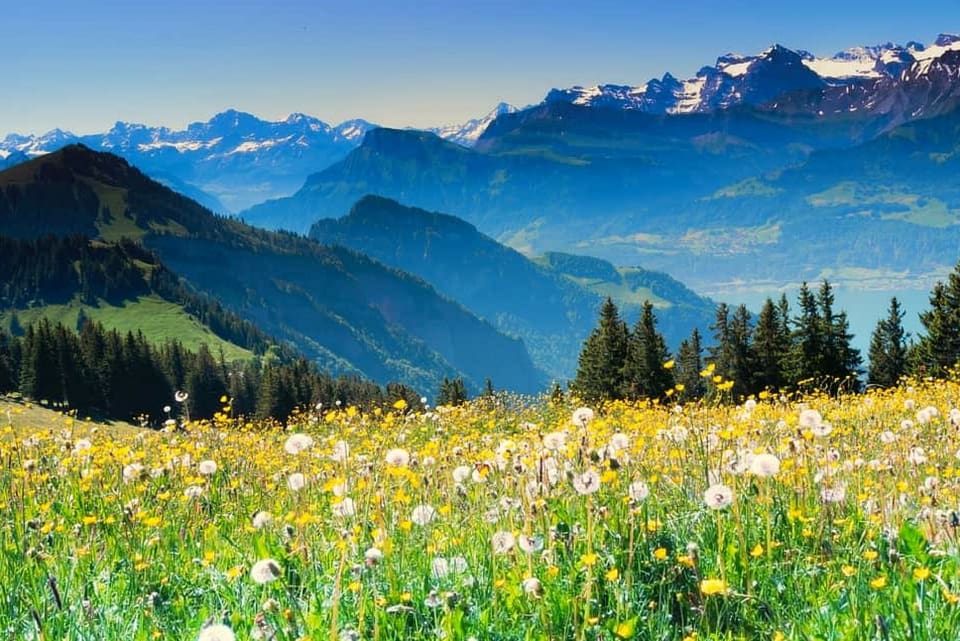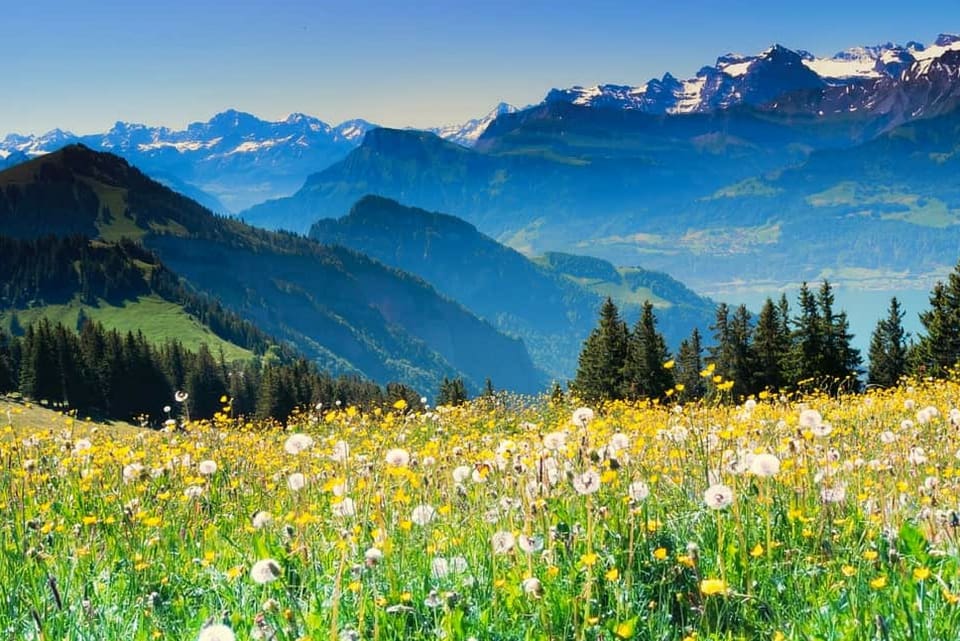 Choosing the best family adventure holiday in Europe
When it comes to selecting the best family adventure holiday, the options are vast and exciting. Consider the interests and preferences of your loved ones, as well as the accessibility and safety of the destination.
Where to stay
When it comes to choosing accommodation for a family holiday to the Alps in summer, there are various options that cater to different preferences and budgets. Many families opt for cosy chalets or mountain lodges, which provide a charming and comfortable setting amidst the stunning alpine landscapes. These accommodations often offer spacious rooms or apartments, allowing families to relax and unwind after a day of adventure.
Another popular choice is family-friendly hotels or resorts, which provide a range of amenities and services tailored to accommodate children of all ages. These establishments may offer kids' clubs, play areas, swimming pools and even organised activities, ensuring that the little ones are entertained and engaged throughout their stay.
For those seeking a more immersive experience, camping or glamping in the Alps can be an excellent option. Surrounded by nature, families can enjoy the freedom of outdoor living while still having access to essential facilities and comforts.
Regardless of the accommodation type, selecting a location that provides easy access to outdoor activities, hiking trails and attractions is key to maximising your family's enjoyment.
Staying safe
As you plan your summer adventure in the Alps, remember that safety should always be a top priority. Choose reputable tour operators, follow expert guidance and ensure you have appropriate gear and equipment for each activity.
How to get there
At Alps2Alps ski transfers, we believe that an unforgettable family adventure begins with seamless transportation. Our reliable and comfortable summer transfers will ensure that you arrive at your chosen destination safely and ready to embark on your alpine escapades.
So, pack your bags, gather your loved ones, and get ready for an extraordinary summer family adventure in the breathtaking Alps. Explore the beauty of nature, challenge your limits and create lasting memories. The Alps await, and we're here to make your dream adventure a reality.