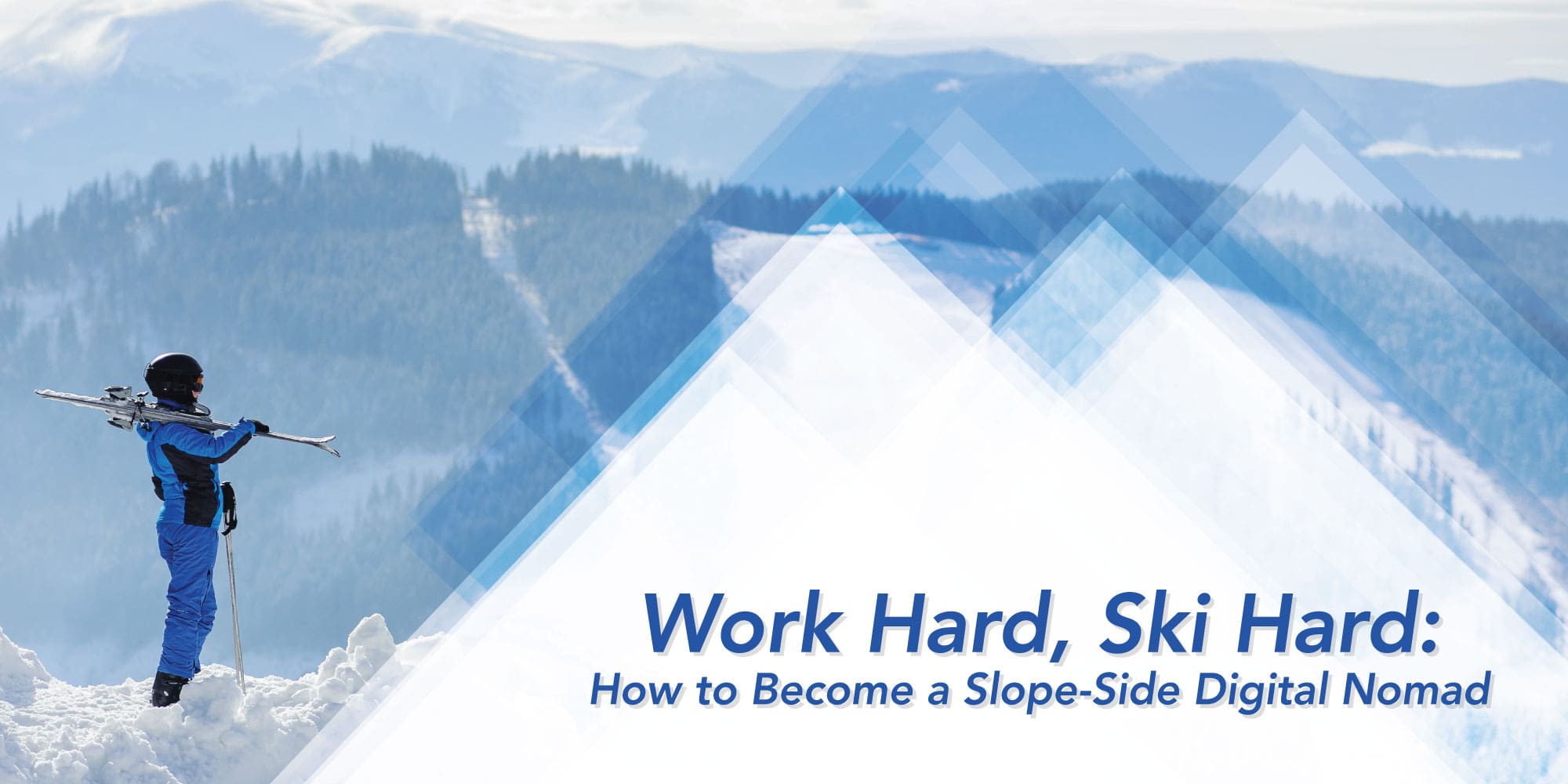 Work Hard, Ski Hard: How to Become a Slope-Side Digital Nomad
Work Hard, Ski Hard: How to Become a Slope-Side Digital Nomad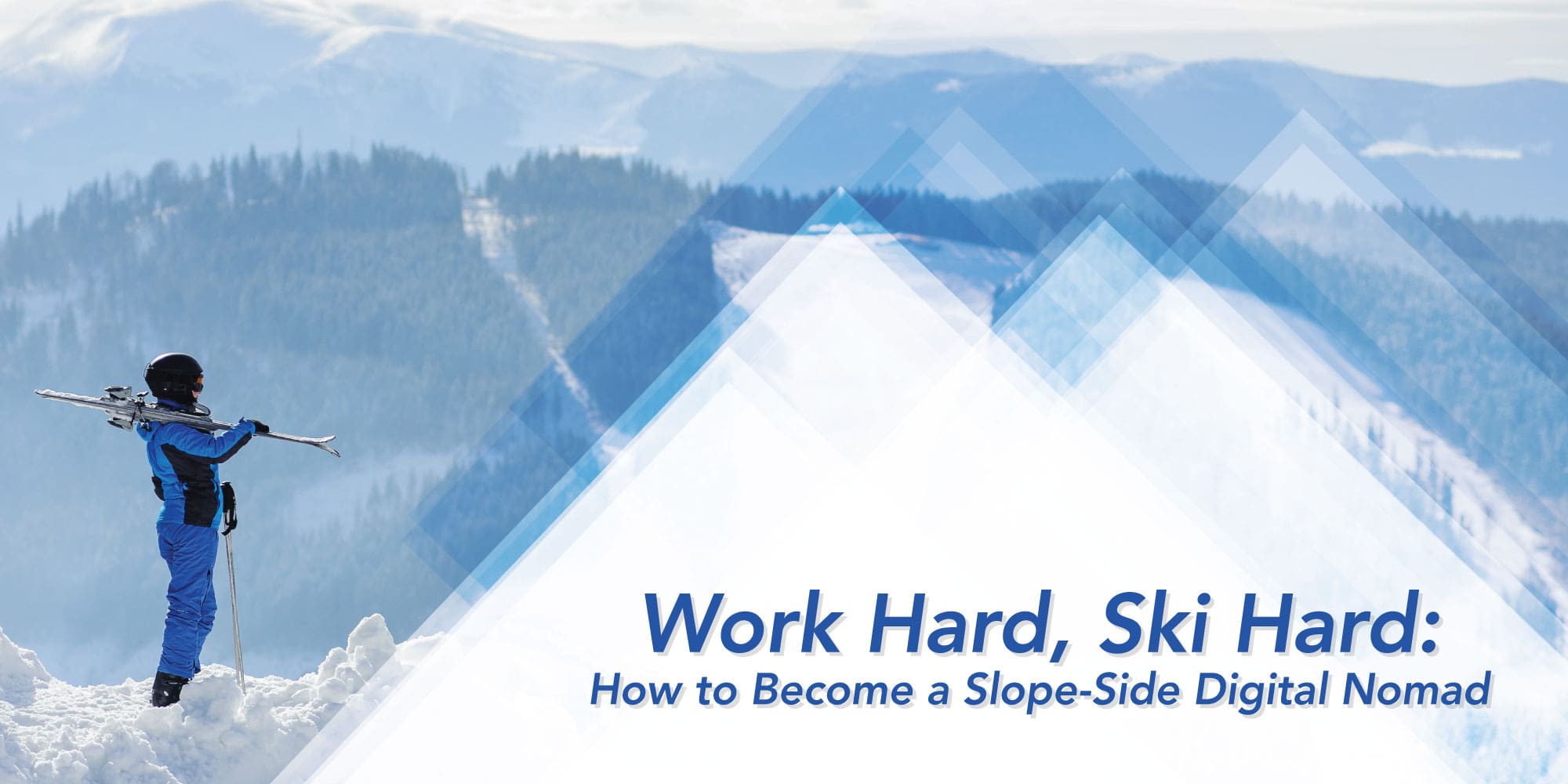 Are you a wanderlust who's craving the freedom to roam as you please?
The digital nomad lifestyle might be calling your name! Who wouldn't want to be free to live and work wherever they choose?
Why not head to a ski resort? Becoming a digital nomad will help you pack in more slope time than you ever thought possible!
Tempted? Here's how to become a slope-side digital nomad.
Before You Go…
The appeal of becoming a digital nomad is that you can make your own rules. How does ditching the mundane day to day life for a true taste of freedom sound?
Nobody wants to be stuck doing something they hate!
But, despite this, there are a few important things you need to remember. Unfortunately, there are some things even a digital nomad can't escape!
Remember to Network
Rule number one of being a digital nomad? Network.
Before you go, familiarise yourself with the area.
Once you're there, never stop networking. You'll be surprised at how many opportunities come your way as a result!
Take All Job Opportunities
Take every opportunity offered to you. Not only is it a chance to make money, but being a digital nomad is all about saying yes.
By throwing yourself into every opportunity, you'll give yourself the best experience possible.
Plus, an extra bit of money never hurts.
It's Not a Holiday
Remember, being a digital nomad isn't a holiday.
You're free to travel the world, yes, but as a lifestyle – not a one-off trip.
So, ensure you've budgeted for the long term!
Find the Right Job
Being a digital nomad is all about work. You have to find a job which enables you to live the lifestyle you crave.
You're seeking the location-independent lifestyle, so your job needs to factor around this.
Find your niche. What can you do that won't tie you to one place?
You'll need a way to make money while on the road! Think of your skills, and work out which ones you can best use.
Don't Be Isolated
Most digital nomads work for themselves. But, you don't want to spend all your time alone!
Independence doesn't mean loneliness. So, make sure to throw yourself into the events and meet the locals.
Some more advice? It helps to learn the language of the place you're moving to!
Find Your Balance
Being a digital nomad is all about balance.
You'll need to manage work and travel, as you can't have one without the other!
Also, don't forget to balance work with your social life. It can't be all work and no play (or the other way around)!
Why a Ski Resort is the Best Place for a Digital Nomad
You might be wondering how any of this relates to skiing.
A ski resort is the perfect place to live out the life of a digital nomad! In between work, you get to spend your downtime on the slopes. What's not to like?
It's the perfect place to experience the sense of freedom you're looking for!
But, if you're still unconvinced, here are few reasons why a ski resort is the best place for a digital nomad:
Freedom on the Slopes
Who wouldn't want to wake up every day with the open slopes in front of them?
If you're a lover of solo skiing, you're in luck.
Heading to a ski resort when you're a digital nomad is like an extended ski season. You'll be able to do more skiing than you ever thought possible!
The Social Scene
Despite plenty of opportunity to explore the slopes alone, at a ski resort, you'll be surrounded by others.
If the après-ski wasn't enough, there's always something going on at a ski resort. From comedy shows to festivals, you'll find plenty to keep you entertained!
You'll meet all sorts of people, from students to families. The ski resort never sleeps!
Outside of the resort, the ski town is just waiting for you to explore. There's always exciting events happening in the Alps!
The Chance to Try Something New
Where better to answer the call to adventure than on the slopes?
From exciting black runs to venturing off-piste, there are plenty of exciting opportunities just waiting for you to try.
In the unlikely event you get bored of making tearing through the powder, there's a number of adventurous activities for you to try off the slopes. Skiing is only the tip of the iceberg!
The Stress Relief
Tough day on the job? Simply grab your skis and let out some of the tension on the slopes.
Is there anything better to help you unwind after a stressful day than making some tracks into fresh powder?
The Flexibility
Digital nomads are flexible by nature.
A ski resort is the perfect place to live this out! Who can resist the laid-back atmosphere of the slopes?
When it comes to skiing, there's no need for a routine. If you need to get some work done in the day, the slopes will be waiting for you tomorrow! Alternatively, plenty of resorts offer night skiing!
The choice is entirely up to you! Who wants to live by a strict schedule?
Wooing Clients
Is there a better way to spend a client meeting than with a backdrop of the Alps?
We don't think so!
The mountainous views are certainly a persuasive trump-card you can use.

Tips for Surviving the Digital Nomad Lifestyle
Tempted to embark on a never-ending adventure?
Sorting out any previous debts and working out where your income will come from is essential. But, how can you maintain this lifestyle for the long-term?
Keeping costs low is obvious advice. How should you actually go about it? Here's some money-saving tips:
Stay in Hostels
For a digital nomad, accommodation is key.
Stick to hostels! Luxury 5* chalets might be out of your reach, but it's a small price to pay for the freedom.
Budget like a Pro
Everything has a price. Some of these will be out of your reach!
To avoid overspending, budget every step of the way. Don't assume all your costs are upfront! You're here for the long-term, so ensure you don't run out of money when you've barely started.
Watch What You Eat
Embrace the packed lunch!
Cheap meals that can be made in your accommodation never hurt anyone. Lavish three course meals are simply not an option!
Make Money as You Go
There's always new chances to make some more money! Don't let them pass you by.
If you need WiFi, ensure you're staying somewhere with good connection. Can you write a blog? Run a podcast? Think outside the box!
This lifestyle requires you to be flexible!
The Best Ski Resorts for Digital Nomads
So, if the slopes are beckoning, which ski resort should you head to?
Here are our top picks:
Les Deux Alpes, France
Sölden, Austria
Livigno, Italy
Ellmau, Austria
Val Thorens, France
Ischgl, Austria
Saalbach Hinterglemm, Austria
One more thing to remember before you go is to sort out your transfer. Alps2Alps offer an affordable, reliable transfer service to all major resort destinations in the Alps. Find your low-cost transfer here!