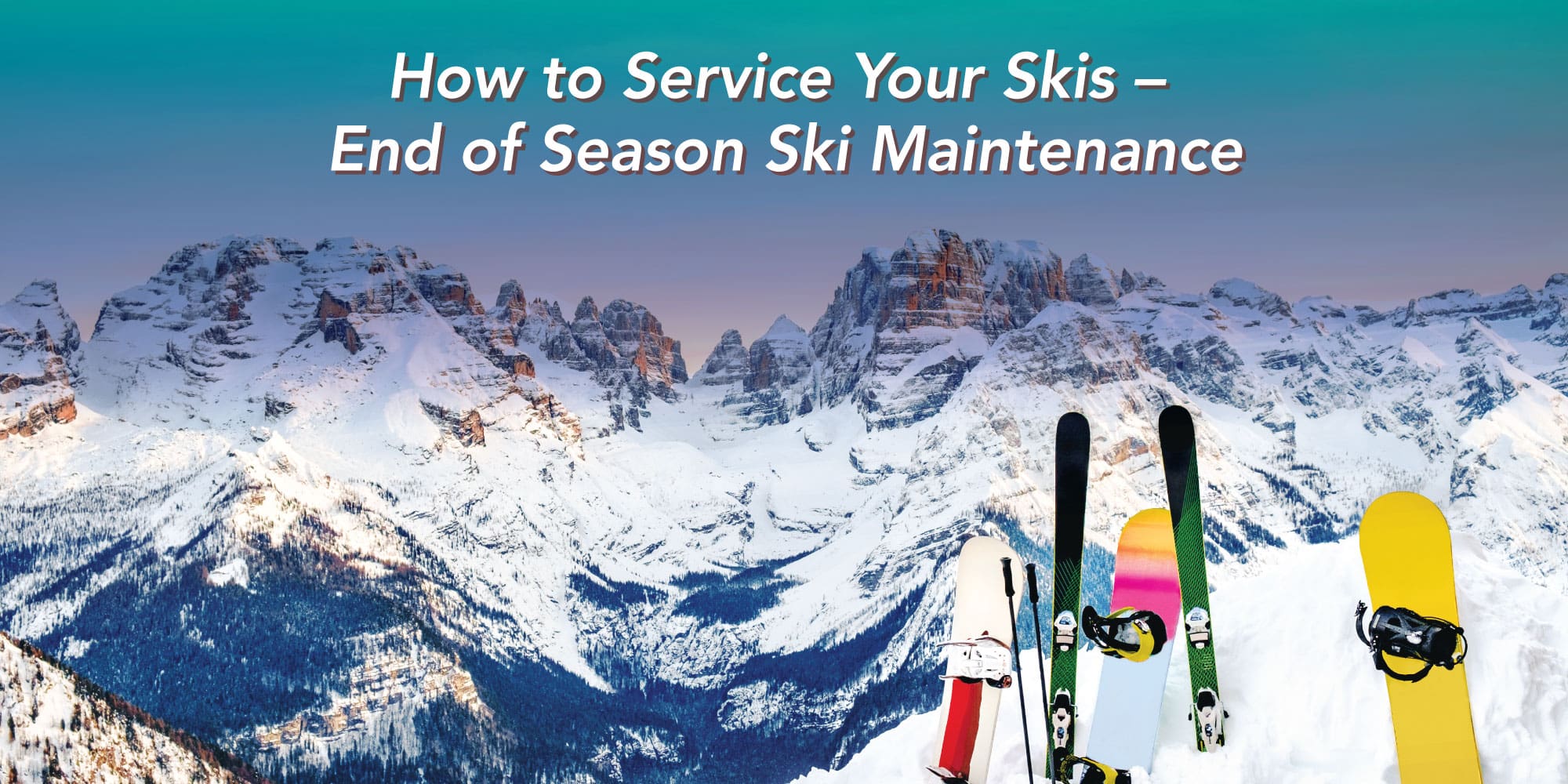 How to Service Your Skis – End of Season Ski Maintenance
How to Service Your Skis – End of Season Ski Maintenance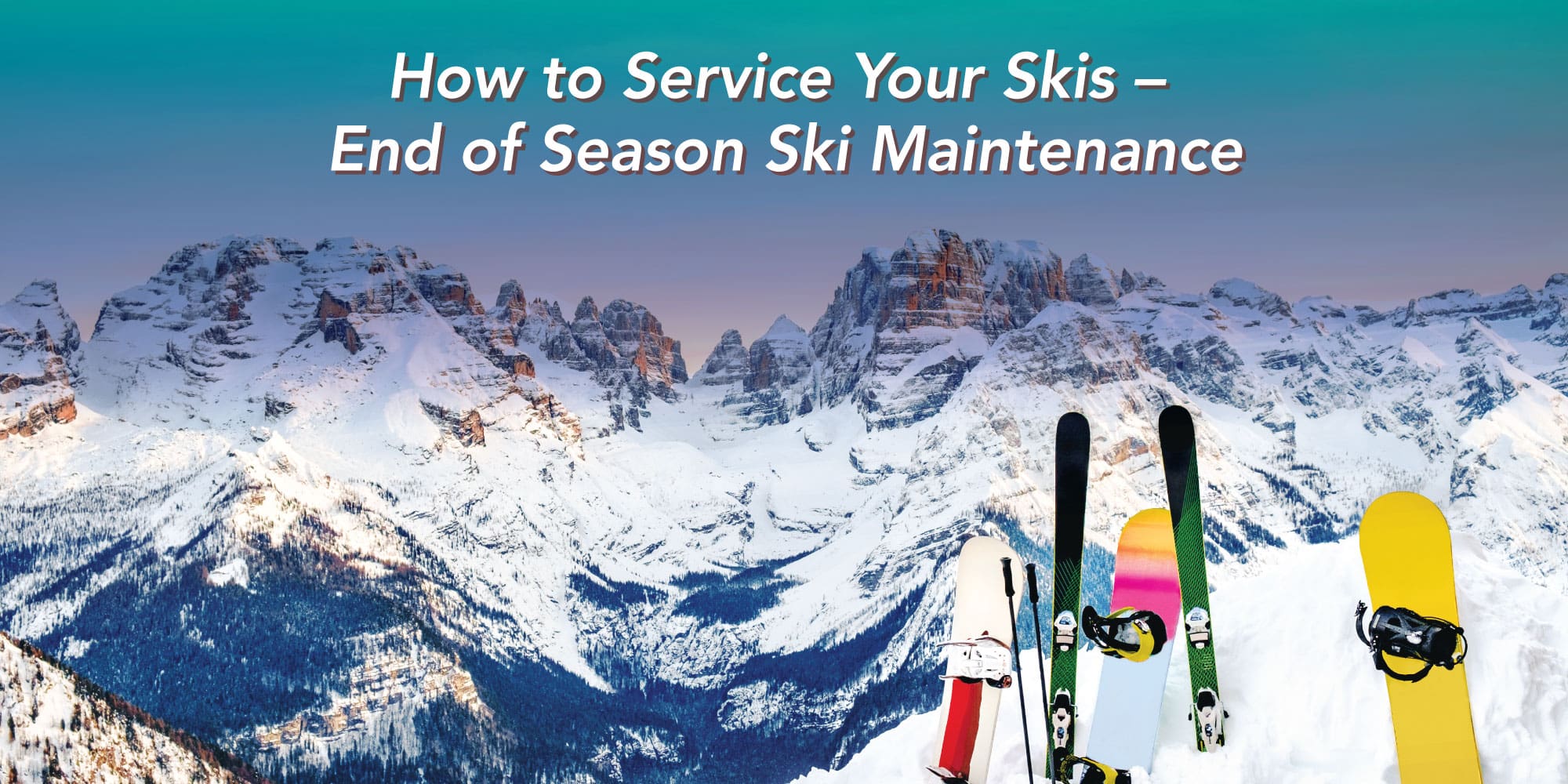 Own your own skis?
If so, once you've finished tearing through the snow this ski season, there's just one more thing to think about.
While it's tempting to get lazy at the end of the season, especially with summer getting closer, remember to take care of your ski gear.
If you plan on returning to the slopes next year, don't skip ski maintenance! You've avoided the rental store queues for the whole season, now it's time to look after your gear.
Not sure how it's done? Need a guide for end of season ski maintenance? Here's how to service your skis.
How to Care for Your Skis
Let's start with the basics.
Before packing up your skis for the year, there are some easy maintenance tips to remember. You want to leave your skis in the best condition possible, as the slopes will be waiting for you next season!
Here's a basic ski maintenance guide:
How to Clean Skis
First thing's first, clean your skis well. Who wants to return to dirty gear next season?
If you've made the most of the pistes this year, your skis have probably taken quite a battering!
Clean your skis with a garden hose and a cloth, while trying not to get the bindings too wet. Also, for the best results, allow them to air dry overnight if possible.
How to Tune Skis
For those who have had an intense season of tearing through the pistes, cleaning won't be enough! So, if you've attacked the slopes properly, you'll need to tune your skis.
For anyone in the dark, ski tuning is also known as ski sharpening. Keeping your skis sharp and rust-free is essential for your performance on the slopes!
Before you get started, it's worth using ski securing vices to make the process more precise and safe.
Wondering how to sharpen skis at home? Here are our tips for how it's done:
• Remove burrs and dents from the edges with a gummy stone, as they can easily turn into big spots of rust during the summer.
• Start with the base edge, flipping over to the other side when finished.
• Make smooth overlapping strokes with the file tip to tail.
• Avoid going back and forth!
When sharpening the side edges of your skis, there's a bit more to think about:
• Masking tape can help keep dust and filings from getting into the bindings, so stick this to the sidewall.
• To get the best edge possible, use the gummy stone at a 45-degree angle.
• When done, polish the edges off with a gummy stone.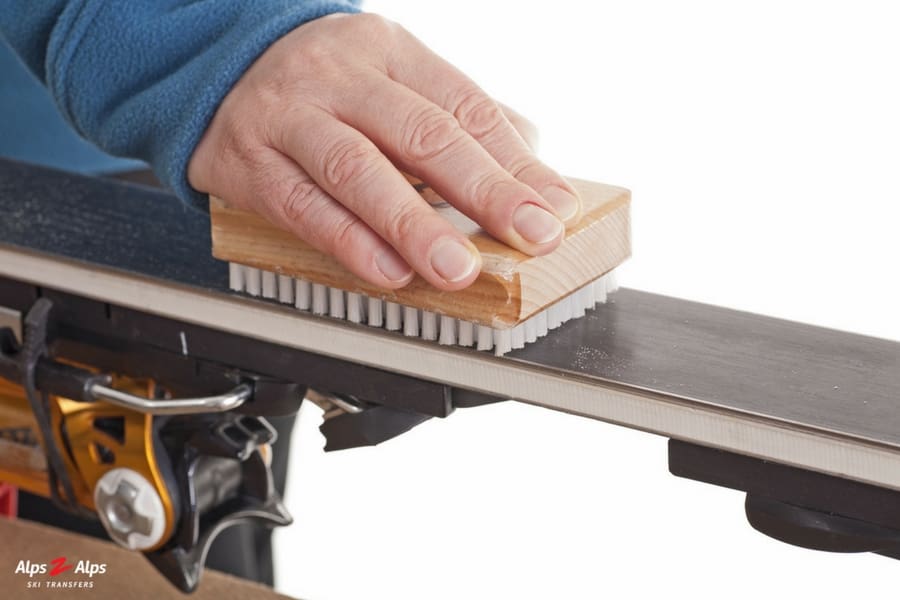 How to Wax Skis
If you're wondering how to service your skis, waxing is an inevitable part of the process.
Adrenaline junkies listen up! Waxing your skis has many benefits! It makes you go faster, turn more smoothly and protects your bases.
So, how often do you wax skis? Truthfully, you can do it as often as you like. However, most people forget until the end of the season.
When waxing your skis, it's best to start on a clean and tuned base, so don't skip the previous steps!
White areas or obvious "hairs" are signs you need to wax your skis.
Remove Old Ski Wax
Before applying new wax, get rid of any old wax first.
Use a ski wax brush to scrape off as much old wax as possible! While ski maintenance can seem tedious, this process is extremely satisfying.
As with ski tuning, make gentle brushes from tip to toe, never back and forth!
Apply Storage Ski Wax
Now apply a storage ski wax layer to protect skis from moisture and rust.
There are many ski wax types, but most experts suggest using hot ski wax (and avoiding liquid ski wax) for pre-summer ski maintenance:
• Check the packaging to set the correct temperature on your ski wax iron.
• Hold a piece of ski wax against the iron and let it drip onto the base.
• Your skis will absorb a lot of wax during the summer, so use around three times more than you think is sufficient.
Iron the Wax
Now take your ski wax iron and melt the wax evenly so that it covers the base fully and drips over the edges.
To prevent you from burning the bases, keep the iron moving back and forth, maintaining tip to tail direction.
After this, let your skis rest for 2 hours.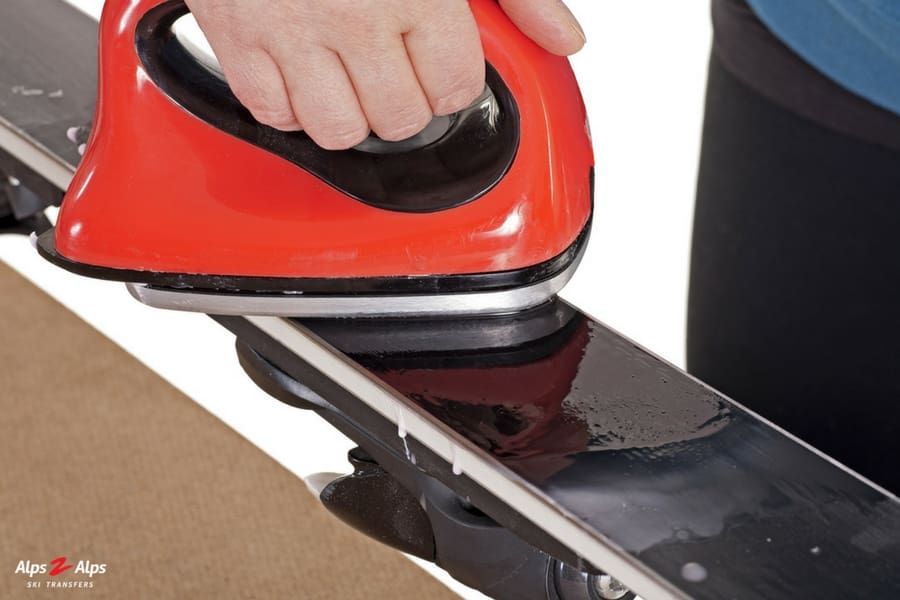 Ski Boot Maintenance
We're all aware of the importance of wearing correct-fitting ski boots, but what about maintaining them?
Taking care of your boots is much easier than your skis! But, there are some things to remember:
• Store your boots only when they are clean and completely dry.
• Be sure to close all the buckles! If not, they may be more difficult to close next time you wear them.


Storing Your Skis
Storage is the final part of the ski maintenance process!
Make sure that you:
• Put them together base to base and secure with a strap or rubber band.
• Cover them with a cloth or put them in a special ski bag.
Want to avoid airport charges and the hassle of carrying your skis around? Imagine if you could leave your skis in the Alps until next year!
At Alps2Alps, we offer a reliable long-term ski storage solution for those who don't want to worry about travelling back and forth with their equipment. Find out more about our simple and convenient service here!